WICHITA FALLS -- Coronado took advantage of Wichita Falls Rider playing without star quarterback Jacob Rodriguez on Friday and built on the solid defense that has been a major surprise this season.

The No. 8-ranked Mustangs (Class 5A Division I) dominated the Raiders on defense and special teams on the way to a 51-13 victory in non-district action at Memorial Stadium. Coronado improved to 4-0, while Rider dropped to 3-1, but it remains to be seen if the Raiders will fall from their No. 4 ranking in Class 5A Division II.
Coronado limited the Raiders to 208 total yards and produced a touchdown on special teams when Nick Lamb scooped up a blocked punt and dashed 20 yards to the end zone in the third quarter.
A methodical offensive performance in the first half yielded a 16-0 halftime leads with the defense extending its streak of holding opponents scoreless to 10 quarters. Rider broke that streak at the 10:33 mark of the third quarter when Nick Darcus took a kickoff 99 yards to paydirt to reduce the Mustangs' lead to 23-7.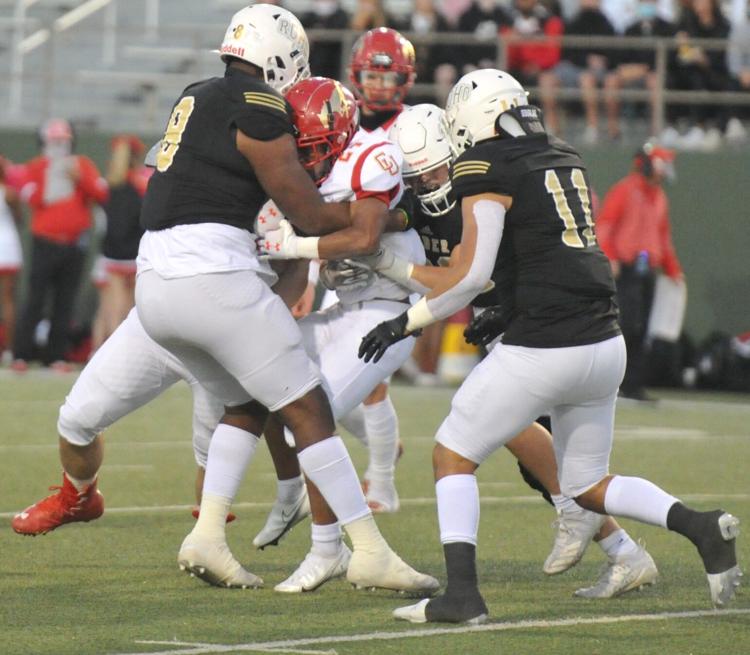 Rider got within 30-13 with 3:46 left in the third on a 3-yard TD run by Coleman Bledsoe. Coronado scored two TDs in the final 2:15 of the third quarter, mounting a 44-13 advantage and ending any thoughts of a Rider miracle rally.
Coronado senior quarterback Sawyer Robertson completed 21-of-39 passes for 267 yards and three TDs. Cory Ferriera was his top target with 8 receptions for 97 yards and 2 touchdowns. Antonio Malone led the Mustangs with 91 rushing yards and two scores on 15 carries.
Rider sophomore Jack Pitts completed 11-of-20 passes for 119 yards and rushed for 27 yards filling in for Rodriguez. Ranse Radtke was his top target, catching six passes for 84 yards.
The Mustangs take a week off before beginning District 2-5A Division I play on Oct. 30 against Palo Duro at Plains Capital Park.
-------------------------------------------
CORONADO 51, WICHITA FALLS RIDER 13
Coronado       7      9      28    7      --     51
Rider              0      0      13    0      --     13
COR -- Antonio Malone 1 run (Devin Samples kick)
COR -- Safety, ball snapped over Rider punter's head
COR -- Cory Ferriera 4 pass from Sawyer Robertson (Samples kick)
COR -- Nick Lamb 20 blocked punt return (Samples kick)
RID -- Nick Darcus 99 kickoff return (Kendall Grimes kick)
COR -- Malone 1 run (Samples kick)
RID -- Coleman Bledsoe 3 run (run failed)
COR -- Jay'Kel McCutcheon 3 run (Samples kick)
COR -- Ferriera 16 pass from Robertson (Samples kick)
COR -- Ke'Vondrick Carr 37 pass from Robertson (Samples kick)
TEAM STATS
                                COR               RID
First downs             17                    12
Rushes-yards          30-205             25-85
Passing yards          272                  123
Total yards              477                  208
Passes                    22-40-0           12-21-0
Fumbles-lost           0-0                   3-0
Punts-Avg.              2-42.0              4-25.5
Penalties-yards        4-35                 4-45
INDIVIDUAL STATS
Rushing: Coronado -- Antonio Malone 15-91, Jay'Kel McCutcheon 3-42, Rod Perry 5-38, Sawyer Robertson 5-36; Rider -- Tre Byrd 10-34, Anquan Willis 5-31, Jack Pitts 5-27, Coleman Bledsoe 2-12, Jordon Gibbs 1-3, Cecil Harris 1-0, team 1-(-22).
Passing: Coronado -- Robertson 21-39-0 267 yards, Jett Carroll 1-1-0 5 yards; Rider -- Pitts 11-20-0 119 yards, Haze Johnson 1-1-0 4.
Receiving: Coronado -- Cory Ferriera 8-97, Eli Martinez 6-66, Trevor Stephens 4-41, Ke'Vondrick Carr 1-37, Malone 2-26, Will Boyles 1-5; Rider -- Ranse Radtke 6-84, Jaden Miller 1-17, Jed Castles 1-14, Nick Darcus 3-4, Ethan Eskew 1-4.
Records:  Coronado 4-0, Rider 3-1
Up next: Palo Duro at Coronado, 7 p.m. Friday, Oct. 30