For most of this season, Coronado coach Seth Parr waited for his defense to match what the offense was doing.
In Thursday night's regular-season finale at Plains Capital Park-Lowrey Field, Parr got what was looking for and the Mustangs secured a playoff spot in the process.
Sawyer Robertson threw for 345 yards and five touchdowns, two to emerging sophomore Will Boyles, and the Coronado defense held Caprock scoreless until late in the third quarter and turned back most every other scoring chance. While the Mustangs' performance wasn't crisp, it was enough in the cold, foggy conditions for a 40-14 victory.
"I thought we were on (at the start) and then it got a little off, but it could have been a lot of different things," Parr said. "It wasn't the most ideal conditions either, but they handled it well. Probably got a little greedy there and felt like we could beat them on a couple of vertical (passes) and were a couple of yards off. Sometimes you go to the cookie jar too many times when we could have run it and helped ourselves out a little bit."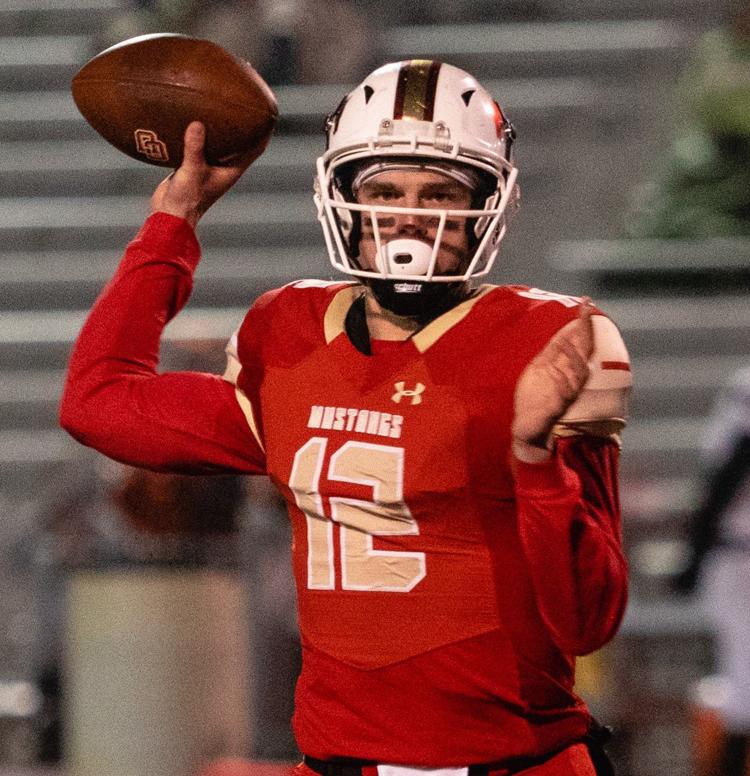 With the win, Coronado (6-4, 4-2 in District 2-5A, Division I), sewed up a playoff spot and will represent the district as the third seed. The Mustangs eliminated Caprock (2-8, 2-4), which means Monterey will be the No. 4 seed. The Plainsmen close their season Friday against Lubbock High.
As the third seed, the Mustangs will face El Paso Eastwood, the second seed from District 1-5A, in the bi-district round of the playoffs next week at a time, site and date to be determined.
If the Mustangs can continue the upward climb they've been on the last five weeks, however, their season could go much farther. Coronado totaled 427 yards of offense against the Longhorns in winning its third straight game.
"We struggled those first few games, but it's all coming together now," Robertson said. "It couldn't be a better time to come together heading into the playoffs. We're looking forward to it and hopefully the offense can keep doing what it's doing."
The Longhorns' first touchdown came with just over a minute left in the third quarter, and their other was on the last play of the game, well after Coronado had put the game away. Caprock finished with 402 yards of total offense but turned the ball over three times and had three other drives end on downs, twice inside the Mustangs' 35-yard-line.
Coronado picked off Caprock quarterback Richard Deleon three times, one each by Ted Gilmore, Imari Jones and Kaleb Pillow. All three came inside the Mustangs 10 or in the end zone, turning away potential Caprock scoring drives.
It was the second straight game where Coronado allowed 14 points or fewer after allowing 131 points combined in the three games prior, two of which were district losses.
"I think it was just coming out and having the mentality of no matter what plays they make, just keep going," Jones said. "One of our coaches came in before the game and said, 'play every play.' So that just stuck in our mind and we kept playing, no matter if they scored, got a first down, or what.
"We've had some rough games, but this was a big step."
Caprock tried all its tricks to stay in the game, including executing two successful onside kicks, the second coming to start the second half. Neither of the drives resulting from the onside kicks amounted to anything, both resulting in turnovers.
Despite holding a two-touchdown lead at the intermission, Coronado was actually outgained by Caprock in the first half, 204-177. But the Coronado defense, which has been playing some of its best football of the season down the stretch, came up with the stops when needed.
The Mustangs set the tone for the first half right off the bat, forcing the Longhorns to punt on their first drive then finding the end zone in just eight plays.
Robertson completed 6-of-7 passes on the drive for 66 yards, ending when he rolled to his right to avoid pressure and found Will Boyles for a 12-yard touchdown and a 7-0 lead with 6:15 left in the first quarter.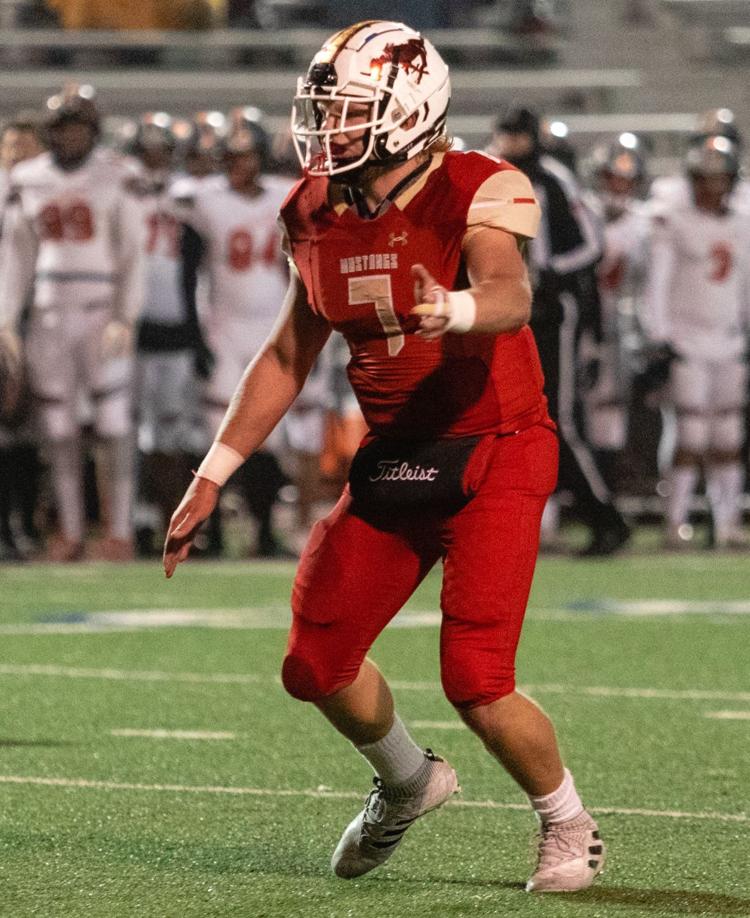 Leading 14-0 at halftime thanks to a Kaleb Manuel's 53-yard catch-and-run for a touchdown, the Mustang defense rose up again after Caprock executed an onside kick to start the third quarter.
After thwarting the Longhorns by forcing a turnover on downs, Coronado took full control of the game by driving for a score, this time Robertson's 14-yard pass to Jon Hernandez to make the score 20-0 with 9:41 left in the period.
Coronado scored on two of its next three drives to put the game away. The Mustangs turned Jones' interception midway through the third quarter into Boyles' second touchdown of the game, a 11-yarder with 3:22 to play in the period. Then after Caprock scored and executed another successful onside only to give it back on the Pillow pick, the Mustangs needed just four plays to push the lead to 33-7 on a 52-yard bomb to Cory Ferriera less than 2 minutes into the final period.
PHOTO GALLERY | Caprock at Coronado
The Mustangs' reserves finished the scoring as Armando Gonzales hit Antonio Malone for a 14-yard touchdown to finish the scoring. Caprock then scored as time expired as Deleon hit Devon Smith for an 11-yard touchdown.
By that point, however, the Mustangs were well on their way to celebrating the victory and looking forward to the postseason, where they feel they can do some damage if they keep playing the way they have the last three weeks.
"That's what you want," Parr said. "You've always got a couple of peaks during the season and you're never the same team at the beginning as you are at the end. But we ended up staying pretty healthy and able to get better and keep on improving."
---------------------------------------------------------
CORONADO 40, CAPROCK 14
Caprock         0      0      7      7      --     14
Coronado       7      7      12    7      --     40
COR – Will Boyles 12 pass from Sawyer Robertson (Cooper Hamilton kick)
COR – Kaleb Manuel 53 pass from Robertson (Hamilton kick)
COR – Jon Hernandez 14 pass from Robertson (kick failed)
COR – Boyles 11 pass from Robertson (kick failed)
CAP – Draven Solis 2 run (Cason Polivoda kick)
COR – Cory Ferriera 52 pass from Robertson (Hamilton kick)
COR – Antonio Malone 14 pass from Armando Gonzales (Hamilton kick)
CAP – Jose Reynoso 11 pass from Richard Deleon (Lyvan Alamo kick)
Team statistics
                                CAP                COR
First downs             18                    21
Rushes-yards          24-100             15-63
Passing yards          302                  364
Total yards              402                  427
Passes                    21-41-3           26-41-1
Punts-Avg.              4-28.2              2-39.0
Fumbles-lost            0-0                   0-0
Penalties-yards         9-72                 5-45
Individual statistics
RUSHING: Caprock -- Corbin Putman 13-47, Draven Solis 9-47, Jose Reynoso 1-7, Richard Deleon 1-(-1); Coronado -- Antonio Malone 5-23, Jon Hernandez 1-23, Kaleb Manuel 5-17, Izaiah Kelley 2-9, Neal High 1-2, Sawyer Robertson 1-(-10).
PASSING: Caprock -- Deleon 21-41-3 302 yards; Coronado -- Robertson 24-37-1 345 yards, Armando Gonzales 2-4-0 19.
RECEIVING: Caprock -- Bryan Rodriguez 6-99, Fabian Morales 3-89, Reynoso 6-55, Solis 1-22, Rey Lugo 1-17, Devon Smith 1-11, Isayah Hernandez 2-9, Putman 1-0; Coronado -- Will Boyles 7-99, Cory Ferriera 4-78, Manuel 4-75, Jon Hernandez 6-68, Zaylon Brown 4-30, Malone 1-14.
Records: Caprock 2-8, 2-3 District 2-5A Division II; Coronado 6-4, 4-2. Up next: Class 5A bi-district playoffs – Coronado at El Paso Eastwood, TBD.