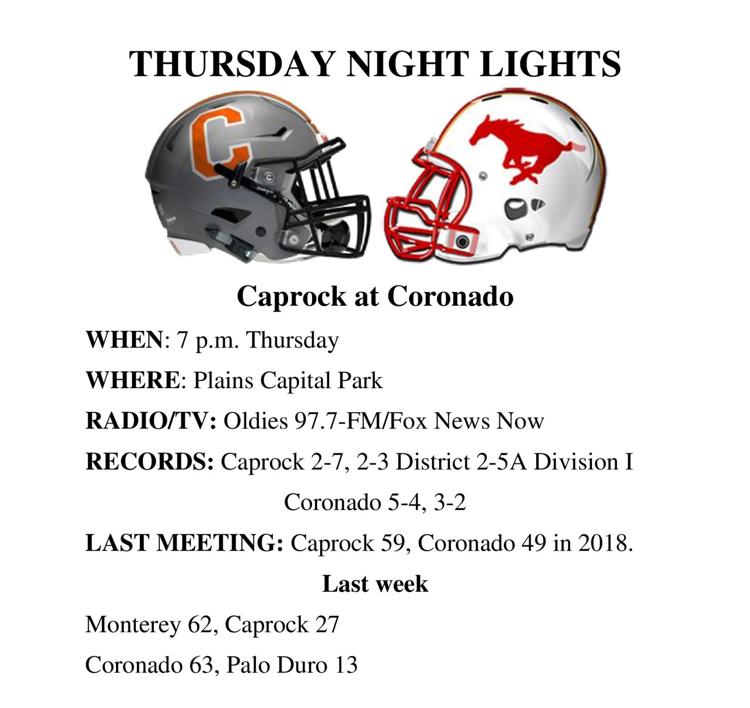 No football season is static. Teams get better or worse, depending on how hard they work -- especially if there are some unexpected setbacks along the way.
Coronado's 2019 season has been a bit of a rollercoaster with two losses followed by three wins, two more losses and two more wins.
That brings the Mustangs to the regular-season finale in a bit of unchartered territory, but they also might be playing their best football.
With a playoff berth as the major object in the windshield, Coronado (5-4, 3-2 District 2-5A Division I) hosts Caprock (2-7, 2-3) at 7 p.m. at Plains Capital Park at 7 p.m. Thursday. Oldies 97.7-FM will broadcast the game and Fox News Now will televise a contest with some high-level implications.
The formula is pretty simple for the Mustangs. If they win to produce their second three-game winning streak of the season, the punch a ticket to the postseason as the No. 3 seed from 2-5A Division I. A loss by less than 13 points achieves the same goal, with the outcome of the Lubbock High-Monterey game also a factor.
The most logical thing for Coronado is to strip away the what-ifs and points needed factors and keep doing what it has done the last two games with solid victories against Monterey and Palo Duro that lifted the Mustangs onto the verge of a playoff spot.
"We know what the mathematics say, but we just want to come out and do our best and see how it turns out," Coronado coach Seth Parr said. "Hopefully we're putting a total team together in the 10th week of the season. I think we're better at the end of this season than we were going into the playoffs last year and that has a lot to do with how we have learned from some of the things that haven't gone our way."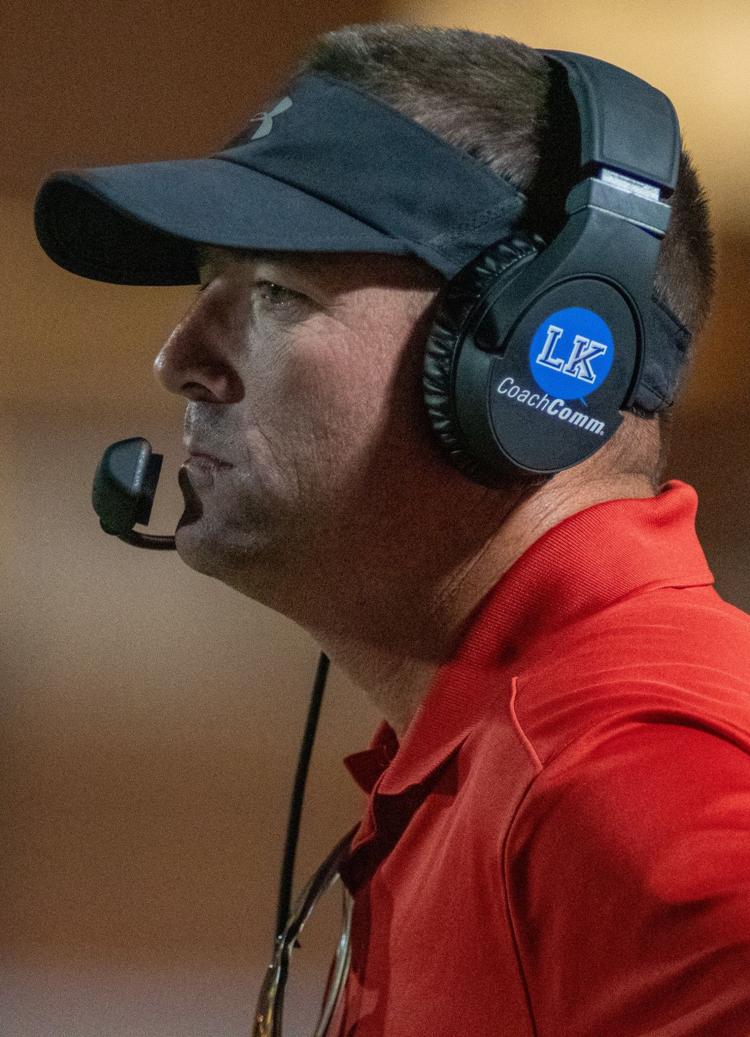 The math that might matter more than anything and leave the Mustangs as a team off the radar a bit has to do with who they lost to – those turns on the learning curve that may have toughened Coronado's skin.
The four setbacks have come against Estacado, Lubbock-Cooper, Abilene Cooper and Amarillo High. Those four teams are a combined 33-3. Three of the four could nail down district championships on Friday and all four are the kind of teams that could hang around quite a while in the playoffs. By contrast, Coronado has outscored the five foes it has beaten 237-114.
Little things here and there cost the Mustangs in their four losses -- two by a single score that were decided in the final minute -- adding to the catalog of coaching material Parr and his staff have used to provide guidance to a younger team than Coronado has played with the last few seasons.
By this point of the season, the onus shifts to the players to put what they have learned to good use.
"With a few different bounces, we might be sitting here 7-2 and have a better feeling about the season, but we didn't get those, so we are where we are," Parr said. "You're never the same team at the end of the season that you were in the beginning, and that's especially true for us this year. We're still looking for some maturity and growth and leadership to come through and if we get some of those things, we have a chance to be a pretty good football team."
Some changes on defense, aided by the return of a gritty veteran, have helped redirect the Mustangs' fortunes. Senior linebacker Nathaniel Silva missed the Amarillo game with a sprained knee but refused to let that be the final chapter of his high school career. He logged an eye-popping 22 tackles (16 solo) against Monterey.
Silva's emergence allowed the Coronado coaches to shift Izaiah Kelley to the buck linebacker position where he can use his speed and athleticism to hunt down and disrupt offenses. With Charlie Robinson anchoring the middle linebacker spot, the second layer of the Coronado defense has solidified a unit that was getting gashed by big running plays.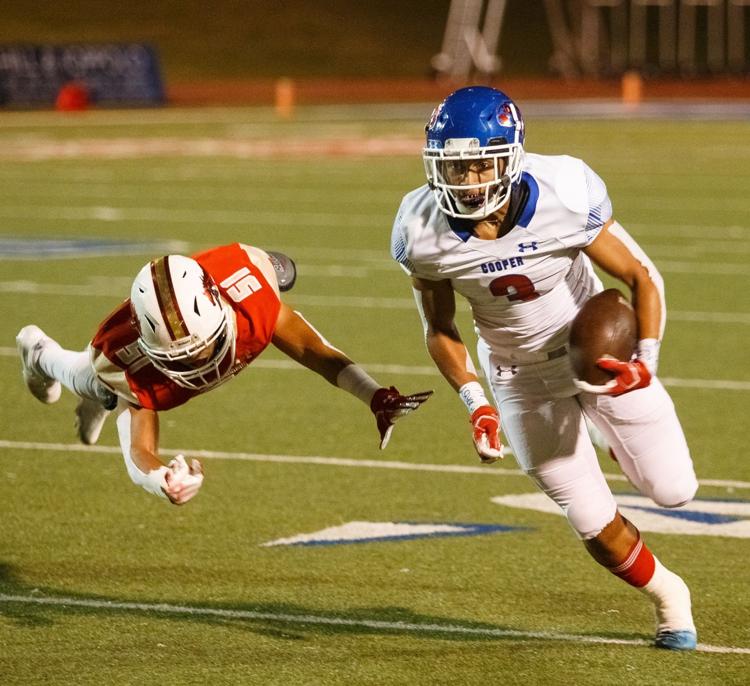 "I just try to bring some fire to the team," Silva said. "Coming back from the injury, I wanted to make an impact. I think we've gotten better because we're reading plays better and we came together as a team. We've finally out the team we need to be."
The linebacking corps has been at the heart of a defensive renaissance that will be tested by the Longhorns. Despite a current three-game skid, Caprock can still get into the playoffs with either a win over Coronado by 13 points or more or a Monterey loss to Lubbock High.
The Longhorns aren't the same team that tied the Mustangs for the district crown last season, but they can be dangerous when quarterback Tarik Williams gets on a roll.
Last week in a 62-27 loss against Monterey, Williams passed for 155 yards and ran for 69 to buoy a 481-yard offensive performance.
When the teams met last season, Williams was a key component in the Longhorns' win in a wild 59-49 shootout. Silva was on the field that night after taking over as a starter when Trey Stephens' season ended. He said Coronado has a better feel for how to corral Williams and the Caprock offense -- and as has been the case recently, it has a lot to do with the linebackers being more aggressive.
In losses to Abilene Cooper and Amarillo, Parr said the Mustang defense got burned by waiting for plays to get to defenders, so the focus became being the aggressor.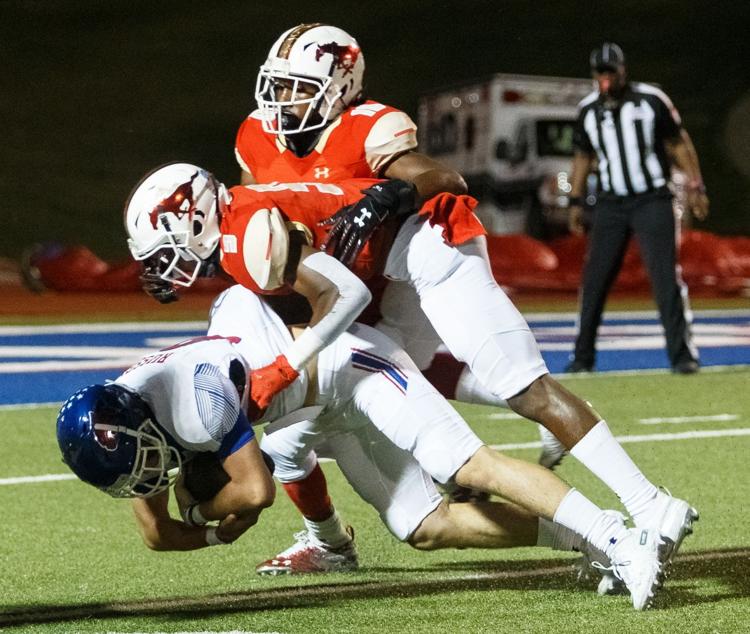 The next week, Silva, Robinson and Kelley teamed up for 49 tackles, three tackles for loss, two fumble recoveries and a defensive touchdown.
"We've worked on that a lot the last three weeks and it's made us better," Silva said. "We have to keep playing that way."
Added Parr, "We're getting little more physical and understanding the defensive scheme. We've got guys in the right spots now. Nathaniel is starting to understand the scheme better. He's a tough football player and he's seeing things better and that's allowed us to put Izaiah in a spot where he can shine more."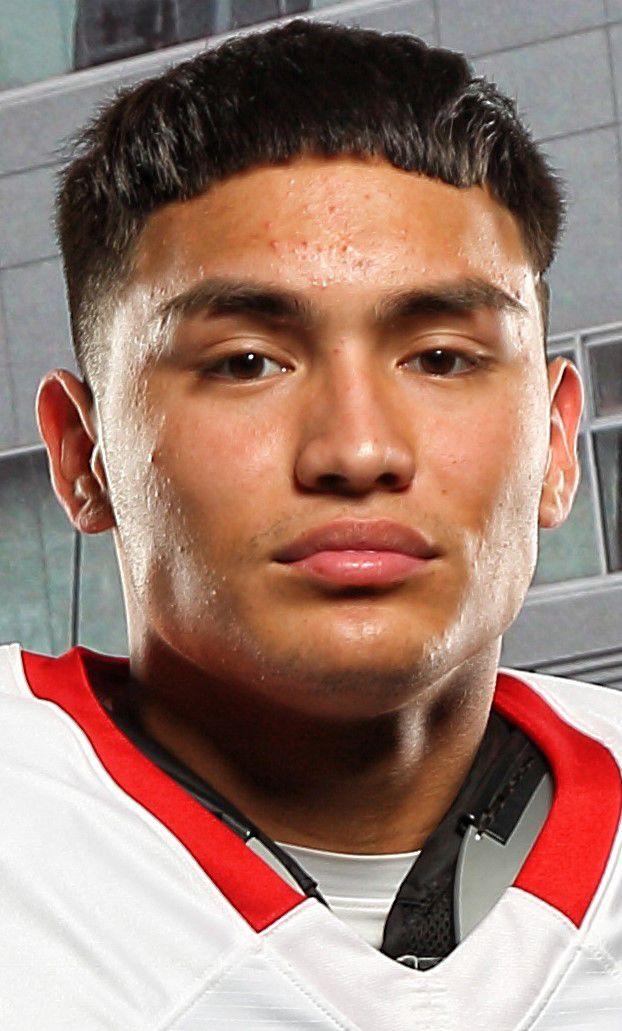 As much as Coronado has to contend with Williams, the Longhorns have to figure out a way to solve the Mustangs offense and quarterback Sawyer Robertson.
Last week the junior peppered Palo Duro for 301 yards and 6 touchdown passes in a little over a half of action. He has thrown for 2,966 yards and 32 touchdowns, making the Coronado offense has been tough to slow down most of the season.
Putting up points doesn't figure to be a problem this week against a Longhorn defense that surrenders 405.1 yards a game and has given up 35 points or more in all seven losses.
After a 2-0 start in district play, the Longhorns have allowed 51, 45 and 62 points.
That puts the onus on the Coronado defense, and for the first time this season, the confidence for that unit is on an upswing.
"We all know how good we can be when we play together," Silva said. "We know where we have had problems before and as long as fix those things, we can be a very good defense."
------------------------------------------
Randy Rosetta is the publisher of HubCityPreps.com
Contact him at HubCityPreps.com or (806) 407-0188.
Follow on Twitter | @HubCityPrepsLBK & @RandyRosetta