When a team is clicking as well as Coronado has so far this season, there is a methodical rhythm to the Mustangs' approach that is a sight to behold.

Unless you happen to be the team on the other side, which is what Amarillo High got a full dose of Friday night at Plains Capital Park.
Dominating on both sides of the ball, Coronado took a variety of paths to dismantling the Sandies 45-13 in a showdown of District 2-5A Division I heavyweights.
The No. 7-ranked Mustangs torched the Amarillo High defense for 630 total yards, with Sawyer Robertson throwing for 496 and 4 touchdowns and six players accounting for 64 yards receiving or more. The Coronado defense stymied Sandies most of the night, recording 6 sacks, picking off 4 interceptions and allowing only one offensive touchdown.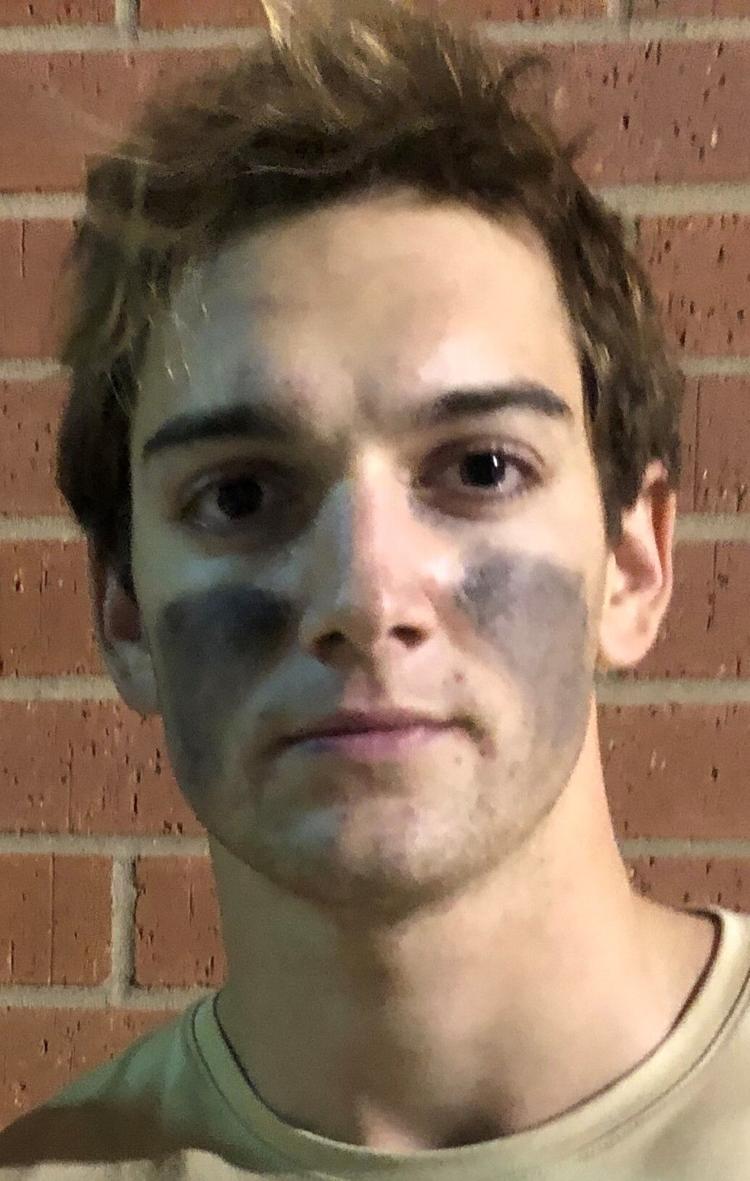 The outcome was no longer in doubt by halftime, which was sweet redemption after Amarillo High eked out a 31-28 victory on a field goal as time expired a year ago.
"It was huge for our team," said Mustangs senior receiver Cory Ferriera, who snatched 5 catches for 88 yards and broke the seal on the scoring with a 41-yard snag of a picture-perfect Robertson throw on Coronado's opening series.
"Getting beat the way we did last year was heartbreaking when we lost on that last-second field goal. This year we're trying to make a district championship run and a playoff run. To beat a team like them with that squad really sent a message. It was a great team win."
And a victory that followed a script that is becoming redundant in the best way imaginable.
Robertson patiently dissected the Sandies' defense from the get-go and completed his first 11 passes for 173 yards and touchdowns – the first to Ferriera then the first of three scoring hookups with Eli Martinez. Robertson capped Coronado's third offensive possession by poking into the end zone on a 1-yard run for a 21-0 advantage at the 10:14 mark of the second quarter.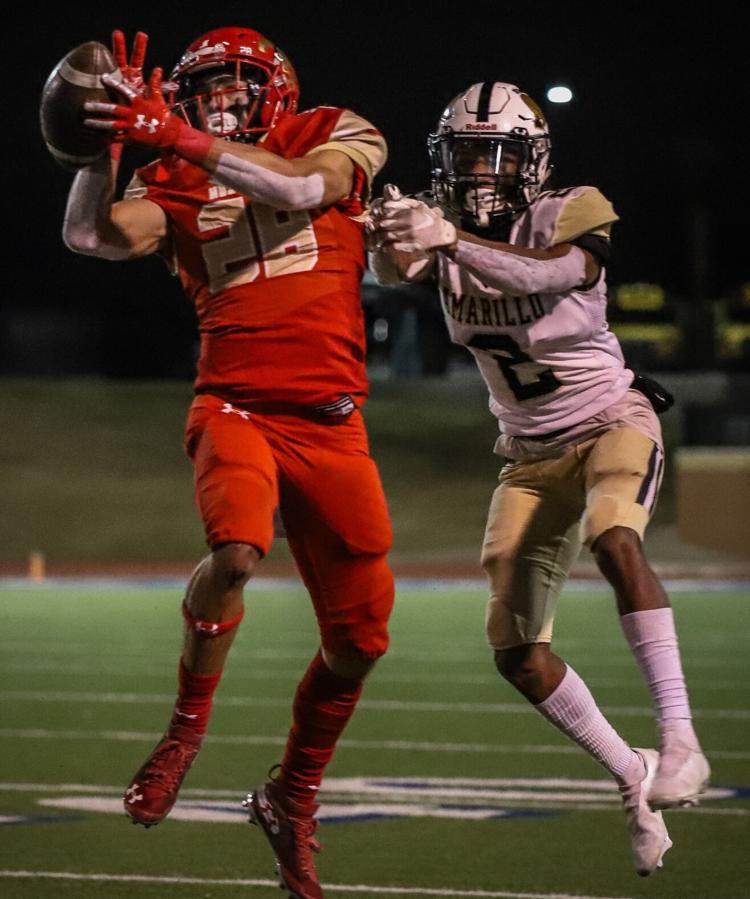 By that point, the Mustangs (7-0, 3-0 District 2-5A Division I) had racked up 238 yards on 20 snaps. Amarillo High's ledger by contrast was 15 plays, 47 yards, two punts and an Izaiah Kelley interception.
After producing two first downs on the opening march of the game, the Sandies (4-3, 2-2) recorded one or none on five of their last six chances the rest of the first half and wound up with only 113 yards by halftime.
"We came together and were all on the same page," said Coronado safety Ryan Edwards, who claimed two of the Mustangs' four picks. "It really shows that when we come together, we can beat some great teams like this.
"We didn't want them to score us. That was just our mentality going into the game."
Added Mustangs' coach Seth Parr on his crew's defense, "They're playing really good. They're ballhawks and are playing really great team defense. We were able to stop the run and force (Amarillo High) to throw the ball a little bit and got them in some bad situations, and when you get in bad situations, a lot of time that ball floats."
With Amarillo High's offense unable to stay on the field – the Sandies came up empty on six consecutive third-down conversion tries after they fell behind – the Mustangs just kept chopping wood.
Whether it was short completions that receivers turned into big plays, darting runs by Antonio Malone or Jay'Kel McCutcheon or the occasional long dagger, Coronado's offense kept percolating.
Ke'Vondrick Carr hauled in a 58-yard on-the-money pass from Robertson to set up a fourth touchdown in four series. Then, even when the Mustangs bogged down a bit and the penalty bug bit, senior kicker Devin Samples trotted out and boomed a 47-yard field goal for a 31-0 cushion.
Ted Gilmore and Edwards snuffed out the Sandies' final two series of the second quarter with acrobatic interceptions. By the intermission, Robertson had rung up 337 yards through the air.
Ferriera said the Mustangs' offensive synergy is a product of the veteran receiving corps and Robertson's communication skills between plays, on the sideline or whenever there is a chance to figure out something that will be a thorn in the defense's side.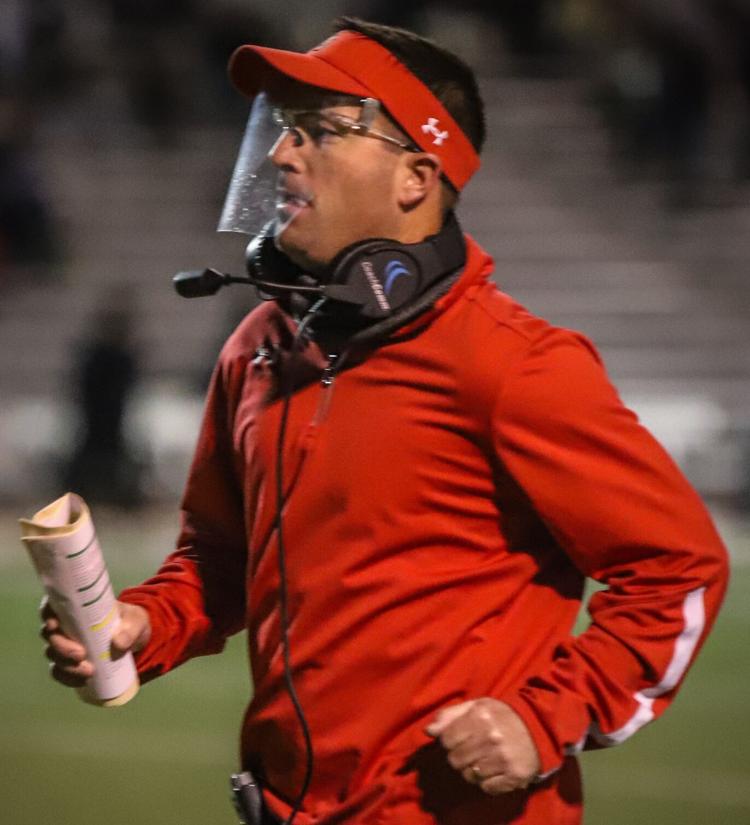 "We tell Sawyer what's open and Sawyer has vision all over the field," Ferriera said. "Sometimes we tell him 'I'm open!' But he knows what's open. He does a great job about it."
Coronado added a completely different layer to its offensive repertoire to launch the second half, and in the process took all the remaining wind of the Sandies' sails.
The Mustangs churned out a 75-yard touchdown drive on 16 plays that devoured 7:22 of the third quarter and extended the lead to 38-0 when Robertson moved in the pocket long enough to zip a 3-yard scoring strike to Martinez on 4th-and-goal.
Amarillo High countered by ending the shutout bid when Davin Lemmons found a seam on a popup kickoff and raced 75 yards to the house.
How did Coronado answer? Malone corralled a swing pass, busted through two would-be tackles and darted 75 yards down the sideline for a touchdown.
Buoyed by that dagger, Malone led the Mustangs with 106 receiving yards. Trevor Stephens grabbed 4 passes for 103 and Will Boyles had 8 for 90.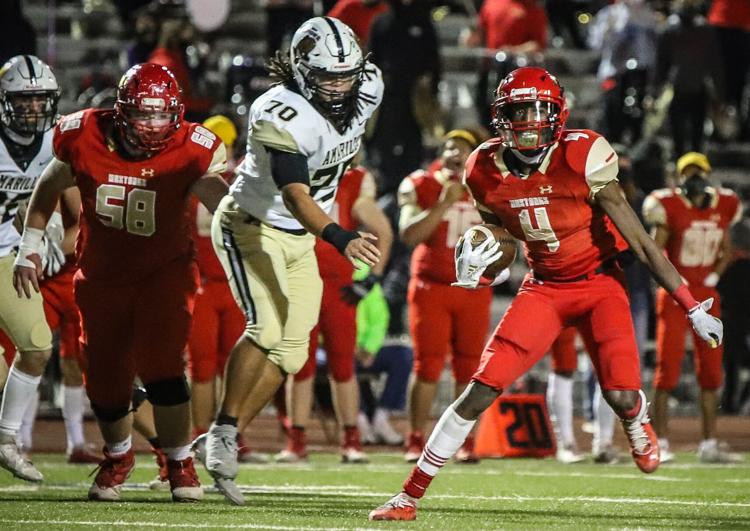 "We just came out and executed plays really well and played at a high level," Parr said. "(Amarillo High) threw a lot of different things at us that we hadn't seen, but we found the open seams. Sawyer and the receivers and o-linemen played really well, and the running backs had a good game, too."
And as a result, the Mustang train kept rolling. Up next is a road game at Caprock next Friday before Coronado takes on Monterey the night after Thanksgiving and wraps up with a showdown against Tascosa to end the regular season.
-------------------------------------
CORONADO 45, AMARILLO HIGH 13
Amarillo High               0      0      7      6      --     13
Coronado                    14    17    14     0      --     45
COR -- Cory Ferriera 41 pass from Sawyer Roberson (Devin Samples kick)
COR -- Eli Martinez 7 pass from Robertson (Samples kick)
COR -- Robertson 1 run (Samples kick)
COR -- Martinez 5 pass from Robertson (Samples kick)
COR -- Samples 47 FG
COR -- Martinez 3 run (Samples kick)
AMA -- Davin Lemmons 75 kickoff return (Luke Laminack kick)
COR -- Antonio Malone 75 pass from Robertson (Samples kick)
AMA -- Jameson Garcia 4 pass from Brock Wade (kick blocked)
TEAM STATISTICS
                                  AMA               COR
First downs             10                     22
Rushes-yards          21-(-) 27           23-118
Passing yards          211                   512
Total yards              184                   630
Passes                     14-26-4            31-45-0
Fumbles-lost            4-0                   0-0
Punts-Avg.               3-38.7              1-26.0
Penalties-yards         4-20                 12-89
INDIVIDUAL STATISTICS
Rushing: Amarillo High -- Taevon Hood 7-30, Levi Slaydon 7-11, Cohen Berry 1-5, Brock Wade 1-(-) 10, Will Maynard 2-(-) 14, team 3-(-) 49; Coronado -- Rod Perry 4-52, Jay'kel McCutcheon 9-41, Antonio Malone 5-16, Sawyer Robertson 4-9, team 1-0.
Passing: Amarillo High -- Wade 8-13-3 124 yards, Maynard 6-13-1 87 yards; Coronado -- Robertson 29-41-0 496 yards, Jett Carroll 2-2-0 16 yards.
Receiving: Amarillo High -- Davin Lemmons 3-100, Cayden Phillips 2-36, Hood 3-32, Jameson Garcia 4-20, Tyreese Molden 2-13; Coronado -- Malone 4-106, Trevor Stephens 4-103, Will Boyles 8-90, Cory Ferriera 5-88, Ke'Vondrick Carr 3-67, Eli Martinez 6-64, McCutcheon 1-6.
Records: Amarillo High 4-3, 2-2 District 2-5A Division I; Coronado 7-0, 3-0.
Up next: Coronado at Caprock, 7 p.m. Friday, Nov. 20.
-------------------------------------
Randy Rosetta is the editor & publisher
Contact him at HubCityPreps@gmail.com
or (806) 407-0188.
@HubCityPrepsLBK | @RandyRosetta