AMARILLO -- Coronado was an occupied the driver's seat most of the night against Amarillo High on Friday, but it was an uneasy perch at best.
A late turnover and the Sandies' flair for the dramatic showed exactly why the Mustangs seat was uneasy.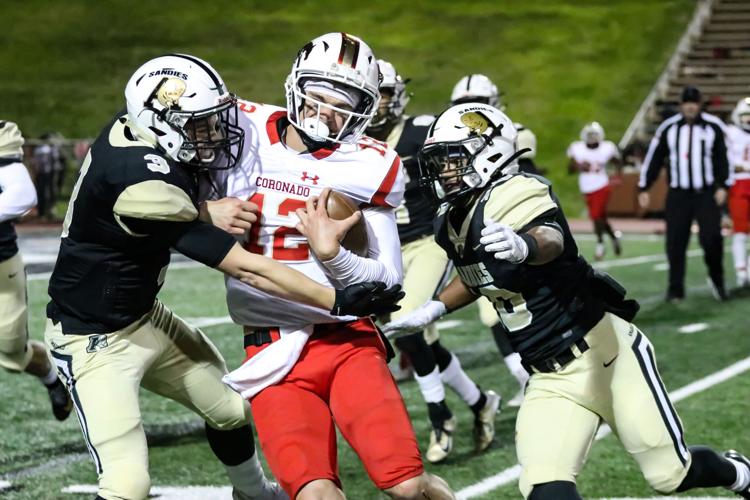 Amarillo kicker A.J. Villar connected on a 36-yard field goal as time expired at Dick Bivins Stadium, the Sandies' only lead of the night.
The ball wound up in Amarillo's hands when Cole Boxwell stripped the ball from sure-handed Coronado quarterback Sawyer Robertson lost a fumble on a scramble inside the final 2 minutes and Trey Thomas recovered.
The Sandies moved from the 35-yard-line to the 19, keyed by a third-down pass from Will Maynard to Davin Lemmons. With 2.6 seconds on the clock, Villar trotted onto the field and snapped a 28-28 deadlock.
Prior to that, Coronado (3-4, 1-2 District 2-5A Division II) claimed the initial lead and the Sandies relentlessly found ways to forge ties.
The Mustangs struck quickly on Robertson's 7-yard touchdown toss to Will Boyles after Jon Hernandez rambled 93 yards with the opening kickoff.
An Amarillo turnover gave Coronado a chance to build a two-score lead, but that fizzled with a missed field goal. The Sandies took advantage of that reprieve with ab 80-yard touchdown march, capped by Maynard's 26-yard pass to Peyton Conner.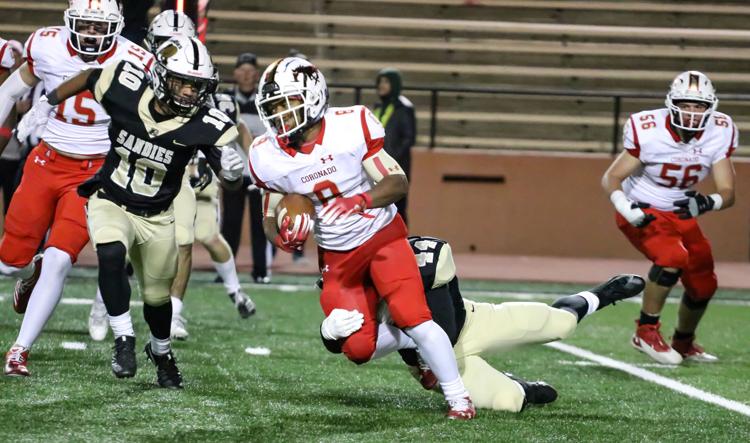 The Mustang offense kept clicking, with Robertson twice hitting Eli Martinez with short touchdown throws -- the first for a 14-7 lead, the second for a 21-14 cushion just before halftime.
The third quarter was back-and-forth, the teams trading touchdowns. Blake Bedwell dashed 10 yards to pay dirt on the last snap of the period to forge a 28-28 deadlock.
Defense ruled much of the final period until the late Mustang giveaway opened the door for Villar and the Sandies (4-2, 2-0).
Straddled with its second two-game losing streak of the season, Coronado is back at Plains Capital Park on Friday in the annual showdown vs. Monterey.
-------------------------------
AMARILLO HIGH 31, CORONADO 28
Coronado    7     14   7     0     --    28
Amarillo      0     14   14   3     --    31
COR -- Will Boyles 7 pass from Sawyer Robertson (Cooper Hamilton kick)
AMA -- Peyton Conner 26 pass from Will Maynard (A.J. Villar kick)
COR -- Eli Martinez 3 pass from Robertson (Hamilton kick)
AMA -- Blake Bedwell 1 run (Villar kick)
COR -- Martinez 8 pass from Robertson (Hamilton kick)
AMA -- Maynard 3 run (Villar kick)
COR -- Robertson 1 run (Hamilton kick)
AMA -- Bedwell 10 run (Villar kick)
AMA -- Villar 36 FG
Team statistics
                                 COR          AMA
First downs                19             23
Rushing                     32-119      49-277
Passing                      237           160
Total yards                 356           437
Passes                        19-27-0    12-19-1
Fumbles-lost              1-1            1-1
Punts-Avg.                 3-36.0        2-41.5
Penalties-yards           4-36          4-34
Individual statistics
RUSHING: Coronado -- Kaleb Manuel 18-65, Sawyer Robertson 10-39, Neal High 3-13, Charlie Robinson 1-2; Amarillo -- Blake Bedwell 28-155, Will Maynard 16-111, Taevon Hood 5-11.
PASSING: Coronado -- Robertson 19-27-0 237 yards; Amarillo -- Maynard 12-19-1 160 yards.
RECEIVING: Coronado -- Jon Hernandez 10-122, Eli Martinez 7-108, Boyles 2-7; Amarillo -- Spencer Thurman 5-64, Peyton Conner 1-26, Bryson Slaughter 2-25, Davin Lemmons 3-24, Braylon Milligan 1-21.
Records: Coronado 3-4, 1-2 District 2-5A Division I; Amarillo High 4-2, 2-0.
Up next: Coronado vs. Monterey, 7:30 p.m. Friday.