ABILENE -- This time, the magic wasn't when Coronado needed it at the end.
This time, an early three-touchdown hole was just too deep, although the feisty Mustangs certainly crawled right to the edge and were poised to do what you have to do at this time of year – survive and advance.
Instead, Midlothian came up with one more defensive play followed by one more clutch third-down conversion run, and that combination nailed down a 21-17 victory at Sandifer Stadium.
Coronado's season ended in the area round after a magical late-season push yielded a tri-District 4-5A championship and created a whole lot of promising momentum heading into the postseason.
So even when the Panthers (8-4) came out clicking and seized a 21-0 first-half lead with the aid of two costly Mustang turnovers, there never seemed to be a sense that Friday was going to be different than any other game.
Only it was.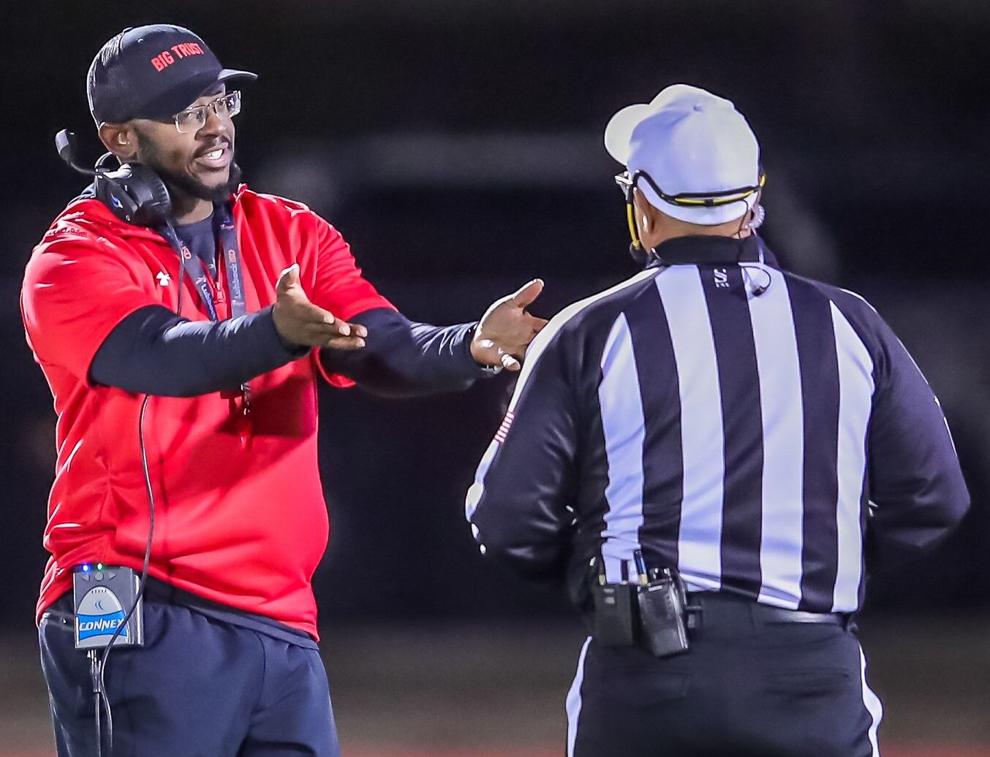 Because the turnover bug bit a few more times and Midlothian's worn-down defense bowed up for a third time inside the 10-yard-line in the fourth quarter to end Coronado's comeback bid.
"We had a lot of chances, but you just can't turn the ball over that much (5 times) and beat a good team," a tearful Mustangs' coach D.J. Mann said after his debut season at his alma mater ended. "My guys kept fighting and we were in a spot to still win it, but Midlothian made some plays."
Added Trevor Stephens, one of a slew of seniors who were vital in the transition to Mann this season, "They couldn't stop what we were doing, but we just shot ourselves in the foot too many times."
Two of the biggest plays the Panthers conjured up came in the final 4½ minutes – right when it seemed like the Mustangs (7-5) were on the verge of taking their first lead of the night after linebacker John Curry smothered a Midlothian fumble with 7:34 to go.
In a rhythm that was present much of the second half, the Coronado offense churned out four quick first downs, with Antonio Malone wiggling, crashing and evading his way to 39 yards on six carries – part of a huge 184-yard rushing performance in his final game.
The Mustangs got to the 9-yard-line on a Jett Carroll-to-Surreal Garrett connection, which came right after those two narrowly missed connecting on a go-ahead TD on a fade pass to the corner of the end zone when Garrett was ruled to be out of bounds on a razor-close call.
But the Panthers walled up Malone on third-and-2, and when he tried to get to the edge on fourth down, Midlothian's Kade Thompkins refused to budge, knocked the ball loose and Bradyn Smith pounced on it.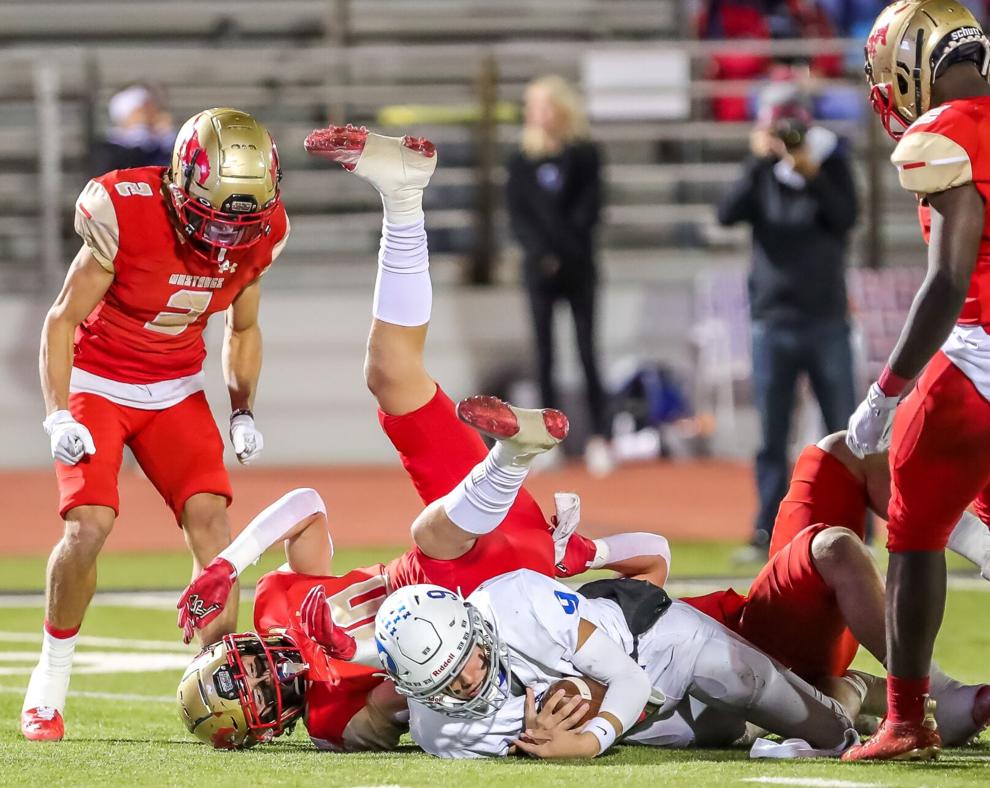 With 4:18 to go, the Panthers' triple-option offense – shut down most of the second half by a reinvigorated Coronado defense – sealed the win. Burly fullback De'ago Benson plowed ahead 20 yards on the first play and on fourth-and-1with 2:47 left, he crashed for 3 yards.
That came after the Mustangs' final timeout, and Midlothian ran out the clock after that. Until that final possession, the Panthers had managed only 55 second-half yards as Coronado defense gave its team every possible chance to rally.
"They've been doing it all year," Stephens said. He capped his career by grabbing 7 passes for 126 yards and a 62-yard catch-and-run that pulled the Mustangs within 21-14 late in the second quarter.
"We wouldn't be in the position we are without them. Those guys gave us a lot of confidence all season, and I hope young guys like (Curry), Cam (Manahan) and De'Aundre (Lewis) take this feeling to heart and know how good they can be next year."
It took some digging-deep adjustments for Coronado and its defense after the opportunistic Panthers came out clicking.
The Mustangs' first two offensive series ended with an interception and lost fumble and Midlothian answered each with Michael Garber touchdown runs on basic fullback runs, the second a 45-yard rumble off the right edge.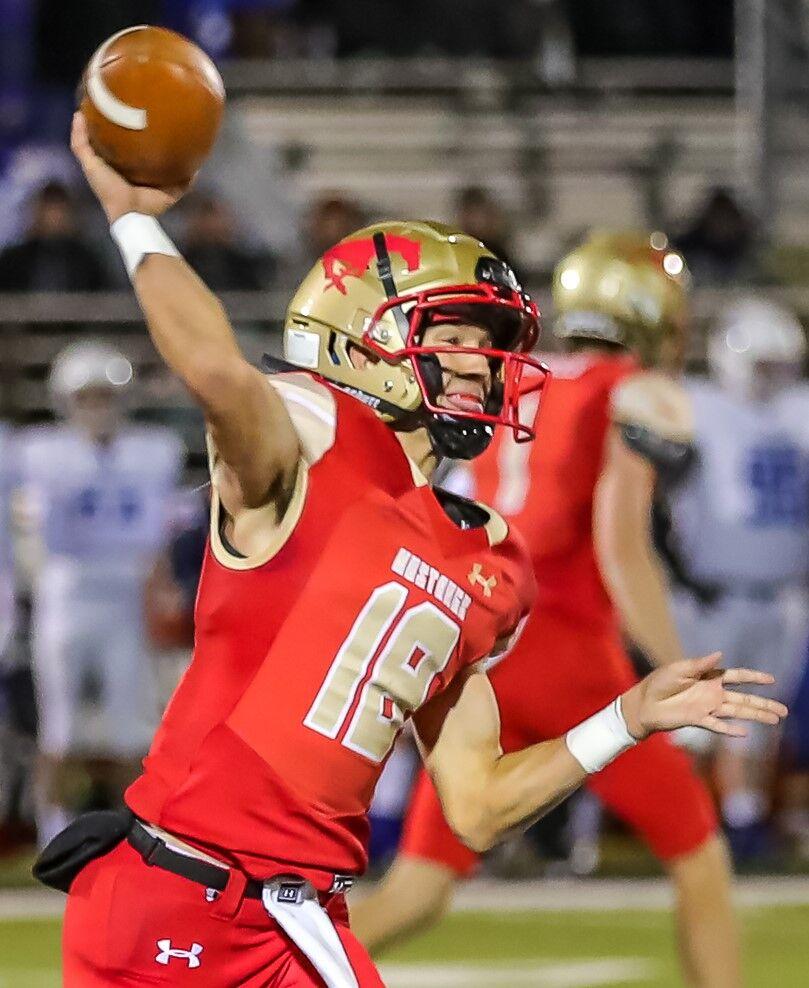 The Mustangs nearly cut the lead in half with a 15-play march when Carroll got comfortable by hitting 7-of-8 throws for 50 yards to help his team move from the 18-yard-line to the Panthers' 1-yard-line.
But four snaps from the doorstep came up empty and Midlothian answered. Two huge third-down conversions gobbled up 65 yards and a fourth-down run extended the possession long enough for quarterback Chad Ragle to cross the goal line on a 1-yard keeper for a 21-0 lead with 8:36 on the second-quarter clock.
"We needed to get the ball in the end zone earlier than we did to change the game," Mann said. "That was a missed opportunity."
Malone made sure Coronado finally did so on the ensuing series. Taking matters into his own hands and sturdy legs, Malone dodged-and-weaved for 53 yards on the final four totes of the drive and hit paydirt from the 1-yard-line to get the Mustangs on the scoreboard.
The Panthers missed a field goal on their next chance and Coronado struck quickly when Carroll rolled right and rifled an 18-yard strike to Stephens on the second play, then executed a perfect head-and-shoulder fake to give his big tight end a chance to get open over the middle for a snag that he dashed 62 yards with to the house.
Two turnovers to begin the second half prevented the Mustangs from crawling closer until Carson Shields booted a 30-yard field goal with 8:55 left in the game. But there was never a sense of Coronado waving a white flag – reminiscent of their early season when the Mustangs began 0-3 and never stopped scratching and clawing.
That gives the core group coming back a foundation to take into the offseason, along with the respect of their departing teammates.
"These young guys, they've got heart," senior receiver Will Boyles said. "We came into this year with a new coaching staff and overcoming that took some adjustments and they helped us do that. We knew they had heart but didn't think they had this much."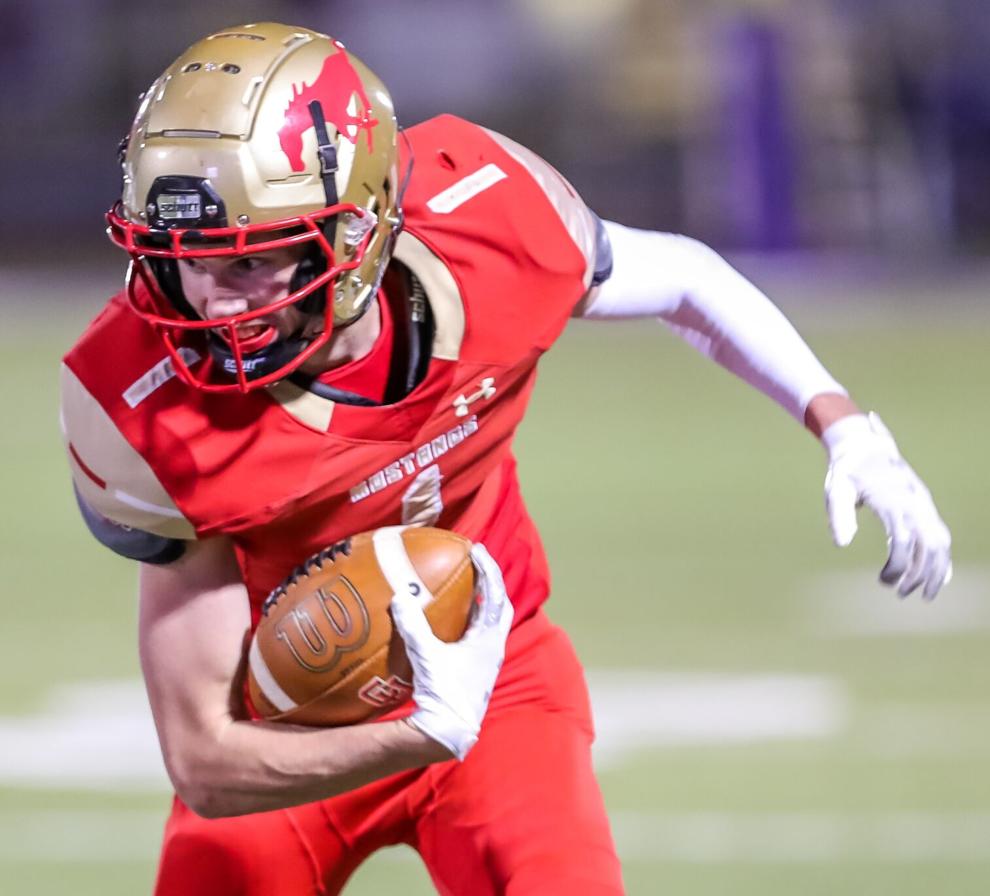 And that leaves the senior crew with one final bittersweet chapter to a two-year story that started with a 12-1 district championship season under former coach Seth Parr and ended Friday.
"These are memories we'll have for a while," Stephens said. "We had to get used to a new coaching staff and showed we could handle that, which is something we can take to the next level and the rest of our lives.
Added Boyles, who missed a large chunk of the season with a broken arm but returned to grab 5 passes in his finale, "We'll remember all of it. How can you forget it?"
----------------------------------------
CLASS 5A DIVISION I
Area-round playoff | At Sandifer Stadium
MIDLOTHIAN 21, CORONADO 17
Midlothian     14    7      0      0      --     21
Coronado       0      14    0      3      --     17
MID -- Michael Garber 5 run (Tyson Williams kick)
MID -- Garber 45 run (Williams kick)
MID -- Chad Ragle 1 run (Williams kick)
COR -- Antonio Malone 1 run (Carson Shields kick)
COR -- Trevor Stephens 62 pass from Jett Carroll (Shields kick)
COR -- Shields 30 FG
TEAM STATISTICS
                                MID                COR
First downs             18                    25
Rushes-yards          50-314            35-187
Passing yards          52                    234
Total yards               366                  421
Passes                     2-8-0                22-33-2
Fumbles-lost            3-1                   4-3
Punts-Avg.                2-35.5              0-0
Penalties-yards         5-42                 6-50
INDIVIDUAL STATISTICS
Rushing: Midlothian -- Benson 14-97, Michael Garber 11-86, Smith 4-69, Richburg 10-56, Ragle 8-22, team 3-(minus) 20; Coronado -- Antonio Malone 29-184, Jett Carroll 6-3.
Passing: Midlothian -- Ragle 2-7-0 52 yards, Jackson 0-1-0 0; Coronado -- Carroll 22-33-2 234 yards.
Receiving: Midlothian -- Jackson 2-52; Coronado -- Trevor Stephens 7-126, Will Boyles 5-33, Malone 3-20, Surreal Garrett 3-18, Jikiri McGrew 4-17.
Records: Midlothian 8-4, Coronado 7-5