Estacado coach Joe Cluley knew from the first time he saw senior running back Jermiah Dobbins carry the football he had a special player on his hands.
On Friday in the first game of the final leg of Dobbins' football journey with the Matadors, Cluley praised Dobbins' maturity and leadership as characteristics that are important to not only his success, but the success of the team.
"He is such an unbelievable football player in every way, shape and form," Cluley said. "We could probably put him in there at linebacker if we wanted to. You watch the things he does with the football, and then what he does without the football, he is such a special player. Beyond that, he is a much better kid than he is a football player and he's one of the most phenomenal leaders I've been around. He makes us go."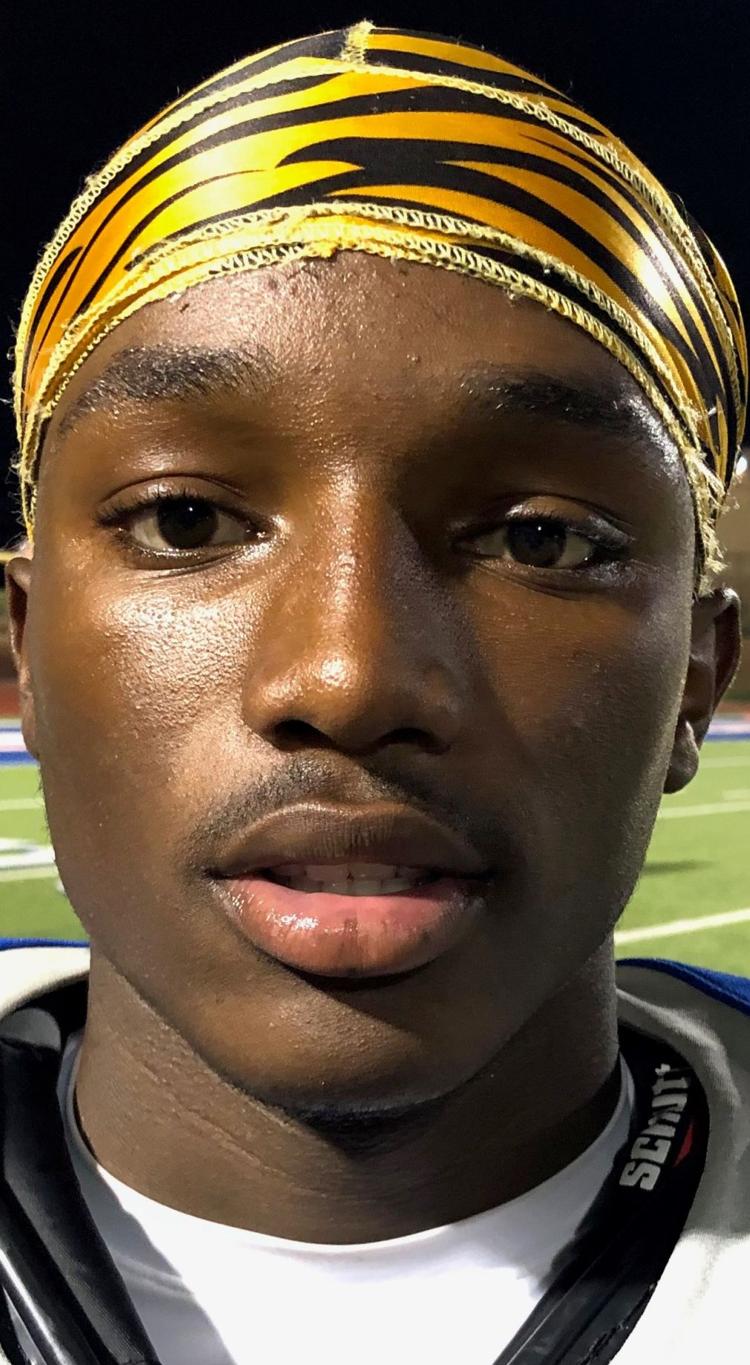 That leadership and ability to ignite Estacado were on full display in a Class 4A bi-district playoff against Sweetwater. Dobbins' 59-yard touchdown run late in the first quarter helped the Matadors overcome a slow start, and his 254 rushing yards and five touchdowns powered them to a 53-30 victory at Plains Capital Park.
"Once we got going, it was on," Dobbins said. "It's just simple things, like getting the right guys to step in the right place at the right time. The defense did their part and we had to come out and do our part."
The win advances Estacado (11-0) to the area round where it will face Graham (7-4) for the second straight year. The Matadors beat Graham 46-30 in the second round last and hopes for similar results when the two meet at 7:30 p.m. Friday at Abilene Christian University's Wildcat Stadium.
"We're excited about going out there and playing a really, really good football team," Cluley said.
With a running back like Dobbins on his side, why wouldn't he be?
The last decade has seen some of the best running backs to come through Estacado since the school first fielded a varsity football team in 1968. Names like Augustine Abigide and Robert Johnson are prominent in the Matador record books.
If Estacado can make a deep playoff run, and Dobbins can continue to do what he's done all year, his name just might be at the top of all those records when it's all said and done.
Against Sweetwater (4-7), Dobbins almost singlehandedly pulled the Matadors out of another funk to start the game. Just like last week against Levelland, the Mats struggled coming out of the gate, punting on their first two drives, which allowed the Mustangs to take an early lead.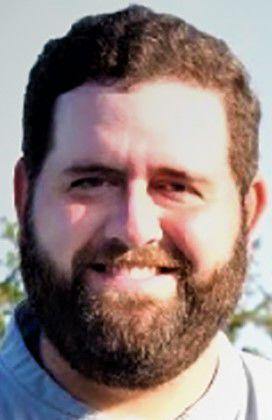 But when Dobbins answered Sweetwater's first touchdown with his 59-yard score, there was no stopping him – or the Estacado offense – from there. He added scoring runs of 34 and 2 yards to give Estacado a 20-14 halftime lead, then broke off a 50-yard scoring scamper on the second play of the third quarter that put the Matadors up two scores, and they were never seriously threatened again.
Dobbins capped off his night with a 25-yard touchdown run set up by the first of three second-half interceptions by the defense before turning it over to junior Antwoine Jones.
A junior, Jones gave Matador fans a glimpse of the future by carrying 11 times for 106 yards and two touchdowns, including a 63-yarder on his first carry of the game – all part of a ground game that chewed up 389 yards for the game as Estacado amassed 516 total yards.
"When (Jones) busted that one out, I was like, 'Boys, that's the future right there,'" Cluley said. "And we're all looking at each other like, the future's going to be good. Antwoine has waited his turn, bided his time and we were so excited to see him get out there, get a little crease and then you got to see his speed."
Cluley also credited Dobbins with giving the defense some juice, and the defense responded in the second half. Estacado limited Sweetwater to just 197 yards total offense, 74 in the second half, which included interceptions by Keke Murray, Kel Glaspie and Ronald Ross, all set up Matador touchdowns and put the game out of reach.
"We've just got to put two halves together, but for the most part, when we go into the lockerroom we make corrections," Murray said. "We listen to what the coaches are saying, get on the drawing board and correct what needs to be corrected and do what we did."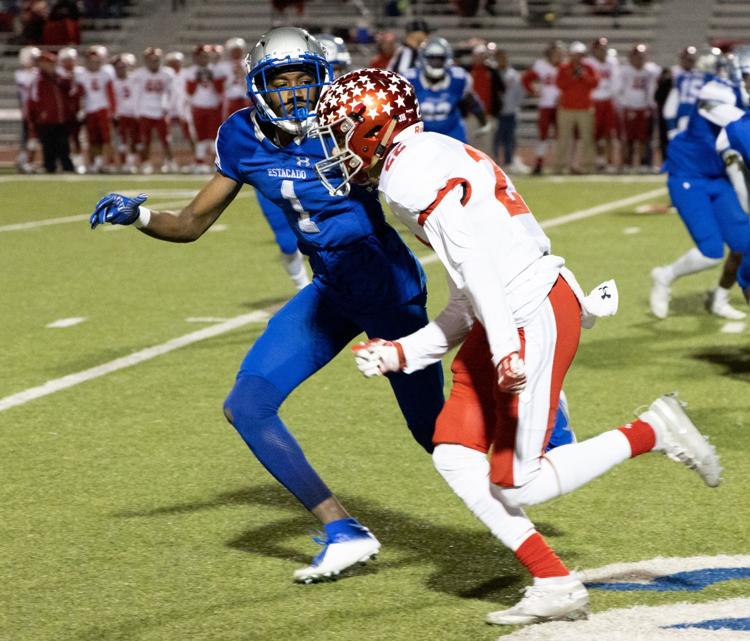 Murray's pick led the Dobbins' final score of the game. Glaspie picked off Sweetwater quarterback Leo Holsey and returned it to the Mustangs 6-yard line, setting up TJ Steele's 7-yard touchdown on a jet sweep, and Ross' theft led to Jones' 63-yard romp that put the Matadors up 46-14 with just under 10 minutes left to play. Jones then finished the scoring for Estacado with a 1-yard run with 2:10 to play, capping an 11-play drive in which he carried 10 times for 41 yards.
The defense almost pitched a shutout in the second half until Sweetwater scored with 10 seconds left against Estacado's defensive reserves on the second of two Holsey-to-Darian Carr touchdown passes. That drive accounted for 51 of Sweetwater's 74 second-half yards.
"I thought our defense was excellent, especially in the second half," Cluley said. "We pride ourselves on creating turnovers and I thought in the second half they were phenomenal."
------------------------------
CLASS 4A BI-DISTRICT PLAYOFF
At Plains Capital Park
ESTACADO 53, SWEETWATER 20
Sweetwater         7       7      0      6      --     20
Estacado              7      13    12    21    --     53
SWE -- Leo Holsey 1 run (Ernesto Chavez kick)
EST -- Jermiah Dobbins 59 run (Johnny Gomez kick)
EST --  Dobbins 34 run (Gomez kick)
SWE -- Darian Carr 15 pass from Holsey (Chavez kick)
EST -- Dobbins 2 run (kick failed)
EST -- Dobbins 50 run (kick blocked)
EST -- Dobbins 25 run (pass failed)
EST -- TJ Steele 7 run (Gomez kick)
EST -- Antwoine Jones 63 run (Gomez kick)
EST -- Jones 1 run (Gomez kick)
SWE -- Carr 17 pass from Holsey (kick failed)
Team statistics
                              SWE          EST
First downs        15               22
Rushes-yards     27-72          42-389
Passing yards     125             127
Total yards          197             516
Passes                10-26-3       11-18-1
Fumbles-lost       0-0             1-0
Punts-avg.           6-32.3        2-39.0
Penalties-yards    6-53          13-145
Individual statistics
RUSHING: Sweetwater -- Cedric Brown 10-33, Blake Scott 10-32, Leo Holsey 8-7; Estacado -- Jermiah Dobbins 21-254, Antwoine Jones 11-106, Jay'Lon Dobbins 7-22, TJ Steele 1-7, Isaiah Diaz 1-1, Colby Sims 1-(-1).
PASSING: Sweetwater -- Holsey 10-26-3 125 yards; Estacado -- Ja. Dobbins 11-18-1 127 yards
RECEIVING: Sweetwater -- Darian Carr 3-68, Elijah Reyes 4-28, Scott 1-13, Danner Foust 1-9, Jordan Sims 1-7; Estacado -- Diaz 3-35, Jer. Dobbins 1-35, Steele 3-31, Alijah Willard 2-12, Murray 2-4.
Records: Sweetwater 4-7, Estacado 11-0. Up next: Class 4A Division II area-round playoff – Estacado vs. Graham, 7:30 p.m. Friday, Abilene Christian University