ABILENE -- An emotional Estacado sideline was countered with a coaching staff embracing their players Friday night Iowa Park finished off an up-and-down Matador season in the area round of the Class 4A Division II playoffs.
A 42-21 loss ended a season full of tough competition for a group of Estacado suiting up together for the final time.
Matadors' coach Joe Cluley said he was proud of how his seniors played in their final game and the impact they've made on the program.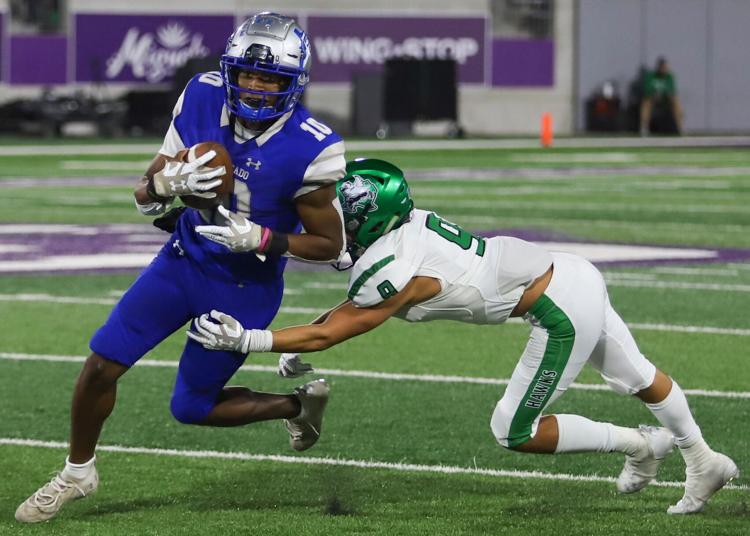 "It's a great group of guys, and I'm very proud of them," Cluley said. "They've laid a foundation, and we're just going to continue to get better and build off the backs of these guys that have put in the work."
Seniors were embraced on the field one last time by coaches, family and friends, their journeys as Matadors at its conclusion.
Quarterback Jay'lon Dobbins capped off his high school career with three total touchdowns. He was 17-of-34 for 218 yards through the air to end his season with 1,817 yards.
After Estacado (5-7) jumped out to a 14-7 first-quarter lead, Iowa Park quarterback Cirby Coheley scored three of his four touchdowns in the second quarter. His 45-yard rushing touchdown in the first quarter was the start of a powerful dual-threat attack, as he ran the ball 17 times for 134 yards and also threw for three scores.
"We got going a little bit early, but that's a great football team over there," Cluley said." There's a reason they were ranked top-10 for a bunch of the year. I'm just proud of how our kids kept battling."
Jaydon Southard was also a key factor for the Hawks, rushing for 145 yards and two touchdowns. Iowa Park (9-2) ran for 348 yards, 205 in the first half.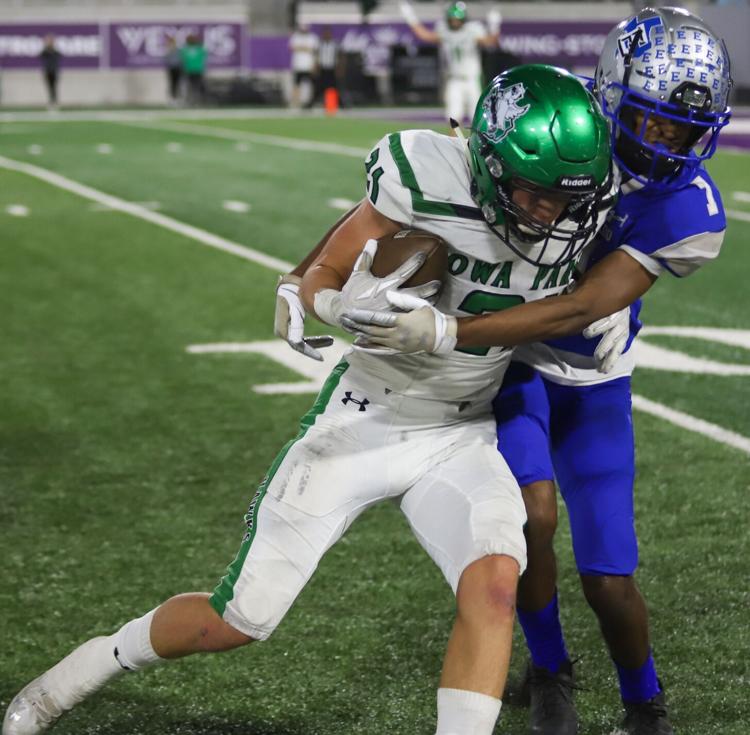 "The big difference was their ability to run the ball between the tackles," Cluley said. "We didn't anticipate that, and they do it in a variety of ways."
Estacado's T.J. Steele also finished his high school career with an impactful performance, snagging 9 catches for 138 yards and a touchdown to finish with 1,038 receiving yards.
Iowa Park advanced to the regional round to face Celina (5-4). Meanwhile, Cluley said he is proud with how his players closed the book on the 2020 season.
"Our kids continued to compete, and that is a standard that was set several years ago around here," Cluley said. "We felt like that was represented."
---------------------------------------------
CLASS 4A AREA PLAYOFF
At Anthony Field in Abilene
IOWA PARK 42, ESTACADO 21
Estacado         14     0      7     0     --     21
Iowa Park        7     21     7     7     --     42
IP -- Cirby Coheley 45 run (Mason Rousseaux kick)
ES -- T.J. Steele 24 pass from Jay'lon Dobbins (Ulisses Villareal kick)
ES -- Dobbins 1 (Villareal kick)
IP -- Jaydon Southard 33 pass from Coheley (kick failed)
IP -- Chance Helton 18 pass from Coheley (Southard run)
IP -- Ty Cunningham 20 pass from Coheley (Rousseaux kick)
IP -- Southard 1 run (Rousseaux kick)
ES -- Dobbins 5-yard run (Villareal kick)
IP -- Cameron Parker 18 run (Rousseaux kick)
TEAM STATISTICS
                                        IP            ES
Rushes-yards                   53-348     22-93
Passing yards                  121          218
Total yards                      469          311
Passes                            11-14       17-34
Fumbles-lost                    3-2           0-0
Punts-Avg.                       0-0           2-27.0
Penalties-yards                 1-6           4-30