CANYON -- Square one isn't a fun place to be, especially four weeks into a season.
But that's exactly where Estacado has landed after another tough-to-digest loss on Friday.
Canyon seized on three first-quarter Matador turnovers and generated plenty enough offense to cruise to a 38-0 victory at Happy Bank Stadium, adding to Estacado's undesirable "first-since" list.
The shutout loss was the Mats' first since they fell to Dumas 56-0 on Sept. 2, 2016 and the 0-3 beginning is the program's first since 2015 – a season that began with four straight losses.
Estacado managed only 138 total yards and never got deeper than the Eagles' 26-yard-line. If there was anything resembling a silver lining, it was again the Matador defense, which kept Canyon in check for most of the night a week after the Eagles torched Burkburnett for 71 points.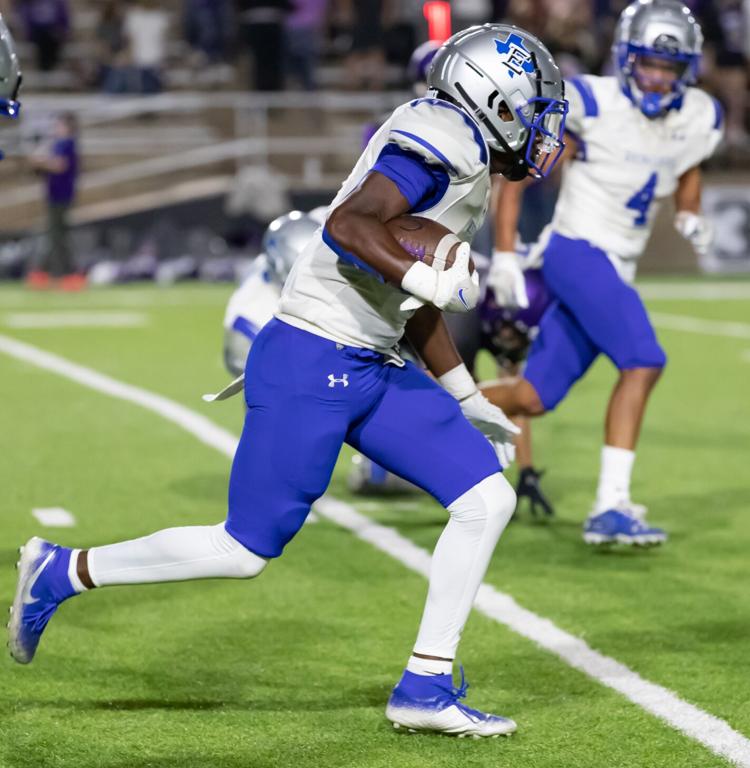 But another dismal night on offense left third-year coach Joe Cluley searching for answers afterward.
"I can't pinpoint what it is," he said. "If I could, we'd fix it right now.
"We didn't expect to start 0-3. We knew we were facing three very good football teams, but we thought there would be more little battles that we won and that we'd find a way to win. We're just struggling with little things and that means we need to go back to work -- go back to square one -- and see how we can fix things. We have kids who want to get better and it's up to us as coaches to help them figure out how."
After two weeks of struggles, Estacado needed something positive to happen early against Canyon (2-0), but the opposite unraveled instead.
The Matadors were flagged before their first snap for the third game in a row and never got in front of the chains on the opening series. On 4th-and-13, the punt snap sailed over T.J. Steele's head into the end zone and before he could recover or knock the ball out of bounds for a safety, Eagle defender Blake Wilhelm smothered the ball for a touchdown.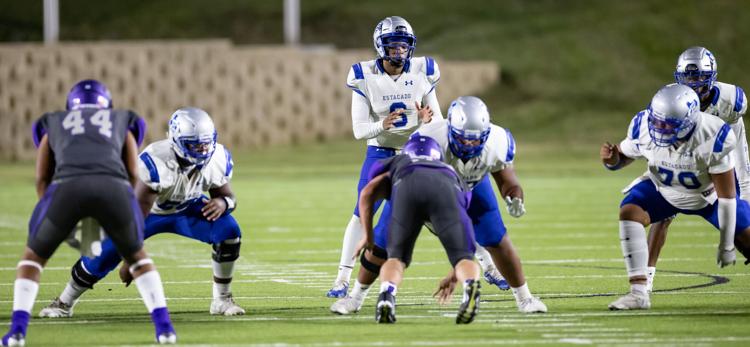 Estacado's defense supplied some life when Ronald Ross corralled a deflected Jay Defoor pass for an interception to give the Mats their best starting field position of the game at the Canyon 38-yard-line. Three plays later, Jay'lon Dobbins rolled right and rifled a pass that Canyon's Rafe Butcher picked off at the 20, made one cut against the grain and discovered nothing but daylight down the left sideline for an 80-yard pick-six return and 14-0 Eagle lead.
Canyon also cashed in Antwone Jones' fumble late in the opening period for a short 30-yard touchdown drive. When Brody Cook plowed in from the 1-yard-line for the first of his three touchdowns, the Eagles were up 21-0 despite their offense accounting for 42 yards on 13 snaps.
Despite the lopsided outcome, Canyon churned out only 217 total yards and 13 first downs with Cook's 132 yards accounting for the bulk of that damage.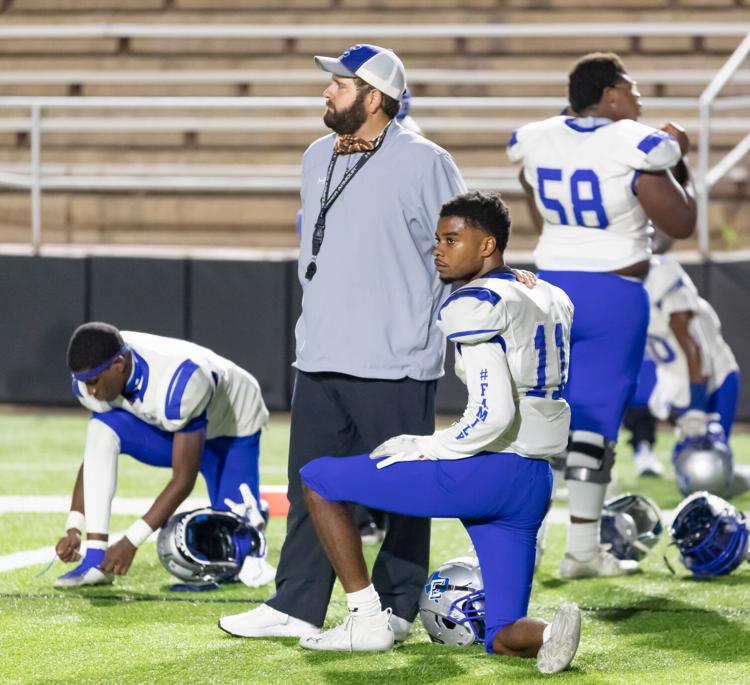 Estacado fared worse, though. The Mats produced one or no first downs on eight of their offensive possessions and finished with only three plays that covered 12 yards or more. A 72-yard catch-and-run from Dobbins to Steele was wiped out by a crack-back block and that series eventually ended with a punt.
"Our defense played well enough to win the football game against a team that put up 71 points a week ago," Cluley said. "We just fell off in the second half when they wore us down. The things we worried about -- them hitting us over the top with big plays -- really didn't happen.
"But offensively, we're just struggling right now, and I don't have the answers right here, right now. We're going to get it figured out."
The next chance for progress comes Friday when Estacado returns home to host former district opponent Hereford (1-1) at Lowrey Field. The Whitefaces topped Borger in the season opener before falling to Bushland 56-10 on Sept. 4.
CANYON 38, ESTACADO 0
At Happy State Bank Field
Estacado         0      0      0      0      --     0
Canyon           14    10    7      7      --     38
CAN -- Blake Wilhelm recovered Estacado punt snap in the end zone (Joe Shaw pass from Jay Defoor)
CAN -- Rafe Butcher 80 interception return (pass failed)
CAN -- Brody Cook 1 run (Elijah Smothermon kick)
CAN -- Smothermon 35 FG
CAN -- Cook 9 run (Smothermon kick)
CAN -- Cook 32 run (Smothermon kick)
Team statistics
                                  EST                 CAN
First downs             10                    13
Rushes-yards          34-54               29-141
Passing yards          84                    76
Total yards              138                  217
Passes                    11-23-1            7-16-1
Fumbles-lost           2-2                   0-0  
Punts-Avg.              4-34.8              3-39.3
Penalties-yards       6-48                  8-75
Individual statistics
RUSHING: Estacado -- Antwone Jones 17-31, T.J. Steele 4-20, Jay'lon Dobbins 11-17, J'Kameron Thomas 1-(minus) 2, team 1-(minus) 22; Canyon -- Brody Cook 25-132, Rafe Butcher 2-12, Jay Defoor 2-(minus) 3.
PASSING: Estacado -- Dobbins 11-23-1 84 yards; Canyon -- Defoor 7-16-1 76 yards.
RECEIVING: Estacado -- Steele 5-41, Trey Chiles 5-40, Colby Sims 1-3; Canyon -- Jack McKay 3-46, Joe Shaw 2-18, Butcher 2-12.
RECORDS: Estacado 0-3, Canyon 2-0.
UP NEXT: Hereford at Estacado, 7 p.m. Friday, Sept. 18.
--------------------------------------
Randy Rosetta is the editor & publisher
Contact him at HubCityPreps@gmail.com
or (806) 407-0188.
@HubCityPrepsLBK | @RandyRosetta