It took all of two plays for Estacado to set the tone Friday when it hosted Borger in a District 2-4A opener at Plains Capital Park.
Matador quarterback Jay'lon Dobbins connected with senior Jermiah Dobbins for a 60-yard touchdown pass with 6:54 left in the first quarter – an early sign it was going to be Estacado's night.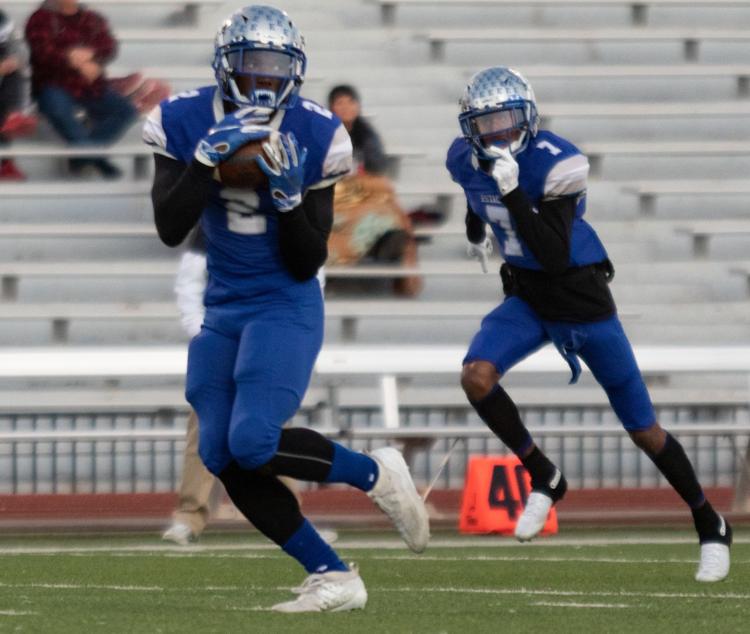 The score foreshadowed an offensive onslaught as the Matadors routed the Bulldogs 56-3.
"We played a full game – a full four quarters," said Jermiah Dobbins, who rushed for 163 yards and scored three touchdowns.
No. 4-ranked Estacado (7-0, 1-0) didn't leave one quarter unscathed and generated momentum as the game wore on.
The Dobbins brothers provided a one-two punch from the backfield. Jay'Lon Dobbins finished the night with 193 passing yards and three touchdowns.
It was a team effort as the defense prevented Borger (1-6, 0-1) from reaching the end zone.
"We had the best week of practice that we have had," Matador coach Joe Cluley said. "Our kids came in really focused on what we had to do, and we executed."
There was a slight scare early on as the Bulldogs managed to recover an onside kick in the opening quarter. Borger capitalized on the play and managed to get on the scoreboard first when junior kicker Garrett Hannon drilled a 21-yard field goal to put the Bulldogs on top 3-0 with 7:43 left in the first quarter.
"That was about as bad as a start you can have," Cluley said. "We not only gave them the ball, but we got two penalties to get them down there and give them the field goal, which is a win for our defense in not giving up a touchdown. That's the kind of kids we have. Our offense absolutely responded."
Estacado answered in the blink of an eye as Jay'lon and Jermiah Dobbins connected for the game's first touchdown. The Mats proved they weren't fazed by their early mishaps.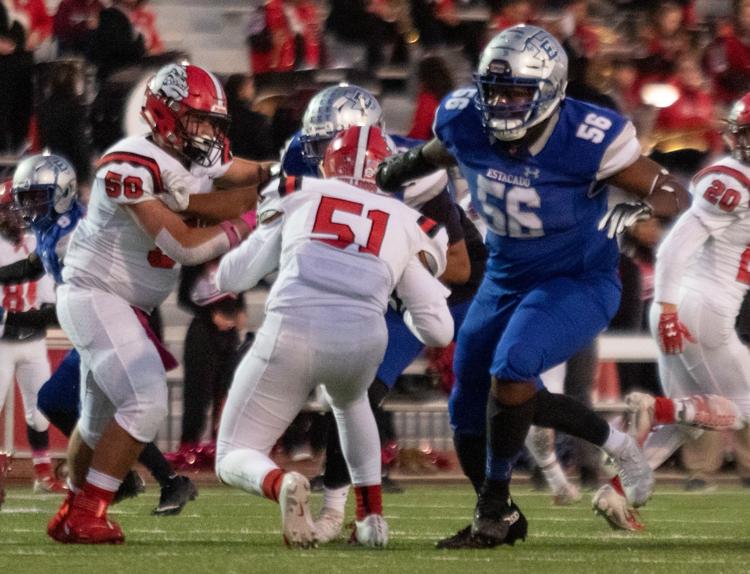 "We can't let that get to us," Jay'Lon Dobbins said of surrendering the field goal. "We just pick each other up and keep going next play after next play."
The Matadors recovered the advantage in the first quarter, then pulled away in the second. Jermiah Dobbins broke free for a 60-yard rushing touchdown and Jay'Lon Dobbins completed a 9-yard pass to Keke Murray for another score with 7:14 left in the second quarter. Paired with a 22-yard touchdown run by Isaiah Diaz at the 3:05 mark in the first half, Estacado pulled away for a 35-3 halftime lead.
The Matadors didn't let up coming out of the locker room in the second half, and the defense even made a mark on the scoreboard. Estacado junior Alijah Willard picked off Borger quarterback Camden Hernandez for a 40-yard interception touchdown return to seal the victory with 4:52 left in the game.
Moving the chains
Jermiah and Jay'Lon Dobbins accounted for 356 yards of total offense and four touchdowns between them.

The Matador did surrender the ball on a punt all night, and forced Borger to kick the ball away six times.

Estacado senior kicker Johnny Gomez didn't miss an extra-point kick, hitting his mark eight times.
ESTACADO 56, BORGER 3
Borger                3      0     0     0     —     3
Estacado          14    21    7    14    —    56
BOR -- Garrett Hannon 21 field goal
EST -- Jermiah Dobbins 60 pass from Jay'Lon Dobbins (Johnny Gomez kick)
EST -- Alijah Willard 8 pass from Jay'Lon Dobbins (Gomez kick)
EST -- Jermiah Dobbins 39 run (Gomez kick)
EST -- Keke Murray 9 pass from Jay'Lon Dobbins (Gomez kick)
EST -- Isaiah Diaz 22 run (Gomez kick)
EST -- Jermiah Dobbins 14 run (Gomez kick)
EST -- Antwoine Jones 2 run (Gomez kick)
EST -- Willard 40 interception return (Gomez kick)
Team statistics
                                       BOR         EST
First downs                    12           20
Rushes-yards                 28-88     30-243
Passing yards                 25           193
Total yards                     113           436
Passes                            6-22-2      9-14-0
Fumbles-lost                  1-0           0-0
Punts-avg.                      6-34.2       0-0
Penalties-yards               8-70         7-72
Individual statistics
RUSHING: Borger -- Camden Hernandez 16-45, Levi Condren 10-40, Collier McGill 1-3, Andy Gutierrez 1-0; Estacado -- Jermiah Dobbins 18-163, Colby Sims 1-32, Isaiah Diaz 1-22, Antwoine Jones 4-18.
PASSING: Borger -- Camden Hernandez 21-6-2 25 yards; Estacado -- Jay';on Dobbins 14-9-0 193 yards.
RECEIVING: Borger -- Allan Cardenas 3-12, Zion Haynes 1-7, Collier McGill 1-3, Hunter Wilkinson 1-3; Estacado -- Isaiah Diaz 4-63, Keke Murray 3-62, Jermiah Dobbins 1-60, Alijah Willard 1-8.
Records: Borger 1-6, 0-1 District 2-4A Division II; Estacado 7-0, 1-0.
Up next: Estacado at Dalhart, 7 p.m. Friday.