Relief is measurable in a lot of different ways.
For Estacado, it was an explosive offensive beginning, a dominant performance by its defense and the final horn sounding -- all wrapped up in one much-needed package on Friday night.

T.J. Steele delivered two immediate bolts of lightning in the opening minutes to ignite an about-face performance and the Matadors suffocated Hereford's offense until the closing minutes on the way to a 41-6 triumph at PlainsCapital Park.
Steele zig-zagged 74 yards for a touchdown run from the wildcat formation on the game's first snap, added a 68-yard scoring reception moments later and finished with four TDs as Estacado nabbed its first victory this season after an unsavory 0-3 start.
The Mats' defense continued to be dominant, limiting the Whitefaces to 114 yards on 47 snaps -- 70 of that total on Hereford's final possession in mopup time.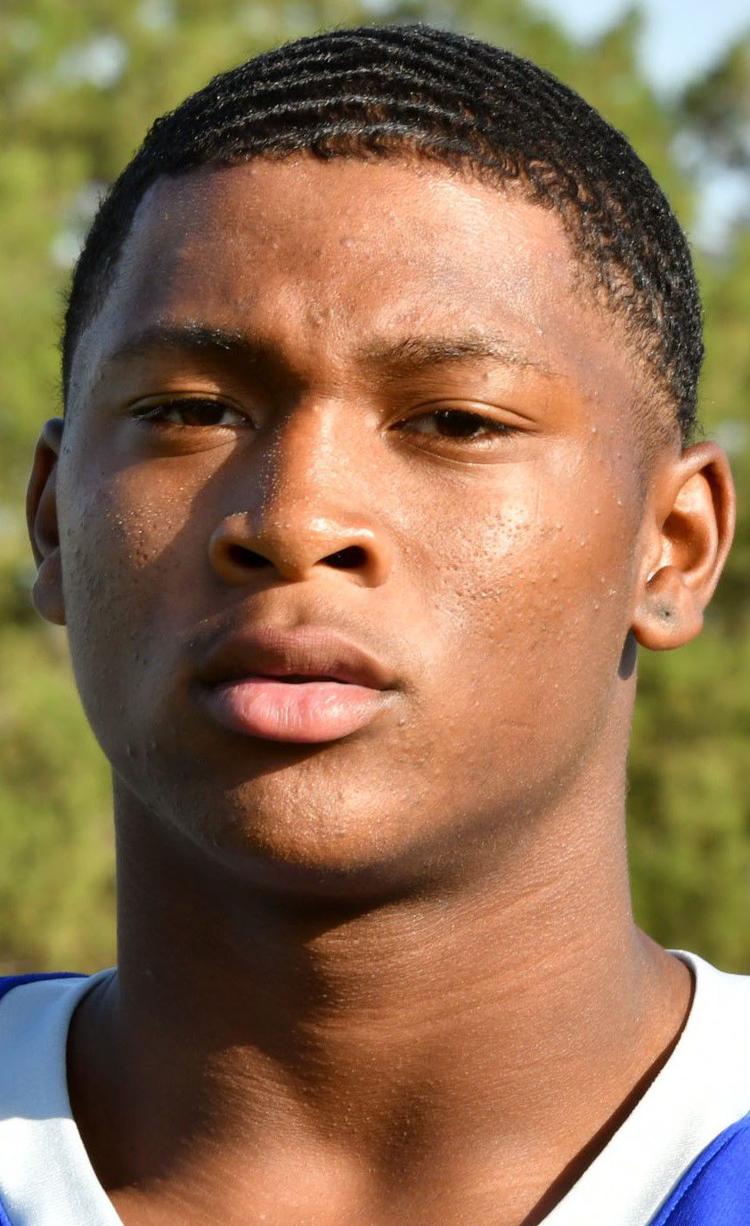 When the clock hit 0:00 moments later, the relief on the Estacado sideline was palpable.
"It feels good," said Steele with gusto after his 245 total yards spurred the Matadors (1-3). "We knew if we kept practicing hard and came together as one, we were going to come out with a win. We've got to keep that momentum going."
Added linebacker Ronald Ross, who keyed the defense and came up with a red-zone interception that set up an 11-yard Steele scoring run early in the final period, "It's a great feeling to win again. That's to show our fans that we've still got it. We're a good team overall and everybody did their job."
After three weeks of early-game scuffles, the Mats reversed their fortunes quickly and in a major way on Friday.
Steele, who had touched the ball only 21 times in the first three games, lined up in the shotgun, gathered in the first snap, found some room to run off the right side and blazed down the sideline for a quick dagger.
Estacado coach Joe Cluley said the play was similar to one the coaches installed for the playoffs in 2018 and seemed like a good fit because of Steele's explosive speed. There was also a simple thought process: "Let T.J. be T.J."
"It makes it hard to get him the ball sometimes because you can't just turn around and hand it to him 25 times game, but (offensive coordinator James Vint) and the offensive staff got creative and got him the football," Cluley said. "We told him 'Just come out and be you. Be the kid who's going to come out and play backyard football.' When he did that, it opened up everything else. The minute T.J. becomes T.J., the run game works, the short passes work, other guys get involved and that's who we are offensively and that's who we have to continue to be and just get better at it."
The early jolt snowballed in the right direction when Estacado got the ball back after the defense forced the Herd (1-2) into a three-and-out.
After a holding penalty pushed the Mats back to the 32-yard-line, quarterback Jay'lon Dobbins faked a handoff to the right that the Hereford secondary bit hard on. Steele was split wide right and ran a deep skinny post – finding nothing but wide-open space 25 yards downfield.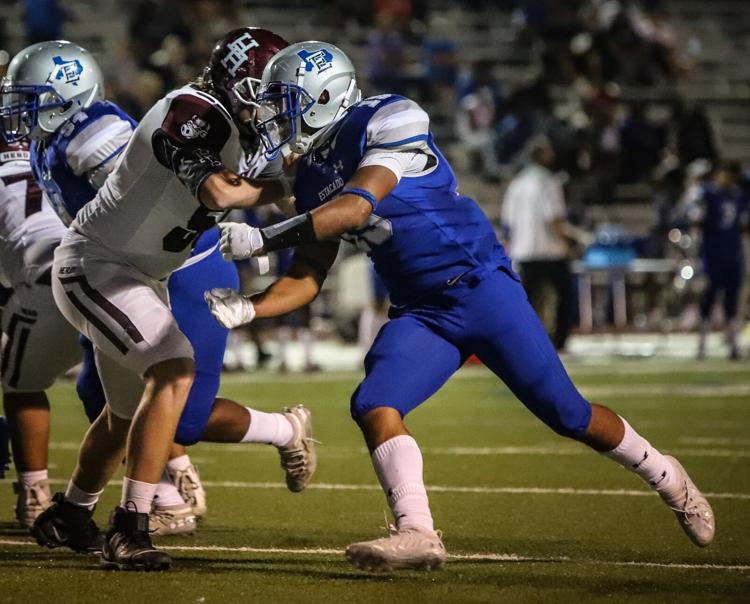 All Dobbins had to do was get the ball up and all Steele had to do was pull it in and navigate the rest of the field for a 68-yard touchdown connection and 14-0 lead with only 3:57 gone in the first quarter.
A rash of penalties kept Estacado from extending the lead immediately, but it didn't matter because the Matador defense thoroughly smothered the Herd.
Hereford's five first-half offensive possessions generated only 35 yards on 23 plays and four first downs – two on Estacado penalties.
The Matadors padded the lead to 21-0 with their best sustained drive of the night, culminating with Antwone Jones' 12-yard slashing run – which came two plays after a pair of 15-yard penalties on the Whitefaces.
Right before halftime, Hereford had a chance to grab some momentum when Slade Head grabbed a deflected Dobbins' pass and raced 30 yards on the interception return. But Estacado defensive lineman Michael Dade didn't give up on the play, knocked the ball loose and smothered the ball.
On the first play after the double-turnover exchange, Dobbins and Steele hooked up again for a 39-yard laser and a 27-0 lead.
The Matador defense took center stage in the second half.
Hereford's first five series after halftime yielded a scant 19 yards on 15 plays -- all ending on three-and-outs, including Ross' pick at the 11-yard line.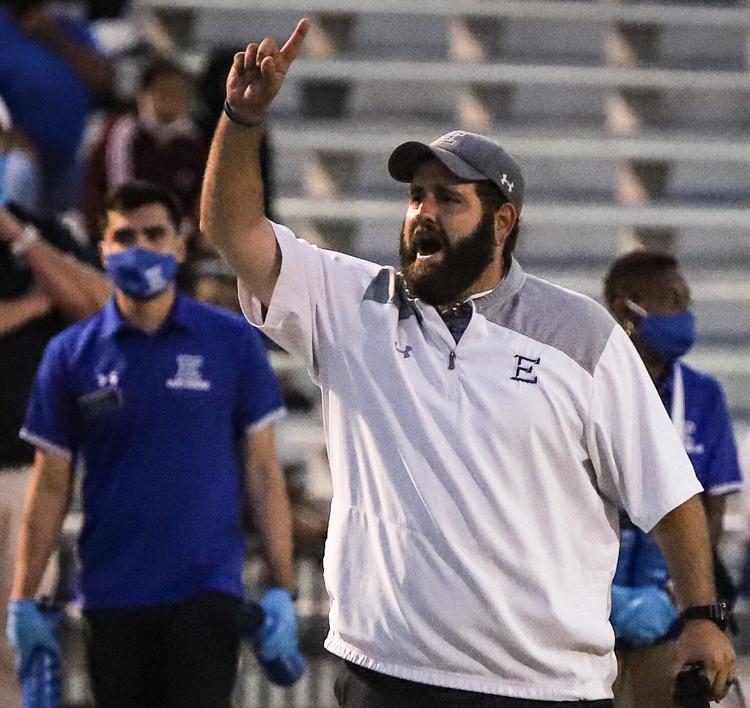 The Herd didn't manage a second-half first down until the final 3 minutes, which came during a 70-yard touchdown march.
"We had to step up and keep playing our part," Ross said. "We want to keep getting better."
The Matadors cashed in on Ross' takeaway and pounced on a 13-yard punt by driving 45 yards for the final TD – freshman Keishon Harris' dazzling 23-yard burst on fourth down.
"In the second half, we really controlled the game," Cluley said, praising his defense.
"There's no flinch in those guys and you saw that in what was a dominating defensive performance."
The Matadors head into another stiff test next week when they head to Andrews. The Mustangs (3-1) are off to a strong start, with 42 points or more in each of their victories.
--------------------------------
ESTACADO 41, HEREFORD 6
Hereford        0      0      0      6      --     6
Estacado         14    13    0      14    --     41
EST -- T.J. Steele 74 run (Ulises Villareal kick)
EST -- Steele 68 pass from Jay'lon Dobbins (Villareal kick)
EST -- Antwone Jones 12 run (Villareal kick)
EST -- Steele 39 pass from Dobbins (kick failed)
EST -- Steele 11 run (Villareal kick)
EST -- Keishon Harris 23 run (Villareal kick)
HER -- Domonic Perales 39 pass from Oscar Guerra (kick failed)
Team statistics
                               HER               EST
First downs             7                      18
Rushes-yards          28-59               33-237
Passing yards          55                    160
Total yards              114                  397
Passes                    8-19-1             8-17-1
Fumbles-lost           3-2                   1-1
Punts-Avg.              7-28.6              4-38.3
Penalties-yards        5-42                 11-109
Individual statistics
RUSHING: Hereford -- Bryson Lopez 13-32, Oscar Guerra 12-22, Miguel Carrillo 2-8, Braedyn Mendoza 1-(minus) 3; Estacado -- T.J. Steele 4-106, Antwoine Jones 11-50, J'Kameron Thomas 7-29, Keishon Harris 1-23, Raheim Ross 6-23, Jay'lon Dobbins 4-6.
PASSING: Hereford -- Guerra 8-19-1 55 yards; Estacado -- Dobbins 8-17-1 160 yards.
RECEIVING: Hereford -- Domonic Perales 1-39, Lopez 3-11, Sabian Landis 1-9, Noah Brown 3-(minus) 4; Estacado -- Steele 5-139, Marvin Newton 1-11, Cameron Bluitt 2-10.
Up next: Estacado at Andrews, 7 p.m. Friday
---------------------------------
Randy Rosetta is the editor & publisher
Contact him at HubCityPreps@gmail.com
or (806) 407-0188.
@HubCityPrepsLBK | @RandyRosetta