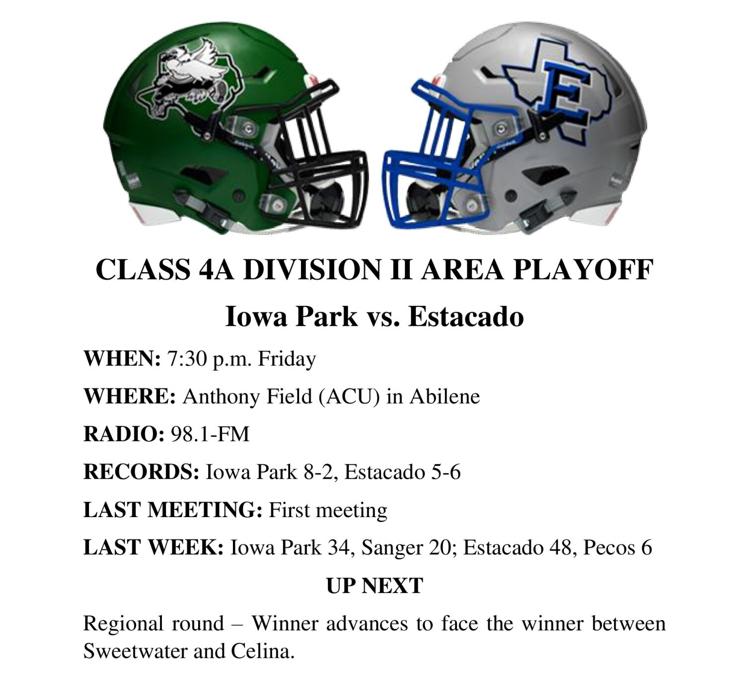 In a season full of tough tests against top-notch competition, it only figures that Estacado encounters one of its toughest challenges at this point of the season. Thing is, the Matadors are at a different readiness level now and that provides a lot of the fuel for a confidence level that is at peak level.
Estacado (5-6) tangles with Iowa Park (8-2) in a Class 4A Division II area playoff game at 7:30 p.m. Friday at Anthony Field on the campus of Abilene Christian University.
The Hawks have been a playoff stalwart the last two seasons, marching five rounds deep in 2018 and four rounds last season. They surged past Sanger 34-20 last week and are undoubtedly the favorite against the Matadors.
Just don't expect that notion to be an easy sell to an Estacado crew that is as healthy as it has been all season and is coming off its best performance of the season last week in a 48-6 rout of Pecos.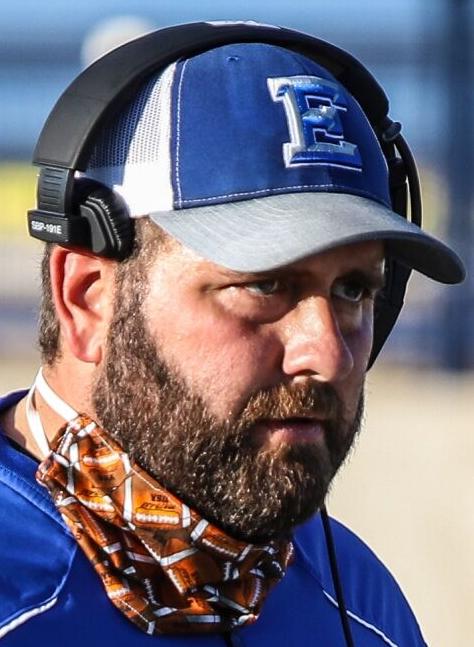 "Our guys' confidence is as high as it's been all year, and a lot goes into that," said Matadors' coach Joe Cluley, who has guided his crew three rounds deep in the postseason the last two years.
"They know not a lot of people expect much from them this week. But it's really important to them to do whatever they can to keep winning and keep getting the chance to play together."
Indeed, this is a different kind of Estacado team than the last few years: An underdog.
Last fall the Mats delivered the program's first undefeated regular season since 1968 and thundered to playoff victories over Sweetwater and Graham before falling to state semifinalist Greenwood, which topped Iowa Park the following week.
Graduation hit Estacado hard and COVID-19 took its toll throughout the early season when the Mats staggered to a 1-5 start with every loss to playoff teams that won in the bi-district – two that have already punched tickets to the 4A Division I quarterfinal round, Dumas and Canyon.
Eventually, Estacado found its rhythm and has won four of the last five games, culminating with the 567-yard out burst vs. Pecos in the bi-district thumping.
"We took a lot of lumps early on, but these guys kept showing up, kept working hard and focused on getting better," Cluley said.
Iowa Park provides another steep chore, especially for the Matadors' defense.
To break away from a second-half tie against Sanger last week, the Hawks leaned heavily on their rushing attack, led by junior running back Jaydon Southard, who accounted for 259 of Iowa Park's 386 yards on the ground.
"They're going to get in a ton of different formations and run at us from most of them," Cluley said. "They have a quarterback and running back who are elite athletes and fit their scheme really well."
Cluley said the Hawks' defense will be similar to some that Estacado has seen this season and will rely heavily on man-to-man coverage with a focus on making the Mats beat them on the ground.
That bodes well for Estacado after last week. Ignited by T.J. Steele, the Matadors ran for 270 yards against Pecos. Steele delivered four big plays to get Estacado rolling and once the lead was comfortable, a trio of backs – Antwoine Jones, J'Kameron Thomas and Tramond Miller – took turns grinding away at the Eagles' defense.
It's a safe bet Steele will be the focus of the Iowa Park defensive game plan. He enters the game with 537 rushing yards and 900 receiving on 53 receptions with a combined 17 touchdowns. Quarterback Jay'lon Dobbins has also been solid, throwing for 1,599 yards and 14 scores.
"We have to be able to move the ball in different ways," Cluley said. "I have a lot of confidence in our offensive coaches and what they can come up with."
--------------------------------------
Randy Rosetta is the editor & publisher
Contact him at HubCityPreps@gmail.com
or (806) 407-0188.
@HubCityPrepsLBK | @RandyRosetta