EL PASO -- Sometimes as a player or a coach, you have to accept that somebody on the other side is going to do some damage.
You brace for it, try to come up with multiple methods to stop what's coming and live for the next play as often as you can.
There was a lot of that in play for Frenship on Friday when it tangled with El Paso Americas in a Class 6A Division II bi-district playoff game at the SISD Student Activities Complex.
Trailblazer running back Aaron Dumas has been dang near impossible for defenses to stop in each of the last two seasons, and the Tigers didn't have a whole lot more luck with the physical fireplug of a runner.
As good as Dumas was though, it took a handful of timely contributions from unexpected sources and in all shapes and sizes for Americas to edge the Tigers 36-35.
Dumas fought into the end zone for a two-point conversion with 1:51 to go to put Americas on top for the first time all night, and the Trailblazers sealed the win on a rare Donovan Smith miscue when Nathan Alvarado picked off a pass with 1:12 on the clock.
Americas (10-1) dashed any Tiger hopes of a last-second comeback by running out the rest of the time, fittingly with Dumas whirling for a 13-yard pickup to convert a third down to put the cherry on a spectacular 49-carry, 340-yard performance.
"He's the bell cow and they were going to hand off to him; that was no surprise to us," said Jay Northcutt, whose third season ended at 7-4. "It worked for them. They ate up a lot of the clock and we didn't get many possessions, and the ones we did get, we had to be perfect on. It came down to one play when we almost kept him out of the end zone, but he got in."
That chance came to fruition because of other Trailblazers rising up at key junctures.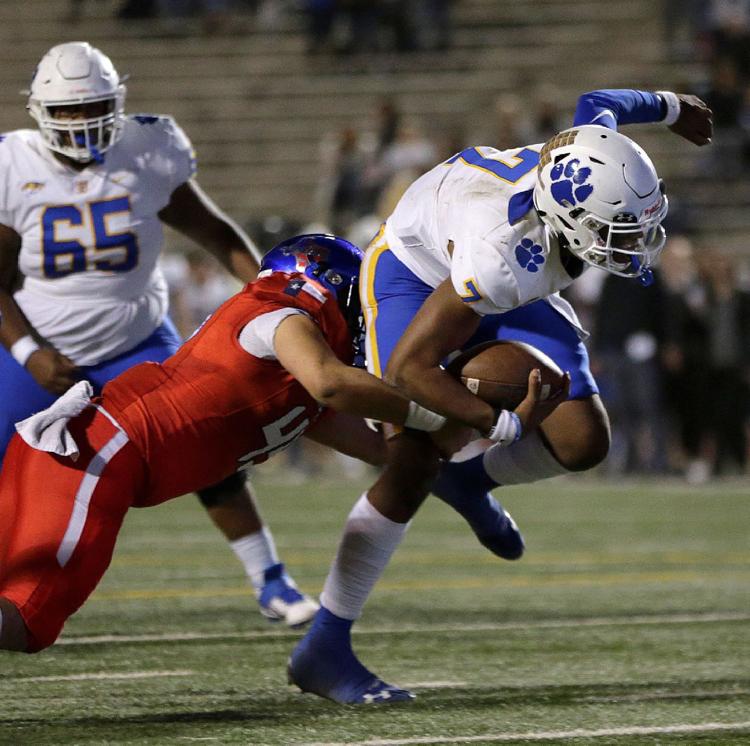 Alvarado was the last with his pick – the unfitting end to Smith's marvelous one-season whirlwind at Frenship after he transferred in from Las Vegas Bishop Gorman.
Like they had just about every time they had their hands on the ball, the Tigers were putting together a promising drive after Americas took the one-point lead. Smith rifled back-to-back 14-yard strikes to Cooper Scott to move the ball near midfield with plenty of time left to get the offense either into field-goal range or into the end zone.
But on first down, Smith heaved a pass into zone coverage and Alvarado snuck into the right place at the right time for the turnover, Frenship's only giveaway of the night.
"We did our thing up right until the end," Smith said. "That last play, I've got to make a better decision. We had time on the clock, and I needed to know I couldn't do anything crazy. We were set up to do what we had been doing the whole game and I threw a bad ball."
Smith's willingness to fall on his sword is another sign of the maturity and leadership he brought to the Frenship program this season. What he did until that slip-up was also emblematic of his incredible impact.
While Americas was content to stack play after play on top of each other on long, grinding drives, the Tigers came out attacking and their approach worked just as well as the Blazers until the last pass.
With Dumas grinding away, alternating between handoffs and wildcat snaps, the Trailblazers produced second-half touchdowns with drives of 16, 15 and 15 plays. Those 46 snaps gobbled up 222 yards and 21:39 of clock time.
What made each of those series effective besides Dumas was how and when other players interjected.
Quarterback Michael Nowell was an effective complement to Dumas with 80 yards on 17 carries.

When Nowell was shaken up on a pass play when Frenship's Logan Douglas buried him as he threw incomplete, senior cornerback Evan Chisholm took over at quarterback and zig-zagged 11 yards on third-and-goal from the 13-yard-line. On the next play, Nowell trotted back onto the field and lofted a pass to Chisholm in the back of the end zone for a 2-yard touchdown on fourth down.

When the ball popped loose on one run in the next series, center Ky Hudson scooped it up and rumbled 4 yards.

Right when it appeared Dumas was starting to wear down early in the fourth quarter, bulky Chris Robles took a handoff for a 2-yard touchdown to finish Americas' second lengthy scoring drive.

On the game-winning march, fullback Joshua Ruvulcaba grabbed a handoff and bulldozed the final 16 yards to the end zone prior to Dumas' two-point run.
"They have a really good offensive line and a lot of good running backs, one in particular," Northcutt said. "When you combine a back like that with a quarterback who can run and guys willing to fill their roles, it makes an offense work that much better."
Still, despite all the heroes taking their brief spins in the spotlight for the Trailblazers, Frenship remained in control – either leading or tied most of the game after Smith darted 5 yards to pay dirt on a draw at the 3:48 juncture of the first quarter.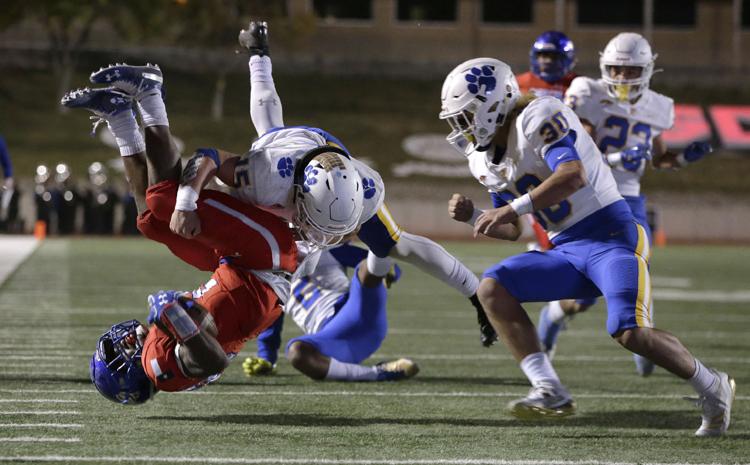 Americas repeatedly took the air out of the ball leading to touchdowns that seemed to shift momentum only to watch the Tigers' rapid-fire mode strike back.
With the exception of a punt on the opening series of the game, a rare three-and-out bracketing the end of the first quarter and start of the second, and a two-play series at the end of the first half, Frenship was unstoppable.
Not only that, the Tigers struck quickly. On their five touchdown drives, they ran only 21 plays for 275 yards and used only 4:26.
The second half was especially contrasting. While Americas was soaking up as much clock as possible, Frenship scored on Smith's 13-yard sprint that was set up with a 31-yard hitch pass to Jordan Maden, then William Bayouth rambled 50 yards on a quick hitter inside.
Frenship finished with only 35 offensive snaps but produced 14 first downs and the five TDs with its limited chances. In the second half, the numbers were 12 plays, 148 yards, two touchdowns and the punch-in-the-gut turnover.
"They mixed their pass coverages up all night and we beat them most of the time," Northcutt said. "They got some pressure on that last play and Donovan was trying to make a play. He's made so many big plays for us, but that time the defense made one."
The Tiger defense came up with a huge play in the first quarter to re-set the tone.
After Frenship punted, the Blazers were on the move – maneuvering from their 9-yard-line to the Tigers' 16 on 11 plays with five grinding first downs. But when the ball sailed over Nowell's head on a first-down play, Tristin Laughlin collected the loose ball and headed 11 yards the other direction.
That gave Frenship possession at the Americas' 43-yard-line and a 35-yard laser from Smith to Drew Hocutt put the Tigers in position for their first touchdown.
Dumas answered with a 65-yard gallop – his longest run of the night – to knot the score. Frenship scored 1:55 later on Smith's second touchdown run.
Following the first of the Trailblazers' productive time-consuming possessions – Dumas scored from 4 yards to even the score again – Ty Glass's 37-yard kickoff return put Frenship back in business. A 14-yard hookup to Scott on a deep comeback preceded a hitch to the right sideline that Klein Coker turned into a 41-yard touchdown.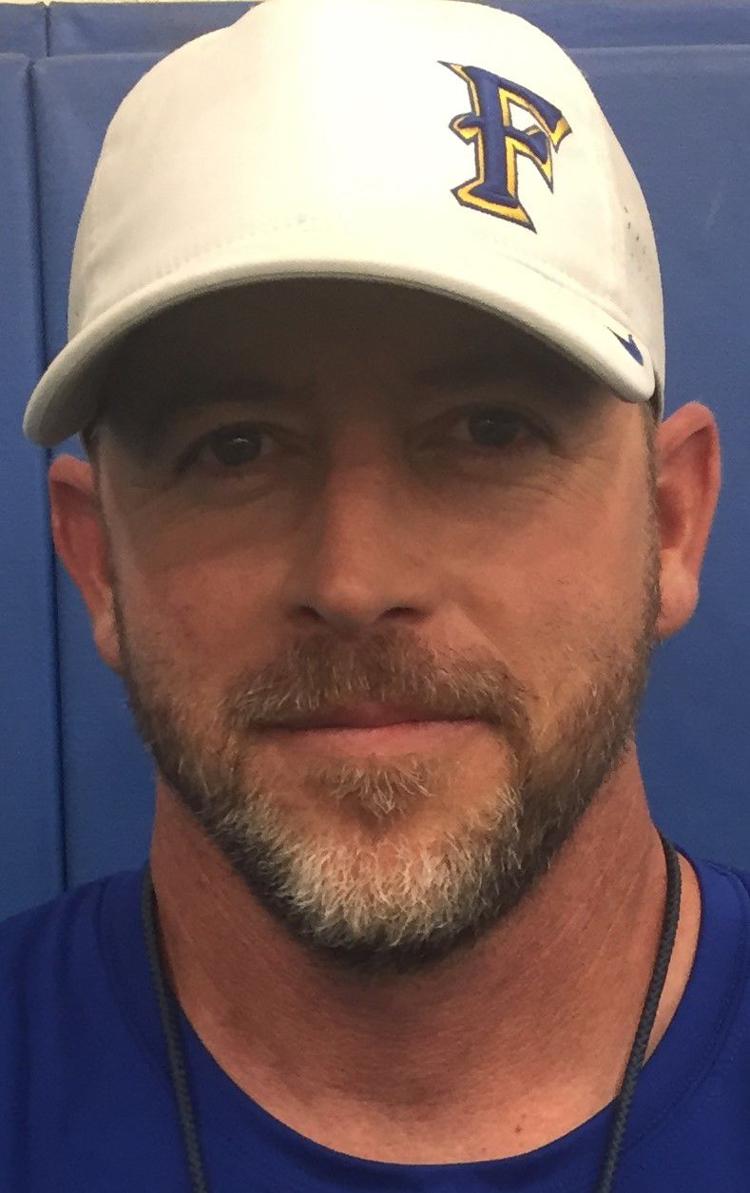 Back and forth, all night long. Which left the outcome hinging on a two-point conversion and an ill-fated final throw.
"It's definitely not the outcome we wanted, but my guys gave everything they had (Friday) and all season long and I couldn't be prouder of them," Northcutt said.
That includes a large crew of seniors, six who started since Northcutt too over and endured an 0-10 season in 2017, then 3-7 last fall.
"We lose a lot of them, but they should be proud that they've set a standard we can build upon to just keep getting better," Northcutt said.
"They leave us with a program that has turned the corner, coming back from 0-10 season to this. They've really set the Tigers up for future success because they stuck it out with us, and I can't be more grateful for that."
-------------------------------------------
CLASS 6A DIVISION II BI-DISTRICT PLAYOFF
At Socorro ISD Activities Complex
EL PASO AMERICAS 36, FRENSHIP 35
Frenship                   7    14     7    7    --   35
Americas                  0    14     7    15  --   36
FR -- Donovan Smith 5 run (Cooper Scott kick)
AM -- Aaron Dumas 65 run (Arturo Ordonez kick)
FR -- Smith 13 run (Scott kick)
AM -- Dumas 65 run (Ordonez kick)
FR -- Klein Coker 41 pass from Smith (Scott kick)
AM -- Evan Chisholm 2 pass from Michael Nowell (Ordonez kick)
FR -- Smith 13 run (Scott kick)
AM -- Chris Robles 2 run (Ordonez kick)
FR -- William Bayouth 50 run (Scott kick)
AM -- Joshua Ruvulcaba 16 run (Dumas run)
Team statistics
                              FR            AM
First downs         14               25
Rushes-yards      11-116       75-448
Passing yards      229             44
Total yards           345             492
Passes                 15-24-1       7-13-0
Fumbles-lost         0-0            2-1
Punts-Avg.             2-53.0        2-33.5
Penalties-yards      3-20          3-24
Individual statistics
RUSHING: Frenship -- William Bayouth 4-60, Donovan Smith 7-56; Americas -- Aaron Dumas 49-340, Michael Nowell 17-80, Joshua Ruvulcaba 5-41, Evan Chisholm 1-11, Ky Hudson 1-4, Chris Robles 1-2, team 1-(-) 30.
PASSING: Frenship -- Smith 15-24-1 229 yards; Americas -- Nowell 7-13-0 44 yards.
RECEIVING: Frenship -- Cooper Scott 6-75, Jordan Maden 4-62, Klein Coker 2-4, Drew Hocutt 3-46; Americas -- Ryan Acosta 5-46, Chisholm 1-2, Dumas 1-(-) 4.
Records: Frenship 7-4, Americas 10-1.
-------------------------------------------
Randy Rosetta is the publisher of HubCityPreps.com
Contact him at HubCityPreps.com or (806) 407-0188.
Follow on Twitter | @HubCityPrepsLBK & @RandyRosetta