AMARILLO -- When the simplistic is executed well, it can be a beautiful thing to watch. Of course, that beauty is very much in the eye of the beholder as Frenship discovered up-close-and-personal Thursday night.
The Tigers tangled with Tascosa in a battle for District 2-6A playoff seeding and there was plenty of simplistic beauty when the Rebels got their triple-option offense clicking.
With quarterback Joseph Plunk slicing and dicing Frenship from every angle imaginable, Tascosa erased a 10-point first-half deficit and pulled away for a 36-23 triumph at Dick Bivins Stadium.
Plunk gashed the Tigers for 315 rushing yards on 42 carries and accounted for all five Tascosa touchdowns, and two Donovan Smith interceptions in the third quarter -- one on a 50/50 ball in the end zone – kept Frenship climbing uphill the entire second half.
The loss means the Tigers (7-3, 3-2 district) will hit the road to El Paso for a bi-district playoff game next week while the Rebels (7-3, 3-2) get to stay at home.
"Tascosa was pretty good and we didn't have an answer for Plunk," Frenship coach Jay Northcutt said. "These kids aren't very happy right now because we had a chance to accomplish something and we didn't get it done. But they're resilient and I have no doubt they'll come back ready to roll."
After an initial 24 minutes when both teams moved the ball well, things changed on two key plays in the third quarter -- the pick in the end zone and an inadvertent whistle that negated a Frenship fumble recovery during a span when both teams got sloppy with ball security.
Down 21-17 after Plunk triggered a second-quarter rally with two long touchdown drives, the Tigers were on the move with their first possession of the third period. Smith carved out 4 yards to convert a fourth-and-2, then glided 11 yards on the next snap to the Tascosa 29-yard-line.
Smith had found success throwing the ball deep in the first half and went for another big strike to Cooper Scott in the end zone.
He fired a pass toward Scott, who leapt and got his hands on the it, but Rebel cornerback Tavie Anderson wrestled the ball away. The nearest official ruled that Anderson controlled the ball as he landed for an interception.
"That was big because we felt like we had a chance to go back on top there," Northcutt said. "You can't leave the game in the officials' hands. You have to go out and make big plays like that and win the game."
The teams swapped turnovers on the next three series before Tascosa's old-school scheme started clicking again. The Rebels got the ball after Dantrail Gilbreath jumped a route and swiped Smith's pass intended for Jordan Maden.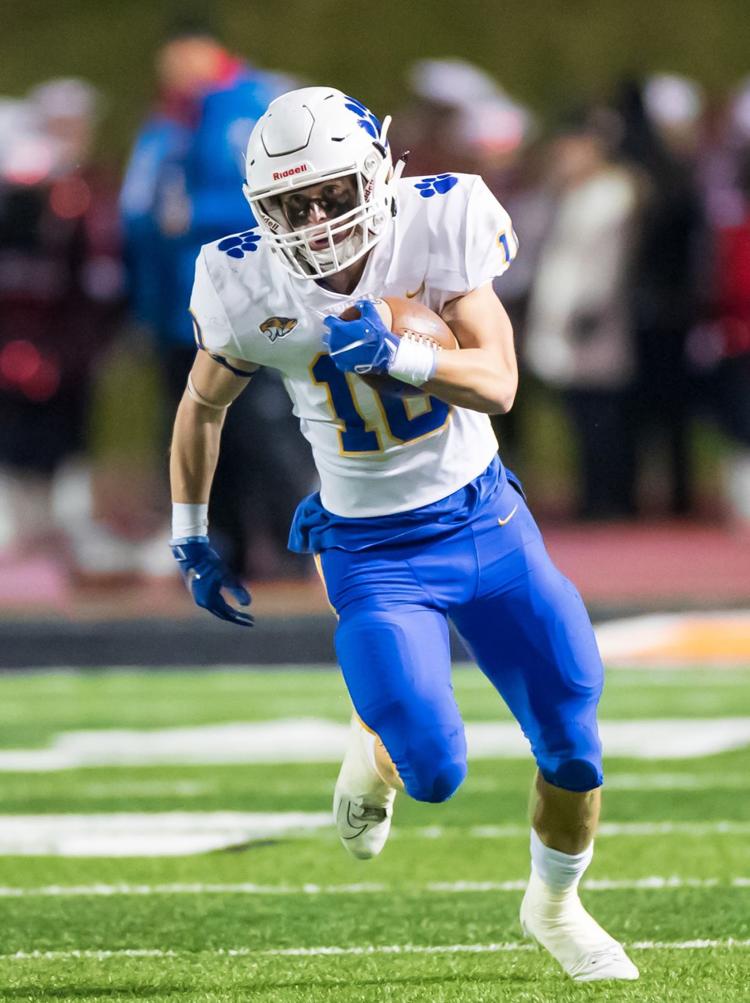 Plunk engineered a quick 48-yard touchdown drive, gobbling up 43 yards himself, and scored on a 6-yard run to extend the lead to 28-17 at the 3:57 juncture of the third quarter.
Frenship needed a spark after the offense went three-and-out for the only time all night on the ensuing possession and appeared to get one when Plunk lost the ball on a short keeper from the Tascosa 35-yard-line.
The play ended with several Tigers pointing their direction in celebration, but the members of the officiating looked around without making any call at all. The lead referee finally trotted to the Frenship sideline and told Northcutt there had been an inadvertent whistle, nullifying the play and the potential momentum-shifting takeaway.
Despite Northcutt's vehement protest, the call stood and Tascosa maintained possession.
"Inadvertent whistle," he said when asked what explanation he got. "I wasn't very happy about that."
Although the Rebels didn't score on the drive and had to punt, they ran six more plays and soaked 4 minutes off the clock. Worse, the jolt of energy Frenship would've gotten faded.
The Tigers got the ball back with 9:39 to go in the game and Smith spearheaded an 89-yard touchdown drive with four connections for 86 yards. He dashed 17 yards to set up his own 4-yard scoring run that closed the gap to 28-23 with 6:38 to go.
Tascosa effectively handled a pooch kickoff and used up nearly 5 minutes to drive 69 yards with the ball leaving Plunk's hands only once in nine plays. A huge offsides penalty on Frenship on third down moved the chains and kept the clock rolling, and two plays later Plunk found a crease to the left, cut back against the grain and plowed into the end zone with his fifth TD – a 27-yard dagger.
"They have a great offense and the quarterback runs the show really well," Tiger linebacker Tristin Laughlin said. "He's a competitor and he turned in a great performance.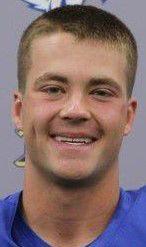 "We didn't execute at the level we needed to or to the standard we've set and that showed up on the scoreboard."
How simplistically effective was Tascosa's offensive masterpiece? The Rebels did not have a pass attempt and had negative yards on only five of 66 snaps – two sacks, one when Plunk bobbled the snap and lost a yard and the last two plays of the game in victory formation.
Beautiful from the Tascosa point of view. Hard to watch from Frenship's.
"He's a good player and we knew that," Northcutt said. "We knew we were going to have to slow him down to be successful on defense. We threw everything we had at him to try to slow him down and he still found ways to hurt us."
The hurt isn't permanent, though. The Tigers are still playoff-bound for the first time in Northcutt's three-year tenure, perhaps with a reignited resolve.
"In the end, you've got to have that fire all the time, but maybe this is the kind of game that we can use to motivate us," Laughlin said. "We need to go back to work, make the corrections we need to make and get ready for a playoff game."
Moving the chains
Smith finished the regular season with 2,864 passing yards and 24 touchdowns. The two interceptions were just his 6th and 7th all season, which now includes 304 attempts.

Frenship's offense relied on chunk plays for most of its 400 total yards. Smith completed passes for 32, 34, 22 and 25 to Hocutt, hit Scott with a 70-yard bomb for a score and found Maden for a pretty 24-yard pass late in the game. Smith also broke off runs of 24 and 27 yards, part of his 130-yard rushing performance.

Plunk's night was very evenly divided, with at least 10 carries in each quarter. Five other Rebels carried the ball, but Parker Settle was the only other runner who finished with more than four rushes.

Friday was a fitting finish to the season-long duel between Plunk and Smith as the top two QBs in the district. Smith has accounted for 3,340 yards and 33 touchdowns, while Plunk stands at 2,291 -- with a district-best 1,850 rushing yards -- and 32 TDs.
-----------------------------------------
TASCOSA 36, FRENSHIP 23
Frenship         3        14        0        6        --       23
Tascosa          7        14        7        8        --       36
TAS -- Joseph Plunk 5 run (Max Burleson kick)
FRE -- Cage Jones 30 FG
FRE -- Drew Hocutt 34 pass from Donovan Smith (Jones kick)
FRE -- Cooper Scott 70 pass from Smith (Jones kick)
TAS -- Plunk 6 run (Burleson kick)
TAS -- Plunk 47 run (Burleson kick)
TAS -- Plunk 1 run (Burleson kick)
FRE -- Smith 4 run (pass failed)
TAS -- Plunk 27 run (Plunk run)
Team statistics
                              FRE             TAS
First downs          17              27
Rushes-yards       27-137       66-473
Passing yards       263            0
Total yards           400            473
Passes                 14-26-2      0-0-0
Fumbles-lost        0-0             2-1
Punts-Avg.           2-50.5        3-29.7
Penalties-yards     4-35           4-40
Individual statistics
RUSHING: Frenship -- Donovan Smith 20-130, William Bayouth 5-15, Jordan Maden 1-(-) 2, team 1-(-) 6; Tascosa -- Joseph Plunk 42-315, Parker Settle 12-88, Chance Jones 4-34, Darius Sanders 3-23, Jaiton McMorris 2-15, Major Everhart 1-0, team 2-(-) 2.
PASSING: Frenship -- Smith 14-26-2 263 yards.
RECEIVING: Frenship -- Drew Hocutt 8-145, Cooper Scott 3-86, Maden 3-32.
Records: Frenship 7-3, 3-2 District 2-6A; Tascosa 7-3, 3-2.
Up next: Class 6A bi-district playoffs, TBD.
-----------------------------------------
Randy Rosetta is the publisher of HubCityPreps.com
Contact him at HubCityPreps.com or (806) 407-0188.
Follow on Twitter | @HubCityPrepsLBK & @RandyRosetta