WOLFFORTH -- Occupying the top spot has its obvious advantages, and Frenship has gotten quite comfortable in the District 2-6A catbird seat the last several seasons.
But there are also some built-in perils, and Odessa High reminded the Tigers of that Tuesday night with a gritty performance.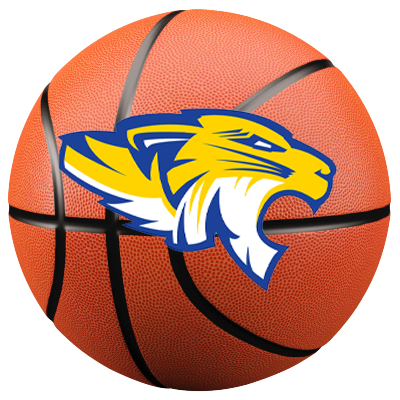 Pushed from the opening tip, Frenship dug deep in the fourth quarter, sparked by one of its more veteran players along with one of its young stars, and shrugged off the Lady Bronchos' feisty effort for a 64-60 victory.
The Tigers converted 11-of-12 free throws in the fourth quarter to stave off every Odessa High charge, and the interior combination of Addison McClure and Abby Boyce was dominant in crunch time to anchor the victory.
Abbi Holder led Frenship (19-5, 5-0 District 2-6A) with 14 points, buoyed by a 5-of-6 effort at the foul stripe in the closing 1:05. McClure scored all 12 of her points in the second half and Boyce scored 9 while snaring 12 rebounds. Chandler Wilson and Andie Caddel pumped in three 3-pointers apiece to give the Tigers the balance they needed from the perimeter, as well as timely sparks when the Lady Bronchos (10-11, 3-3) refused to buckle.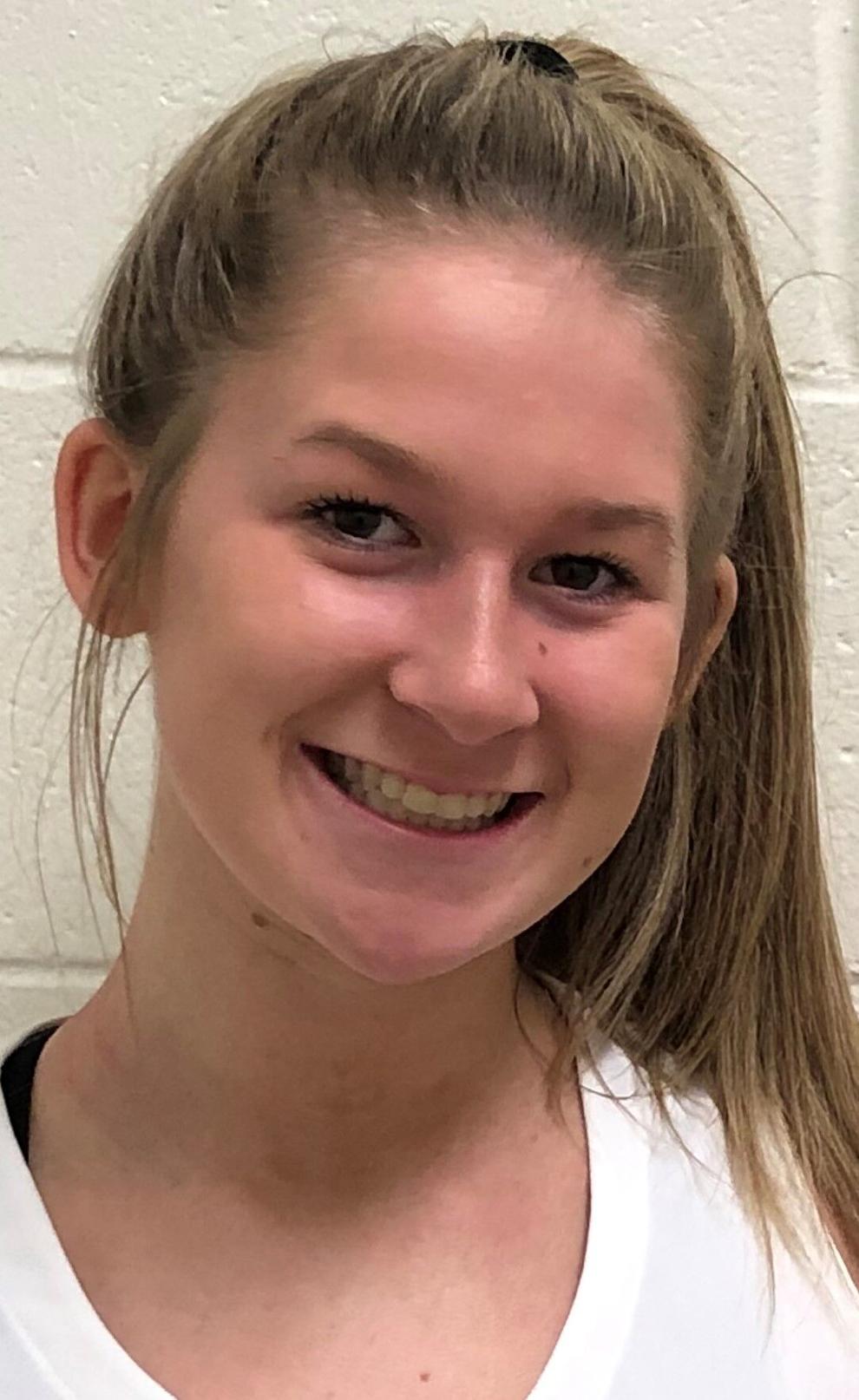 "We have a big target on our backs, so we know we're going to get everybody's best shot," said McClure, who knocked down all five field goals she put up in the second half and swished two foul shots in the tense fourth period.
"But everybody stayed calm, we worked through it very well and played the way we needed to get the win."
A key ingredient to that was shooting the ball much better after an abysmal first half and start to the third quarter.
Largely because of Odessa High's aggressive defense, Frenship seemed rattled and uncomfortable for the initial 18 minutes and piled up nearly as many turnovers (10) as made shots (11) in that portion of the game.
Wilson nailed a 3-pointer to put a cap on the first quarter to give the Tigers a 17-10 lead, but they missed 7-of-10 floor shots in the second quarter and were 1-of-6 to begin the third, which allowed the Lady Bronchos to lead 24-23 at halftime.
When Odessa High's Nesha Stephens scored on a fast-break layup in the opening minute of the third quarter to answer the first of Caddel's three third-quarter treys, the score was deadlocked 26-26 and the Lady Bronchos had a firm grip on momentum.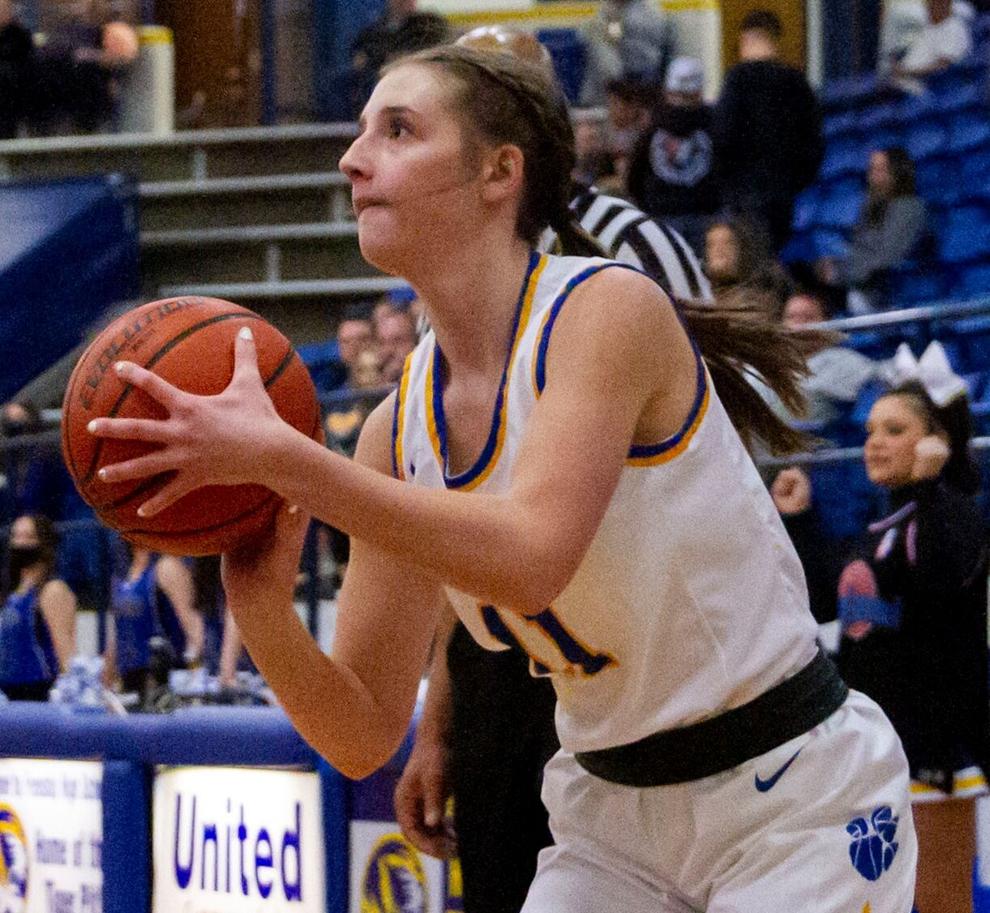 "Their defense was really tough," Frenship coach Trent Hillard said. "They played a 1-3-1 trapping defense that created some turnovers and a little bit of chaos for us. Every time we'd hit a run or stretch the lead out a little, they'd answer. That was clutch of them because they had been struggling offensively."
The Tigers' offensive scuffle ended quickly once Caddel found her shot and the McClure & Boyce tandem settled into a groove.
Caddel jacked in a 3-pointer off a pass from Holder (who finished with 7 assists) to trigger a Frenship burst of 20 points in 4:53, fueled by 8-of-12 shooting. Boyce and McClure teamed up for 10 straight points from the paint – 6 on second-chance follow shots – Caddel struck again from deep and Wilson delivered her last dagger for a 46-35 lead.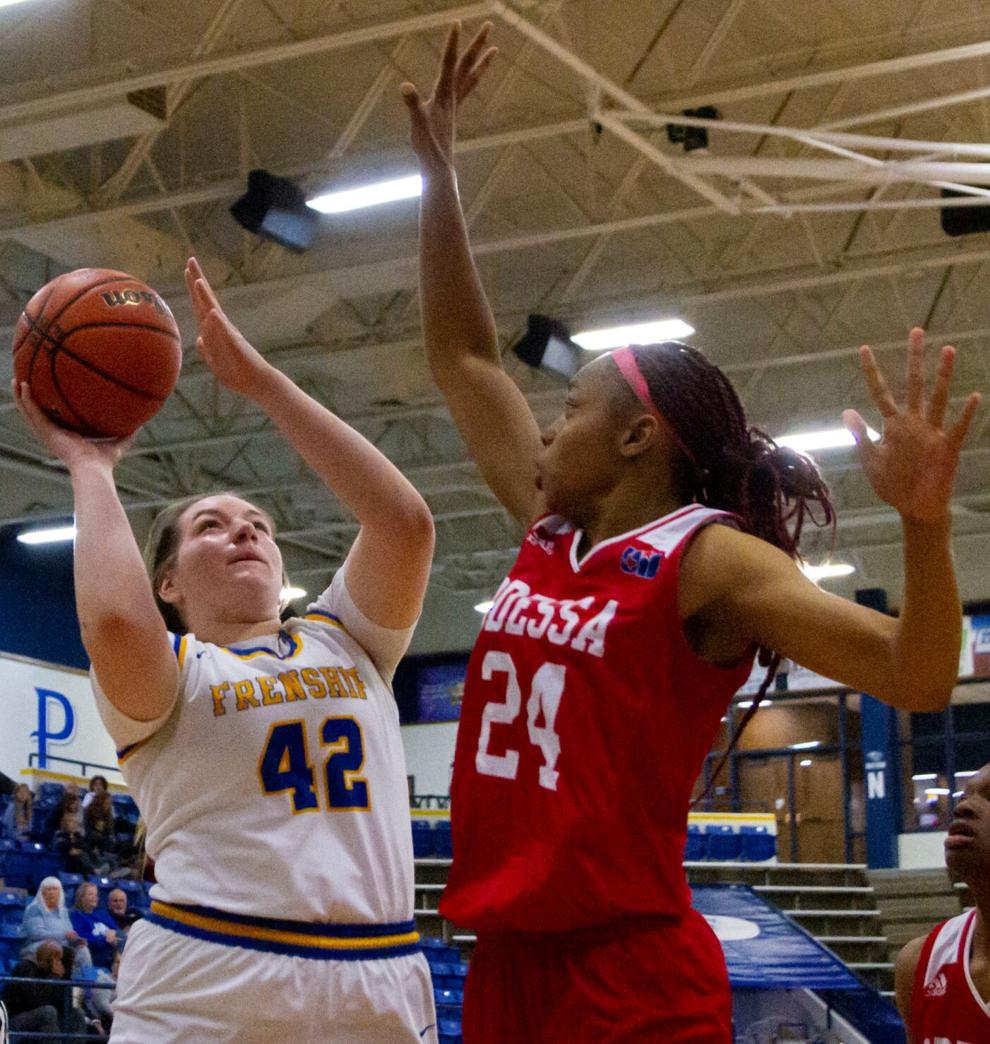 That third quarter, when the Tigers heated up to connect on 9-of-18 floor shots and outscored the Lady Bronchos 23-17, proved to be the needed difference and some halftime tweaks were vital.
"They scouted us super well and played us tough in the first half, so we had to switch up our offense at halftime," McClure said. "We went to an overload look and made the backside person in their zone less efficient, and once we got that going and everybody bought in, we started flowing much better."
Undaunted, Odessa High remained in range when Deoshanay Henderson converted a three-point play and Stephens swished a 3 for the final six points of the third frame to close the gap to 46-41.
That duo and Nevaeh Carrasco amped up the pressure to pull the Lady Bronchos within 50-49 with 4:45 to go, but McClure kept her team in front with her two free throws then a follow shot, Holder sliced through the lane for a bank shot and the Tigers' successful parade to the foul stripe added the finishing touches.
Even then, Holder had to calmly step the line twice and make a pair of foul shots after Odessa High clawed back within a bucket.
"When they had to foul us, we were able to knock free throws down in the fourth quarter, which was good because we had struggled with that a little bit at the Caprock (Classic)," Hilliard said. "That was good to see us answer the way we did because we're going to be pushed like that as the season goes on and we have to be able to find a way to win."
The district grind continues Friday when Frenship heads south to take on Midland High at 6 p.m.
FRENSHIP 64, ODESSA HIGH 60
Odessa      10   14   17   19   --   60
Frenship    17     6   23   18   --   64
ODESSA HIGH (60) -- Donajah Watkins 1-4 1-4 3, Nesha Stephens 11-19 1-4 26, Nevaeh Carrasco 4-11 0-0 10, Paige Byford 3-7 0-0 6, Deoshanay Henderson 8-18 1-1 17. Totals 26-59 3-9 60.
FRENSHIP (64) -- Abbi Holder 4-13 5-6 14, Andie Caddel 4-15 0-0 11, Mikah Chapman 2-6 2-2 6, Abby Boyce 3-6 3-5 9, Chandler Wilson 3-8 1-2 10, Addison McClure 5-7 2-2 12, Zaria Fowler 1-2 0-0 2, Hannah Harmon 0-1 0-0 0, Sarah Armstrong 0-0 0-0 0. Totals 22-58 13-17 64.
3-point goals -- Odessa High 5-16 (Stephens 3-7, Carrasco 2-6, Henderson 0-1, Watkins 0-2); Frenship 7-22 (Wilson 3-6, Caddel 3-9, Holder 1-7). Total fouls -- Odessa High 15, Frenship 13. Records: Odessa High 10-11, 3-3 District 2-6A; Frenship 19-5, 5-0. Up next: Frenship at Midland High, 6 p.m. Friday.