WOODROW -- Getting to the top of District 3-5A Division II proved to be a relatively easy process for Lubbock-Cooper last fall. Staying there this season wasn't much more of a challenge through four games.

But Randall made sure the final step in the repeat process was a major chore Friday night at Pirate Stadium.
Pushed as hard as it has been in two seasons in the district, LCP relied on its unsung depth in the offensive backfield and a defensive stand in the closing minutes to nab a 37-31 victory.
The Pirates (9-1, 5-0) locked up a second consecutive district crown and will host a bi-district playoff game at 6 p.m. Friday against Fort Worth Wyatt.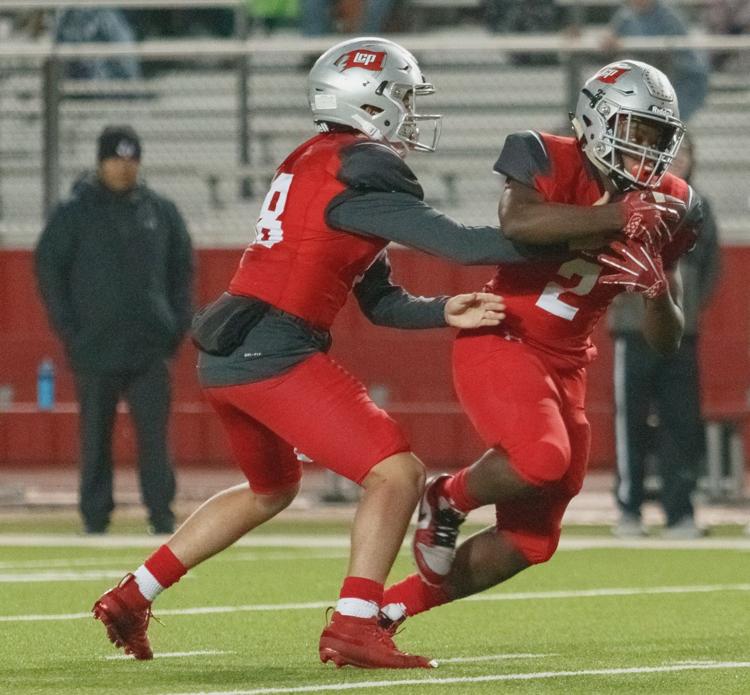 Getting past Randall (3-7, 2-3) took every bit of execution Cooper could muster, along with contributions from two backs who have operated outside the limelight much of this season.
The Raiders staggered the Pirates with a pair of first-quarter touchdowns to take a 14-7 lead then rallied again to grab a 31-29 lead with 3:40 left in the game when Brandon Ellison hit Jordan Norton for a 13-yard touchdown on a halfback pass.
Cooper was marching on the ensuing drive when Tyler Hairston wiggled loose for a 41-yard TD camper just 31 seconds after Randall grabbed the lead. Jacob Dennis plowed in for the two-point conversion to add to a night when he also scored a touchdown late in the third quarter.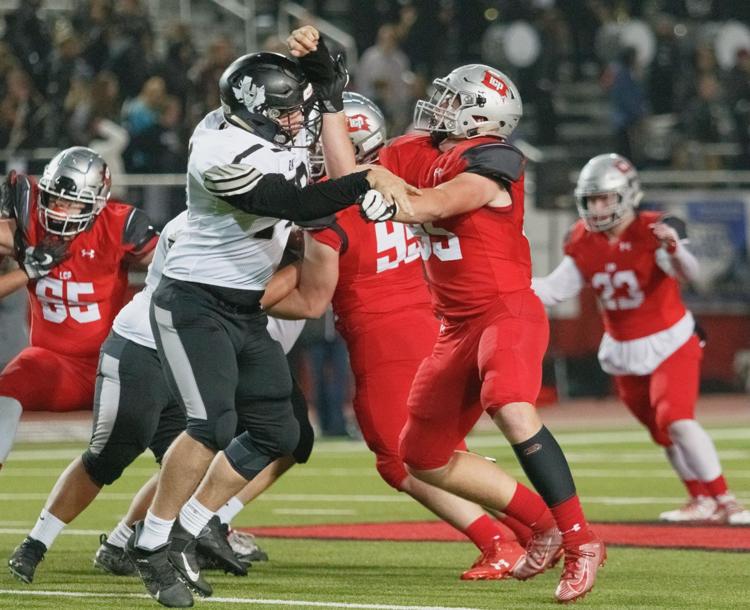 Hairston (6 carries for 62 yards) and Dennis (6-60) were stronger-than-usual complements in the Pirate rushing attack, which churned out 244 yards on 20 attempts. Nehemiah Martinez led the way with 78 yards on four totes and Isaiah Johnson ran for 53 yards on three attempts.
LCP needed to rely on quick strikes because Randall controlled the clock much of the night. The Raiders ran 66 plays to only 38 for the Pirates and that added up to huge time-of-possession advantage (34:13 to 13:47).
Despite that unbalanced number, the teams went back-and-forth all night.
Johnson gave LCP the lead with a 7-0 lead in the first quarter, but Randall responded with a pair of scores -- the second on a fumble that Hairston coughed up.
Martinez rambled 52 yards and Brock Thompson knotted the score just 11 seconds into the second quarter. He turned a pass from Cooper LaFebre into a 31-yard score at the 5:10 juncture of the second quarter and added a two-point run that staked Cooper to a halftime lead.
Dennis's TD extended that advantage before the Raiders roared back and captured the brief lead in the final stages of the fourth period to set up Hairston's game-winning dash.
Besides leading LCP on the ground, Martinez snagged 6 passes for 82 yards.
------------------------------------------
LUBBOCK-COOPER 37, RANDALL 31
Randall   14      3     0      14    --     31
Cooper     7      15    7      8      --     37
LCP -- Isaiah Johnson 7 run (Brock Thompson kick)
RAN -- Brandon Ellison 57 pass from Jakobe Norman (Juan Garcia kick)
RAN -- 26 fumble return (Garcia kick)
LCP -- Nehemiah Martinez 52 run (Thompson kick)
RAN -- Garcia 29 FG
LCP -- Martinez 31 pass from Cooper LaFebre (Martinez run)
LCP -- Jacob Dennis 8 run (Thompson kick)
RAN -- Ellison 2 run (Garcia kick)
RAN -- Jordan Norton 13 pass from Ellison (Garcia kick)
LCP -- Tyler Hairston 41 run (Dennis run)
Team statistics
                                RAN           LCP
First downs             17               15
Rushes-yards          44-162        20-244
Passing yards          229             114
Total yards              391             358
Passes                     9-16-0        12-18-1
Fumbles-lost            1-1             2-2
Punts-Avg.               2-22.5        2-22.0
Penalties-Yards         5-45            5-0
Individual statistics
RUSHING: Randall -- Jordan Norton 29-114, Patrick Perea 5-20, Jakobe Norman 5-15, Michael Miller 1-11, Brandon Ellison 2-2, Jared Gallegos 1-1, Kaden Arenas 1-(-) 1; Cooper -- Nehemiah Martinez 4-78, Tyler Hairston 6-62, Jacob Dennis 6-60, Isaiah Johnson 3-53, Cooper LaFebre 1-(-) 9.
PASSING: Randall -- Norman 9-16-0 171 yards, Norton 3-5-0 45, Ellison 1-1-0 13; Cooper -- LaFebre 12-18-1 114 yards.
RECEIVING: Randall -- Ellison 6-120, Tavian Combs 1-33, Norton 2-22, Cayden Eason 1-18, Miller 1-14, Dylan Cheyne 1-12, Norman 1-10; Cooper -- Martinez 8-82, Ty Carter 2-15, Jawuan Johnson 1-8, Cameron Bednarz 2-5, Hairston 1-3.
Records: Randall 3-7, 2-3 District 3-5A Division II; Cooper 9-1, 5-0. Up next: Class 3A Division II bi-district playoffs – Fort Worth Wyatt at Cooper, 6 p.m. Friday.