WOODROW -- Through five non-district games, Lubbock-Cooper had three games decided by two touchdowns or less, including its lone loss in four overtimes.
So first-year Pirates coach Chip Darden was more than happy to have his first blowout victory of the year to start District 3-5A, Division II play, and in the process, avoid one of those dreaded trap games.

Cooper scored on seven of its eight first-half possessions, stopped only by the end of the first half and steamrolled Plainview 59-0 Friday at Pirate Stadium.
"Our kids did a really good job coming out with the intensity that we kind of pressed them for," Darden said. "They were ready to play after a week off. You know you can practice only so much, so I thought they were ready to play. I really liked how we came out in the second half. With the weather being a little cool, it's easy to come out flat, but I thought we came out strong."
Isaiah Johnson rushed for 100 yards on five carries and scored on runs of 34 and 52 yards the first two times he touched the ball. He added a third scoring run of 8 yards early in the second quarter. Jacob Dennis and Robert Mott added touchdown runs, while Cameron Bednarz had a 15-yard touchdown pass from Cooper LaFebre as the Pirates (5-1, 1-0 District 2-5A Division II) built a 45-0 lead by the intermission.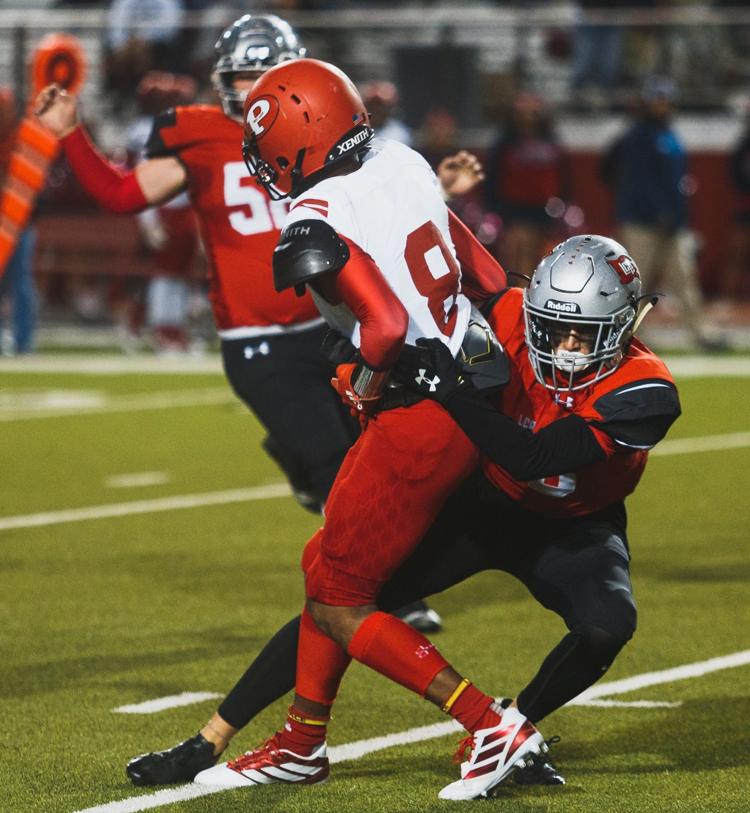 Averaging 10 yards per play, the Pirates racked up 415 total yards, 322 in the first half to put the game away early and avoid any letdown with a road game next week against its biggest anticipated roadblock to a district title in Wichita Falls Rider.
"We wanted to start the game off right and start off strong and knew this was a perfect team to start off district with," Johnson said. "We went and set the tone that we're going to be dominant this (season).
"We knew that we had to handle business. If we want to be a great team, we have to do it with not only our first strings but our second strings. We're so thankful that we got it done."
Lubbock-Cooper's offense wasn't the whole story. The Pirates defense smothered the Bulldogs (1-5, 0-1), limiting them to just 117 yards – all while creating only one turnover – including just 26 yards rushing, -6 through the first two quarters. Plainview did not run a play in Pirate territory until a 38-yard punt return by Malik Owens put the ball at the Cooper 40 with 4:15 to play in the game.
Plainview's first six possession of the game resulted in a turnover on downs and five three-and-outs, and the Bulldogs never crossed the 50-yard line in the first half. They didn't get their initial first down until midway through the second quarter, and that came only after second-string quarterback Jarren Isaguirre, playing since starter Damarius White injured his knee in Week 3 against Dumas, limped off the field after taking a hit from behind.
Things didn't get much better in the second half for Plainview. The Bulldogs had just four possessions in the second half, punting twice, turning the ball over on downs once and missing a 30-yard field goal as time expired in an effort to avoid the shutout.
"We were so focused on making the right reads and everything," said LCP linebacker Matt King, whose fumble recovery accounted for Plainview's only turnover. "We just tried to do everything right, and over the off week we went over every single scheme they had and were prepared throughout the week."
Cooper added two more scores in the third quarter. Rylan Wilcox began the second half by taking a reverse handoff on the kickoff and going 84 yards down the sideline for a touchdown. After a Plainview punt, backup quarterback Lane Bloomer capped the scoring with a 6-yard touchdown run to make the score 59-0 with just under 4½ minutes left in the period.
"We needed quality reps there and need for those guys to get better," Darden said of his reserves. "We didn't get as many guys reps in non-district as we would have liked, so it was nice to get those guys some reps. But we had to have quality reps and I thought we did a good job. Here and there are sometimes we want to be better, and we're coaching those kids hard down to the last second. I thought they battled and competed hard."
Things started badly for the Bulldogs and never got better. Plainview turned the ball over on downs on its first series of the game at its 30, and Cooper needed just three plays to find the end zone when Johnson scored from 34 yards out.
After another Plainview punt, Johnson took the handoff on the very next play and went untouched for a 52-yard score and a 14-0 lead less than 5 minutes into the game.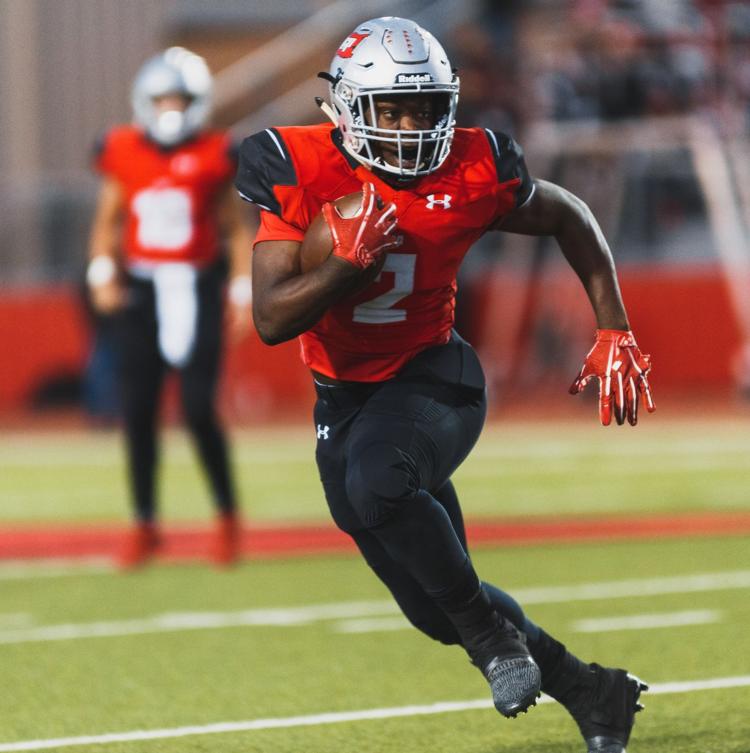 Plainview's defense stiffened on the next LCP drive, which ended with Brock Thompson's 45-yard field goal. But the Pirates were not deterred on their next three drives, getting a 20-yard touchdown run from Jacob Dennis on the final play of the first quarter, Johnson's third touchdown early in the second period and a 44-yard touchdown run by Mott with 7:54 left in the first half.
Cooper capped its first-half scoring with the touchdown pass to Bednarz with 1:49 remaining before halftime. "This team just has a bunch of football players. They just want to play football," Darden said. "Who it's (against) doesn't matter. They know this is a different season now and we had to have this one to start 1-0 in district."
----------------------------------------------------
LUBBOCK-COOPER 59, PLAINVIEW 0
Plainview            0       0       0     0      --      0
LCP                    24     21     14     0     --     59
LCP -- Isaiah Johnson 34 run (Brock Thompson kick)
LCP -- Johnson 52 run (Thompson kick)
LCP -- Thompson 45 FG
LCP  -- Jacob Dennis 20 run (Thompson kick)
LCP -- Johnson 8 run (Thompson kick)
LCP -- Robert Mott 44 run (Thompson kick)
LCP -- Cameron Bednarz 15 pass from Cooper LaFebre (Thompson kick)
LCP -- Rylan Wilcox 84 kickoff return (Thompson kick)
LCP -- Lane Bloomer 6 run (Thompson kick)
Team statistics
                                      PLA          LCP
First downs                   4               15
Rushes-yards                29-26        27-317
Passing yards                91             98
Total yards                    117            415
Passes                          8-21-0        9-13-0
Punts-avg.                    8-21.9         2-28.0
Fumbles-lost                  1-1             1-0
Penalties-yards               3-16          7-65
Individual statistics
RUSHING: Plainview -- Michael Rhoades 5-18, Malik Owens 1-12, Zach Finch 3-9, Ethan Campos 4-5, Peyton McNutt 11-5, Justin Dominguez 1-(minus) 2, Jarren Isaguirre 4-(minus) 21; Lubbock-Cooper -- Isaiah Johnson 5-100, Robert Mott 3-77, Tyler Hairston 3-44, Cason Leech 1-25, Lane Bloomer 7-21, Jacob Dennis 1-20, Cooper LaFebre 4-20, Nehemiah Martinez 2-7, Kelan Jordan 1-4.
PASSING: Plainview -- Rhoades 8-17-0 91 yards; Lubbock-Cooper -- LaFebre 7-10-0 92 yards, Bloomer 2-3-0 6 yards.
RECEIVING: Plainview -- Owens 3-65, Triston Flores 3-21, Kole Mayberry 2-5; Lubbock-Cooper -- Cameron Bednarz 2-40, Max Simnacher 1-14, Johnson 1-13, Jacob Politte 1-11, Ty Carter 1-9, Trevor Browning 1-8, Ben Marcinkowski 1-5, Nicholas Coppola 1-(minus) 2.
Records: Plainview 1-5, 0-1 District 2-5A Division II; LCP 5-1, 1-0.
Up next: LCP at Wichita Falls Rider, 7 p.m. Friday.