Lubbock-Cooper's defense has garnered the lion's share of the spotlight this season and understandably so considering how dominant that portion of the Pirates' team has been.

And there was plenty of reason to stay on that tried-and-true path in the first half Friday when LCP stepped back on the field against Abilene Wylie after a COVID-19 quarantine put the Pirates on the shelf for two weeks.
As clamp-down nasty as the LCP defense was in those initial 24 minutes -- and it was as impenetrable as any point this season -- it was the less heralded Pirate offense that sealed a 21-15 victory at First United Park.
LCP nailed down the gritty triumph by eating up the final 3:16 with five running plays that yielded 35 yards and two first downs. The finish was actually a nice bookend to how the Pirates began the night with the ball in their hands -- but was more conspicuous after Wylie found enough answers to generate two touchdown fourth-quarter drives that turned the game into a barnburner.
"Those are the situations that we tell our offensive linemen and tight ends 'That should be what you want; you should want the game on your shoulders,'" Cooper coach Chip Darden said after his team improved to 6-1 and 3-0 in District 3-5A Division II.
"We executed well in our 4-minute offense and that's something you have to be able to do. I really think our offense performed better than the scoreboard shows."
Added junior running back Judge Thomason, who carved out 27 yards on the final drive to finish with 77 on 16 carries, "We knew we had to go out there, buckle up and get first downs to win the game. We're at our best when those guys are getting down and dirty to get us first downs."
For the Bulldogs (3-3, 1-3) to make the game close required an about-face from the first half when they couldn't budge an inch against LCP's voracious defense.
Wylie came out with a burst when the defense sacked Pirate quarterback Cooper LaFebre in the end zone for a safety on the opening series of the night. The rest of the half was all LCP, though – with some glitches mixed in.
The Pirates' second series stalled and a fake punt went awry when Wylie's Cooper Cothran picked off punter Skye Cobb's pass and raced 31 yards on the return. The Bulldogs got no closer and missed a field goal – a tone-setter for both teams.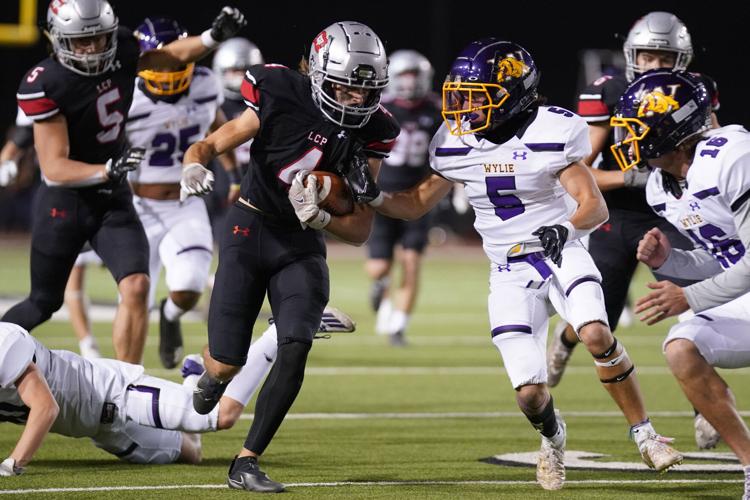 That was the first of four straight three-and-outs for Wylie in a half when it managed only 21 yards on 12 snaps and did not produce a first down.
"We were really excited to get out there after two weeks off," cornerback Rylan Wilcox said. "Everyone came out with a lot of adrenaline and played well. We got 11 men to the ball, everybody swarmed to the ball and played their role."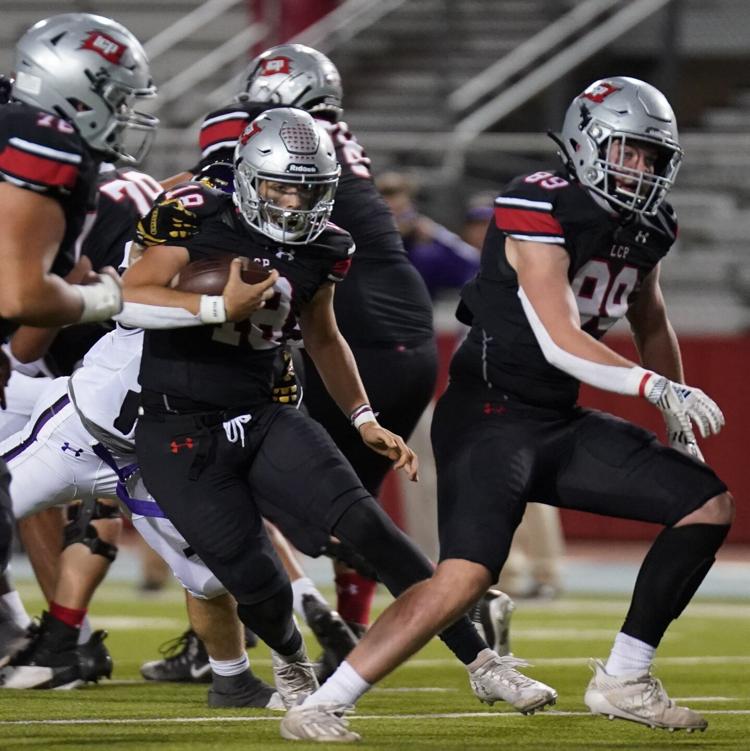 While the Bulldogs floundered, the Pirates found their rhythm.
A third empty possession left LCP behind 2-0 after the first quarter, but the Pirates started clicking after that.
Two short passes produced a first down before Ethan Elkins zipped 28 yards to flip the field. On the next snap, LaFebre floated a deep ball to Trevor Browning down the right sideline and the LCP receiver beat his defender to haul in the ball and cover the last few yards to the end zone.
LaFabre was just getting warmed up. when the Pirates got the ball back with 3:08 to go before halftime, the senior QB lit a fuse when he mixed hard-nosed runs with quick passes to his deep set of pass catchers.
Cooper methodically moved down the field, gaining three first downs on the first five snaps. On a 3rd-and-5 play, LaFebre powered his way for 7 yards to keep the chains moving then scrambled 11 yards when the Bulldogs covered his targets on the next play.
When a holding penalty and a run for no gain put LCP behind the chains, facing 2nd-and-20 from the 27-yard-line, the Pirates perfectly executed a screen play to Cutter Douglas who mixed bulldog running with some deft evasiveness to crash across the goal line at the :29.8-second mark.
"We just relied on our bread-and-butter plays and started getting first downs and moving the ball like we can," Thomason said.
There was no need to stray from that approach after halftime, especially after the Bulldogs began to show life when they had the ball.
Wilcox helped blow up a promising Wylie march when he sacked Balin Valentine on 3rd-and-13 then broke up a pass in the end zone on fourth down to get the ball back for the Pirates.
From the 29-yard-line, LCP started clicking again, starting with Elkins breaking the seal with a 15-yard burst, LaFebre rifling a pass to Jacob Politte for 29 yards and a QB draw eating up 16 more yards. Cooper ate up the rest of the third frame with an 8-yard LaFebre-to-Max Simnacher hookup on a slip screen converting a 4th-and-3. Douglas bulled his way for 5 yards to the 2-yard-line and Kobie McKinzie capped an 11-play, 71-yard drive with a 2-yard blast.
Up 21-2 with most of the fourth quarter remaining, the Pirates turned the game over to their defense but unlike most of this season, that equation didn't work.
Instead, Wylie built on what it started with its first series of the half and pieced together back-to-back touchdown drives. Valentine ended the second when he flipped a 2-yard pass to Brice Cantrell and the extra point closed the gap to 21-15 with 3:16 left.
Unfazed, LCP made plays it needed to nail down the win.
Simnacher leapt to corral an onside kick and the offense took over from there to finish the Bulldogs off when LaFebre gained 2 yards, Thomas wiggled for 27 on the next three totes and LaFebre moved the chains with a 6-yard pickup on a sweep with 1:28 on the clock after Wylie used its final timeout.
"We knew after taking a break for 2 weeks, we'd be a little rusty, so we had to persevere and fight through adversity and be the tougher team," Wilcox said.
Gritting out a victory can be valuable at any point and for the Pirates, the fact that a gut-check effort will be the segue to their toughest test of the district season could be valuable.
With this one in the rearview mirror, LCP shifts its attention to a better-late-than-never top-10 showdown against Wichita Falls Rider next Friday at 2 p.m.
"We need to have another great week of practice and we need to come out focused," Wilcox said.
-----------------------------------------------
LUBBOCK-COOPER 21, ABILENE WYLIE 15
Wylie        2       0       0       13     --       15
Cooper     0       14     0       7       --       21
WYL -- Safety, LCP quarterback sacked in the end zone
LCP -- Trevor Browning 33 pass from Cooper LaFabre (Skye Cobb kick)
LCP -- Cutter Douglas 27 pass from LaFebre (Cobb kick) 
LCP -- Kobie McKinzie 2 run (Cobb kick)
WYL -- Reed Hughes 3 pass from Balin Valentine (pass failed)
WYL -- Brice Cantrell 2 pass from Valentine (Grayson Bearden kick)
TEAM STATISTICS
                                     WYL          LCP
First downs                12              19
Rushes-yards             28-81        44-238
Passing yards            81              145
Total yards                 162            383
Passes                        11-18-0    10-15-1
Fumbles-lost               0-0             0-0
Punts-Avg.                   4-44.3       0-0
Penalties-yards            2-15         7-78
INDIVIDUAL STATISTICS
Rushing: Abilene Wylie -- Trey Gomez 13-30, Balin Valentine 6-24, Stellon Wright 4-18, Josh Carpenter 3-11, Logan French 1-(-) 1, Kade Killion 1-(-) 1; LCP -- Cooper LaFebre 12-82, Judge Thomason 16-77, Ethan Elkins 6-47, Cutter Douglas 4-23, Rylan Wilcox 2-4, Holt Gibson 1-3, Kobie McKinzie 2-3, team 1-(-) 1.  
Passing: Abilene Wylie -- Valentine 11-18-0 81 yards; LCP -- LaFebre 10-14-0 145 yards, Skye Cobb 0-1-1 0.
Receiving: Abilene Wylie -- Reed Hughes 3-36, J.T. Thompson 2-14, Jahzair George 1-10, Riley Hood 1-10, Gomez 2-6, Creed Cooper 2-5; LCP -- Jacob Politte 3-41, Trevor Browning 1-33, Ben Marcinkowski 2-28, Douglas 1-27, Max Simnacher 1-8, Cobb 1-7, Brayden Laws 1-1.
Records: Abilene Wylie 3-3, 1-3 District 3-5A Division II; Lubbock-Cooper 6-1, 3-0.
Up next: Wichita Falls Rider at Lubbock-Cooper, 2 p.m. Friday, Nov. 27.
-------------------------------------------------
Randy Rosetta is the editor & publisher
Contact him at HubCityPreps@gmail.com
or (806) 407-0188.
@HubCityPrepsLBK | @RandyRosetta