WOODROW -- Lubbock-Cooper senior defensive back Bryson Stevens read a pass sailing into his zone from the moment it took flight and capitalized – making an easy interception for a defensive touchdown in a 66-0 victory against Fort Worth Wyatt in a Class 5A Division II bi-district matchup on Friday night.
It was just that kind of night for a bevy of talented Cooper players.
Stevens returned the interception 32 yards with 5:18 left in the first half as the District 3-5A Division II Pirates ran away quickly vs. the Chaparrals to earn their second gold ball this season.
"I was just reading the play," said Stevens, who helped lift his team to 10-1 overall. "I knew if I could read (the quarterback's) shoulders, I could make a play on the ball.
"I was just there at the right moment and it came out in my favor."
Defensively, Cooper played sound all night with two interceptions and two sacks, while limiting Wyatt (3-8) to 124 total yards and seven first downs. Pirate junior utility player Kobie McKinzie recorded the game's first interception at the 3:16 mark in the first quarter, while the defensive line banded together to record two sacks and force a fumble.
"It is just crazy on how big of a unit we are," Stevens said of the defense. "We have a lot chemistry. Going through the week, Monday through Thursday, we work our buts off to prepare and get ready. Our game plan was really good with it being the first week of playoffs."
As impressive as the Cooper defense was, the offense turned in a standout performance as well with 11 players accounting for a score in some shape or form.
The Pirates began to rotate in second-string players as early as the second quarter, but not before starting quarterback junior Cooper LaFebre racked up 142 passing yards on six competitions and three touchdowns, part of a 35-point first-quarter uprising.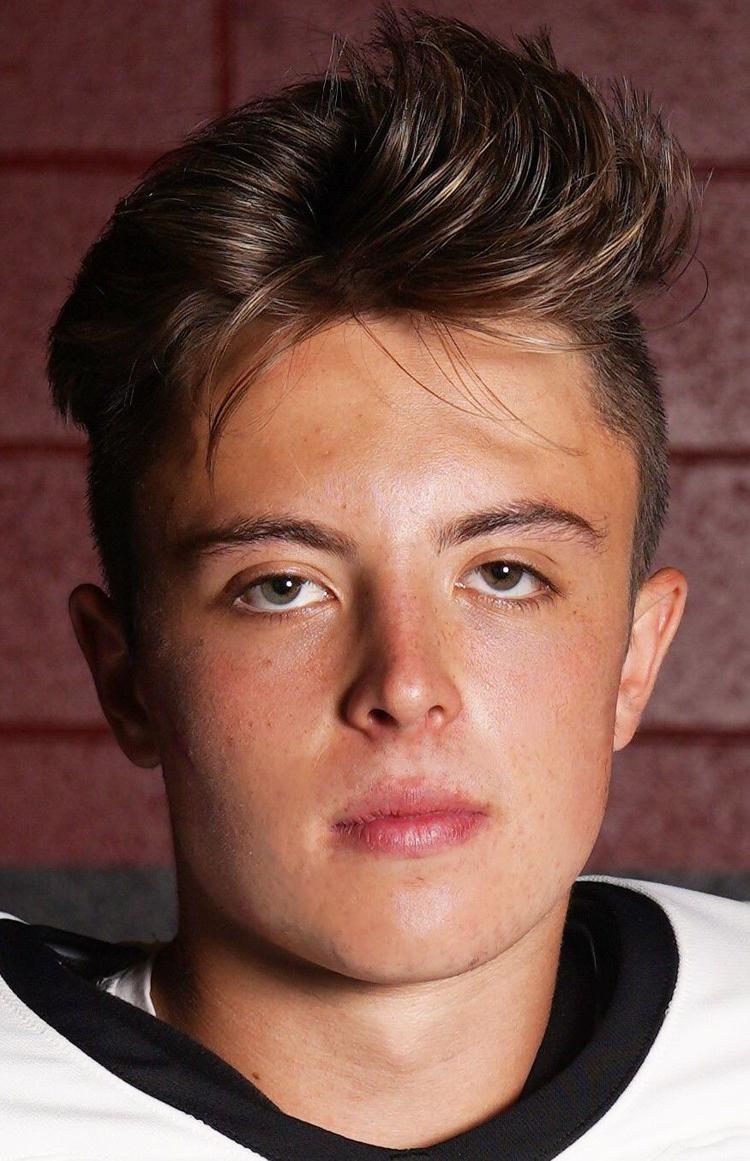 "We talked about it all week: Our offense hasn't started off fast all year," LaFebre said. "It usually takes us two possessions and then we start putting up points on the board but starting off fast was a point of emphasis all week – punch them in the mouth early on and set the tone of the game. I feel like we had a different confidence that we usually haven't had."
The Pirates were unforgiving in the opening half, racking up 49 unanswered points through two quarters of play.
Cooper completed its goal of setting the tone and foreshadowed what became a hefty offensive effort early on. Tight end Cameron Bednarz hauled in a 45-yard pass from LaFebre with 9:35 left in the first quarter for the game's initial touchdown.
What ensued was nothing short of a dominant showing as Cooper's offense, defense and special teams strung together a near perfect 30 minutes of football.
Running back Nehemiah Martinez followed up teammate Bednarz's catch with a 1-yard touchdown run with 5:16 left in the opening quarter. Max Simnacher corralled a 16-yard score from LaFebre, and Ty Carter and Jacob Dennis rushed for touchdowns of 23 and 44 yards, respectively, as the team was off to the races in the first quarter.
"I think it good for a lot of guys to get some reps (Friday)," Cooper first year coach Chip Darden said. "We had a real physical game last week and we had a few starters that were out, so developing some depth was important. I think we had some guys who had some real quality reps, so that was a big deal. I really like how we handled both halves."
LCP's attack continued on through to the second half, while the defense continued to do what it had done all night to earn the shutout.
Cooper has a long road ahead of itself, but Friday night's performance has boosted the Pirates' confidence.
"It definitely builds a ton of confidence," LaFebre said. "We don't take any gold ball for granted. We put in hard work every single day and every single practice that we do."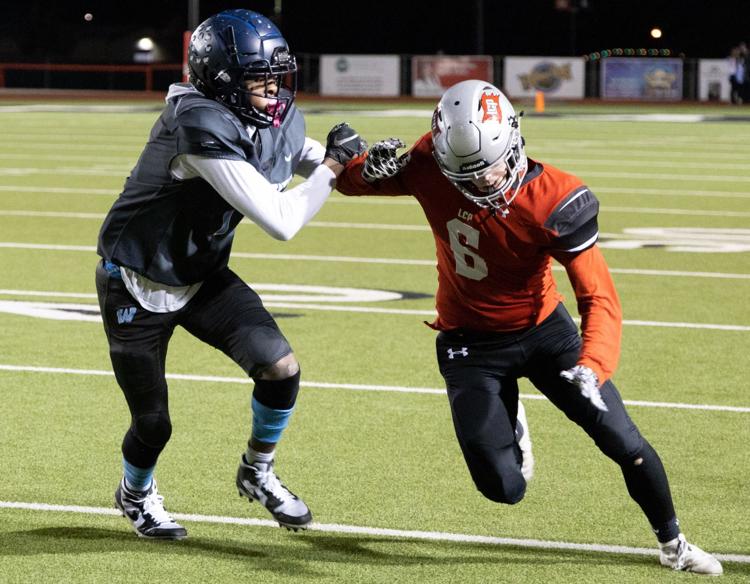 Moving the chains
Leading rusher Isaiah Johnson was not suited out and was on the sideline in a walking boot for a foot injury.

Pirate kicker Brock Thompson was perfect on extra point conversions, going 4-for-4, and also drilled a 21-yard field goal attempt.

Cooper accounted for 503 total yards of offense, averaging 10.1 yards a play with 20 first downs.
----------------------------------------
CLASS 5A DIVISION II BI-DISTRICT PLAYOFF
At Pirate Stadium/First United Bank Park
LUBBOCK-COOPER 66, FORT WORTH WYATT 0
Wyatt                       0      0      0      0      --      0
Cooper                   35    14    10      7      --     66
LCP -- Cameron Bednarz 45 pass from Cooper LeFebre (Brock Thompson kick)
LCP -- Nehemiah Martinez 1 run (Thompson kick)
LCP -- Max Simnacher 16 pass from LeFebre (Thompson kick)
LCP -- Ty Carter 23 run (Thompson kick)
LCP -- acob Dennis 44 run (Thompson kick)
LCP -- Robert Mott 9 run (Thompson kick)
LCP -- Bryson Stevens 32 interception return (Thompson kick)
LCP -- Thompson 21 FG
LCP -- Kaleb Stripling 47 run (Carter kick)
LCP -- Nicholas Coppola 5 run (Carter kick)
Team statistics
                               WYA              LCP
First downs             7                 20
Rushes-yards          24-48          32-295      
Passing yards          76               208
Total yards              124             503
Passes                    11–23-2      14–15-0
Fumbles-lost           1-1              0-0
Punts-Avg.              6-22.3         0-0
Penalties-yards       3-25            8-75
Individual statistics
RUSHING: Wyatt -- Damon Gentry 5-37, Anthony Smith 7-24, N'Kem Ware 1-4, Tamadare Ross 1-0, Paris Handy 4-(-)4, Quinten Hutchinson 5-(-) 6, Keroyta Browner 1-(-) 7; Lubbock-Cooper -- Kaleb Stripling 6-78, Lane Bloomer 9-61, Cooper LaFebre 2-53, Jacob Dennis 1-44, Robert Mott 4-23, Holt Gibson 3-16, Nehemiah Martinez 3-14, Tyler Hairston 3-11, Kelan Jordan 1-(-) 5.
PASSING: Wyatt -- Handy Paris 6-11-1 60 yards, Quinten Hutchinson 5-12-1 16 yards; Lubbock-Cooper -- Cooper LaFebre 6-6-0 142 yards, Lane Boomer 8-9-0 66 yards.
RECEIVING: Wyatt -- Steven Harris 2-26, Johnathan Brown 2-17, N'Kem Ware 2-16, Damon Gentry 1-15, Keroyta Browner 1-1, Toney Green 2-1, Erynn Wilburn 1-0; Lubbock-Cooper -- Martinez 2-45, Cameron Bednarz 1-45, Trevor Browning 2-40, Ben Marcinkowski 1-29, Max Simnacher 1-16, Cole Agnew 2-16, Jawuan Johnson 1-7, Nicholas Coppola 1-5, Cason Leech 2-3, Kelan Jordan 1-2.
Records:  Wyatt 3-8, Lubbock-Cooper 10-1.
Up next: Class 5A Division II area round playoff – Lubbock-Cooper vs. El Paso Burgess, TBD.