With its offense on the field Thursday night, Lubbock High proved capable of matching Caprock blow-for-blow at Plains Capital Park.
When the Longhorns' defense managed to grab control in the second half, though, the Westerners didn't have much of a chance.
Caprock churned out four second-half touchdowns and limited LHS to 33 total yards after halftime on the way to a 55-17 victory. The about-face was a frustrating turn of events for Lubbock High (1-6, 0-3 District 2-5A Division I), which again showed stretches of being competitive.
Just not many in a dismal final 24 minutes.
"Proud of them for the first half, but in the second half we weren't nearly as good," LHS coach Shane Stephen said.  "It looked like (Caprock) made some adjustments and we weren't able to adjust back."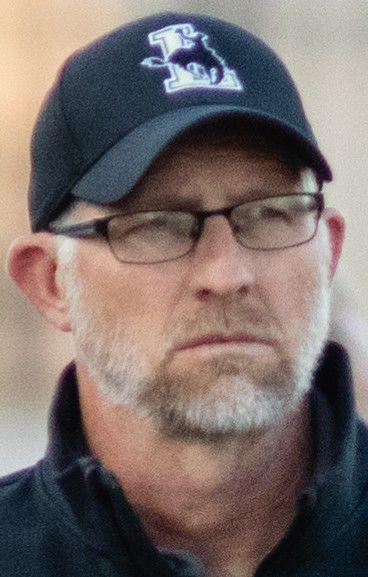 The what and how the Longhorns flipped the script was a tried-and-true storyline: Control the line of scrimmage, grind out drives ending with points and get the opponent off the field with no damage done.
With quarterback Tarik Williams looking as sharp as he has all season, Caprock produced touchdowns on its first four series of the second half, driving 65, 29, 50 and 51 yards. The Westerners didn't help themselves much with a pair of short punts and the second lost fumble of the game setting up short fields.
And it wasn't like the Longhorns (2-4, 2-0) needed a lot of assistance. With Williams and tailback Corbin Putman taking turns gashing the Lubbock High defense, Caprock was hard to slow down most of the night, but especially in the second half.
There were a handful of big plays mixed in -- Williams rambled 81 yards for a first-half score and the first of Putman's four TDs was from 35 yards away -- but shoddy Westerner tackling helped turn short gains into medium gains. The Longhorns converted four third downs in a row during their onslaught.
"We're going out there trying to make adjustments," Lubbock High linebacker Maximus Hernandez said. "We've got to keep on working on tackling drills and find anything that can help us tackle better."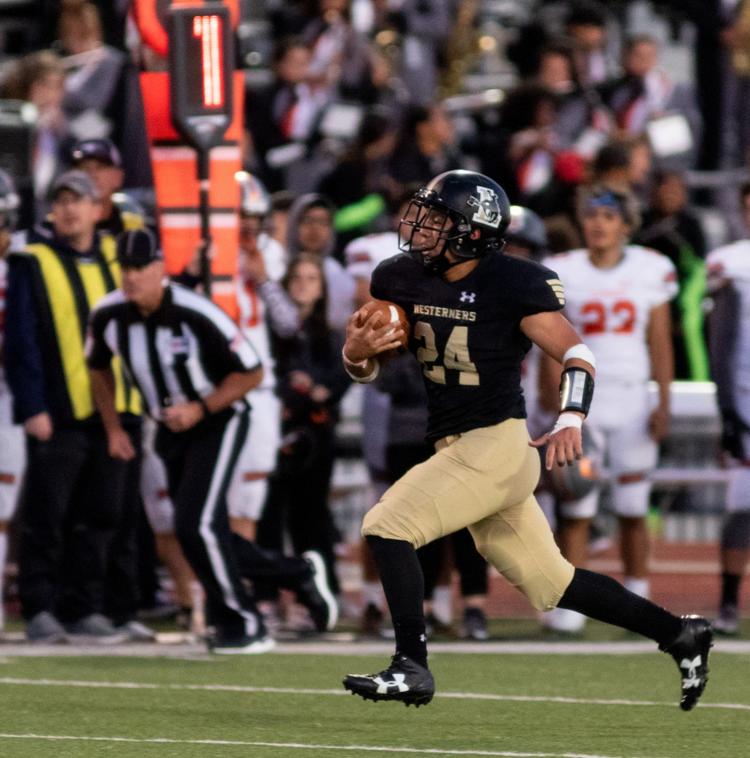 Added Stephen, "They got a little more physical with us in the second half."
That applied to the Caprock defense as well.
The Westerners got the Longhorns' attention with a quick touchdown drive right before halftime, culminating with Noe Tijerina's dazzling snatch in the end zone for an 11-yard touchdown pass from Brandon Smith.
Lubbock High's late score reduced the Caprock lead to 27-17 and seemed to supply a jolt of momentum heading into the locker room.
"That was a nice score to get," Stephen said. "I was really proud of the offense and things we were doing."
Those things disappeared after halftime. Putman's 35-yard gallop on Caprock's first series of the third quarter extended the lead to 34-17 to force Lubbock High into scramble mode.
Instead of coming up with an answer, the Westerners imploded.
Their first series of the second half lost 16 yards after a sack and fumble that led to a 25-yard punt. The second started with promise with back-to-back running plays covering 15 yards, but it fizzled and ended with a 17-yard punt.
On 10 third-quarter snaps, LHS had -1 yard -- a vast difference from the first half when the Westerners consistently found holes in the Longhorn defense and churned out 163 yards.
Keith Ramirez lost a fumble early in the fourth quarter to end a promising drive and the Longhorns put the final nail in the coffin when Putman slashed into the end zone from 8 yards out after Richard DeLeon took over at quarterback and completed four passes in a row for 34 yards.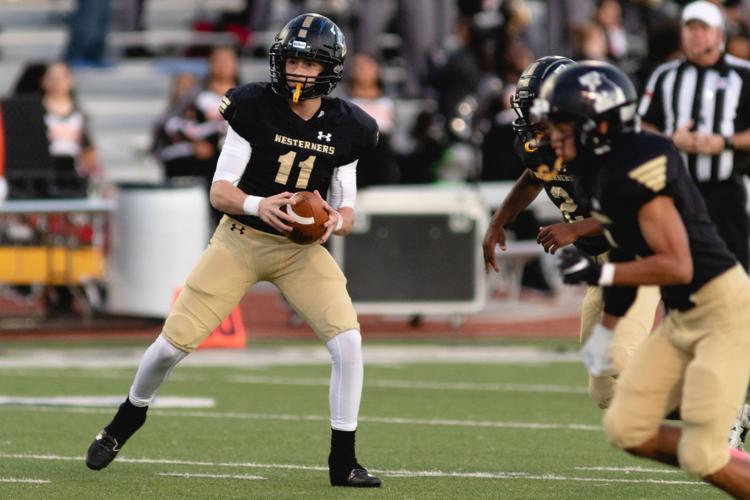 As much as LHS struggled to move the ball, Caprock was the opposite with 203 yards and 12 first downs in the second half.
"Defensively we've got to figure out something that works because right now we're getting blown up," Hernandez said.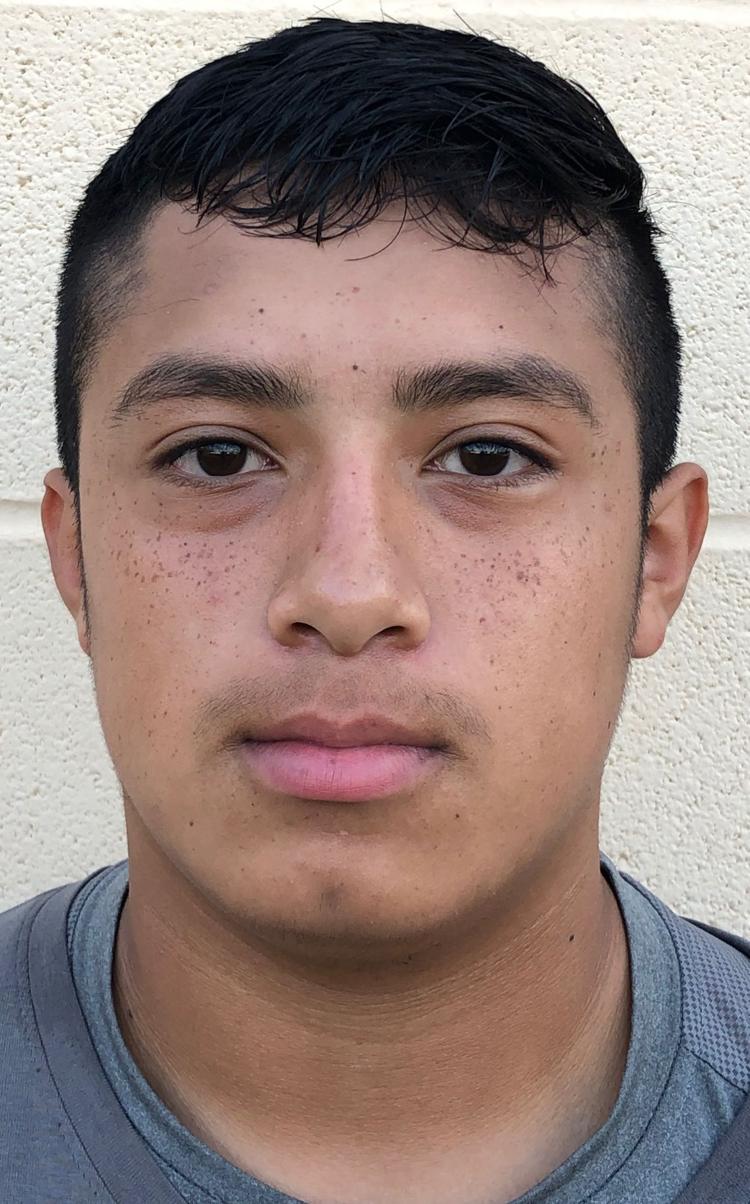 Caprock drew first blood early in the game with a short touchdown drive after the Westerners botched a punt snap. Lubbock High was on the move and moved to the Longhorn 29 with the aid of horse-collar and late hit penalties on Caprock.
But on a second-and-21 play, Ramirez bobbled a handoff and Longhorn linebacker Isaiah Carrasco scooped up the ball, shed two tackles and lumbered 80 yards the other way for a TD.
Down 14-0, the Westerners clawed back with a Ramirez-fueled 69-yard drive. He carried the ball six times for 52 yards before Smith floated a perfect pass to Tijerina on a corner route for a 15-yard score.
Following a mishandled punt snap by Caprock, LHS cashed in with Billy McNamara's 35-yard field goal to close the gap to 14-10. But that was as close as the Westerners got because Williams struck with his 81-yard burst, then the Longhorns plodded 80 yards on 15 plays to go up 27-10 on DeLeon's 3-yard keeper with 55 seconds to go before halftime.
The Westerners head into an open week before another tough test when they travel south to face district-leading Abilene Cooper at 7:30 p.m. on Oct. 25.
Moving the chains
Lubbock High scrounged out only 33 yards on 19 second-half snaps. The Westerners were 2-for-9 on third downs.

Thanks to big plays on both sides of the ball, Caprock snapped the ball only six times in the first quarter. The Longhorns initial two first downs both came on touchdowns -- Williams' 15-yard pass to Bryan Rodriguez and Williams' 81-yard run.

Smith struggled to find targets most of the night and wound up with only 97 passing yards. Three plays accounted for 69 of those yards – the touchdown to Tijerina, a 33-yard connection with Darin Mendez and a 19-yard swing pass to Ramirez on the first play of the fourth period.
--------------------------------------
CAPROCK 55, LUBBOCK HIGH 17
Caprock                 14    13    21    7      --     55
Lubbock High        7      10    0      0      --     17
CAP -- Bryan Rodriguez 15 pass from Tarik Williams (Cason Polivoda kick)
CAP -- Isaiah Carrasco 80 fumble return (Polivoda kick)
LHS -- Noe Tijerina 17 pass from Brandon Smith (Billy McNamara kick)
LHS -- McNamara 35 FG
CAP -- Williams 81 run (kick failed)
CAP -- Richard DeLeon 3 run (Polivoda kick)
LHS -- Tijerina 11 pass from Smith (McNamara kick)
CAP -- Corbin Putman 35 run (Polivoda kick)
CAP -- Putman 2 run (Polivoda kick)
CAP -- Putman 7 run (Polivoda kick)
CAP -- Putman 8 run (Polivoda kick)
Team statistics
                                 CAP                LUB
First downs              19                15
Rushes-yards           29-263        30-99      
Passing yards          141              97
Total yards                404              196
Passes                      18-24-0         9-20-1
Fumbles-lost            3-1                 4-2
Punts-avg.                0-0                 4-28.8
Penalties-yards       12-102           7-58
Individual statistics
RUSHING: Caprock -- Corbin Putnam 15-135, Tarik Williams 5-113, Draven Solis 5-41, Nathan Contreraz 1-(minus) 1, team 3-(minus) 25; Lubbock High -- Keith Ramirez 17-81, Rodney Hunter 9-45, Richard DeLeon 3-0, Brandon Smith 4-(minus) 27.
PASSING: Caprock -- Williams 12-17-0 76 yards, DeLeon 6-7-0 65; Lubbock High -- Smith 9-20-1 97 yards.
RECEIVING: Caprock -- Bryan Rodriguez 6-75, Isayah Hernandez 4-28, Jose Reynoso 4-25, Putman 1-7, Devon Smith 1-5, Fabian Morales 1-1, Solis 1-0; Lubbock High -- Darin Mendez 1-33, Noe Tijerina 3-31, Ramirez 1-19, Owen Fuambu 2-8, Maximus Hernandez 1-6, Hunter 1-0.
Records: Caprock 2-4, 2-0 District 2-5A Division I; Lubbock High 1-6, 0-3. Up next: Lubbock High at Abilene Cooper, 7:30 p.m. Oct. 25.
--------------------------------------
Randy Rosetta is the publisher of HubCityPreps.com
Contact him at HubCityPreps.com or (806) 407-0188.
Follow on Twitter | @HubCityPrepsLBK & @RandyRosetta