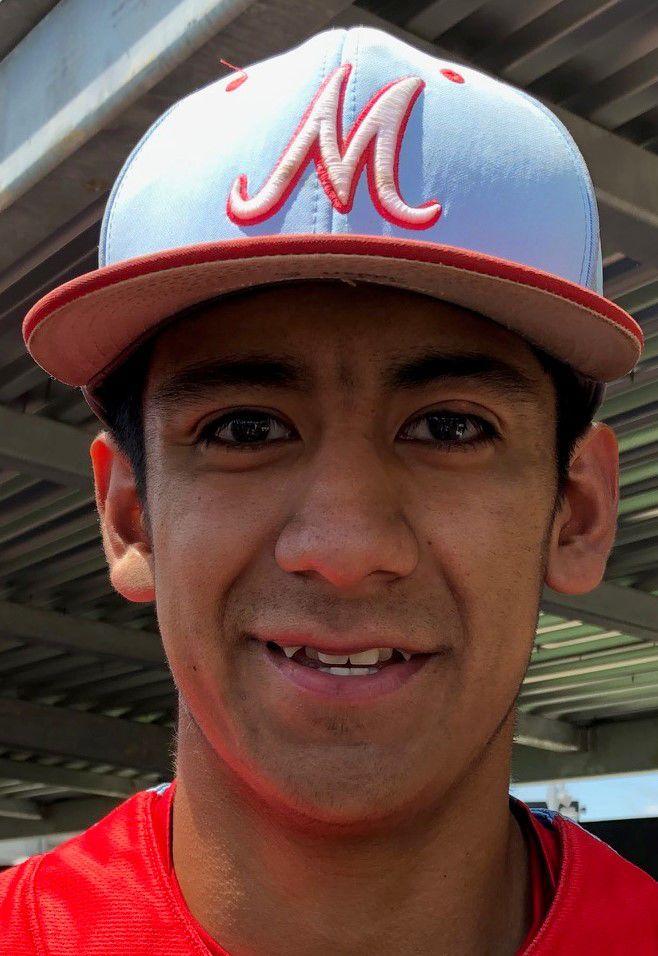 ABILENE -- An idea had already emerged in Monterey coach Kent Meador's mind. Jaden Guerrero just added his own jolt of confidence to the equation.
As the Plainsmen offense hammered away at Lake Dallas Saturday in a game-sealing 6th-inning rally, Guerrero sauntered up to his coach to make it clear where he stood as it became evident there would be a decisive third game in a Class 5A best-of-three regional semifinal series at Crutcher Scott Field.
"I called it before Game 2 and reminded him again before he came to me to talk about it," Guerrero said Saturday after Monterey clocked Lake Dallas 10-1 and 10-2 to storm back to advance to the 5A regional finals. "I told him if I had a decent amount of pitches left (after Game 2), I wanted the ball again."
Guerrero got what he wanted, and his dominant and gritty performance was a major sub-plot to a memorable day for the Plainsmen.
The senior cruised through the first game to finish with a 4-hitter and used only 66 pitches. Meador and pitching coach Chad Payne decided to send Guerrero back out to start the second game as well, and he gutted through the first 2.2 innings before he reached his daily pitch limit of 110.
"Probably about the 5th inning I started thinking about it," Meador said. "We actually had a chance to get out of that first game on the run rule, but we couldn't quite do that. I went to (Payne) and started to bring it up and he said, 'I'm right there with you.' Jaden had already said something about it and that stuck in my mind. Not many kids would even consider doing that at all and not many would pitch the way he did in the second game."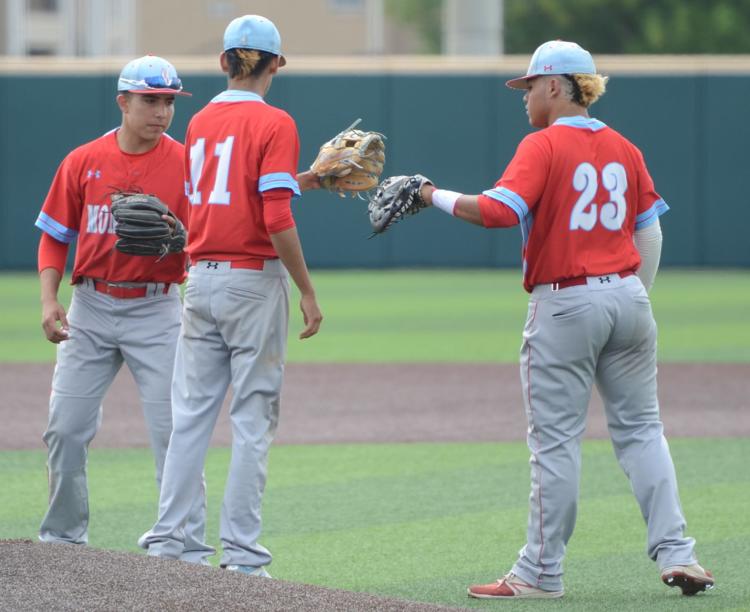 What Guerrero did bridging the two games was completely baffle a Falcon offense that had rattled Monterey for 10 hits, as well as six walks and two hit batters.
Guerrero plowed through 9.2 innings in the two games, allowed only six hits and three runs -- just one earned and the other the result of his own atypical mistake, a two-out hit batter.
After Ryan Hull got the Falcons on the scoreboard with a run-scoring double after the hit batter and a stolen base, Guerrero allowed only more hit over the final 4.1 innings of the first game, then mowed down eight of the first nine hitters he faced in the second game.
Lake Dallas went down in order in 5 of the 10 innings in which Guerrero pitched in and managed only one runner in three others. A tantalizing mix of breaking pitches, changeups and fastballs sprinkled in allowed Guerrero to pitch backwards effectively and the results were mystifying:
75 strikes in 112 pitches (67%)
24 first-pitch strikes to 38 batters faced (63.2%)
9 ground-ball outs, 16 fly-ball outs, 4 strikeouts
1 walk, 1 hit batter
"My curve ball was really good," Guerrero said. "They couldn't touch it. Only one kid got a hit off of it. Once I got comfortable in the 1st inning of the first game, I knew I was going to be in good shape for however long my team needed me."
Numbers are the measurables of how a pitcher impacts a game.
To Meador, though, Guerrero's value to the Plainsmen is much deeper, and Saturday's unique performance was a perfect example of how and why.
"Jaden Guerrero is a freakin' warrior," Meador said, his voice thick with emotion.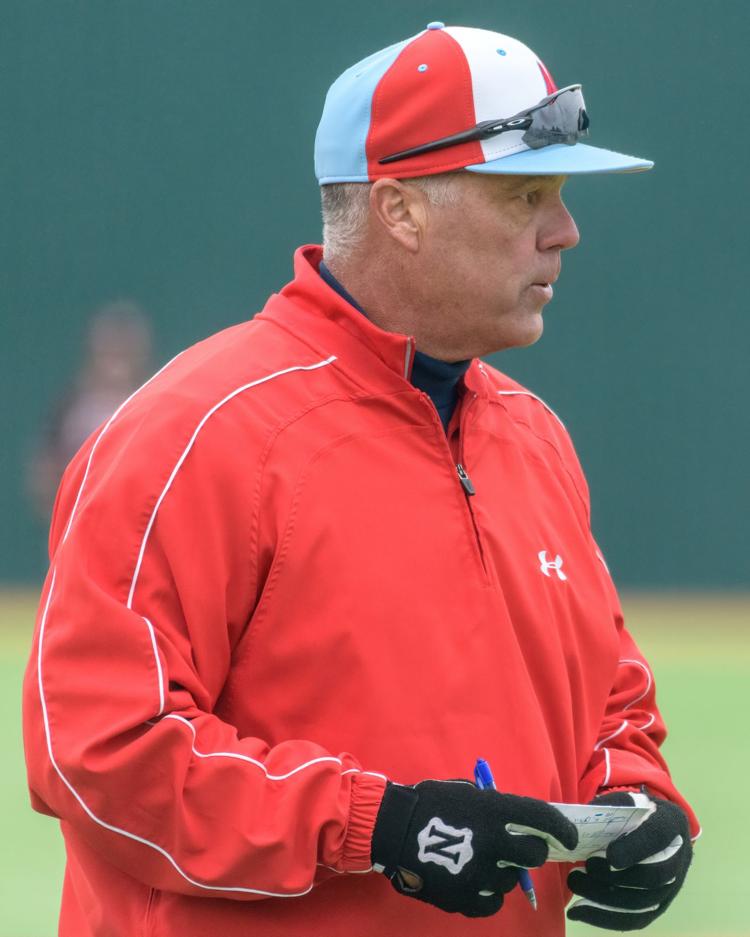 "That's what high school baseball is all about. His whole career, he's been in the shadows behind older guys and he never missed a day, never said a foul word, never didn't show up and work hard. That's what this game is all about: It rewards people who have the right attitude and the right approach and there's none better at those things than Jaden Guerrero."
When Guerrero finally handed the ball off, his gritty effort wasn't lost on teammate Nate Davila, who took over on the hill.
Coming into the weekend, Guerrero and John Long had combined to log 41 of the 42 innings Monterey played to get through the first three rounds with six victories. Because the Falcons claimed a 5-4 victory on Friday and with pitch limits in place, somebody else had to take the baton at some point on Saturday.
That turned out to be Davila and he was nearly as untouchable as Guerrero. The junior righty came on after a rare error on Plainsmen center fielder Briley Alexander allowed two Lake Dallas runs to score and trim Monterey's lead to 3-2.
With the tying run at second base, Davila made sure that was all the damage done. He ended the 3rd by getting cleanup hitter Connor Perry on an infield popup then fought through 4 hitless and scoreless innings to grab the victory.
"I just told him to pick me up, throws strikes and let them get themselves out," Guerrero said.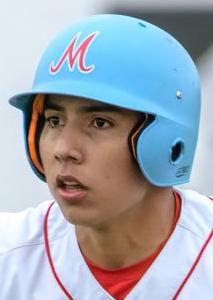 Davila finished off the top of the 7th inning of Monterey's loss on Friday by striking out two hitters with two runners on base, and he carried that confidence into his longer, season-defining stint.
The 14-inning domination by between Guerrero and Davila was as vital to the Plainsmen's ability to climb back and win the series as their 27 hits and 20 runs.
Because Lake Dallas' offense never looked comfortable against either hurler, which led to a slew of early-count swings -- very few that were effective.
"I knew I had to come out there and pitch with confidence, especially after Jaden got us started like he did," Davilla said. "I went after hitters and made sure I was throwing strikes early and making them swing the bats."
Randy Rosetta is the publisher of HubCityPreps.com
Contact him at HubCityPreps.com or (806) 407-0188.
Follow on Twitter | @HubCityPrepsLBK & @RandyRosetta
-------------------------
CLASS 5A REGIONAL SEMIFINALS
Monterey (28-13-1) vs. Lake Dallas (21-19)
Game 1: Lake Dallas 5, Monterey 4
Game 2: Monterey 10, Lake Dallas 1
Game 3: Monterey 10, Lake Dallas 2