Just getting back on the field was somewhat of a victory for Monterey on Thursday night.
A gritty performance against Amarillo High created optimism for the next five weeks. Some frustrating inconsistency on offense left no doubt that there is work to do in order for those five weeks to yield what the Plainsmen are aiming for.
Anchored by a key defensive fourth-quarter stand and a sustained offensive drive right when they needed it, the Sandies pulled away for a 24-7 triumph at Plains Capital Park.
Monterey was back in action for the first time in two weeks after its original District 2-5A Division I opener against Lubbock High was postponed due to COVID-19. The Plainsmen season opener vs. Odessa High was also scrubbed because of the virus.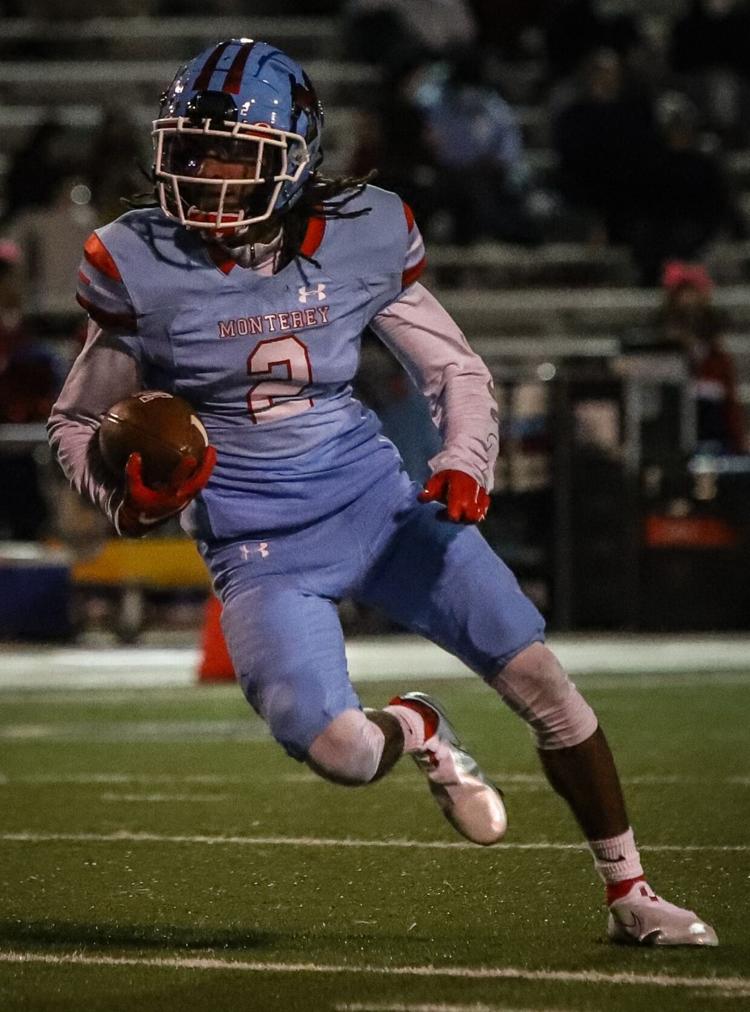 That has created a choppy start to a season already destined to be different than any other, and Thursday seemed to be the residue of uncertainty for a team that is ready to settle into a routine.
To be sure, there was plenty of good for Monterey coach Wayne Hutchinson and his staff to build on.
The Plainsmen ran more offensive plays and outgained Amarillo High, 329-326.
Buoyed by Zylis Johnson and Terri McCullough, the Monterey defense never let the Sandies get comfortable running the ball and recorded 3 sacks, Michael Cantu picked off a pass and Devlin Offutt spearheaded an overall effort on that side of the ball that made Amarillo High earn whatever it got -- the short field in the fourth quarter was the lone exception.
The unexpected week off between a loss to Lubbock-Cooper and Amarillo High gave some key players a chance to heal up, including receiver Zyion Martin, giving the Plainsmen another dangerous weapon on offense.
"I saw plenty that we can build on," Hutchinson said. "I liked our physicality. I thought we went toe-to-toe with a good offensive and defensive line."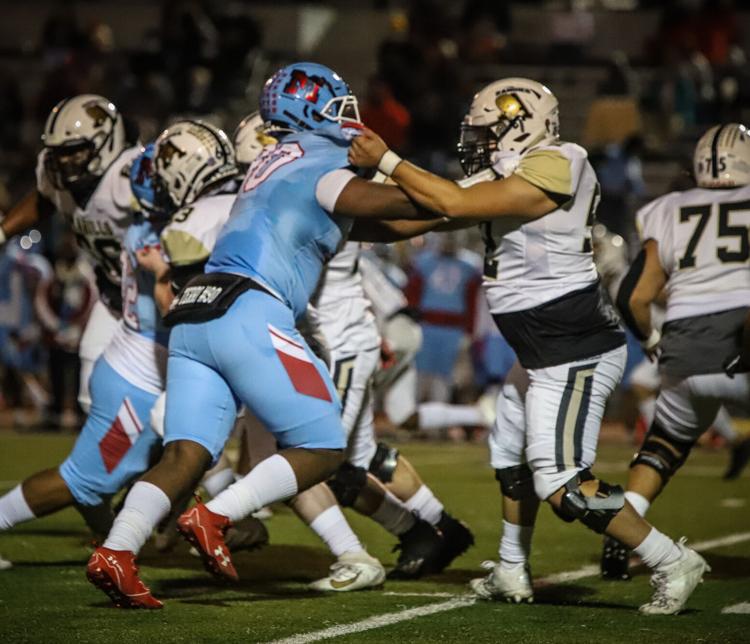 Indeed, the first half was more or less a stalemate because the Plainsmen wouldn't budge until late in the half and neither team could gain control up front.
The Sandies (4-1, 2-0 district) managed only 39 yards on their initial 16 offensive snaps, with a punt and interception sandwiched around Luke Laminack's 47-yard field goal. Those points were a direct result of Blaze Rattan's interception. Even then, Monterey stiffened -- thanks largely to back-to-back sacks by Johnson and McCullough that pushed Amarillo High from the Plainsmen 19-yard-line back to the 30.
Following another punt, Amarillo High finally started clicking and pecked away on a 17-play march that ate up the final 4:25 of the half. The Sandies had a chance to break into the end zone after Brock Wade's 18-yard connection with Cayden Phillips on 4th-and-15. They got to the 1-yard-line and had two cracks at a touchdown, but Monterey stonewalled those efforts and forced an 18-yard field goal as time expired for a 6-0 halftime lead.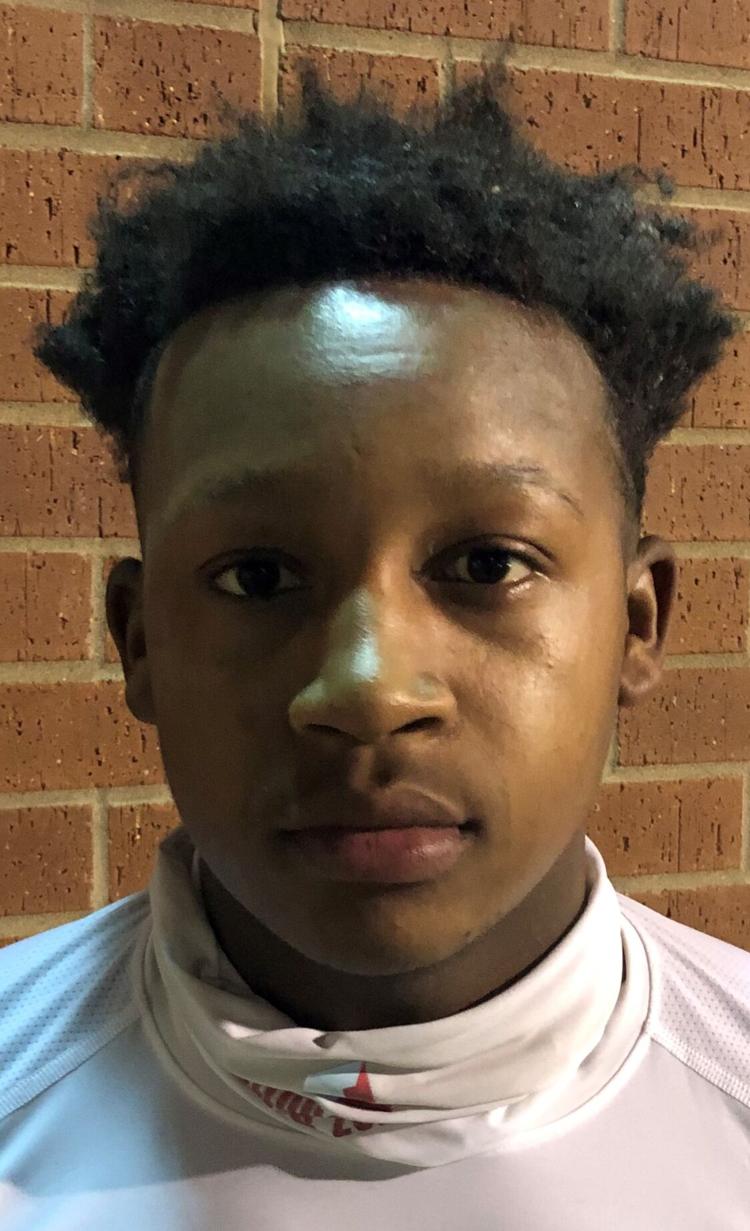 "We want to put a statement out there that we can hang with people," McCullough said. "We just have to get it clicking and we did that (Thursday)."
As impressive as the Monterey defense was, the offense scuffled to produce – moving the ball at times but sputtering and coughing badly on third downs.
Tyrin Bradley got the start at quarterback and there were promising signs of life. But two punts, the interception, a blocked field goal after Cantu's pick and 31-yard return put the Plainsmen in the red zone and a drive that fizzled with four consecutive incompletions were all Monterey could muster.
The frustration finally subsided and briefly changed the game's complexion when the Plainsmen (1-3, 0-1) mowed through Amarillo's defense on a 13-play, 73-yard touchdown drive the first time they got the ball in the third quarter.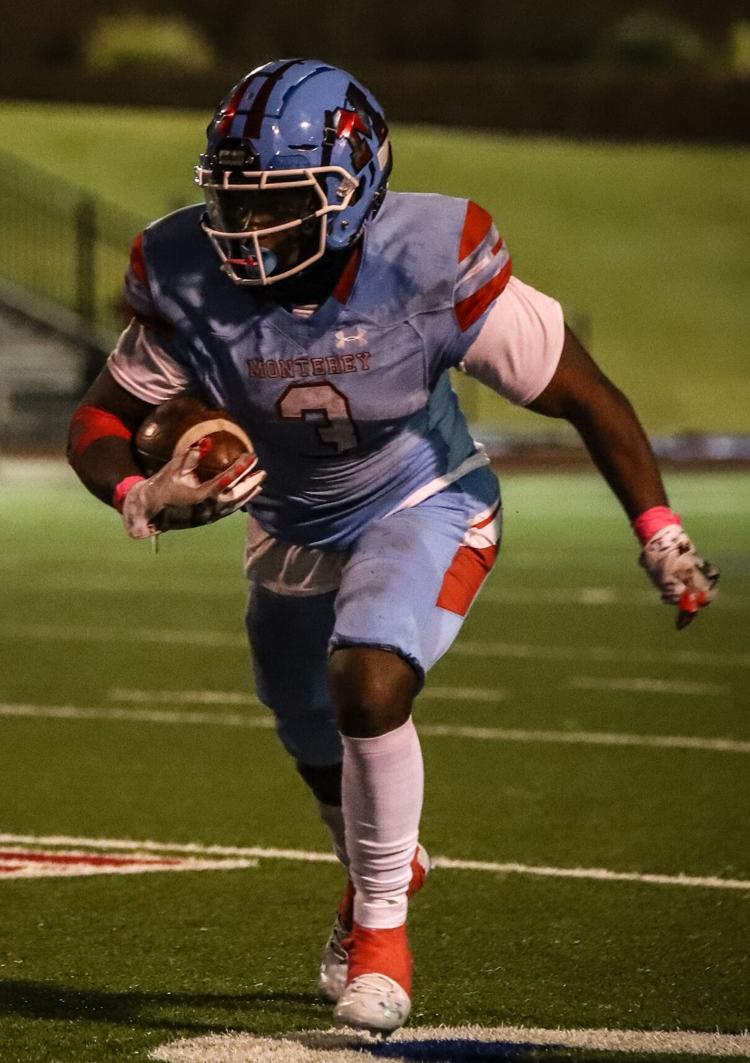 The Sandies extended the lead to 13-0 on Wade's picture-perfect 27-yard pass to Phillips on a sideline fly to cap the opening series of the second half.
Monterey responded by coming out clicking with a blend of running plays and short Bradley passes. A key 6-yard pickup by Bradley on a 4th-and-1 read play kept the drive alive and Martin snared 3 passes for 25 yards – the last one for a 7-yard score that closed the gap to 13-7 at the 7:07 juncture of the third period.
"We're trying to work as a team and try to compete," Martin said after he returned to action for the first time since the season opener. He caught six passes for 49 yards and rushed for 51 yards on a last-ditch possession.
"Even though it didn't go our way, we're still trying to be one as a team and make things happen. You can't take days off. We've got to overcome our fears and get better each and every day."
Which didn't happen after the TD drive.
Monterey couldn't build off the momentum of the touchdown and carved out only one first down on its next four possessions. One of those drives provided a key turning point when the Plainsmen couldn't convert on 4th-and-short from the Amarillo High 45-yard-line.
The Sandies took over and scored four plays later, ignited by a Wade-to-Phillips hookup for 37 yards. A successful two-point conversion nudged the lead to 21-7 with 7:18 to go and Monterey couldn't recover.
"Offense comes down to execution and getting the ball in our playmakers' hands," Hutchinson said. "We've got to try to keep getting it into our playmakers' hands and keep trying to execute and stay the course. I don't think anything is broke. We've just got to get better.
"We have to get some consistency, and now that we'll get two or three games in a row under our belt, there is a lot we can build on. We've got to keep our heads up and try to get better."
The chance to do that comes with another Thursday game vs. Caprock at Dick Bivins Stadium.
------------------------------------------
AMARILLO HIGH 24, MONTEREY 7
Amarillo             3       3       7       11     --       24
Monterey           0       0       7       0       --       7
AMA -- Luke Laminack 47 FG
AMA -- A.J. Villar 18 FG
AMA -- Cayden Phillips 27 pass from Brock Wade (Villar kick)
MON -- Zyion Martin 7 pass from Tyrin Bradley (Davien Jaramillo kick)
AMA -- Jameson Garcia 12 pass from Wade (Cohen Berry pass from Wade)
AMA -- Villar 37 FG
TEAM STATISTICS
                                      AMA                   MON
First downs                  20                        18
Rushes-yards               30-84                   37-152
Passing yards               242                      177
Total yards                   326                      329
Passes                         24-37-1                17-34-1
Fumbles-lost                1-0                       0-0
Punts-Avg.                   5-46.0                  5-44.2
Penalties-yards             5-35                     6-65
INDIVIDUAL STATISTICS
Rushing: Amarillo High -- Taevon Hood 14-66, Levi Slaydon 12-45, Brock Wade 3-(-) 26; Monterey -- Trent White 13-52, Zyion Martin 1-51, Tyrin Bradley 11-32, Giovanni Cleveland 2-21, M.J. Singleton 1-6, Trynity Scott 2-3, Ky'Shon Harris 5-(-) 6, team 1-(-7).
Passing: Amarillo High -- Wade 24-37-1 242 yards; Monterey -- Bradley 15-31-1 151 yards, Harris 2-3-0 26.
Receiving: Amarillo High -- Cayden Phillips 7-119, Jameson Garcia 5-41, Davin Lemons 4-37, Hood 4-19, Bryson Slaughter 1-16, Tyreese Molden 3-10; Monterey -- Singleton 7-79, Martin 6-49, Jacory Mooring 1-17, Aidan Tarango 1-17, De'onte Vaughn 1-15 
Records: Amarillo High 4-1, 2-0 District 2-5A Division I; Monterey 1-3, 0-1.
Up next: Monterey at Caprock, 7 p.m. Thursday, Nov. 5.
------------------------------------------
Randy Rosetta is the editor & publisher
Contact him at HubCityPreps@gmail.com
or (806) 407-0188.
@HubCityPrepsLBK | @RandyRosetta