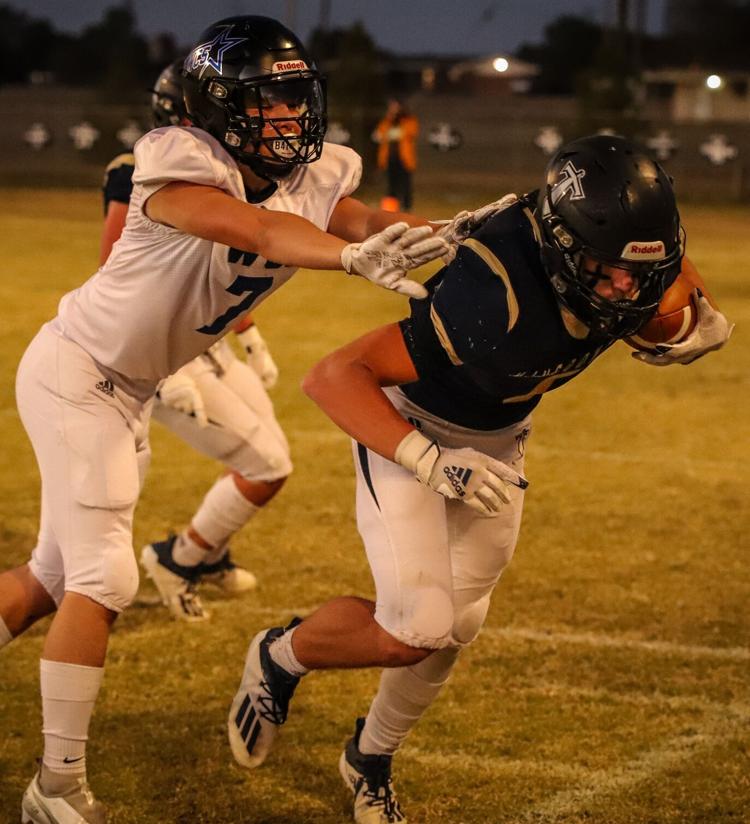 WILSON -- Kingdom Prep's hot offense led to some heated temperatures on the visiting sideline Friday when the Warriors entertained Wichita Christian.
On a cool night for KPA's Senior Night, things got heated on the visiting Stars sidelines with a few warnings delivered to exuberant fans. The Warriors were the cause to some of those outbursts led by senior leader receiver/defensive back Justin Cunningham and junior quarterback Samuel Griffith.
Cunningham's two receiving scores were big for his team, but his three interceptions were a little more valuable in a 60-42 Kingdom Prep triumph.
Things didn't start the Warriors' way to start. Wichita Christian's Nathan Otto connected with Kelby Wade, who would later exit the game because of an injury, for a quick score followed by a Jonathan Willis kick for a 7-0 lead – the only time the Stars held the upper hand.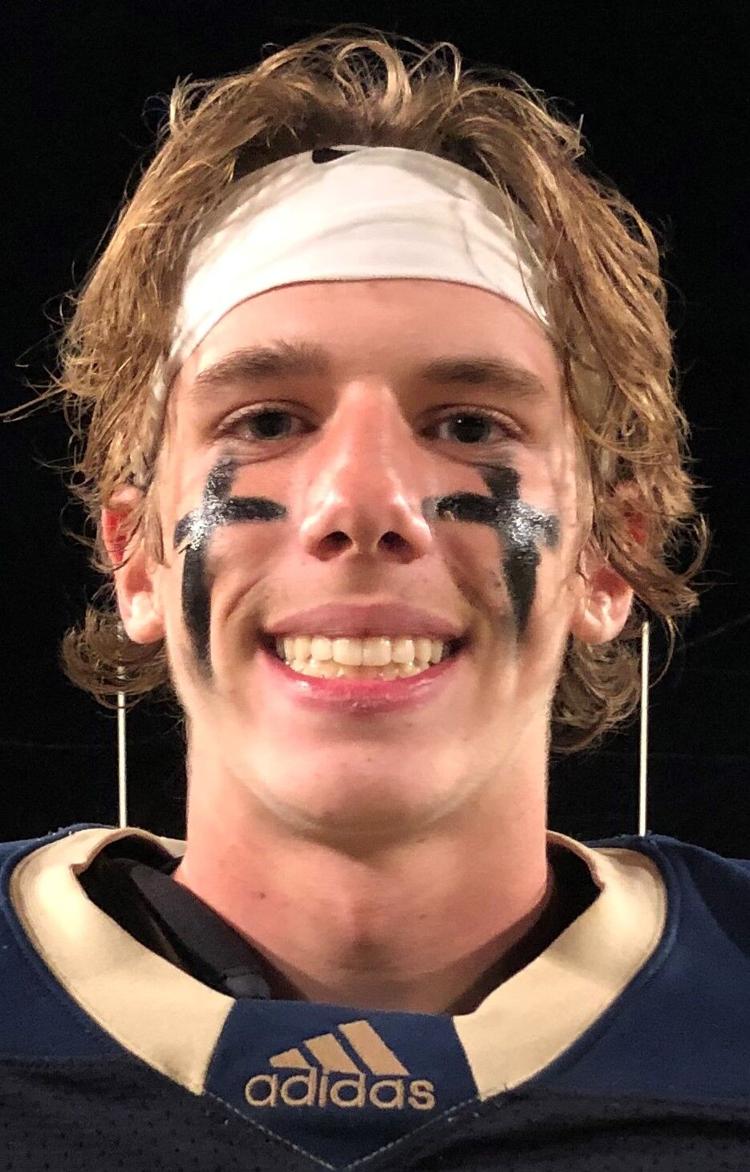 Cunningham flipped the field with his first pick of the night off of Parker Landes right after the Stars intercepted Griffith. Ben Lashaway responded quickly after the turnover with a 60-yard scamper for a touchdown.
The KPA defense came up big again when Cunningham snagged a fourth-down interception. Lashaway capitalized on Cunningham's second pick to go up 14-8 after Cunningham's point-after kick.
"I was trying to do what needed to be done for my team," Cunningham said. "(The Stars) were playing physical football. Two of my interceptions were on fourth down, so maybe I should swat those down, but we were OK with getting those. That's something I'll work on for next time, but I had a lot of fun (Friday)."
The Stars allowed three straight KPA scoring drives before answering. Ahead 20-8, Kingdom Prep (3-1, 3-1 Six-Man Division II District 1) allowed Wichita Christian to tack on another six points on Landes' short run. Three more scores for the Warriors, beginning with a 17-yard Griffith rush, then two consecutive touchdown receptions by Cunningham from 11 and 17 yards out, extended the lead to 40-14.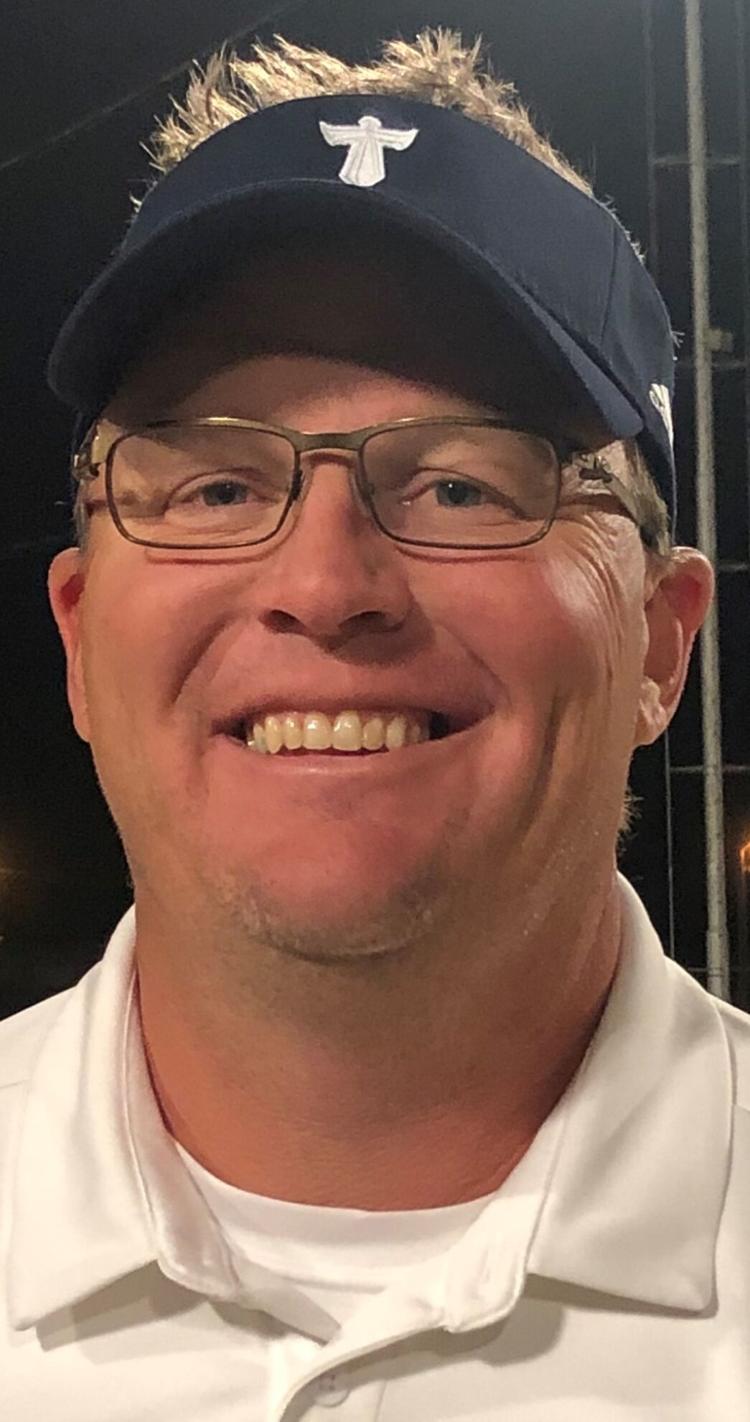 "Overall, I think it was a great team win," Kingdom Prep coach Jeff Klein said. "Offensively, we were blocking well, sharing the ball well. Defensively – swarming, making good plays when we needed to. It was a great team win."
The Stars (1-1, 1-1 district) cut the lead when Nathan Baker hit Otto on a 26-yard striking score. But KPA responded when McKellan Bundy punched the ball across the goal line from 4 yards out.
Wichita Christian didn't go quietly and produced back-to-back touchdowns with an onside kick recovery in between. That shrunk the Warrior lead 48-36 with 7:01 left before Kingdom Prep tacked on two scores to drive the nail in the coffin.
Griffith scored on an 11-yard run that was set up by Cunningham's 37-yard catch. Lashaway then made his way into the end zone from 32 yards out for a 60-36 cushion.
"We showed some grittiness we haven't shown at all last year," Wichita Christian coach Seth Nolan said. "There's not a face in the dirt over there. Our heads our high."
Griffith said realizing the Warriors had to overcome adversity was big in not letting the Stars get too close on the scoreboard.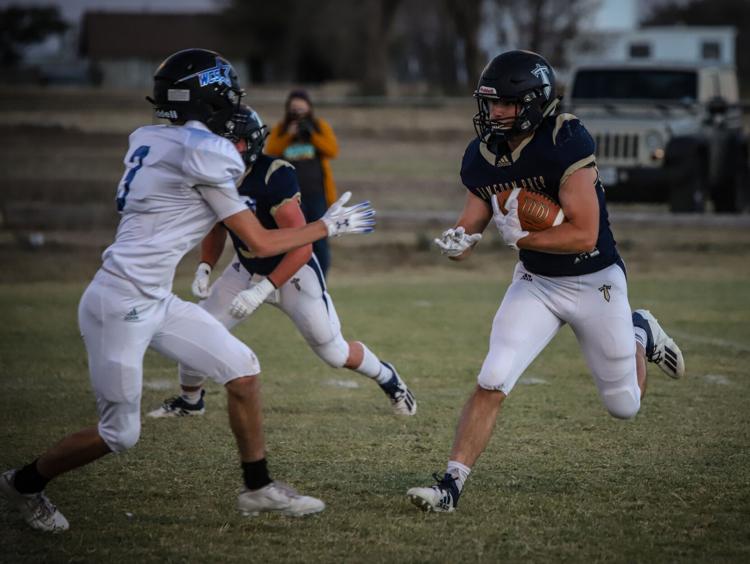 Having a teammate like Cunningham as well helps in staying out in front.
"Justin is a stud," Griffith said. "He's a senior and he's worked his tail off for this. Every game he's out there working. We're so proud of him and who he's become as a player and a man."
Moving forward, Cunningham said the win can do a lot for his team.
"It's great momentum," he said. "It's great for the team chemistry. It gives us good confidence just going to this next game. We're looking forward to having a great year."
Kingdom Prep is back in action next Friday when it hosts San Jacinto Christian at 7 p.m. in Wilson.
KINGDOM PREP 60, WICHITA CHRISTIAN 42
Kingdom Prep               6      20    14    20     --     60
Wichita Christian          8      6      8      20     --     42
WC -- Kelby Wade 10 pass from Nathan Otto (Jonathan Willis kick)
KPA -- Ben Lashaway 60 run (kick failed)
KPA -- Lashaway 60 pass from Samuel Griffith (Justin Cunningham kick)
KPA -- Griffith 17 run (kick failed)
WC -- Parker Landes 7 run (kick failed)
KPA -- Griffith 8 run (kick failed)
KPA -- Cunningham 11 pass from Griffith (kick failed)
KPA -- Cunningham 17 pass from Griffith (Caleb Poe kick)
WC -- Otto 26 pass from Nathan Baker (Willis kick)
KPA -- McKellan Bundy 4 run (Cunningham kick)
WC -- Otto 34 pass from Landes (Willis kick)
WC -- Baker 6 run (kick failed)
KPA -- Griffith 11 run (kick failed)
KPA -- Lashaway 32 run (kick failed)
WC -- Noah Crittenden 20 pass from Landes (kick failed)