Kingdom Prep Academy has established a solid tradition the last few years, with three consecutive state tournament appearances and a runnerup finish in February.
The Lady Warriors took a huge step toward adding to that history and perhaps beyond on Wednesday.
Danny Wrenn was named the new KPA coach, replacing the highly successful Dee Scott, who retired in the spring.
Warriors' athletic director Jeff Klein said he introduced Wrenn to the team on Wednesday. Wrenn will be the assistant athletic director and coach a spring sport, likely tennis. He said among the reasons Kingdom Prep became his landing spot was because of the flexibility the school can provide.
Wrenn and his wife Randa, a former teacher in the Lubbock Independent School District, are the parents of 11-year-old Reagan Wrenn, a multi-sport athlete who is about to embark on her middle school and high school career.
"This is a new challenge for me and I'm really real excited about it," said Wrenn, who announced his retirement from West Texas perennial powerhouse Plainview in April. "This is a new chapter in my coaching life, and I can't wait to see where it takes me."
Wrenn is a Texas coaching legend with 774 victories and three state championships -- all piled up during a 30-year run as the Lady Bulldogs' head coach. He spent his entire high school coaching career there after serving as a men's basketball graduate assistant at Southwestern Oklahoma State University.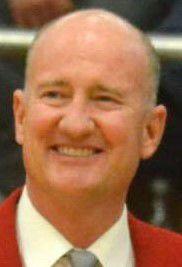 He credited former Plainview football coach and athletic director Greg Sherwood -- later the LISD Athletic Director -- for hiring him in 1987 and threw a nod to Steve Parr, who elevated him to the head coach in 1990.
"I was fortunate to walk into the situation I did as a young coach," Wrenn said.
"Those two men were great influences for me."
Now the 60-year-old Wrenn takes over at KPA, a TAPPS program that will step up to Class 2A this season. The Lady Warriors got hot late in the season and charged to the Class 1A state final before falling to San Antonio Legacy Christian.
The move up a class means KPA will be in the same district as three-time Class 2A champ Southcrest Christian, which is coached by Clay Stout, an old friend of Wrenn's. The men share a common thread of being hugely successful coaches in UIL before moving to TAPPS.
"Clay and I go way back, and I can't wait to coach against him," Wrenn said. "He's one of the very best X and O guys I have ever seen, and I have great respect for him. They're the champs and we're going to have to figure out a way to beat them."
Not that clashing with titans on the sideline is anything new to Wrenn.
During his Plainview career, Wrenn guided teams in epic battles against coaching legends Dean Weese of Levelland, Joe Lombard of Canyon and Jim Wilcoxson of Randall. The last several seasons, the Lady Bulldogs locked horns regularly with Amarillo High and Jeff Williams, Monterey and Jill Schneider and up-and-coming star Kyle Lovorn from Lubbock-Cooper.
A Seminole native, Wrenn played college basketball at Wayland Baptist before embarking on his coaching career. He guided Plainview to the state tournament six times -- the three crowns coming in 2001, 2002 and 2003.
"I'm incredibly proud of my time at Plainview," Wrenn said. "Those teams and all the girls mean an awful lot to me and always will."
---------------------------
Randy Rosetta is the publisher of HubCityPreps.com
Contact him at HubCityPreps.com or (806) 407-0188.
Follow on Twitter | @HubCityPrepsLBK & @RandyRosetta