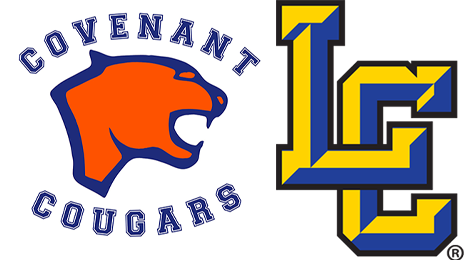 ABILENE -- Coach-speak and catch phrases can become a mundane afterthought for football players, especially 13 weeks into a season that began way back in August under the hot Texas sun.
When the words are accurate and keep finding the target for an interested congregation, though, there's absolutely no reason to change the sermon.
For Lubbock Christian, the two most prominent recurring themes this fall have been driven home over and over by the Eagle coaches:
Max out

Steady in the boat
In a state semifinal showdown against Colleyville Covenant Christian on Saturday, those impactful words came to fruition. In the happy aftermath of another step toward a season-long goal, the key characters in the game's outcome spewed those words like a rallying cry.
The Eagles weathered the Cougars' early offensive onslaught with an in-game offensive tweak that fit with the game plan, mixed in a defense that took the ball away five times and never looked back once they took the lead on the way to a 63-32 triumph.
The victory propels Lubbock Christian (13-0) into its first state championship game appearance since winning the 2004 Division IV state crown over Muenster Sacred Heart. The 2019 finale features a matchup with Boerne Geneva (9-4), which stunned The Woodlands Christian 77-45 on Saturday.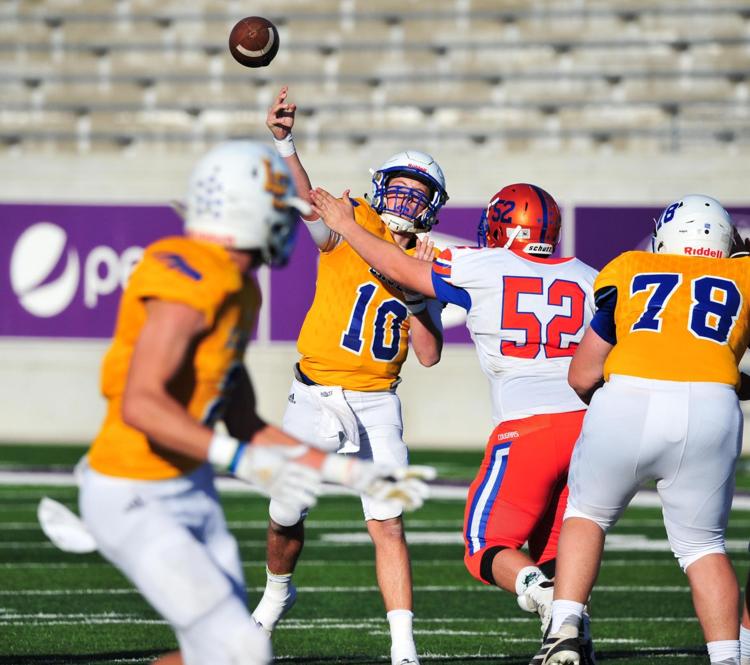 Eagle quarterback Alex Timmons passed for 312 yards and 6 touchdowns and ran for 144 more and a score, Zeke Lott was a two-way nemesis with six catches for 72 yards, a fumble recovery and a key interception and Alex Lack shrugged off a tough day running the ball with two pick-6s in the fourth quarter that added the final nails to Covenant's coffin.
Lubbock Christian wound up breathing fairly easily at the end despite falling behind 6-0 and 12-8 when the Cougars converted two short fields into 50-yard touchdown drives -- fueled by quarterback Caleb Stith's hot hand (and legs) in the early stages.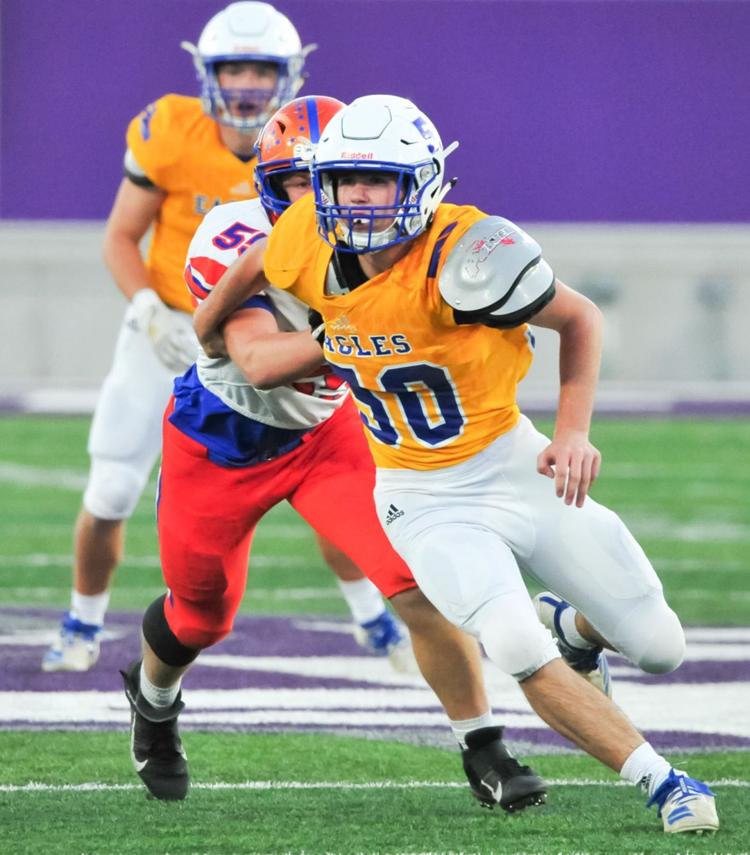 What the Eagles didn't have to contend with was anything resembling panic.
"Our motto all year has been 'Steady in the boat,'" said Timmons, who connected on 22-of-29 passes and connected for touchdowns with five different teammates. "It's just something that is imprinted in our minds at this point. It's helped us because it makes sure we're ready to face any adversity we face."
Added Lubbock Christian coach Chris Softley, "This is a steady-in-the-boat ballclub. We also talk all the time about maxing out – being the best you can be in the moment. There is going to be prosperity and adversity in every game, so you have to have the ability to stay steady and calm your buddies down around you."
There was plenty of prosperity to go around for the Eagles, which was by design, plus a few others contributing from off the script.
The Eagles produced a touchdown on their second offensive series when Timmons zipped a bubble screen to Kaylom Coates, who dashed 18 yards to the end zone. But Covenant answered when Stith threw a 50/50 ball to Daniel Calabrese in the end zone and the receiver won the battle for a 12-8 lead.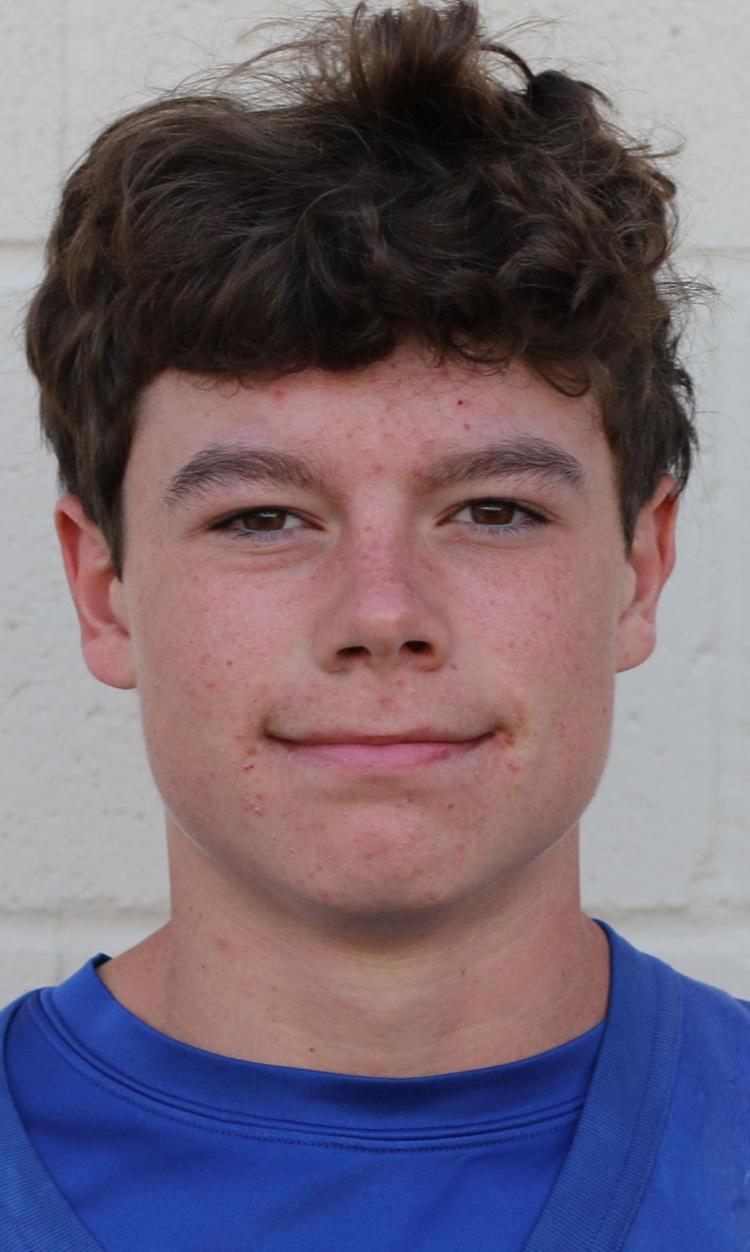 With the Cougars focused on bottling up Lack on the ground, the Lubbock Christian coaches changed course and called one play after another when Timmons followed blockers into a hole and consistently carved out 4, 5 or 6 yards to keep the chains moving. Mixed in were throws to Lott on quick hitches -- including a key one that gobbled up 36 yards and helped set up a second TD toss to Coats.
Up 14-12, the Eagles opted for a pooch kick on the ensuing kickoff. The ball bounced off a Cougar player and Karson Leatherwood smothered it to turn the tide.
On the first snap after the special-teams turnover, Timmons executed a perfect shoulder fake to Coats near the sideline then rifled a 22-yard laser to Lack, who beat a defender on a post pattern and hauled in the pass for Lubbock Christian's second touchdown in a span of 11 seconds. Lack ran in the two-point conversion for a 22-12 lead.
"You try not to make bold predictions as a coach, but we talked about that if we get a pooch and the ball bounces back to us, let's go put our stamp on the ball, and that was exactly what we did," Softley said. "That was a great effort by our kickoff cover team and it flipped the field. We scored on the next play, got the two-point conversion and now they're chasing points the rest of the game."
Covenant found enough footing to produce a touchdown drive right before halftime, ending with Stith knifing into the end zone from 5 yards out on fourth-and-goal. He also crashed in for the conversion to close the gap to 22-20 at halftime.
That was the last time the Cougars had a tight grasp on momentum, though.
Lubbock Christian's offense ran like a well-oiled machine as soon as the third quarter began with Timmons and an expanded cast around him in almost perfect rhythm.
On a nine-play, 64-yard scoring match to start the second half, Timmons connected on six throws to four receivers for 47 yards – the last to Cash Howard for a touchdown.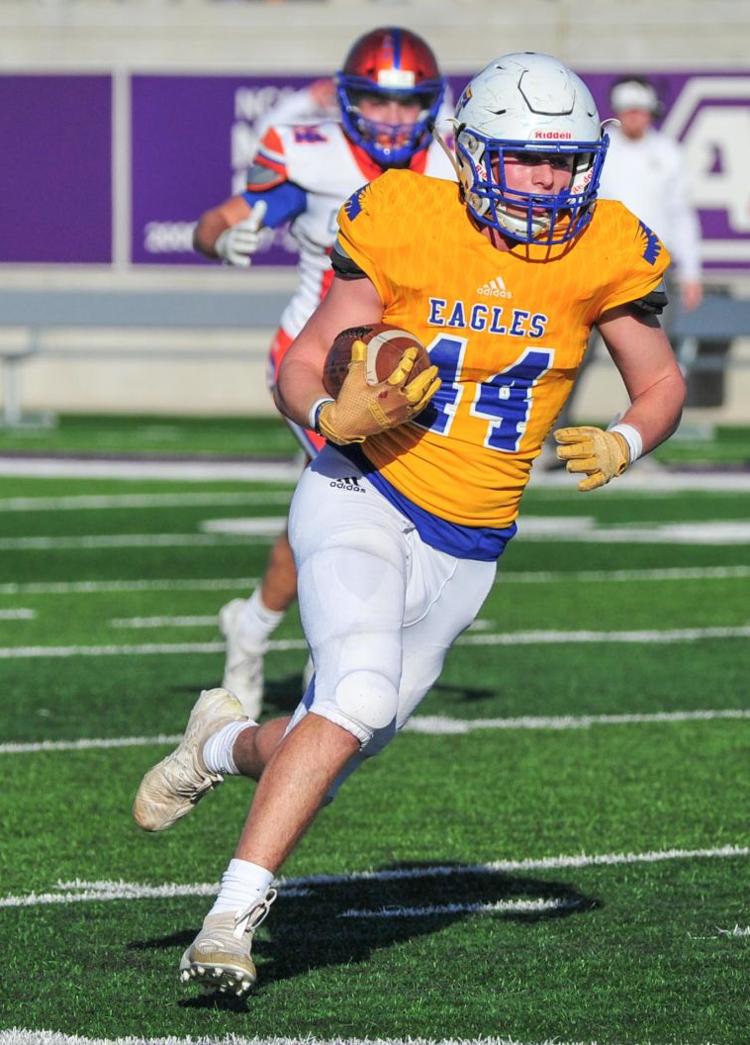 Following the Cougars' turned the ball over on downs after a failed fake-punt pass, Lubbock Christian churned out another TD drive and this time Timmons found two different targets, including Brayden Martin for a 20-yard score on a sideline fly.
"The great thing about us is that we have so many weapons," said Lack, who snared five passes for 59 yards. "Everybody is willing to contribute and be the next guy in line."
The Cougars answered the second Eagle score of the third quarter when Stith somehow evaded a sack and lobbed a pass just over the Lubbock Christian secondary to Calabrese, who dashed the rest of the way for a 70-yard score.
Undaunted, the Eagles struck right back and nudged the lead back to 42-26 on Timmons' picture-perfect quick slant to twin brother Evyn Timmons, who got past his defender and darted 65 yards to the house.
Those first three Lubbock Christian offensive possessions yielded 172 yards on 12 plays and three touchdowns that prevented the Cougars' comeback hopes from ever gaining much traction.
"We gained a lot of confidence in the third quarter," said Alex Timmons, who connected on 13 straight passes in one stretch and hit 9-of-12 for 153 yards in the third quarter alone. "We realized they weren't going to stop us if we executed like we knew we could."
After getting pushed and prodded for most of the first three periods, the Lubbock Christian defense finally generated some confidence as well.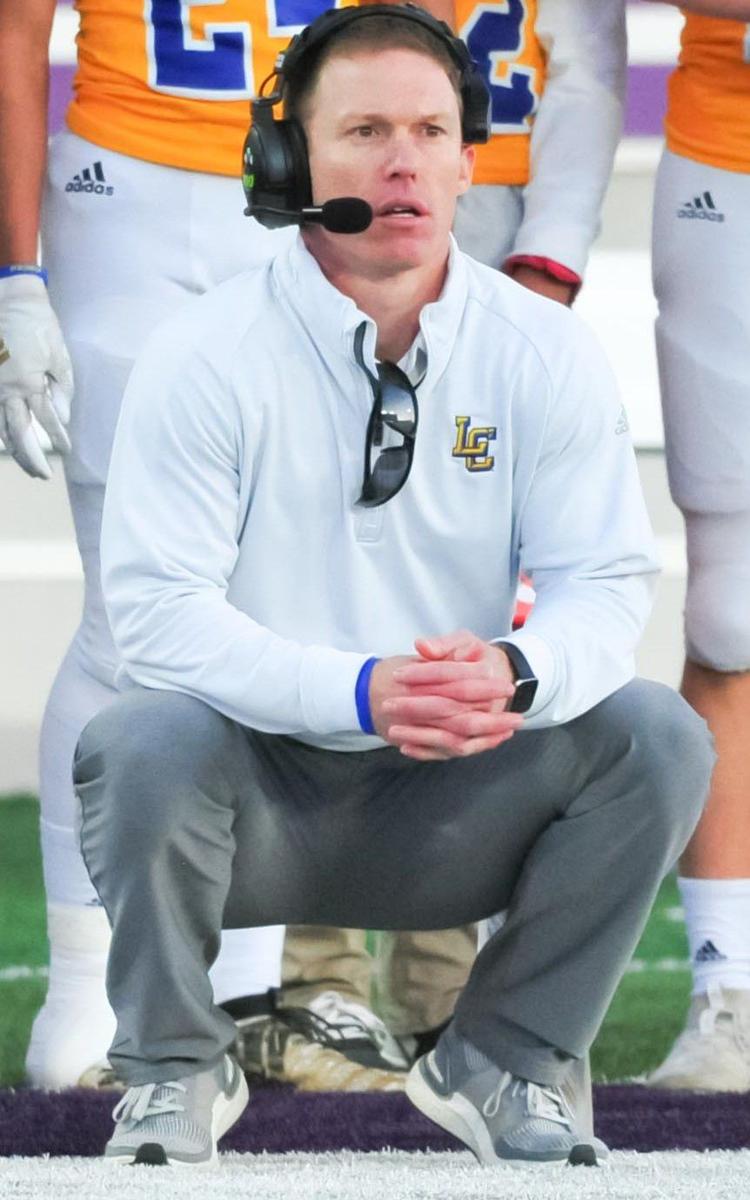 Three plays after Covenant -- trailing only 42-32 at the time -- forced a rare Eagles' three-and-out, Lott seized momentum back with a dazzling one-handed interception. Lubbock Christian patiently devoured 4:05 off the clock and cashed in on Alex Timmons' 2-yard TD run to expand the lead back to 49-32 with 8:39 left in the game.
The final three Cougar possessions also ended with interceptions, the last two that Lack took back for touchdowns. Covenant finished with 390 total yards, but only 39 yards on its last four opportunities after clawing within 10 points.
"I was proud of our defense for being so resilient," Softley said. "They came up with big plays in the second half."
That was the story of the day for the Eagles in a season that has stuck so closely to those hammered-home familiar themes: Max out and stay steady in the boat.
And now a team that has kept winning all season gets a shot at finishing the season where only one other crew in program history has risen to.
"I've been at Lubbock Christian my whole life and dreamed of playing under the Friday night lights for a long time," Alex Timmons said. "This is a dream come true."
Moving the chains
Timmons' 22 completions were spread among seven receivers and Howard -- Lubbock Christian's leader with 42 catches coming in -- had only one reception.

Stith started out on a similar path and threw for 286 yards in the first three quarters. But he was off the mark on his last seven attempts, with three of those throws winding up in Eagle hands. The only passing yards for Covenant in the final 12 minutes came on receiver Austin Scheets' 6-yard completion after he took over at QB.

Only four of Timmons' 28 carries gained 10 yards or more. His longest run was his last of the day was a 19-yard pin-ball dash on fourth-and-20 on a long drive that ended with just 2:38 to go.

Neither team made a point-after kick until the fourth quarter when Lubbock Christian freshman lineman Will Hawley connected on three in a row.

After a penalty-free first quarter, the teams combined for 12 flags the rest of the day for 107 yards. The most damaging infraction was a blindside block on the Cougars that wiped out a 61-yard Stith touchdown run with Lubbock Christian leading 28-20. Covenant stalled shortly after that and attempted the ill-fated fake punt.
------------------------------------------------
TAPPS DIVISION III STATE SEMIFINAL
At Wildcat Stadium in Abilene
LUBBOCK CHRISTIAN 63, COVENANT CHRISTIAN 32
Covenant Christian         6      14    12    0      --     32
Lubbock Christian          0      22    20    21    --     63   
CC -- Eric Meyers 5 run (kick failed)
LC -- Kaylom Coats 18 pass from Alex Timmons (Cash Howard pass from Alex Lack)
CC -- Daniel Calabrese 29 pass from Caleb Stith (pass failed)
LC -- Coats 4 pass from A. Timmons (kick failed)
LC -- Lack 22 pass from A. Timmons (Lack run)
CC -- Stith 5 run (Stith run)
LC -- Howard 10 pass from A. Timmons (run failed)
LC -- Brayden Martin 20 pass from A. Timmons (Lack run)
CC -- Calabrese 70 pass from Stith (run failed)
LC -- Evyn Timmons 65 pass from A. Timmons (run failed)
CC -- Caleb Turner 12 pass from Stith (kick failed)
LC -- A. Timmons 2 run (Will Hawley kick)
LC -- Lack 14 interception return (Hawley kick)
LC -- Lack 41 interception return (Hawley kick)
Team stats
                                   CC                LC
First downs              19                  23
Rushes-yards           25-98             37-143
Passing yards          292                312
Total yards                390                455
Passes                      17-38-4          22-29-0
Fumbles-lost            3-2                  0-0
Punts-Avg.               1-35.0             2-13.0
Penalties-yards        5-57                7-50
Individual statistics
RUSHING: Covenant Christian -- Caleb Stith 15-66, Daniel Calabrese 4-15, Eric Meyers 5-15, Brooks Lamar 1-2; Lubbock Christian -- Alex Timmons 28-144, Alex Lack 7-2, Kaylom Coats 2-(-) 3.
PASSING: Covenant Christian -- Stith 16-36-3 286 yards, Austin Scheets 1-1-0 6 yards, Hooper O'Neal 0-1-1 0 yards; Lubbock Christian -- Timmons 22-29-0 312 yards.
RECEIVING: Covenant Christian -- Calabrese 7-162, O'Neal 4-63, Scheets 3-38, Turner 2-23, Christian Wells 1-6; Lubbock Christian -- Evyn Timmons 2-76, Zeke Lott 6-72, Lack 5-59, Coats 4-45, Brayden Martin 3-41, Cash Howard 1-10, Jaden Bullington 1-9.
Records: Covenant Christian Deo 5-7, Lubbock Christian 13-0.
Up next: TAPPS Division III state Championship Game -- Lubbock Christian vs. Boerne Geneva, noon on Saturday, Dec. 7 at Midway Panther Stadium in Hewitt.
------------------------------------------------
Randy Rosetta is the publisher of HubCityPreps.com
Contact him at HubCityPreps.com or (806) 407-0188.
Follow on Twitter | @HubCityPrepsLBK & @RandyRosetta