HEWITT -- There will be plenty of things that Lubbock Christian's players and coaches will be left to wonder about when they reflect back on the final chapter of their wondrous ride through the 2019 season.
Those what-ifs and what-could've-beens are just an inevitable part of sports.
What the Eagles and their faithful flock of fans don't need to ponder is how special the road to an abrupt ending was this fall.
The Geneva School of Boerne foiled Lubbock Christian's bid for its first state championship since 2004 on Saturday at Panther Stadium in the TAPPS Division III final.
Two empty-handed chances in the red zone – one to close the first half and another to begin the second – were a huge pivot point for both teams as Geneva completed its red-hot dash to the season's finish line with a 49-18 triumph.
Geneva (10-4) ended the season on a nine-game winning streak and topped the two teams regarded as the best in Division III all season the last two weeks, The Woodlands Christian and LC.
"They were physical and tough like we knew they were," Lubbock Christian coach Chris Softley said. "They certainly earned it by beating what I think is a really good team."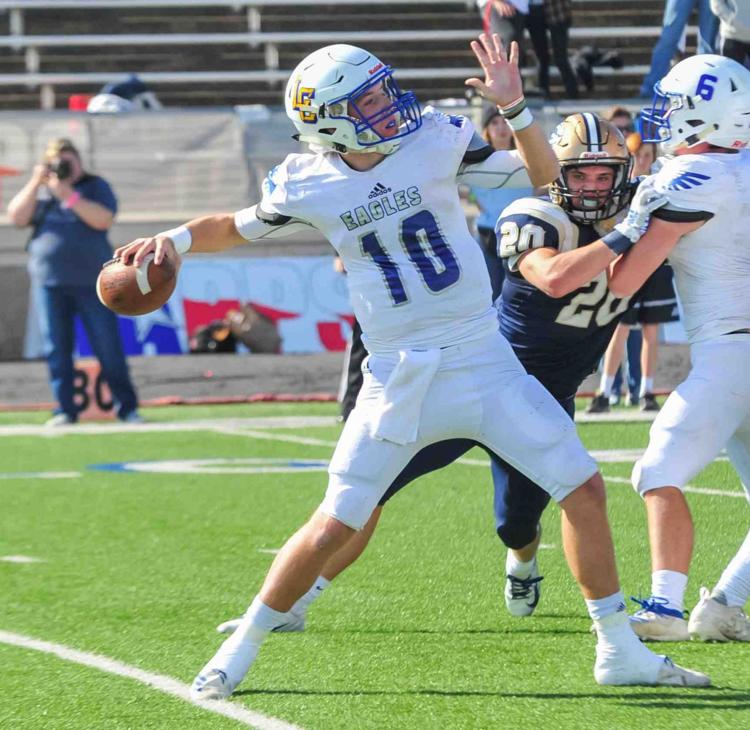 Indeed, Lubbock Christian (13-1) was really good from start to finish in 2019 with a few costly hiccups Saturday in a game where the margin of error was razor-thin.
The early going in the title tilt was as good as advertised. Geneva and Lubbock Christian swapped touchdowns on the first four possessions, each marching up and down the field with little resistance.
Lubbock Christian quarterback Alex Timmons was spectacular in his high school finale and came out red-hot. On the first two LC drives, he found the mark on 10-of-15 passes for 118 yards and two touchdowns.
One of those scores came on Lubbock Christian's version of the Philly Special when Brayden Martin took the snap and flipped to Timmons on a reverse, and he lobbed a 4-yard scoring strike to Alex Lack.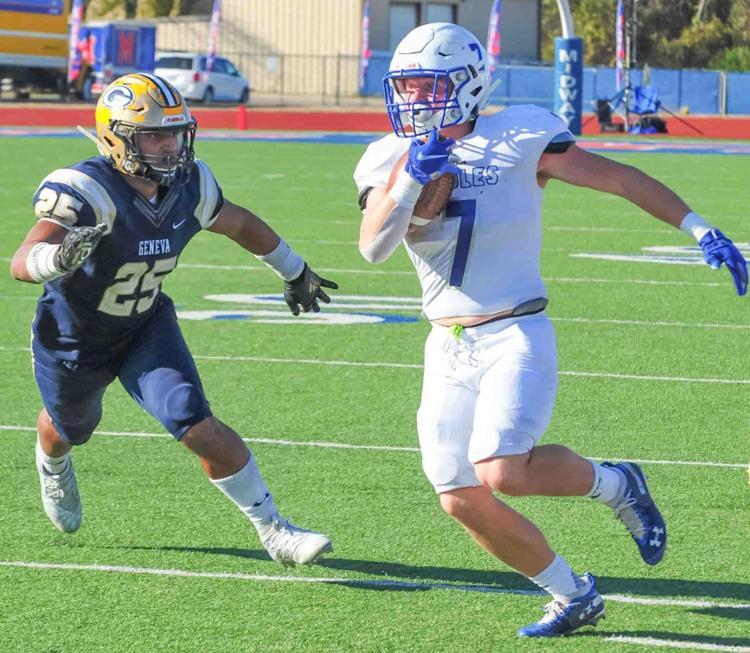 "We had a lot of things working," said Timmons, who passed for 409 yards and three scores. He racked up 255 yards in the first half on 14 completions. "We were playing with a lot of confidence."
For all the big plays Lubbock Christian came up with, though, it was a handful that didn't come to fruition that eroded the chances to win.
After the four TDs to start the day, Lubbock Christian came up with the first defensive stop of the game when Jackson Smith snared Geneva quarterback Cade Barone's overthrow and returned the interception 11 yards.
Timmons rifled a 35-yard pass to Martin on the first snap to flip the field, and on the second play connected with Cash Howard inside the Geneva 5-yard-line. Before Howard landed, Geneva's Joel Calderon ripped the ball away for an interception.
Instead of first-and-goal for Lubbock Christian, Geneva's offense came back on the field and drove 97 yards the other way and took a 21-12 lead when Barone zipped a 14-yard touchdown throw to Easton Myrick.
"We were going down to take the lead after that big ball to (Martin) and the big ball to Cash," Timmons said. "The ball was in Cash's arms and (Calderon) literally just ripped it out. That kid made a huge play and it changed the game."
And that became a start of a trend of missed opportunities for LC.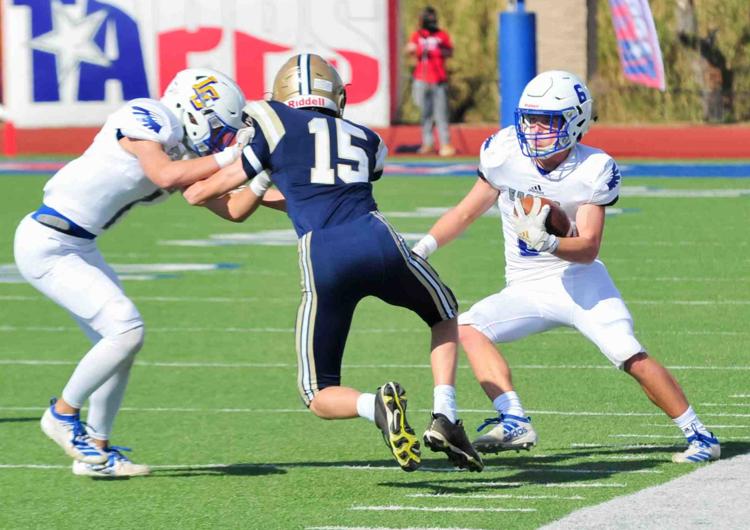 Timmons and Lack connected on a picture-perfect 26-yard touchdown on a flag route to close the gap to 21-18 after Geneva's long drive, but that was as close as Lubbock Christian got.
The LC defense rose up with another denial: Karson Leatherwood stuffed Geneva fullback Brock Ambelang on a short third-down pass and Kaylom Coats tripped up Barone 2 yards short of the first down on a fourth-down attempt.
Coats rambled 59 yards on a quick slant on Lubbock Christian's first play, and in a blink, the LC offense was in position to take the lead from the Geneva 13-yard-line.
Three incompletions followed -- one when the normally sure-handed Martin couldn't corral a pass in the end zone -- and William Hawley's 30-yard field-goal attempt was no good.
Given a reprieve, Geneva's offense churned out a rapid-fire 80-yard touchdown drive to take a 28-18 lead into halftime.
"It's ironic that our motto all season was 'Finish,' and there were three or four times we got into the red zone (Saturday) and couldn't finish," Timmons said. "That cuts pretty deep."
The second half began with promise when Timmons drilled a pass to twin brother Evyn Timmons on a skinny post and Evyn Timmons darted 53 yards to the Geneva 11-yard-line. The ball never moved closer when Alex Timmons misfired on four straight passes, one in the end zone to Zeke Lott that Geneva's Josh Lopez tipped at the last second.
"We shot ourselves in the foot on some things," Softley said. "We did some uncharacteristic things, some undisciplined things, some weird things and then a lot of times, the ball just didn't bounce our way."
Following the third missed LC chance in a row, Geneva added more salt in the wound. On the second play after the stop, Calderon lined up wide right and took off down the sideline.
Barone floated a ball just over the defensive back and the receiver's shoulder and Calderon did the rest, sprinting 89 yards to the end zone.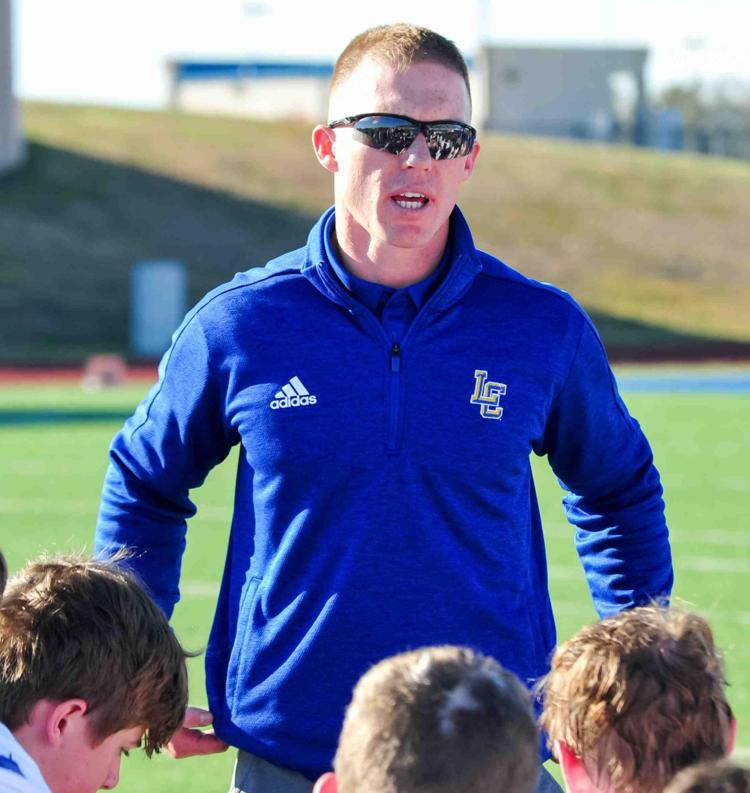 Lubbock Christian never recovered from that exchange. The offense managed only 121 yards on its final six possessions and only one of the last 29 plays gained more than 13 yards.
Three of Alex Timmons' final eight throws were intercepted as the Geneva defense ratcheted up the pressure on the Lubbock Christian quarterback and the secondary seemed to be in position to break up every close pass
"Any time build you're able to build a lead, it allows you to play faster and more aggressively," Alex Timmons said. "Every time we got stopped when we were about to score, they came out and hit a big ball. That jump-started them and they took off from there."
Geneva's big plays caused Lubbock Christian headaches all day long.
With the linebacker-sized, tough-to-tackle Barone accounting for 349 total yards (275 passing, 74 rushing), Geneva gouged LC for 612 yards. Lopez ran for 123 yards and four touchdowns, the last two in the fourth quarter to help ice the state championship win.
Against a defense that had been stingy all season long, Geneva averaged 7.7 yards per rushing attempt and Barone averaged 18.3 yards on 15 completions.
"We didn't tackle very well on their big quarterback and their big running back, and that's something we have done well all season," Softley said. "Credit Geneva because they executed very well against a very good defense."
Despite the missed chances and uncharacteristic struggles, Saturday was one final chance for Lubbock Christian to show why this season was so special.
Even when the outcome was evident, there wasn't any semblance of quit.
That didn't ease the pain of the outcome in the short term, but Alex Timmons said the memories of the last several months will outweigh the sour taste of losing the final game and his coach concurred.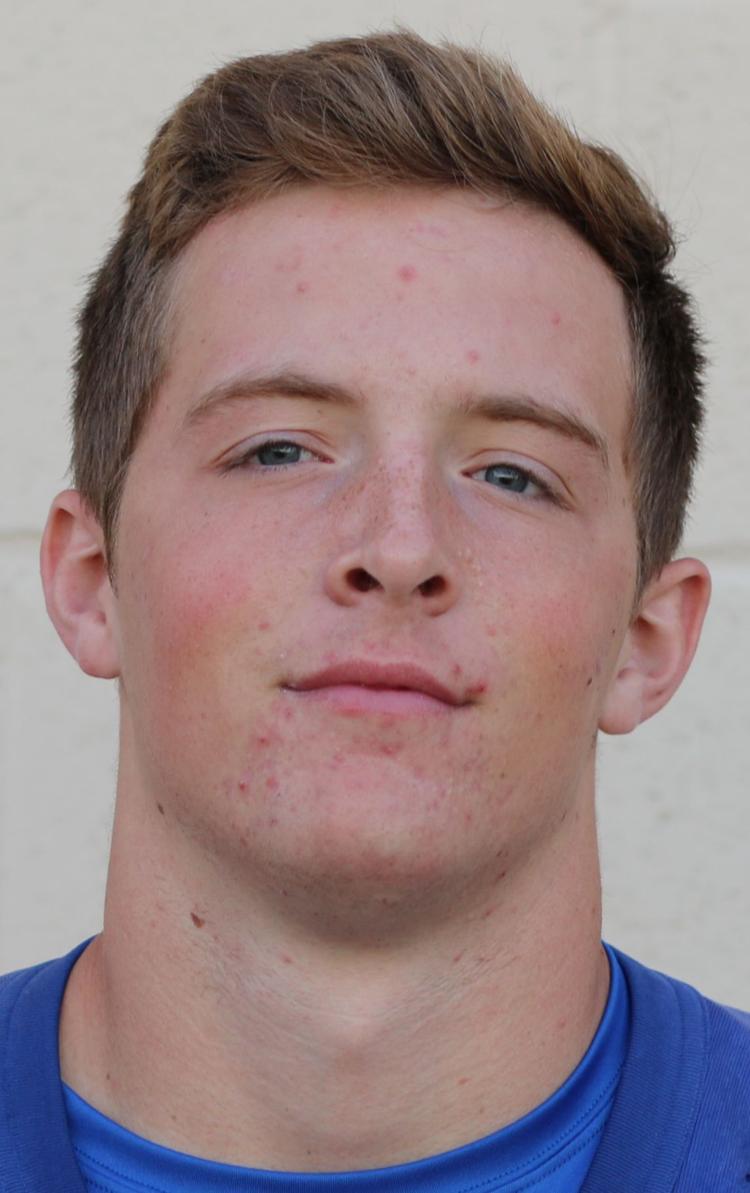 "I have so much to be thankful for with these guys," Softley said. "They're just great kids and they had a rough outing (Saturday). That doesn't change at all how I feel about them."
Through tears, Timmons said he will lean on the memories of the grind of practices, the team camaraderie and Lubbock Christian's official old-school postgame anthem – "This is how we do it" by Montell Jordan.
"You work all season with these guys and for four years with all these seniors, and they become like 35 brothers to you," he said. "I wouldn't trade a moment of this season for anything.
"When we got down 42-18, that feeling starts to set in and you know how it's going to end. It can be easy to quit, but we didn't. We went and loved up on some young guys and made sure they understood that this isn't something happens every year. We wanted to play our hearts out for each other until the very end."
Moving the chains
Alex Timmons distributed the ball well, hitting seven receivers to pile up his season-best yardage total. Six of those receivers finished with at least 46 yards and four snared 5 passes or more.

Lubbock Christian finished with season-low in rushing attempts (12) and rushing yards (60).

After needing only 86 yards to produce first two touchdowns after mis-executed onside kicks by Lubbock Christian, Geneva stretched its legs later. On the three offensive drives after Lubbock Christian's missed chances, Geneva churned out 266 yards on 17 plays.
-----------------------------------------
TAPPS DIVISION III STATE CHAMPIONSHIP GAME
At Panther Stadium in Hewitt
GENEVA SCHOOL 49, LUBBOCK CHRISTIAN 18
Lubbock Christian        6      12    0      0      --     18
Geneva School               15    13    7      14    --     49
GS -- Josh Lopez 1 run (Ethan Valdez kick)
LC -- Alex Lack 4 pass from Alex Timmons (pass failed)
GS -- Joel Calderon 23 pass from Cade Barone (Barone run)
LC -- Brayden Martin 17 pass from Timmons (pass failed)
GS -- Easton Myrick 14 pass from Barone (run failed)
LC -- Lack 26 pass from Timmons (pass failed)
GS -- Lopez 15 run (Valdez kick)
GS -- Calderon 89 pass from Barone (Valdez kick)
GS -- Lopez 1 run (Valdez kick)
GS -- Lopez 33 run (Valdez kick)
Team stats
                                 LC              GS
First downs             22               26
Rushes-yards          12-60          44-337
Passing yards         409             275
Total yards               469             612
Passes                     25-54-4       15-24-1
Fumbles-lost            2-0             0-0
Punts-Avg.                3-34.0         2-14.5
Penalties-yards         7-48            3-35
Individual statistics
RUSHING: Lubbock Christian -- Alex Timmons 7-41, Alex Lack 5-19; Geneva -- Josh Lopez 9-123, Cade Barone 17-74, Brock Ambelang 11-67, Joel Calderon 6-53, Kade Nicholls 1-20.
PASSING: Lubbock Christian -- A. Timmons 25-52-4 409 yards, Lack 0-1-0 0, Brayden Martin 0-1-0 0; Geneva -- Barone 15-24-1 275 yards.
RECEIVING: Lubbock Christian -- Kaylom Coats 5-97, Evyn Timmons 2-80, Martin 5-76, Cash Howard 4-56, Karson Leatherwood 3-48, Lack 5-46, Zeke Lott 1-6; Geneva -- Calderon 4-129, Young 3-83, Easton Myrick 5-54, Joseph Hohne 1-5, Ambelang 1-4, Grant Mowery 1-0.
Final records: Lubbock Christian 13-1, Geneva 10-4.
-----------------------------------------
Randy Rosetta is the publisher of HubCityPreps.com
Contact him at HubCityPreps.com or (806) 407-0188.
Follow on Twitter | @HubCityPrepsLBK & @RandyRosetta