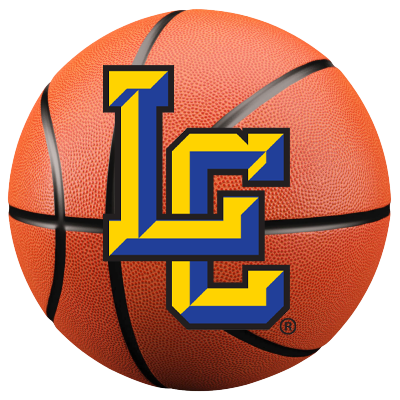 Brad Crow is new to the situation he's in this season, so the Lubbock Christian coach is embracing patience.
And what his Lady Eagles' crew showed him again Tuesday is that there are going to be some peaks and valleys.
But if the peaks are anything like LC's performance against Morton, Crow's patience figures to be rewarded for a few years to come.
With a new-look all-sophomore starting five, Lubbock Christian navigated a tumultuous first few minutes, seized control as the first quarter wound down and never looked back in an impressive 79-38 victory against the Maidens.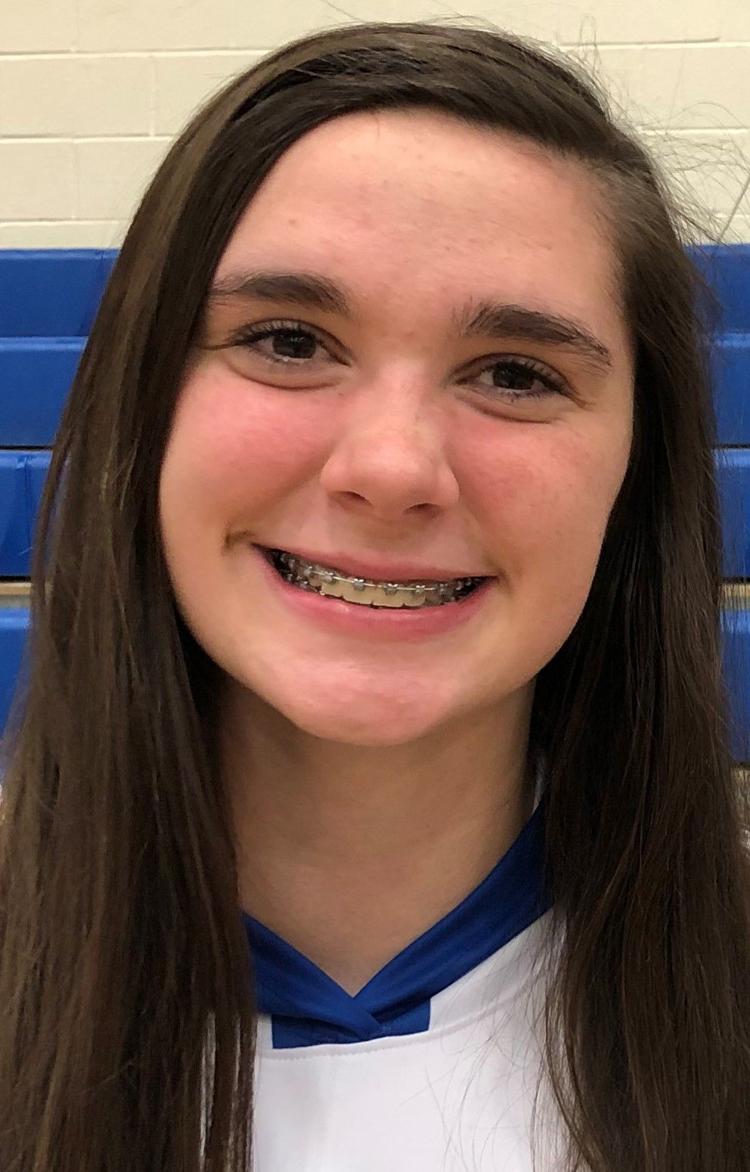 The Lady Eagles (20-4) scuffled with a turnover bug throughout the first half, but scoring balance, sharing the ball and passing the torch to whoever had the hot hand was a perfect recipe for success.
Brooke Hooten paced four Lubbock Christian players in double-digit scoring with 16 points, Skylar Simmons scored 15 and Abbie Crow and Lexi Caddell each chimed in with 14. The other sophomore starter, Mara Dendy, played a huge role as well with 8 of LC's 18 assists on 27 made field goals.
The shuffled Lady Eagle lineup is the result of senior Avery Mitchell's knee injury, which ended her season and took a major cog off the court.
Mitchell's leadership, tenacity and skill will be hard to replace, so Crow – in his second year coaching the girls after 19 years in charge of the boys program – has learned to breathe deeply and accept some growing pains as his talented but work-in-progress team moves forward.
"I've never had a scenario like this; it's a first for me to start so many young kids," Crow said.
"But I love the fact that this team is really unselfish. They share the ball well and our scoring is really balanced. Avery being out took a big leader off the floor for us. She just knew how to keep things steady. We're not as good a team without her right now, but I really think we can find a way to keep getting better."
Signs of progress were sure present against Morton.
After coughing up an early lead, the Lady Eagles got back on track when Hooten gathered in a lob from Brooke Pellam for a bucket in the paint that put LC in front for good, 12-11. Hagan Bennett stretched the lead with a 3-pointer, one of the Lady Eagles' 8 in the game, before the first period expired.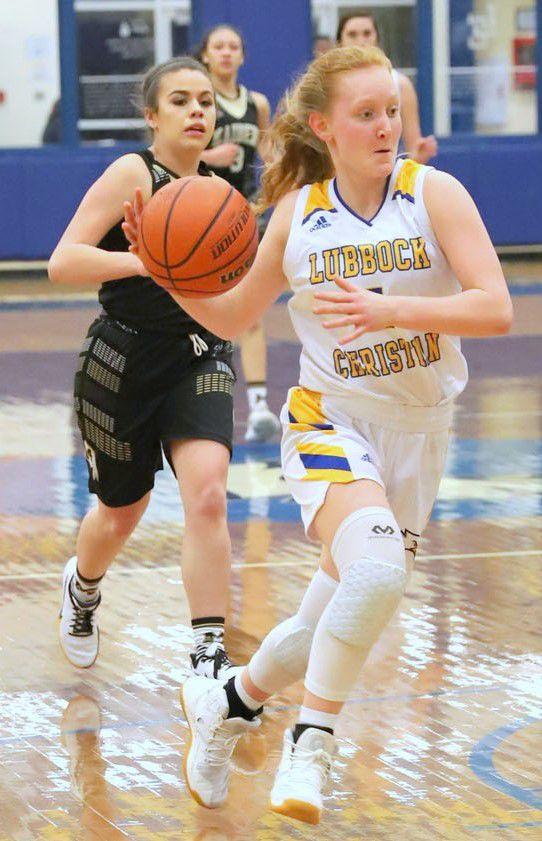 Caddell's trey, two Simmons' free throws and Ashlyn Lott's fast-break layup on a pass from Dendy methodically pushed the lead to 22-15.
Lubbock Christian went 2:25 without scoring but compensated with solid defense and came back alive with 13 points in the last 3:05 of the half -- a pair of Caddell long bombs and Hooten's inside presence as the foundation.
Sparked by Dendy, the Lady Eagles notched assists on 11 of the 12 shots they made in the first half on the way to a 35-24 lead.
"We want to make quick passes and play unselfish basketball," Dendy said. "When you get a pass, give it up to see if somebody has a better shot."
There were plenty of good shots to find in the third quarter, and LC's hot touch proved to be the backbreaker for the Maidens (14-7).
Abbie Crow and Simmons cranked in consecutive 3s in the initial 1:32 of the third quarter to trigger an impressive display as the Lady Eagles nailed six of their first eight floor shots to storm in front 51-25.
Those two finished what they started with the final 7 points of a 24-point LC quarter that pretty much ended the drama. Crow and Simmons combined for 15 points in the decisive onslaught.
As the Lady Eagles flourished on offense, they also clamped down on the other end of the court: Morton shot 1-for-10 in the period and turned the ball over four times. Morton scratched out only 14 second-half points, mainly because it shot a frigid 11.5% (3 for 26) from the field.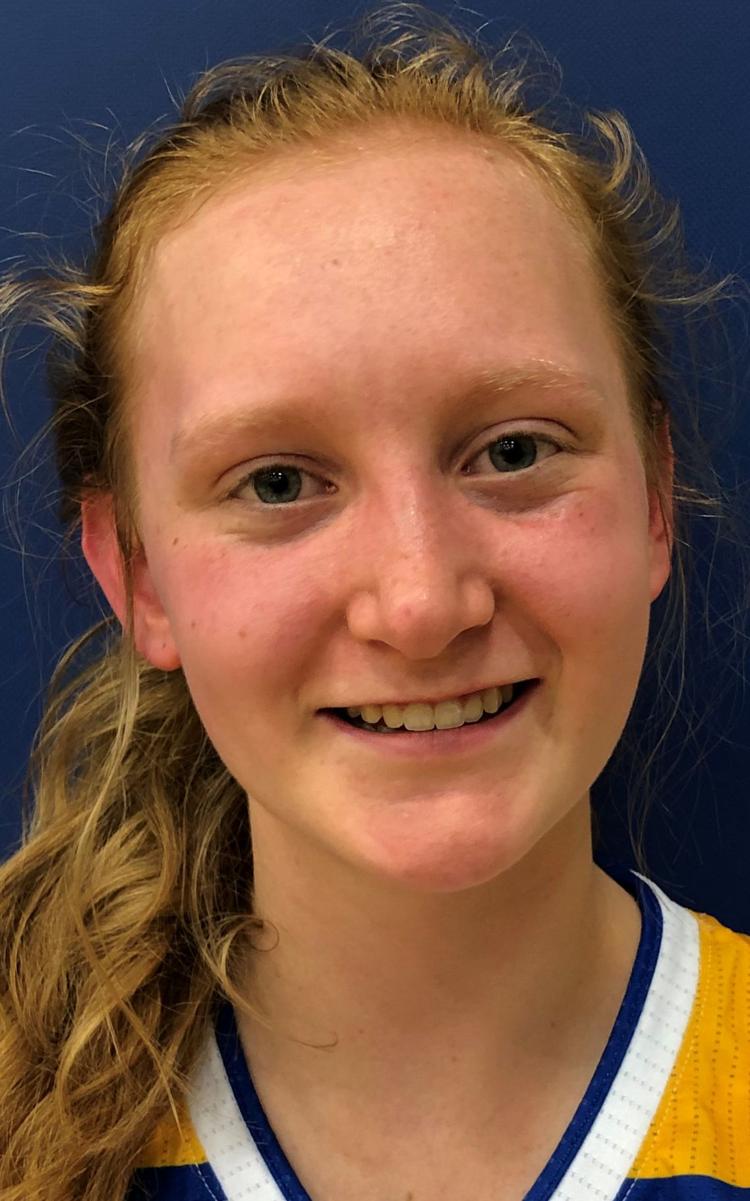 "We've been pretty good defensively and that gives us a chance every night," Brad Crow said. "In games when we shoot the ball well like we did (Tuesday), we can be a pretty good team."
Which should bode well as Lubbock Christian adjusts to life without Mitchell.
"It's been hard because she's a really good senior and a great leader," Dendy said. "It's still sort of sinking in for all of us."
When Mitchell went down, one of the first things Crow was pull the gregarious Dendy aside to tell her that role had been redefined.
"I told her that as our point guard, you've got to be confident running the show," Crow said. "Be aware of who the hot hand is and help us lock in on defense. Just focus on making us in everything we do.
"These sophomores are a very good group of girls. They've played together since they were in the 3rd grade, so they know how to play together. They've just got to keep growing together."
Tip-ins
Everybody in uniform played and scored at least 1 point for the Lady Eagles. Seven of the 13 players had at least one assist and 10 grabbed at least one rebound.
LC snagged a dominant 46-22 advantage on the backboards, led by Hooten's 12 boards and 7 from freshman Callie Roberts. Abbie Crow also corralled 7.
Hooten, Crow, Caddell and Simmons accounted for 22 of Lubbock Christian's 27 made shots. That quartet combined to shoot 68.8% (22 of 32) from the floor.
---------------------------------------
LUBBOCK CHRISTIAN 79, MORTON 38
Morton                        11      13        6        8     --     38
Lubbock Christian     15      20      24      20     --     79
Morton (38) -- Danyka Mendoza 0-3 0-0 0, Erika Roberts 3-9 2-2 9, Hannah Mankin 0-3 3-4 3, Alyssa Rodriguez 4-14 0-2 9, Ashley Roberts 0-8 7-8 7, Haleigh Guajardo 4-10 0-0 8, Galilea Perez 0-1 2-2 2, Molly Enriquez 0-0 0-0 0, Megan Lopez 0-0 0-0 0. Totals 11-48 14-18 38.
Lubbock Christian (79) -- Mara Dendy 1-1 1-1 3, Lexi Caddell 5-6 1-2 14, Abbie Crow 6-11 1-3 14, Brooke Hooten 6-8 4-7 16, Skylar Simmons 5-7 2-2 15, Ashlynn Lott 1-2 0-2 2, Brooke Pellam 0-5 1-2 1, Tiffni Cox 1-3 1-2 3, Hagan Bennett 1-3 0-0 3, Callie Roberts 0-4 1-2 1, Hallie Galbreath 0-0 3-4 3, Ellie Reavis 1-1 0-1 2, Matti Morin 1-2 0-2 2. Totals 27-52 17-30 79.
3-point goals -- Morton 2-16 (E. Roberts 1-2, Rodriguez 1-6, A. Roberts 0-1, Perez 0-1, Mankin 0-1, Mendoza 0-2, Guajardo 0-3); Lubbock Christian 8-19 (Caddell 3-3, Simmons 3-4, Crow 1-3, Bennett 1-3, Roberts 0-1, Morin 0-1, Pellam 0-4). Total fouls -- Morton 26, Lubbock Christian 15. Fouled out -- Perez, E. Roberts. Technical foul -- Morton coach Soli Shellman. Records: Morton 14-7, Lubbock Christian 20-4. Up next: Lubbock Christian at Nazareth, 6:30 p.m. Tuesday, Jan. 14.
---------------------------------------
Randy Rosetta is the publisher of HubCityPreps.com
Contact him at HubCityPreps.com or (806) 407-0188.
Follow on Twitter | @HubCityPrepsLBK & @RandyRosetta