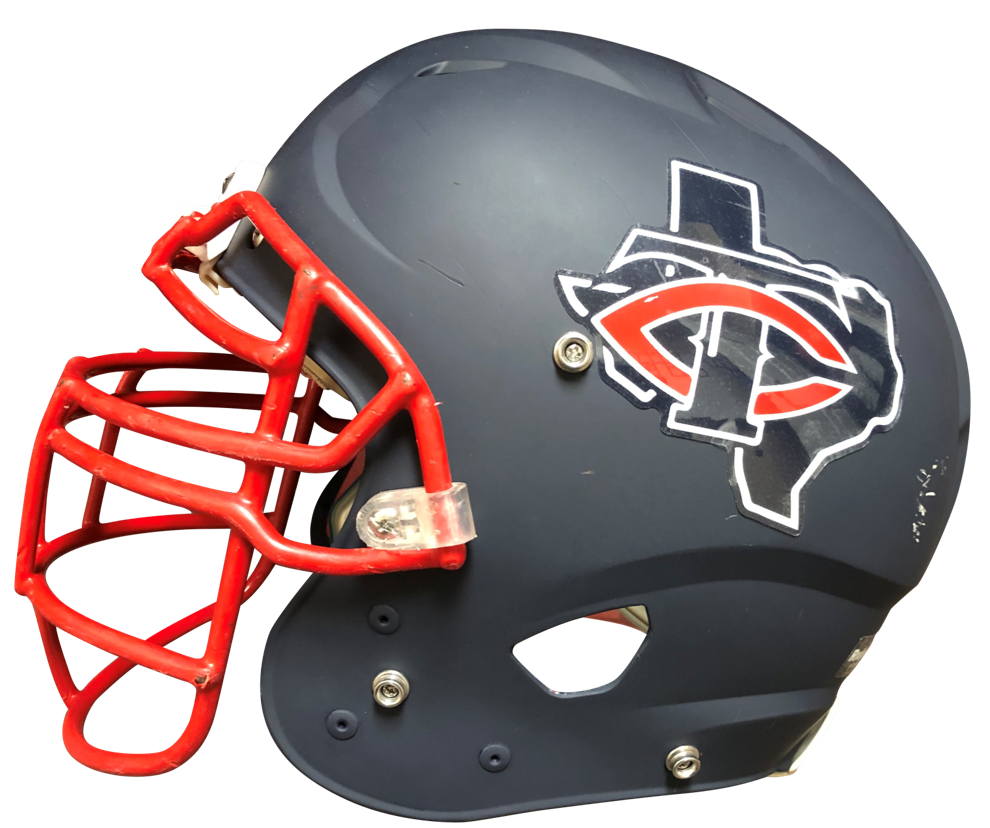 CLYDE -- When you go into a game knowing that your success hinges on how well you can grind out 48 minutes of gritty, hard-nosed football, it makes it awfully sweet when your intentions yield a result that few expected.
Add in a little adversity followed by some hold-the-rope mentality, and that sweet is a little extra.
Somehow, some way, Trinity Christian satisfied that sweet tooth Saturday with a 16-7 triumph against powerful Arlington Grace Prep in a TAPPS Division III area-round playoff game at Bulldog Stadium.
With the victory, Trinity (9-3) moves into the state semifinals and a showdown against crosstown rival Lubbock Christian.
Trinity punched that ticket by sticking true to what it does on offense, even when the results weren't productive. What made TCS' offense more effective was a defense that turned in its best performance of the season.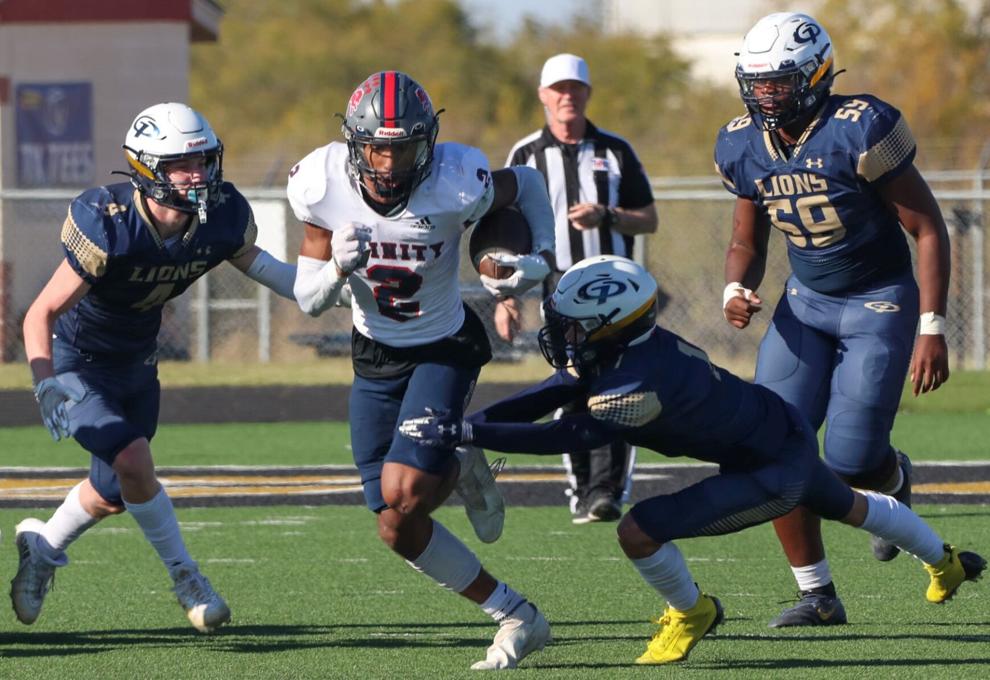 Grace Prep's high-octane passing attack never found a rhythm, producing only 189 yards (277 total yards) and the one touchdown. And every time GP was poised to find its groove, Trinity had an answer – a sack, a fourth-down stand and, most damaging of all, four takeaways.
For an added subplot, Trinity's defense delivered that command performance with middle linebacker Zach Anthony on the sideline after he had to be helped off the field in the second quarter. Likewise, quarterback Kade Bullen limped off to throw a wrench into the offensive game plan.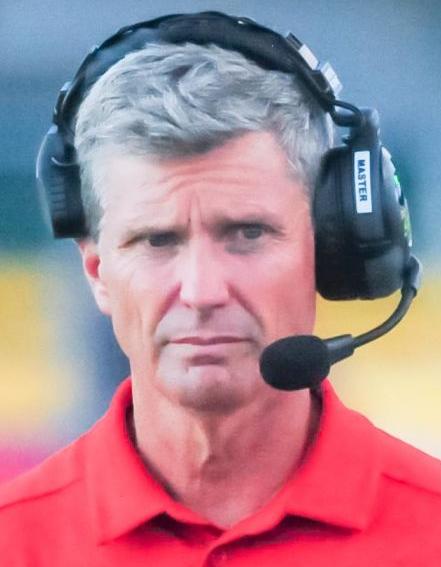 No matter because Trinity simply leaned on each other and a belief that the next man up would get the job done.
"I'm just in shock that we went through what we did and still won that game," third-year TCS coach Kevin Spiller said. "It tells me that we're a family as much as are a team. We did a team-bonding thing thing in the summer called "Hold the Rope" where somebody has to fill in the gap and hold on and not let go until the next guy could jump in. I didn't think it was going to come to fruition, but we were out there sliding into that pit (Saturday) and just kept finding a way."
Which began with the first play of the game and endured until Grace Prep's final offensive snap.
On the first play from scrimmage, GP quarterback Jaylon Talton immediately took a deep shot. Trinity's Caleb Onzi deflected the pass and Eli Davis snatched it and headed 16 yards the other way.
Trinity got close enough for a field-goal try before a bad snap foiled that plan. The tone was set on both sides of the ball, though, as TCS used nearly 4 minutes before the botched attempt. That was one of five Trinity offensive possessions that lasted at least 3½ minutes despite only scratching out only 217 total yards and 10 first downs.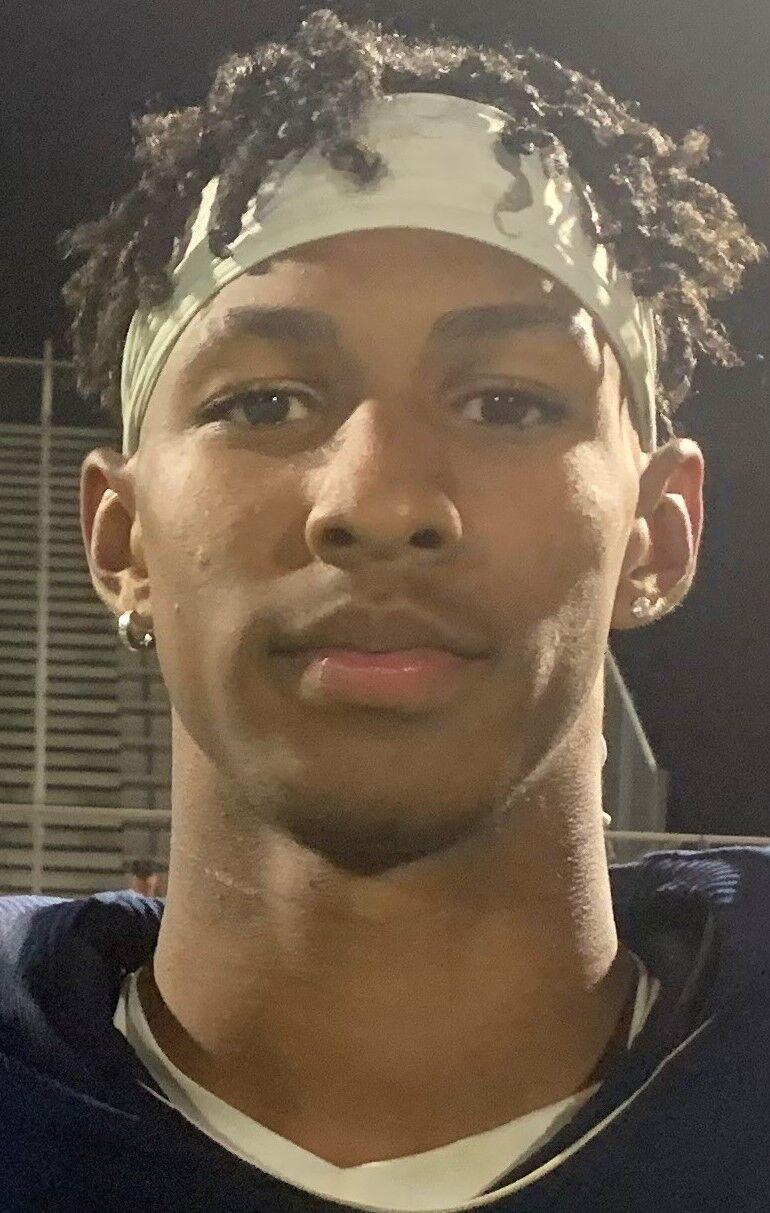 "We knew it was going to be a grind and we had to battle for every yard," Marcus Ramon-Edwards said. "Our offense is built on moving up the field with short gains, so we stuck with it and that was a big difference."
It worked because Trinity's methodical pace seemed to cause Grace Prep to try and speed things up. Each of GP's five first-half possessions was bogged down by at least one false start penalty, which led to 11 snaps behind the chains.
One of those infractions preceded Onzi's interception on Grace Prep's third chance with the ball, and this time Trinity cashed in. Seven plays after the pick – and one after Bullen hobbled to the sideline – Davis took a snap and poked into the end zone from the 1-yard-line for a 7-0 TCS lead.
Grace Prep was on the verge on answering with a drive from its own 33-yard-line to the TCS 2-yard-line on the ensuing series. But one of the false starts disrupted GP's momentum, Trinity's Cade Hays stood up fullback Reid Turner at the 5 and Alex St. Julien coughed the ball up as he neared the goal line on second down with Eli Reeves pouncing on it.
"This was all about intensity and not giving up," Trinity defensive end Patrick Camp said. "We fought hard every single play. It's all about family and giving 100% on every play."
Which was big again when Grace Prep got right back into the red zone. With a first down at the 19-yard-line, GP went nowhere, though. Anthony and Brady Scott stonewalled back-to-back running plays for no gain and Trinity pressured Talton into back-to-back bad passes on third and fourth downs.
Trinity's offense was stuck in neutral after two plays when Ramon-Edwards was stuffed for a 4-yard loss then for no gain. On third-and-14, Ramon-Edwards bulled through traffic on an inside counter run, burst into the open at the 20 and outraced the defense the rest of the way for an 85-yard touchdown dagger that put TCS up 13-0.
"A few plays before that, somebody (from Grace Prep) had said something to me, so I went back to the huddle and told my offensive line our quarterback about it, and we were all motivated to do something big," Ramon-Edwards said.
Grace Prep answered with its most effective and only fruitful possession of the day that ended with Talton hitting Kaleb Mathis on a slant pass that covered 39 yards and a TD with 11 seconds to go before halftime.
Even that didn't faze Trinity's voracious defense, though. In fact, if anything, the defense got even better in the second half, and Jaxon Burnett's right leg came up big in a variety of ways to seal the win.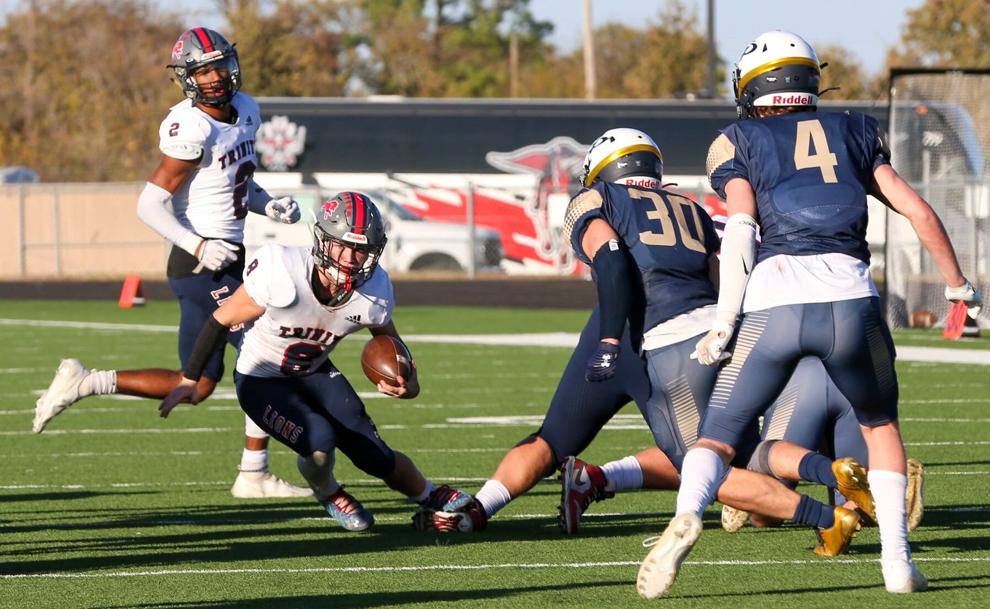 With field position a precious commodity, Burnett uncorked punts of 68 and 42 yards to keep Trinity with the upper hand in the third quarter. On GP's second series of the period, Camp and Ethan Phares devoured Talton on second-and-10 for no gain and on third down, Isaiah Beaver snared Trinity's third interception.
After the teams swapped punts, TCS pieced together its longest drive of the game at the perfect time.
Davis broke the seal when he connected with Ramon-Edwards with a rare pass that covered 22 yards from the TCS 44-yard-line to the Grace Prep 34. With Ramon-Edwards and Phares alternating bruising short runs, Trinity chiseled out a pair of first downs – the second when Ramon-Edwards slashed his way for 11 yards on fourth-and-3 from the 16.
Grace Prep's defense stiffened at that point, and on fourth down, Burnett trotted out and drilled a 26-yard field goal for a 16-7 cushion with 2:33 to go to cap an 11-play, 47-yard scoring march that ate up 5:40 of the fourth-quarter clock.
With a last chance, GP was humming with three passes eating up 48 yards and a defensive pass interference acquiring 12 more yards to the Trinity 13-yard-line.
An 8-yard pass got Grace Prep to the 5, but the final false start flag pushed the ball back for a third-down play. Davis knocked a pass away from Mathis in the end zone on that play and on fourth down, the snap sailed high to Talton and a scramble to recover the loose ball resulted in a 6-yard loss.
"Our defense was just amazing the whole game," Spiller said. "When you lose your middle linebacker, you figure that you'll have some dropoff, but we didn't at all. Other guys just stepped in and held the rope."
How true was that in an unflinching performance for Trinity? On Burnett's game-sealing kick, freshman Max Carriker was thrust into duty as the holder with Bullen out of action – and was flawless.
"Our motto all summer was hold the rope, and this shows how we all value that," Ramon-Edwards said. "We all played for each other and that's how we got this win."
And now another chance at Lubbock Christian, which scratched out a 22-10 win during the regular season. The Lions and Eagles will meet at Frenship's Peoples Bank Stadium at 2 p.m. Saturday with a trip to the state championship game at stake.
"We just have to fight hard like we did (Saturday)," Camp said. "We know they're a great team, but I think we've proven that we are, too."
-------------------------------
TAPPS DIVISION III
Area-round playoff
At Bulldog Stadium | Clyde
TRINITY CHRISTIAN 16. ARLINGTON GRACE PREP 7
Trinity Christian           0      13    0      3      --        16
Grace Prep                    0      7      0      0      --        7
TC -- Eli Davis 1 run (Jaxon Burnett kick)
TC -- Marcus Ramon-Edwards 85 run (pass failed)
GP -- Kaleb Mathis 39 pass from Jaylon Talton (Mark Neely kick)
TC -- Burnett 26 FG
TEAM STATISTICS
                                  TC          GP
First downs             10            13
Rushes-yards          49-193     21-88
Passing yards          25            189
Total yards               218          277
Passes                      2-5-0        13-23-3
Fumbles-lost            1-0            2-1
Punts-Avg.                 5-45.0      3-22.0
Penalties-yards        6-54          10-50
INDIVIDUAL STATISTICS
Rushing: Trinity Christian -- Marcus Ramon-Edwards 18-150, Ethan Phares 20-45, Kade Bullen 1-4, Maddox Frazier 1-3, Eli Davis 6-0, team 3-(minus) 9; Grace Prep -- Alex St. Julien 21-66, Reid Turner 4-29, Jaylon Talton 4-(minus) 1, team 1-(minus) 6.
Passing: Trinity Christian – Davis 1-2-0 22 yards, Bullen 1-2-0 3 yards, Frazier 0-1-0 0; Grace Prep – Talton 13-23-3 189 yards.
Receiving: Trinity Christian – Ramon-Edwards 2-25; Grace Prep -- Kaleb Mathis 7-88, Bradyn Love 5-85, Liam Onyon 1-6.
Records: Trinity Christian 9-3, Grace Prep 10-2
Up next: TAPPS Division III state semifinal – Lubbock Christian vs. Trinity Christian,  2 p.m. Saturday at Peoples Bank Stadium in Wolfforth.