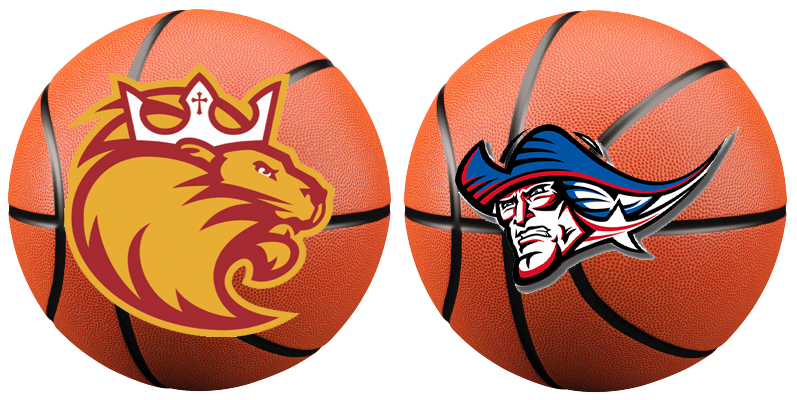 Through 20 games this season, the All Saints boys have managed to find the right path to winning in all but one of those, and that came in handy Friday night when the Patriots began the District 1-2A season at Christ the King.
Because it took a lot of searching to create the necessary success in a defensive grinder of a game.
An early push created a cushion that never grew much but also never dwindled a lot as All Saints notched a 31-15 triumph.
Rowe Osborne led the way for the Patriots (19-1, 1-0 district) with 15 points, 11 rebounds, but he was the only reliable offensive weapon for either team in a game when shooting effectively and putting points on the scoreboard were major struggles. The Patriots managed to stay in control by dominating the backboards 38-26 with Cooper Locke also corralling 11 boards.
For the Golden Lions, Aaron Chaloupka generated a team-high 8 points and snared 8 rebounds on a night when CTK (6-5, 0-1) managed to connect on only 6 field goals. No other Lion had more than 3 points.
Nope, this was not an offensive masterpiece in any way, shape or form. But the defenses on both ends of the court had a major part in that. When the Patriots had the ball, it was CTK's disciplined and well executed zone that created a headache.
After Osborne produced 8 points in a first quarter when All Saints built a 12-6 lead, the Lions shifted into the zone that made getting the ball to the big man a hassle.
"Their backside guys jumped out and made it hard to get the ball where we wanted," Locke said.
With Osborne under wraps, somebody else in a blue uniform needed to hit shots, and that was a problem.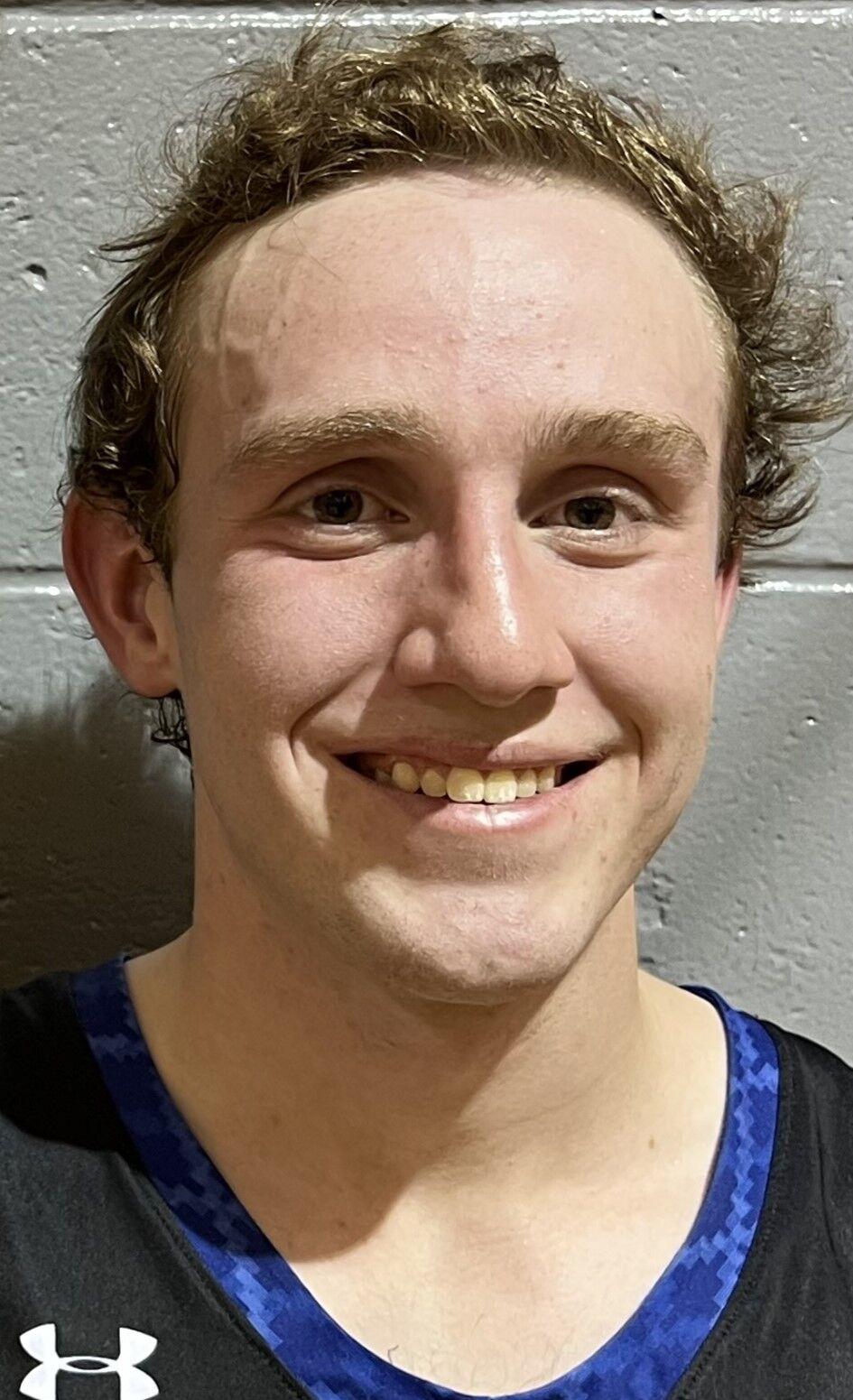 In the first half, Osborne knocked down 6-of-9 from the floor, while the other Patriots were a combined 3-for-15. When the dust settled, Osborne wound up 7-of-12 and the Patriots shot an icy 32.5% overall (13 of 40).
"The best thing we can do is slow down, recoup, take a deep breath and reassess," Osborne said, referring to the methodical pace All Saints opted for against the zone.
"They came out with a good zone, and we've played a lot of man teams the first half of the season, so it caught us off guard a little."
Even with the struggles, though, the Patriots got hot enough to end the first quarter for the lead, then carried that into the second frame to grab control enough to prevail. From the 3:44 mark of the first period until Rohan Felton's free throw at the 4:09 juncture of the second, All Saints produced 16 points.
After that, the Patriots scored on consecutive offensive trips only twice more.
"We've got to work on our shooting -- take good shots and make them because that helps open (Osborne) up inside," Locke said.
The Lions can relate after a night of shooting misery.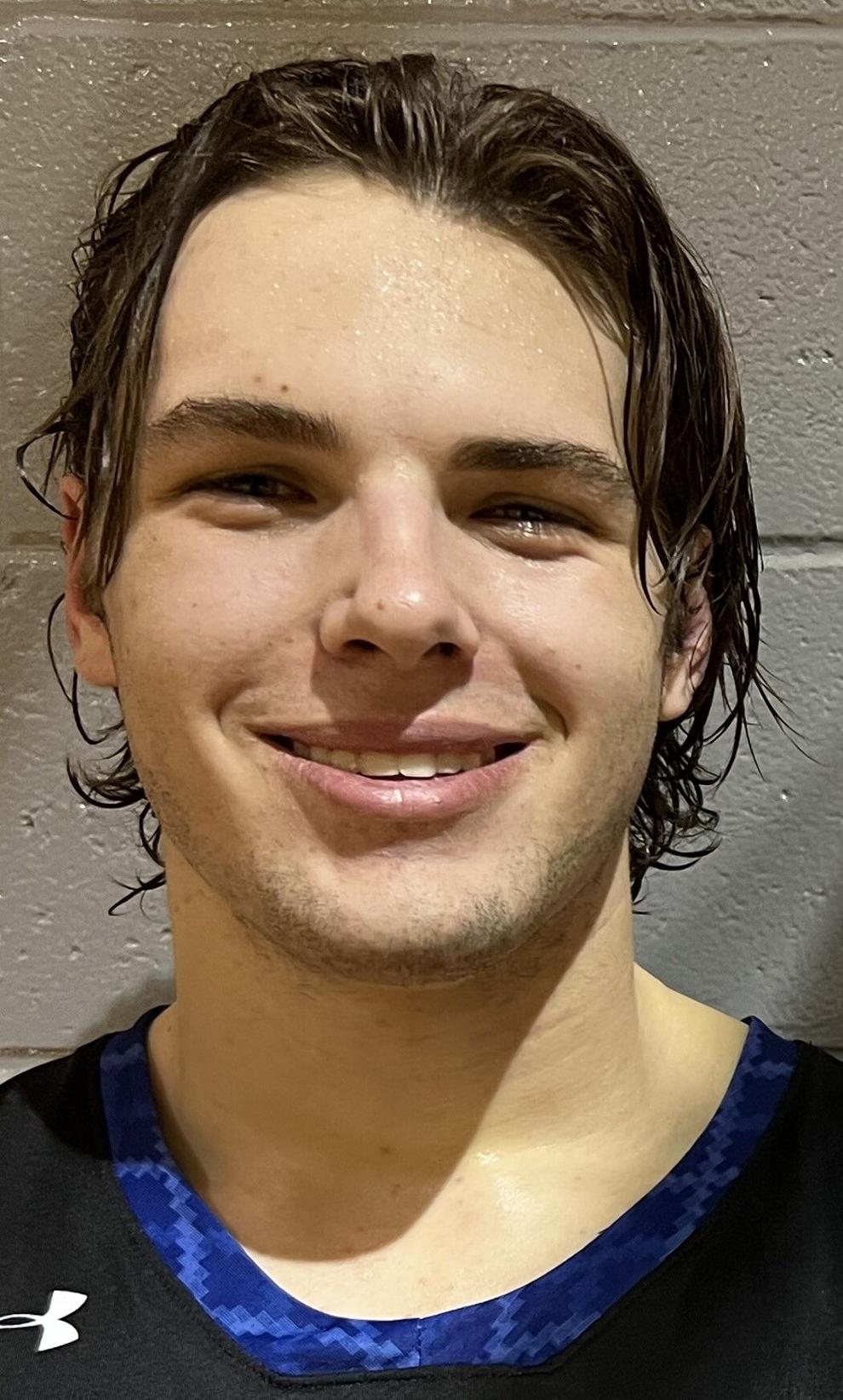 CTK struggled to find shots against the bigger All Saints defense, let alone make many. Armando Ramirez Vowels cranked in a 3-pointer from the left corner 1:05 into the game for a promising start, but the Lions couldn't find room in the paint for easier looks. They were 3-of-19 from the field in the first half – 3-for-8 from 3-point range, 0-for-11 from inside the arc.
Mixed in were 12 turnovers to complete a disastrous recipe for offensive production as CTK trailed 22-9 at halftime.
"Missing those easy shots in the first few minutes really haunted us the rest of the way," Lions' coach Greg Clark said. "It was like the ball got bigger and the rim got smaller. That snowball just kept rolling downhill and getting bigger."
Defense kept CTK in range, though – mainly by limiting Osborne's impact after halftime.
"Through repetition and experience, we've made the adjustments and play pretty good defense," Clark said. "Rowe got some easy buckets around the rim early, so we wanted to slow him down as much as we could. I'm proud of our effort."
Both teams stay in district play on Tuesday when the Lions entertain Abilene Christian, while All Saints tangles with Kingdom Prep.
ALL SAINTS 31, CHRIST THE KING 15
All Saints              12   10   2   7   --   31
Christ the King       6     3   4   2   --   15
ALL SAINTS (31) -- Caden Mead 1-3 2-2 4, Cooper Locke 2-7 0-0 4, Anson Proffitt 1-7 0-0 2, Rohan Felton 1-7 1-2 3, Rowe Osborne 7-12 1-4 15, Brady Lowe 1-2 0-0 2, Nate Bumstead 0-0 0-0 0, Joseph Paone 0-1 1-2 1, Daniel Vermillion 0-1 0-0 0. Totals 13-40 5-10 31.
CHRIST THE KING (15) -- Francisco Sisneros 1-11 0-0 2, Aaron Chaloupka 3-10 0-1 8, Nic Buescher 0-3 0-0 0, Samuel Cruce Roberts 1-5 0-1 2, Armando Ramirez Vowels 1-8 0-0 3, Calvin Tong 0-2 0-0 0. Totals 6-39 0-2 15.
3-point goals -- All Saints 0-8 (Mead 0-1, Vermillion 0-1, Proffitt 0-3, Felton 0-3); CTK 3-15 (Chaloupka 2-4, Vowels 1-7, Roberts 0-1, Sisneros 0-1, Buescher 0-2). Rebounds -- All Saints 38 (Osborne 11, Locke 11, Proffitt 6); CTK 26 (Chaloupka 8, Sisneros 7, Vowels 5). Assists -- All Saints 7 (Proffitt 2, Paone 2); CTK 1 (Buescher 1). Turnovers -- All Saints 19, CTK 18. Total fouls -- All Saints 18, CTK 19. Total fouls – All Saints 7, CTK 9.
Records: All Saints 19-1, 1-0 District 1-2A; CTK 6-5, 0-1. Up next: Abilene Christian at CTK, 7:30 p.m. Tuesday; All Saints at Kingdom Prep, 7:45 p.m. Tuesday.
----------------------------------------------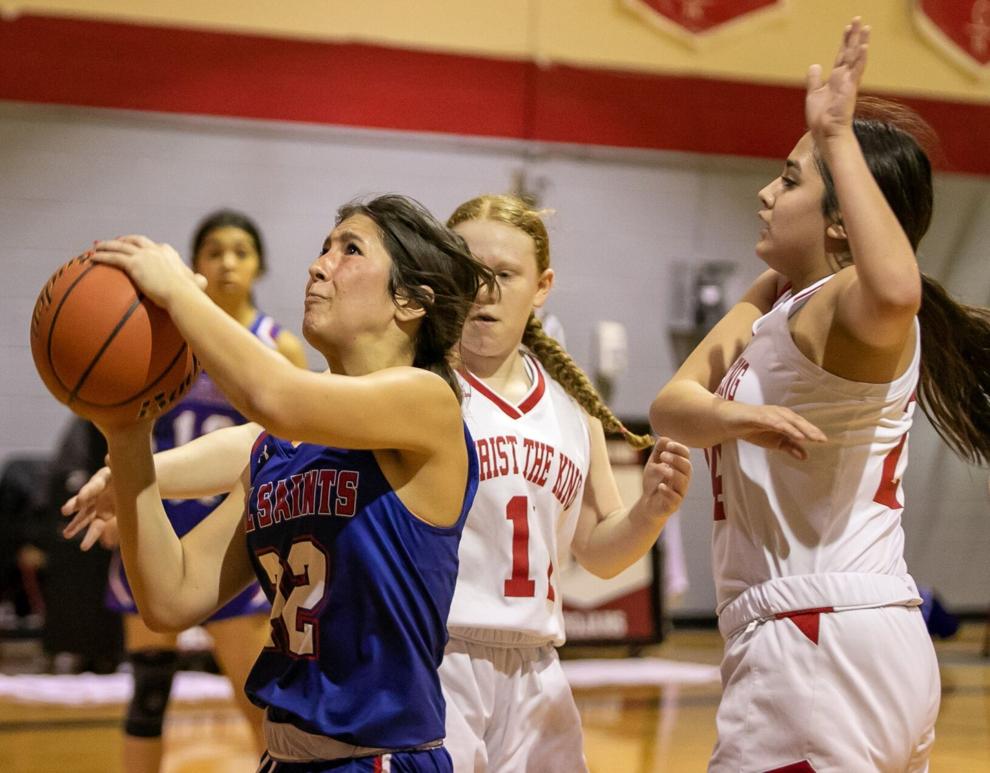 Lady Patriots remain unscathed with defense leading the way
Quick starts in the first and third quarters and a stout defensive performance provided the foundation for the All Saints girls against Christ the King in a District 1-2A opener.
The Lady Patriots kept their unbeaten season intact with a 39-15 romp, paced by Lauren Bayouth's 19 points and 10 rebounds – and she was a big factor in the early bursts to twice get her team started on the right foot.
All Saints (19-0, 1-0) generated the first 8 points of the game to grab the quick lead then uncorked a 9-0 surge to open the second half that turned a 15-5 halftime cushion into 24-5 and sent the Lady Patriots on their way.
Bayouth helped fuel the opening salvo with 7 points in the first frame and 10 by halftime. Chloe Conover got rolling in the third-quarter blitz with 4 points sandwiched around Abigail Barritt's 3-pointer.
Meanwhile, the Lady Golden Lions just couldn't get many shots to fall. They were 2-for-25 from the field in the first half then missed their first four attempts after halftime.
 Caitlin Hull finally ended CTK's 13-minute scoring drought when she buried her second 3-pointer midway through the third quarter, and Camille James went coast-to-coast for a layup for 5 points in 28 seconds. That was about the last gasp for the Lady Lions (7-4, 0-1), who finished the game 6-for-39 from the floor.
Ella Mendez was a bright spot for CTK with 5 points and 10 rebounds. Hull's 6 points led the Lady Lions, who are back in action at home on Tuesday against Abilene Christian.
Conover supplied 7 points and team-high 11 rebounds off the bench for the Lady Patriots, while Emma Solaro contributed 6 points and 6 boards, Reghan Rose scored 4 points, snared 6 rebounds and led All Saints with 3 assists and 4 steals.
Up next for the No. 2-ranked Lady Patriots is a road game at Kingdom Prep on Tuesday.
ALL SAINTS 39, CHRIST THE KING 15
All Saints               10   5   12   12   --   39
Christ the King        5   0     5     5   --   15
ALL SAINTS (37) -- Campbell Carber 0 0-0 0, Ella Solaro 2 1-2 6, Lauren Bayouth 7 3-7 19, Abigail Barritt 1 0-0 3, Reghan Rose 2 0-0 4, Chloe Conover 2 3-4 7. Totals 14 7-13 39.
CHRIST THE KING (15) -- Camille James 1 0-0 2, Caitlin Hull 2 0-0 6, Ella Mendez 2 1-4 5, Abrie Olguin 1 0-0 2, Faustina Mendez 0 0-0 0, Anastasia Mendez 0 0-0 0, Emily Roark 0 0-2 0. Totals 6 1-4 15.
3-point goals -- All Saints 4 (Bayouth 2, Solaro 1, Barritt 1); CTK 2 (Hull 2). Rebounds -- All Saints 43 (Conover 11, Bayouth 10, Rose 6, Solaro 6); CTK 29 (E. Mendez 10, F. Mendez 6). Assists -- All Saints 5 (Rose 3); CTK 1 (Hull 1). Turnovers -- All Saints 15, CTK 16. Total fouls -- All Saints 4, CTK 11.
Records: All Saints 19-0, 1-0 District 1-2A; CTK 7-4, 0-1. Up next: Abilene Christian at Christ the King, 6 p.m. Tuesday; All Saints at Kingdom Prep, 6:15 p.m. Tuesday.