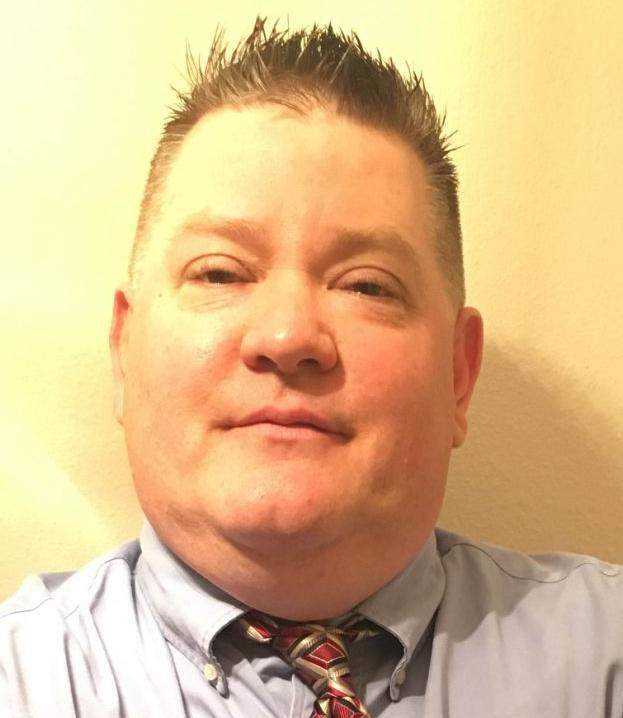 As the husband of a teacher and father of two daughters, I have learned to understand how quickly each summer blazes by. Doesn't make it any easier to accept, but I have learned to recognize that the early weeks of August are when the grind really starts to set in.
This new school year is a little different for me, though. As much as I would love a few more months of time with my girls, I am readier than ever to embrace the grind -- and maybe that happens when you don't get the chance to experience something you have for so many years.
This August and this fall are my re-emergence from a one-year hiatus when I was out of the loop, sports-coverage wise. This time a year ago, I felt a little lost as the new school year kicked into gear. Ever since I was 23 and began down the path as a sportswriter in earnest, August equated to the start of a new school year -- and for me, a new sports year that brought an exhilarating grind until at least mid-June.
With HubCityPreps.com ready to embark on its first full year covering the great athletes, coaches and teams in Lubbock, I don't know that I have ever been more excited. Might have something to do with just how good sports are in the Hub City right now -- arguably as strong as they have ever been.
With this new sports year, HubCityPreps.com arrives at an important crossroads. There are a lot of elements I want to add and expand. A lot of different directions I want to take this venture.
To do so, though, will require a revenue stream. So consider this a digital telethon of sorts or my attempt to drum up business through crowdsourcing.
Cutting to the chase, HubCityPreps.com needs advertising and sponsorship to keep humming along. This was a dream-come-true jump into the deep end for me when we launched, and now I need help to make it take flight.
Here is how you can help:
--- First and foremost, we need advertisers and sponsors.
If you are a business owner and would be interested in advertising with HubCityPreps.com, please reach out to me. You can call (806) 407-0188 or email me at HubCityPreps@gmail.com.
We have established what I believe are very reasonable rates, with a variety of options depending on your situation. There are discounts for multiple months, the flexibility to tailor plans to fit what you want and specialty rates available to get your business' name and logo out there as much as you want to.
While this is a new concept in this market -- really in most markets -- the product is rapidly growing. The audience demographic is very pervasive: Think 18 and up (male and female) because the people reading are the athletes and coaches, moms and dads, grandmas and grandpas, neighbors, etc.
As for bang for your buck, your spot on a digital site is basically a perpetual billboard on computer and cell phone screens. The potential for eyes on your business are widespread. Besides the normal traffic, we will gladly and faithfully promote every business that comes on board.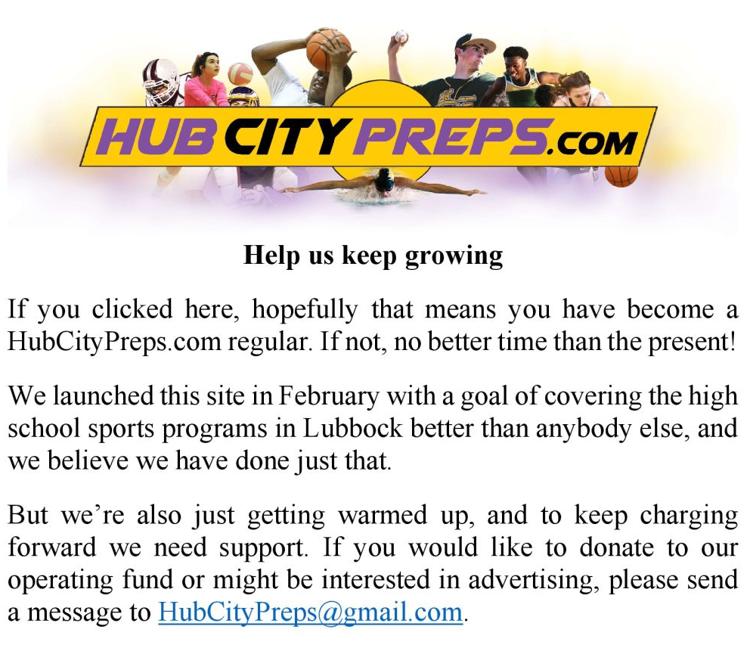 I view this as a valuable partnership between me and any advertiser who takes this leap of faith because promoting the young people, coaches and teams in Lubbock is a shared endeavor.
--- Direct contributions
As I noted, there is a telethon element to this, so if you aren't a business owner but want to help, that's great. No amount is too small. This site is for you and whoever you believe it benefits.
--- Spend money with our advertisers.
If you are a reader or viewer, please patronize the advertisers who come on board. As much as we need the support from advertisers, I also want them to benefit from the relationship. A major goal of mine is to stick to local businesses as much as possible. The idea will be to have sponsors whose goods and services are appealing to you, so it's vital that you visit them with your business.
--- Spread the word as much as you can.
While this is directed mostly at the young people who communicate so well on Twitter, Instagram, Shapchat, Facebook, etc., it applies to moms, dads and anybody else as well.
You can follow us on Twitter (@HubCityPreps and @RandyRosetta), and we have a Facebook page -- @HCP2019. I am working on Instagram ad Snapchat (bear with me; I am of a different generation!).
We use social media liberally, so our stories, photo galleries and eventually videos and podcasts will be in front of you. Read/watch/listen to what we post and then like or share – whatever you can do to get us out there is tremendously appreciated.
So that's it. I am champing at the bit for the fall-season sports to get churning so we can amp up our coverage. It's great to be back in the saddle!
Randy Rosetta is the publisher of HubCityPreps.com
Contact him at HubCityPreps.com or (806) 407-0188.
Follow on Twitter | @HubCityPrepsLBK & @RandyRosetta