WOODROW -- Fancy bells and whistles, fast-pace no-huddle looks and scoreboards lighting up have become the norm in high school football.
Coronado and Lubbock-Cooper have emerged as two of the top programs in West Texas because of their affinity for that style of play.
Sometimes, though, reverting to the basics fits a game and has a lot more to do with the outcome than the shiniest of new stuff.
That turned out to be the undercurrent of LCP's 35-21 triumph Friday night when the two powerhouses clashed at Pirate Stadium in the Hub City Preps Game of the Week.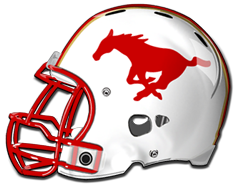 Things like running the ball when the offensive line blocks well up front. Or stopping the run because the defense makes sure tackles at the point of contact. And taking the ball away in key situations -- whether that's regarded as old-school or not -- is always a key ingredient.
For a while Friday night, the Mustangs and Pirates were poised to unleash one of those white-knuckle, hold-on-tight offensive shootouts. Then the defenses found some rhythm and Cooper seized command at the line of scrimmage on both sides of the ball and the showdown became more turn-back-the-clock than new age.
The 10th-ranked Pirates (2-0) grabbed control in the second half with a power running game on offense and a stifling defense. That combination yielded three fourth-quarter touchdowns -- one on a long drive after Cooper intercepted Coronado quarterback Sawyer Robertson and another when Rylan Wilcox zig-zagged 57 yards for a touchdown on another pick.
"The o-line just did a great job; that's all there really is to that," said Pirate running back/wildcat quarterback Nehemiah Martinez, who darted 32 and 49 yards for touchdowns in the first half on the way to a 138-yard night on the ground.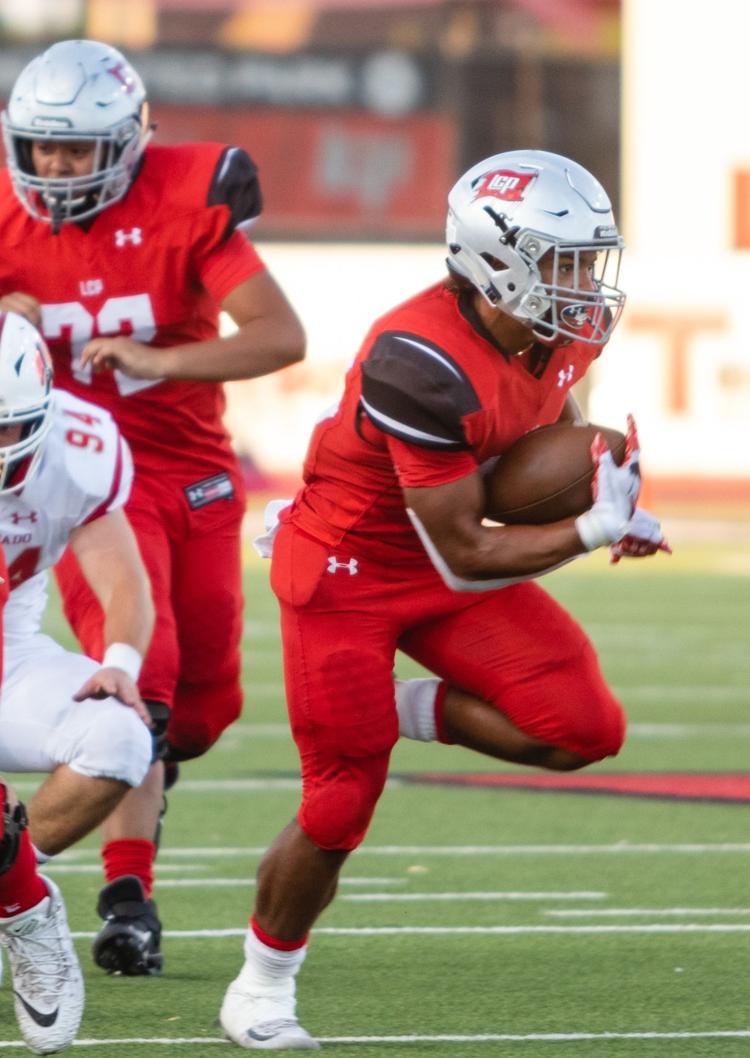 "They opened it up and I just went along.
"And our defense did a wonderful job. (Coronado) had a lot of three-and-outs, and our guys made them work for everything they got."
Because of those two units -- with Martinez and Isaiah Johnson supplying the big plays with the ball in their hands -- Cooper controlled the second half from the get-go.
With the score deadlocked after two quarters, it took a while for the Pirates to find their offensive groove. Their defense made sure that didn't hurt by clamping down on anything Coronado ran.
The Mustangs (0-2) produced a first down with 11 yards on their first two third-quarter snaps but bogged down after that. Coronado ran 10 plays in the period for only 37 yards. Rendered one dimensional (43 rushing yards on 16 carries), the Mustangs struggled just to keep their offense on the field.
"We didn't run the ball real well and we've got to fix that," Coronado coach Seth Parr said. "We had to rely too much on the pass."
Which bit the Mustangs in the backside big-time just when it looked like they were about to grab control.
When the Pirates lost a fumble and Coronado's Nathaniel Silva scooped up the ball and rumbled to the 17-yard-line, momentum shifted. Just not for long.
Robertson checked down to Neal High for a 12-yard pickup on 3rd-and-10 to set the Mustangs up with a 1st-and-goal from the 5. Cooper stuffed Kaleb Manuel for no gain, and on second down Robertson rolled right and tried to squeeze the ball into a window that Pirate defensive back Carter Bradley slammed shut when he swiped the pass at the 3.
"That's two weeks in a row when we had the opponent going into score and we took the ball away," LCP coach Chip Darden said.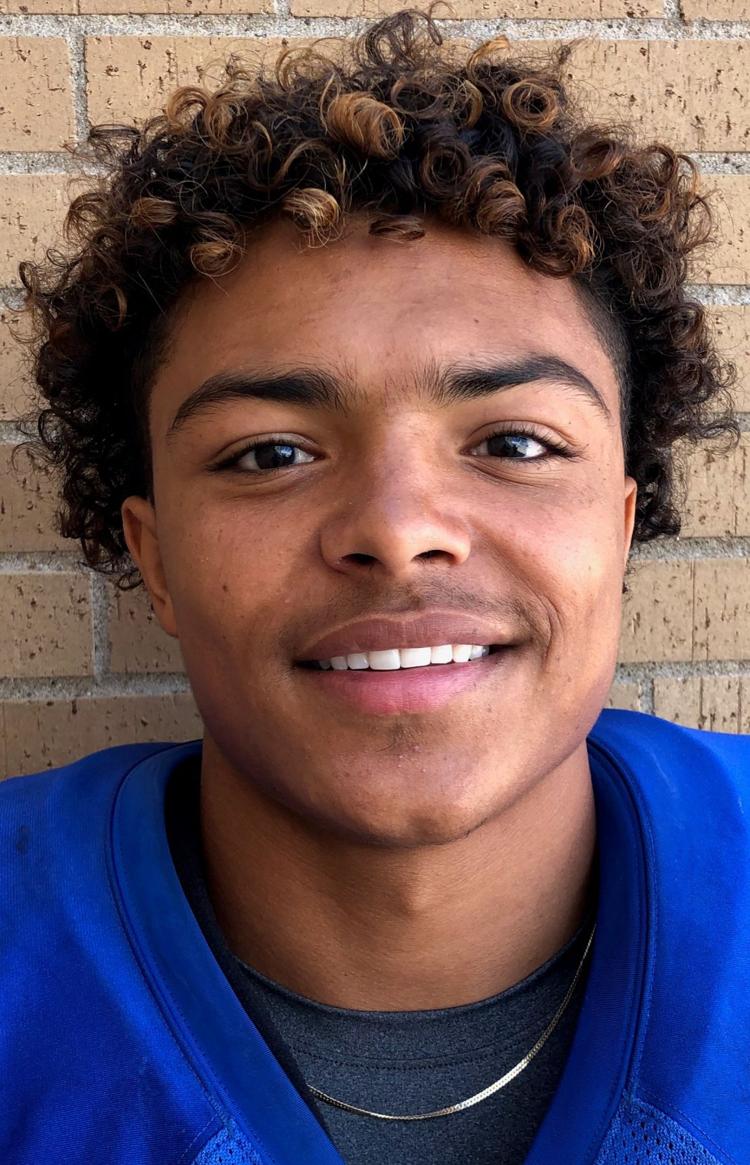 "That was just a huge game-changer. A lot of teams might've fold right there after the fumble, but our kids were resilient and came up with a huge play."
Added Parr, "We get our chance at the (3)-yard line and we've got to take advantage of that."
The takeaway seemed to spur the Pirate offensive line.
Johnson was a minor role player to Martinez in the first half with only 33 yards on six totes. With the Cooper o-line engaged after the turnover, the senior back took center stage.
Over the final 4:02 of the third quarter and the first two snaps of the fourth, Johnson carried the ball seven times for 83 yards. Quarterback Cooper LaFebre carried once and Jacob Dennis made up for losing the fumble with a pair of powerful carries for 17 yards.
When Johnson plowed into the end zone from the 1-yard-line on the second play of the fourth quarter, Cooper was back in front 21-14 and the tone for the rest of the game was established.
The Pirate crew up front consists of Tanyon Zachary (left tackle), Chase Rodriguez (left guard), Xzadrian Huerta (center), Ayden Visage (right guard) and Vince Vergara (right tackle), with tight ends Cameron Bednarz and Ben Marcinkowski also serving as extra road graders.
"We challenged those guys because we didn't feel like they had their best game in the first week," Darden said. "We challenged them and they responded well and really played a big role for us."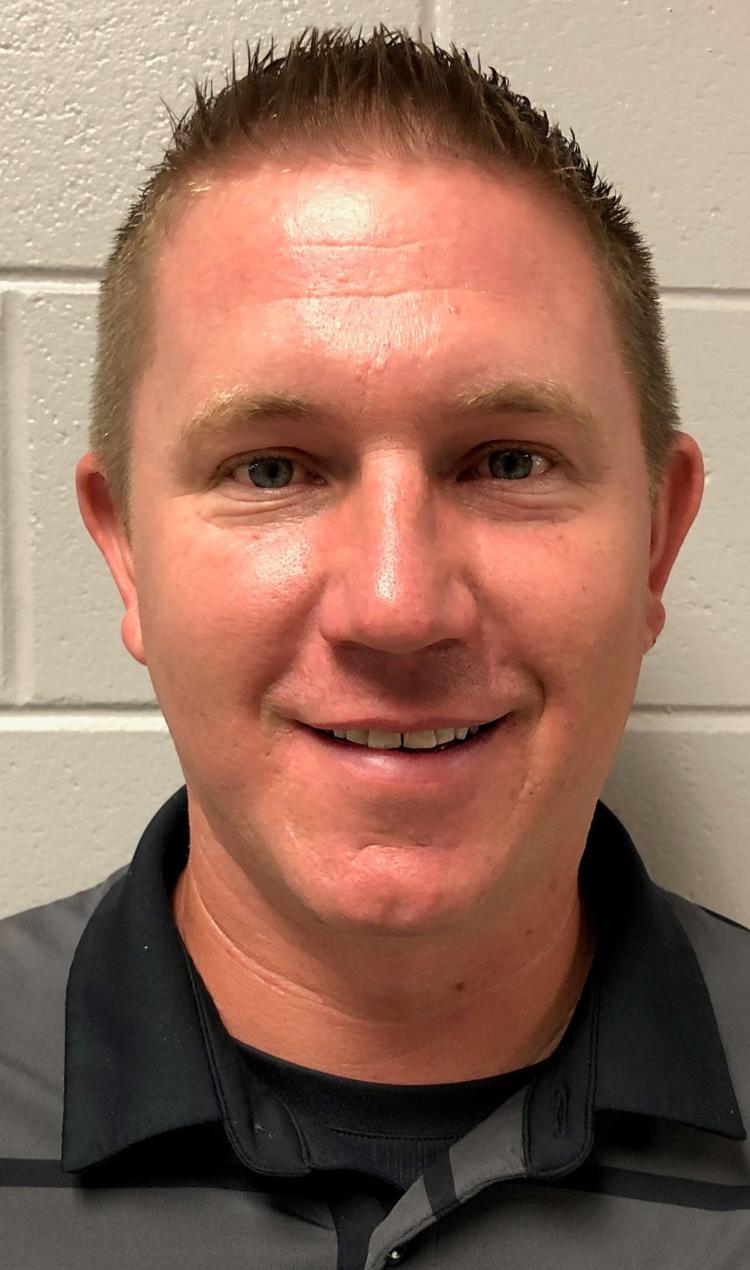 As did the defense the rest of the second half.
After the methodical 97-yard touchdown march, Coronado gave the ball right back on a three-and-out. Cooper kept grinding, running seven plays to move the ball from the 39 to the 25. Bryce Thompson just missed a 42-yard field goal to keep the window open a crack for the Mustangs, but it quickly closed.
Following a rare Coronado third-down conversion, Robertson was desperately looking to make a play. With a blitzing Kobie McKinzie charging at him, Robertson rolled to his right, stopped and uncorked a throw from his back foot into the dangerous middle of the field. Wilcox snatched the errant pass, found a crease, cut across the grain to the right and effectively used a pair of blocks to scoot into the end zone for a 28-14 lead with 5:12 left in the game.
Coronado gave the ball up on downs again and Johnson hammered in the final nail when on the first snap he rumbled 40 yards off right tackle for his second touchdown.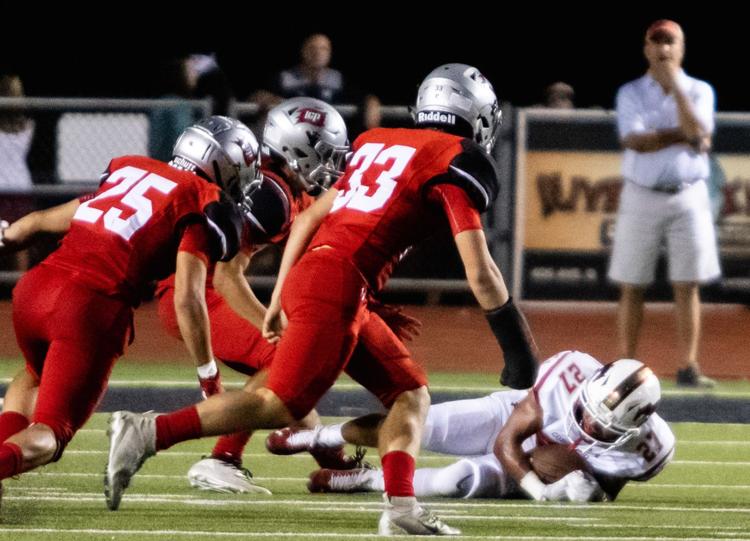 That chunk play capped a second half when the Pirates ran 27 times for 240 yards (excluding one kneel-down in victory formation). Cooper's only pass attempt over the final 24 minutes was a shovel pass from Martinez that resulted in only the Pirates' third negative play of the night.
"In the first half, the running game did pretty good but it was still a little off," Martinez said. "In the second half, our line started getting after them and we ran the ball a lot better."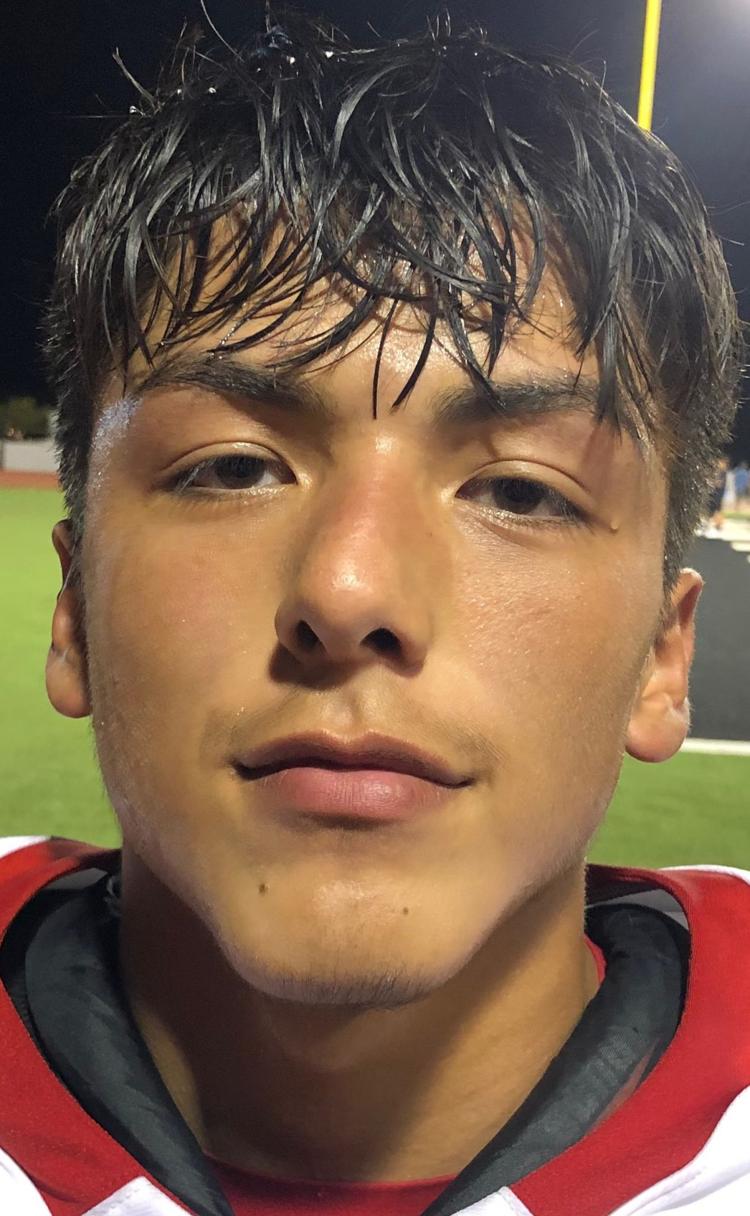 Coronado's fortunes were the exact opposite.
The Mustangs weren't razor-sharp in the first half, but they did manage to produce TD drives of 75 and 68 yards with Eli Martinez finishing both – the first on a pretty pass that Robertson floated just over the fingertips of a defender and the second on a quick slant that knotted the score 14-14.
Robertson peppered Cooper for 191 passing yards before halftime, while Martinez had five grabs for 98 yards and Cory Ferreira snared five for 71 yards.
In the second half, Robertson was limited to 103 yards -- most of that on a late touchdown drive -- and the two receivers combined for only six more receptions for 46 yards.
"In the first half, we were hitting on a lot of plays; we were feeling it," Eli Martinez said. "In the second half we didn't stay hot. We let down and we have to make sure we don't do that again."
Coronado gets back to work Thursday when it plays host to Odessa High. Cooper faces the second leg of a three-week gauntlet vs. Hub City foes when it plays at Frenship on Friday.
Moving the chains
On Cooper's nine-play, 97-yard touchdown drive, the Pirates never went to third down and five snaps resulted in first downs or the touchdown. In fact, beginning with the first play of that series, Cooper only snapped the ball one time on third down in its final 20 plays.
While Eli Martinez and Ferriera came up big, Coronado senior Jon Hernandez was the in the crosshairs of the Pirate defense and he struggled to get open. After Hernandez pulled down six passes for 174 yards vs. Estacado, he reeled in just one ball for 1 yard on Friday.
One of the biggest plays of the night turned out to be a simple 45-yard punt in the final statistics. Cooper punter Robert Mott had to chase down a bad snap and with the Mustang defense about to smother him, he somehow got the kick off and a fortuitous bounced carried the ball into the end zone for a touchback.
LUBBOCK-COOPER 35, CORONADO 21
Coronado       7      7      0      7      --     21
Cooper           7      7      0      21    --     35
LCP -- Nehemiah Martinez 32 run (Brock Thompson kick)
COR -- Eli Martinez (Cooper Hamilton kick)
LCP -- N. Martinez 49 run (Thompson kick)
COR -- E. Martinez 32 pass from Sawyer Robertson (Hamilton kick)
LCP -- Isaiah Johnson 1 run (Thompson kick)
LCP -- Rylan Wilcox 57 interception return (Thompson kick)
LCP -- Johnson 40 run (Thompson kick)
COR -- Cory Ferriera 11 pass from Robertson (Hamilton kick)
Team statistics
                                COR       LCP
First downs             20            18
Rushes-yards          16-43       44-376
Passing yards          284          115
Total yards              327          491
Passes                    26-50-2   8-16-0
Fumbles-lost           0-0           3-1
Punts-Avg.              6-38.7              3-36.7
Penalties-yards       8-75         6-70
Individual statistics
Rushing: Coronado -- Kaleb Manuel 8-21, Sawyer Robertson 4-17, Neal High 4-5; Cooper -- Isaiah Johnson 20-186, Nehemiah Martinez 10-138, Jacob Dennis 6-34, Cooper LaFabre 5-31, team 2-(-13).
Passing: Coronado -- Robertson 26-50-2 284 yards; Cooper -- LaFebre 8-15-0 116 yards, Martinez 1-1-0 -1.
Receiving: Coronado -- Eli Martinez 7-113, Ferriera 9-102, Kaleb Manuel 3-24, Will Boyles 2-11,7, High 2-14, Zaylon Brown 2-11, Jon Hernandez 1-1; Cooper -- Cameron Bednarz 2-42, N. Martinez 1-25, Cole Agnew 1-16, Kelan Jordan 1-15, Rylan Wilcox 1-12, Johnson 1-4, Trevor Browning 1-2, Robert Mott 1-(-) 1.
Records: Coronado 1-1, Cooper 2-0. Up next: Odessa High at Coronado, 7 p.m. Thursday; Cooper at Frenship, 7 p.m. Friday.
Randy Rosetta is the publisher of HubCityPreps.com
Contact him at HubCityPreps.com or (806) 407-0188.
Follow on Twitter | @HubCityPrepsLBK & @RandyRosetta