Sports at any level is a journey of highs and lows. Injuries, out-of-position replacements and adjustments are almost guaranteed throughout the grueling span of a season. On the rare occasion, all three happen in one game. On Friday, Lubbock Christian battled adversity and overcame it nicely to barrel to a 36-6 win against rival Trinity Christian at Warwick Memorial Field.

As if traveling to enemy territory was not enough, the Eagles' uphill battle was amplified by a host of injuries. Trew Farris, Beck Paulger and Riley Dulin all sustained injuries during the game, but the Eagles showed resilience to fight for the win.
What started as a mess for Lubbock Christian turned into a defensive onslaught fueled by interceptions, forced fumbles and big hits.
The Lubbock Christian offense showed some promising flashes but struggled to gain consistent traction. The Eagles were forced out of their usual game plan by the cold and windy conditions and didn't attempt a pass in the first quarter. Instead, LC (4-0, 2-0 TAPPS Division III-District 1) resorted to the ground game to jump-start the offense, but turnovers riddled the Eagles.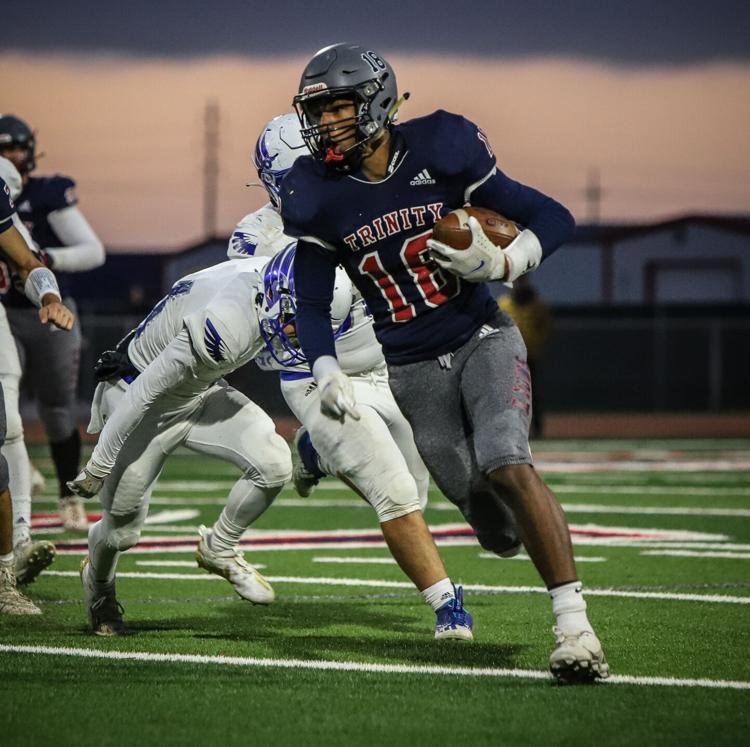 They had committed three turnovers all season coming in but lost the ball four times on Friday. Luckily for the Eagles, their defense anchored down and only allowed one score off of their errors, which came as a result of great field position.
Trinity Christian quarterback Davis Reeves' touchdown run, which came from an Eagle fumble, marked the Lion's only score of the night and gave his team the early 6-0 lead.
Despite getting threatened numerous times in the red zone, Lubbock Christian embodied "bend-don't-break" cliché and got strong, late-down stops to get the Eagles' offense back on the field.
The LC secondary and pass defense also shined bright in the biggest moments of the game. With momentum swaying in the Lions' favor a nearly 6-minute drive, Eagles' cornerback Cade Landrum came up with an interception on third down.
Turnovers once again came back to bite the Eagles when Alex Lack threw his second interception to give Trinity Christian the ball back. Despite the picks, Lack opened the gates for the Eagle offense with a pair of rushes to set up a touchdown. He ran for a game-high 108 yards on 21 carries with a pair of touchdowns.
Trinity's constant pressure created struggles for Lack throwing the ball. The Lions sent blitzes and were able to get to Lack several times. As a result, Lack rushed throws a bit and shortened his progression, but the pure athleticism and skill of Landrum and Major Due balanced things out.
Both receivers caught passes over double coverage, and both notched catches integral to keeping Eagles' possessions alive.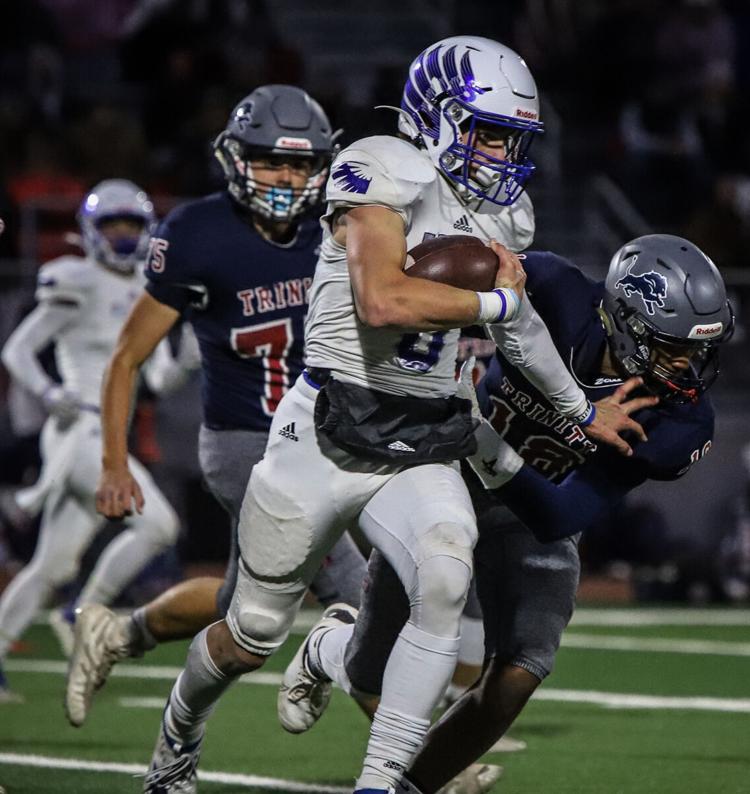 Landrum caught a 27-yard touchdown pass and Due caught a pass that set LC up with 1st-and-goal from the Trinity 6-yard-line. Receiver Jackson Smith punched in the resulting touchdown for Lubbock Christian for a 20-6 lead halfway through the third quarter as the offense began to find its stride.
When the offense matched the defense, Lubbock Christian knocked the air out of the Lions with Kaylom Coats setting the tone.
After a flurry of tackles, Coats put the nail in the coffin for the Eagles with a 90-yard pick-six to put his team up 28-6. Lubbock Christian added a final touchdown on Lack's 5-yard touchdown run with 2 minutes left in the game.
The Lions (3-3, 2-2) were not able to budge the Eagles' defense. Up front, Lubbock Christian smothered the Trinity Christian offense and wreaked havoc all night long. The Eagles' defensive line was susceptible to the outside run early, but when they adjusted, the Trinity offense went stale.
Both teams have home games next Friday: Willow Park Trinity visits Lubbock Christian for a 6 p.m. contest, while the Lions entertain Fort Worth Temple Christian at 6 p.m.
----------------------------------------------------
LUBBOCK CHRISTIAN 36, TRINITY CHRISTIAN 6
Lubbock Christian        6      6      8      16    --     36
Trinity Christian           6      0      0      0      --     6
TC -- Davis Reeves 9 run (run failed)
LC -- Alex Lack 1 run (run failed)
LC -- Cade Landrum 27 pass from Lack (pass failed)
LC -- Jackson Smith 6 pass from Lack (Kaylom Coats run)
LC -- Coats 90 interception return (Andrew Rendleman run)
LC -- Lack 5 run (Coats run)
TEAM STATISTICS
                                  LC                   TC
First downs             18                    11
Rushes-yards          40-129             37-145
Passing yards          256                 33
Total yards              385                 178
Passes                    15-23-2-2        5-10-2
Fumbles lost            2                     1
Penalties-yards        5-25                8-73
INDIVIDUAL STATISTICS
Rushing: Lubbock Christian -- Alex Lack 21-108, Trew Farris 4-21.
Passing: Lubbock Christian -- Lack 16-22-2 256 yards; Trinity Christian – Reeves 5-10-2 33 yards.
Receiving: Lubbock Christian -- Cade Landrum 5-74, Jaden Bullington 3-63, Jackson Smith 4-62, Major Due 2-36, Kaylom Coats 1-21, Karson Leatherwood 1-0.
Records: Lubbock Christian 4-0, 2-0 TAPPS Division III-District 1; Trinity Christian 3-3, 2-2.
Up next: Willow Park at Lubbock Christian, 6 p.m. Friday, Oct. 30; Fort Worth Temple Christian at Trinity Christian, 6 p.m. Friday, Oct. 30.