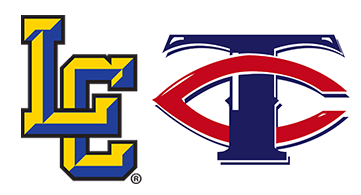 One play is never going to win or lose a football game. That doesn't mean the last snap of a spirited back-and-forth contest doesn't take on some huge meaning, though.
Lubbock Christian stopped Trinity Christian's final play a yard short of the end zone to preserve a wild back-and-forth 32-27 victory at Archie Warwick Memorial Field.
The Eagles finished the regular season with a perfect 10-0 record and nailed down the TAPPS Division III-1 championship with the stirring victory.
Despite trailing at several points, Lubbock Christian prevailed behind quarterback Alex Timmons' 222 yards on 11-of-22 passing.
Trinity Christian (4-5, 3-1 district) jumped out to a 14-0 lead thanks to running back Justin Franco's early touchdown scampers. The Eagles got on the scoreboard in the second quarter on two touchdown runs by Alex Lack, who ran for 113 yards.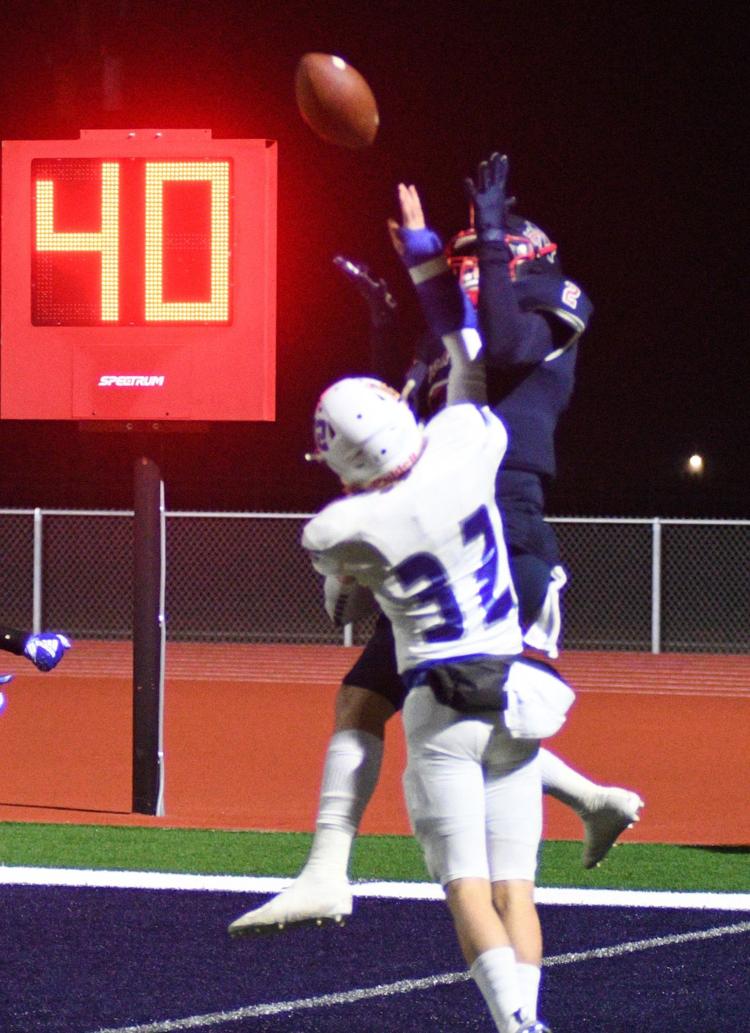 The second half was a back-and-forth contest as Lions' quarterback Kayl Ratliff teamed with Franco.
Trinity Christian felt comfortable with a 14-12 halftime lead, Lions' coach Kevin Spiller said.
"I think our defense was tremendous until the second part of the game," Spiller said. "Proud of our efforts because they're the best team in the state and we held them in check. We shot ourselves in the foot quite a bit at times. Their passing attack is hard to go up against. We run the ball. We can't simulate a pass-heavy attack in practice, but I think our guys fought. They showed they could compete with the best and now it's about moving into the playoffs."
Lubbock Christian wasted no time seizing control in the third quarter, taking its first lead on Lack's 12-yard touchdown rush. The Eagles struggled all night to convert the two-point conversions, so the Lions always stuck around.
Franco cashed in for Trinity Christian on its first drive of the second half, the Lions' first scoring march since the second quarter. Franco's 1-yard run put Trinity up 21-18 at the 3:11 juncture of the third quarter.
It didn't take long before Timmons found Cash Howard for a 26-yard scoring strike. Another failed point-after attempt left the Eagles with a 24-21 lead.
Franco was a workhorse for the Lions on a chilly night with 142 yards on 29 carries. He gave Trinity Christian the lead again with a 31-yard scamper early in the final period, but Jaxon Burnett missed the kick to leave the score 27-24.
"Credit to the Trinity Christian Lions," Lubbock Christian coach Chris Softley said. "They played a tremendous game and, honestly, they beat us. We had a lot to learn from that team and this narrow victory. We're going to celebrate but you just have to appreciate what Kevin and his guys are doing here. They get all the credit for a hard-fought game."
It was a hard-fought game right up until the final play.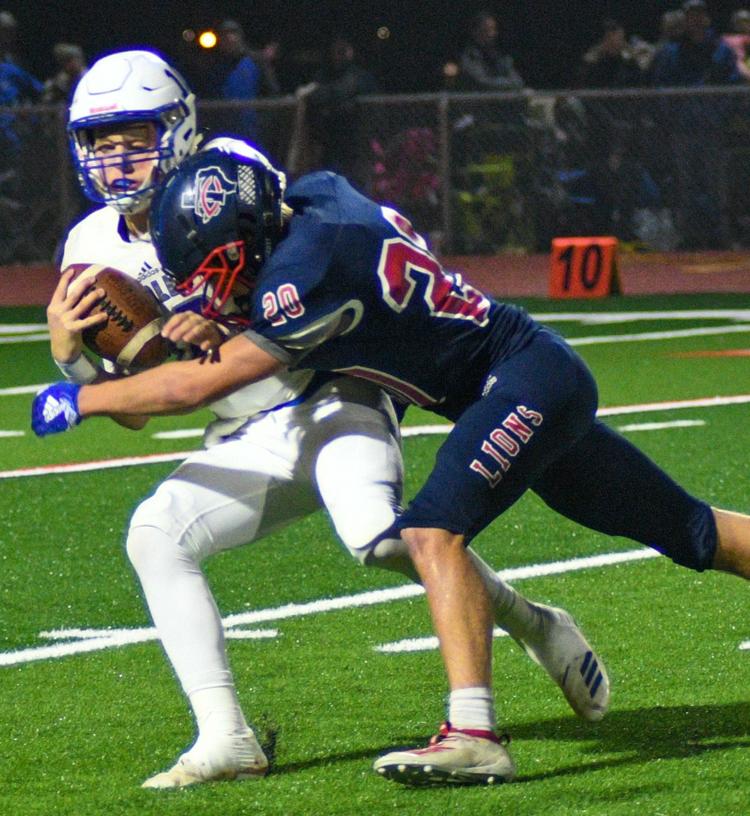 A Trinity Christian punt gave Lubbock Christian the ball and Timmons hooked up with Howard for a 21-yard TD with 4:40 on the clock. Those two connected for the Eagles' first successful two-point conversion of the game to put them up 32-27.
The Lions were in position to score following a defensive pass interference called on LC on a second-and-16 play. From the 50-yard-line, Ratliff hit his first completion of the game for 34 yards to Jake Ortiz. Five straight rushing plays moved the Lions to the 3-yard-line with 10 seconds remaining.
"Our nerves were calm during that drive," Timmons said. "We're coached like that by Coach Softley. We stay calm and just cheer on our defense. We have nothing but trust in them."
Ratliff threw the ball away to leave 6 seconds on the clock. Ratliff took the next snap and tried to bull into the end zone, but the Eagles defense swarmed the ball and took him down at the 1 to ice the game.
Next up for both teams is the opening round of the TAPPS Division III playoffs and both will host. Lubbock Christian will take on Arlington Grace Prep at 6 p.m. Friday at Lena Stephens Field, while the Lions draw Dallas Shelton, with the day still to be determined.
-------------------------------------
LUBBOCK CHRISTIAN 32, TRINITY CHRISTIAN 27
Lubbock Christian     0     12     12     8     --     32
Trinity Christian         7      7       7      6     --     27
TC -- Justin Franco 3 run (Jaxon Burnett kick)
TC -- Franco 11 run (Burnett kick)
LC -- Alex Lack 32 run (run failed)
LC -- Lack 19 run (run failed)
LC -- Lack 12 run (run failed)
TC -- Franco 1 run (Burnett kick)
LC -- Cash Howard 26 pass from Alex Timmons (run failed)
TC -- Franco 31 run (kick failed)
LC -- Howard 21 pass from Timmons (Lack pass from Timmons)
Team statistics
                            LC              TC
First downs        21               20
Rushes-yards     32-233        51-267
Passing yards     218             34
Total yards          451             301
Passes                 8-17-0        1-5-0
Fumbles-lost        1-1             1-1
Punts-Avg.           1-20.0         2-39.5
Penalties-Yards     9-75          6-55
Individual statistics
RUSHING: Lubbock Christian -- Alex Lack 13-125, Alex Timmons 17-109, Jaden Bullington 1-3, Kaylom Coats 1-(-)4); Trinity Christian -- Justin Franco 29-142, Kayl Ratliff 21-124, Jake Ortiz 1-1.
PASSING: Lubbock Christian -- Alex Timmons 8-17-0 218 yards; Trinity Christian -- Kayl Ratliff 1-5-0 32.
RECEIVING: Lubbock Christian -- Cash Howard 4-83, Alex Lack 4-66. Zeke Lott 1-42, Kaylom Coats 1-18, Brayden Martin 1-9; Trinity Christian -- Jake Ortiz 1-34.
Records: Lubbock Christian 10-0, 4-0 TAPPS Division III-1; Trinity Christian 4-5, 3-1.
Up next: TAPPS Division III bi-district playoffs – Arlington Grace Prep at Lubbock Christian, 6 p.m. Friday; Dallas Shelton at Trinity Christian, TBD.