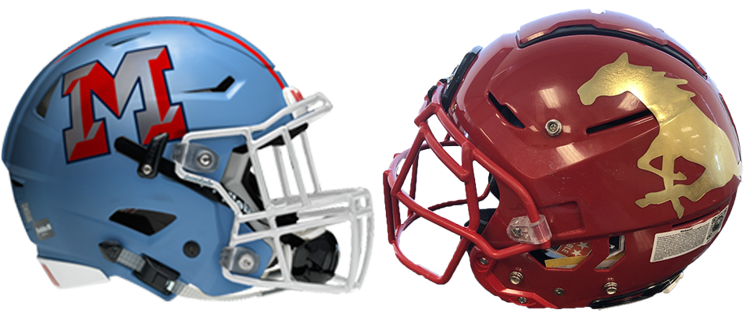 Among the many qualities that make Coronado so special this season, one is the adaptability to whatever game plan the opposing defense concocts to try and slow down the Mustangs' machine-like offense.
That valuable knack was on full display Friday night against rival Monterey in a post-Thanksgiving showdown at Plains Capital Park.
A tad rusty after a COVID-prompted bye week, and understandably a bit off-kilter from the holiday week when the normal schedule is disrupted, Coronado didn't click as well as usual -- and the Plainsmen had plenty to do with that.
So with his crew's offense looking to find a groove, Mustang coach Seth Parr reverted to an old-school approach that did the trick and spurred Coronado to a 40-14 victory.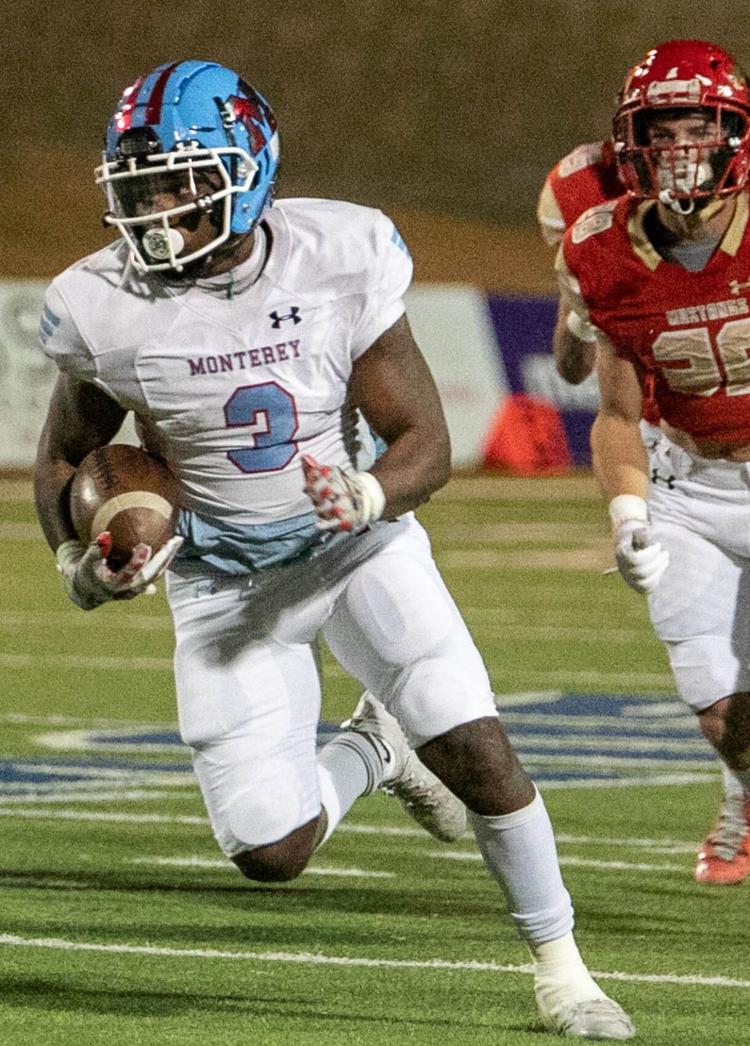 Monterey's defensive plan appeared to be to keep the talented stable of Mustang receivers in front of them and let Sawyer Robertson settle for short, quick throws. But there was also enough pressure on the Coronado star quarterback to make him consistently uncomfortable.
The result was a trio of three-and-outs intertwined with two touchdowns on an impressive opening series and a quick drive buoyed by a long connection between Robertson and Will Boyles for 37 yards.
Down 14-0, the Plainsmen got the Mustangs' full attention when Zyion Martin returned a punt 61 yards for a score at the 8:56 juncture of the second quarter.
"Any time you can get a big play like that, it's going to put some momentum on your side," Plainsmen coach Wayne Hutchinson said. "We just couldn't capitalize with it."
Mostly because the Mustang offense adjusted and re-established a different tone.
On the ensuing series, Parr dialed up five consecutive running plays to running back Jay'Kel McCutcheon and he carved out 5,7,6,38 and 1 yard to move the ball from the Coronado 26-yard-line to the Monterey 17. After two short pass plays left the Mustangs with a 4th-and-1, McCutcheon got the ball again for 6 yards to keep the chains moving. Four plays later, Devin Samples knocked a 21-yard field goal through the uprights for a 17-7 lead.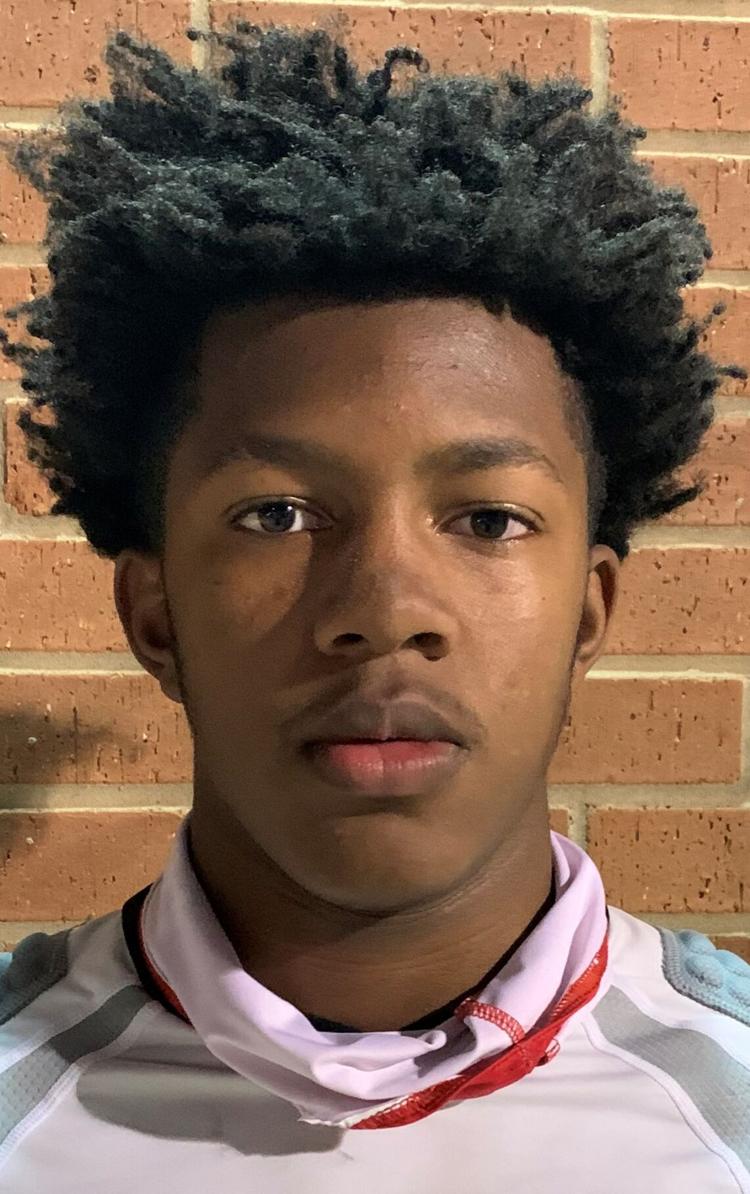 "They were really just dropping everybody back, so we changed it to a lot of runs and used our angles up the middle," said McCutcheon, who finished with 86 yards on 14 carries. He scored on a 17-yard run to cap the opening drive.
Added Parr, "Monterey did a good job of giving us different looks, and then we did a great job of changing our game plan and relying on the run. We just tried to figure out what was going to work."
Found it.
Once McCutcheon loosened the Plainsmen up, Robertson went back to work. There were still some hiccups -- Samples missed a short field goal right before halftime, Monterey's Justin Perez picked off a Robertson pass in the end zone and Coronado coughed up a fumble -- and the lead was still 26-7 midway through the third frame.
But the Mustang defense refused to give an inch and limited the Plainsmen big plays for most of the night. Monterey scrounged out only 65 total yards in the first half and managed just 6 yards on its first 11 snaps on the first three series of the third quarter.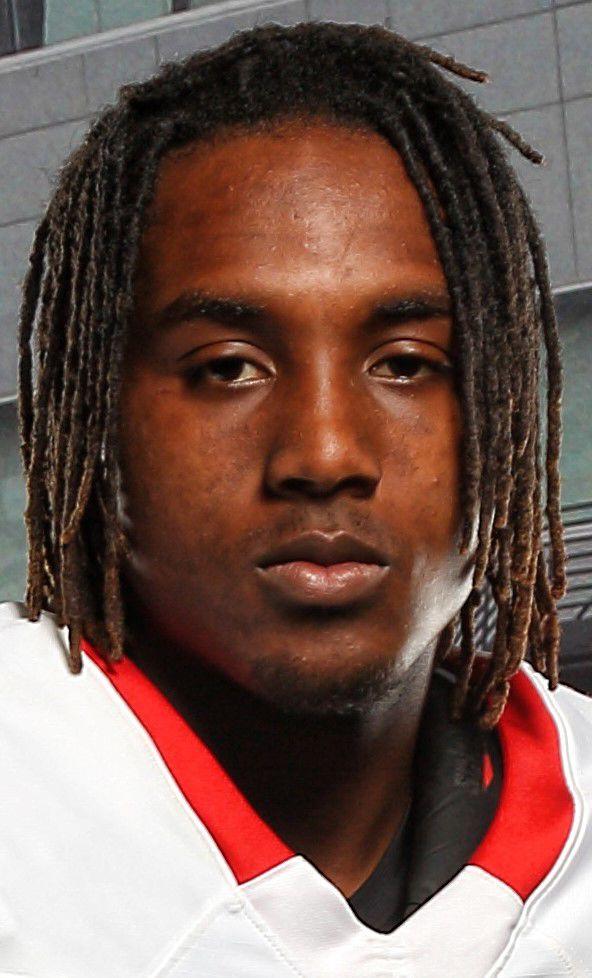 By forcing two punts and a notching a safety, Coronado's defense gave its offense time to find a groove.
"We knew they had good players and we had to stop them from the beginning," Mustang linebacker Izaiah Kelley said. "We wanted to shut them down from the start and not let them gain any confidence."
Added Hutchinson, whose team was shorthanded because of COVID that forced a forfeit to Tascosa, "You've got to move the chains against a good team like that. You can't keep giving them possessions and we didn't keep the ball away from them enough. Eventually they're going to wear you down."
Kelley trigged that process with a 21-yard punt return after the middle empty Monterey series of the third quarter. On the next two possessions, Robertson was on target on 5-of-6 throws for 69 yards with a 12-yard TD to Trevor Stephens. Rod Perry scampered 14 yards on a run to cap the second drive and nudge the lead to 40-7.
"Being off last week, we were just trying to figure out how to try to get our motors started," Parr said. "We came out a little sluggish, but that's to be expected. We still executed when we had to, and any time you can win a district game, you have to be happy."
The Mustangs and Plainsmen would both be ecstatic to emerge with a win in their regular-season finales. Coronado goes to Amarillo to take on Tascosa on Thursday in a showdown for the outright district championship, while Monterey hosts Palo Duro on Friday with the winner nabbing the final playoff spot.
"Obviously, we've been through a little bit of adversity this week and it comes down to this next week, especially for our seniors," Hutchinson said. "If they want to extend their season, make the playoffs and make some memories down the road, then we need to take care of business in practice this week and take care of business in the game next Friday."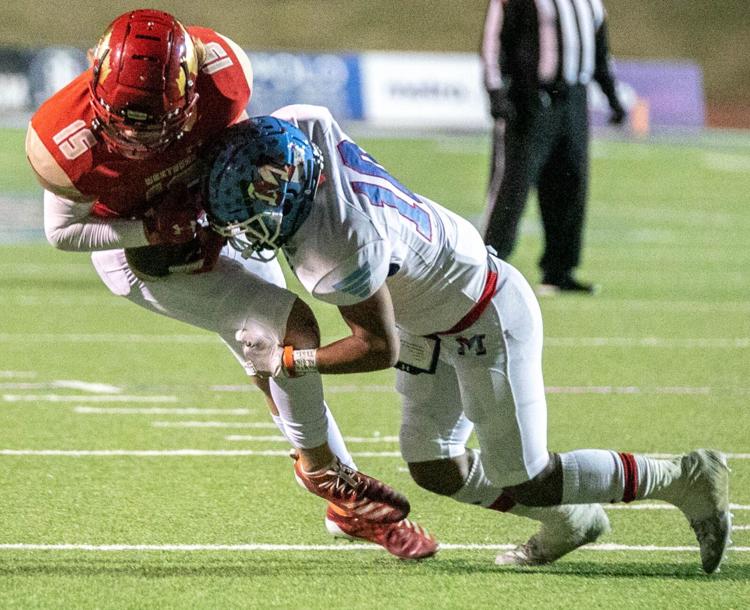 --------------------------------------------
CORONADO 40, MONTEREY 14
Monterey                0      7      0      7      --     14
Coronado               14    10    16    0      --     40
COR -- Jay'Kel McCutcheon 17 run (Devin Samples kick)
COR -- Cory Ferriera 4 pass from Sawyer Robertson (Samples kick)
MON -- Zyion Martin 61 punt return (Davien Jaramillo kick)
COR -- Samples 21 FG
COR -- Ferriera 11 pass from Robertson (Samples kick)
COR -- Safety, ball snapped out of the end zone
COR -- Trevor Stephens 12 pass from Robertson (Samples kick)
COR -- Rod Perry 14 run (Samples kick)
MON -- Andrew Garcia 19 pass from Blake Porter (Jaramillo kick)
TEAM STATISTICS
                                   MON              COR
First downs             11                    23
Rushes-yards          29-82               32-148
Passing yards         184                  281
Total yards              266                  429
Passes                    10-23-1           22-46-1
Fumbles-lost           1-1                   2-1
Punts-Avg.              6-35.7              4-50.5
Penalties-yards       8-43                 3-30
INDIVIDUAL STATISTICS
Rushing: Monterey -- Ky'Shon Harris 12-27, Trent White 4-26, Andrae Moore 6-16, Marquise White 1-8, Blake Porter 4-8, Giovanni Cleveland 1-5, Zyion Martin 1-0; Coronado -- Jay'Kel McCutcheon 14-86, Rod Perry 7-38, Logan Arnett 1-21, Bricion Griffin 5-3, Sawyer Robertson 5-(-) 1.
Passing: Monterey -- Porter 4-10-0 94 yards, Harris 6-13-1 90 yards; Coronado -- Robertson 21-42-1 275 yards, Jett Carroll 1-4-0 6 yards.
Receiving: Monterey -- M.J. Singleton 3-123, Trent Brown 3-34, Andrew Garcia 1-19, Zyion Martin 1-11, De'Onte Vaughn 2-(-) 3; Coronado -- Eli Martinez 5-102, Trevor Stephens 8-79, Will Boyles 3-51, Cory Ferriera 4-27, Perry 1-16.
Records: Monterey 3-5, 2-3 District 2-5A Division II; Coronado 9-0, 5-0.
Up next: Coronado at Tascosa, 7 p.m. Thursday; Palo Duro at Monterey, 7 p.m. Friday, Dec. 4.
--------------------------------------------
Randy Rosetta is the editor & publisher
Contact him at HubCityPreps@gmail.com
or (806) 407-0188.
@HubCityPrepsLBK | @RandyRosetta