Monterey and Lubbock High both went into the District 2-5A Division I regular-season finale on Friday knowing what the next step would be following the 63rd Battle for the Silver Spurs.
For the Westerners, their season would wrap up.
For the suddenly surging Plainsmen, it was about perfecting and polishing up for the playoffs thanks to a Coronado victory on Thursday night.
On Senior Night, Monterey remained headed in the right direction at Plains Capital Park with a 69-34 romp.
The Plainsmen (5-5, 3-3 district) head to El Paso next week to face District 1 winner Eastlake with the details yet to be determined.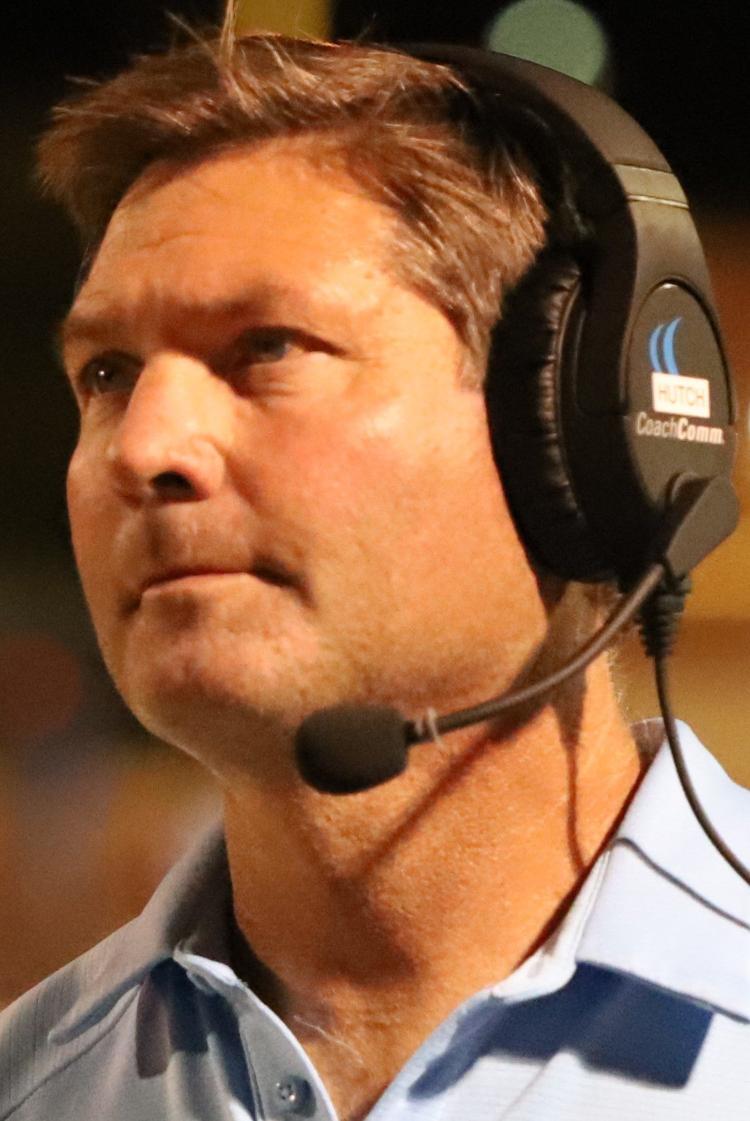 In a game when defense was almost non-existent, the road to a third consecutive victory did not look as pretty as Plainsmen coach Wayne Hutchinson had hoped. Monterey was tagged for 14 penalties, most on jumped snaps and offside calls that aided Lubbock High's drives.
"It's just one of those things -- you've got to watch the football," Hutchinson said. "You can't have those. You've got to be a little more disciplined and not have those offside calls."
Despite the penalties, Hutchinson said he was proud of the way his team finished out the game, posting 520 yards of offense on only 37 plays, many on big plays by junior wide receiver MJ Singleton, who had five catches for 131 yards and four touchdowns. Tyrie Tipton snared four balls for 127 yards and one TD. Quarterbacks Coreon Bailey and Ky'Shon Harris combined to throw for 346 yards.
"I thought we played really well in a lot of areas," Hutchinson said. "It's one of those games where you get the lead, you try to (substitute), get some (onside kicks).
"We had to put our starters, back in, and then it's just kind of back-and-forth. But overall, I think we played well and did what we need to do to win the ballgame."
Monterey was sharp in the first half with five of its eight scoring drives taking at most two plays and producing 41 points.
Singleton got the scoring fest going 2 minutes into the game with a 34-yard rushing touchdown. With 20 seconds left in the first quarter, Bailey drove a quarterback keeper 18 yards into the end zone.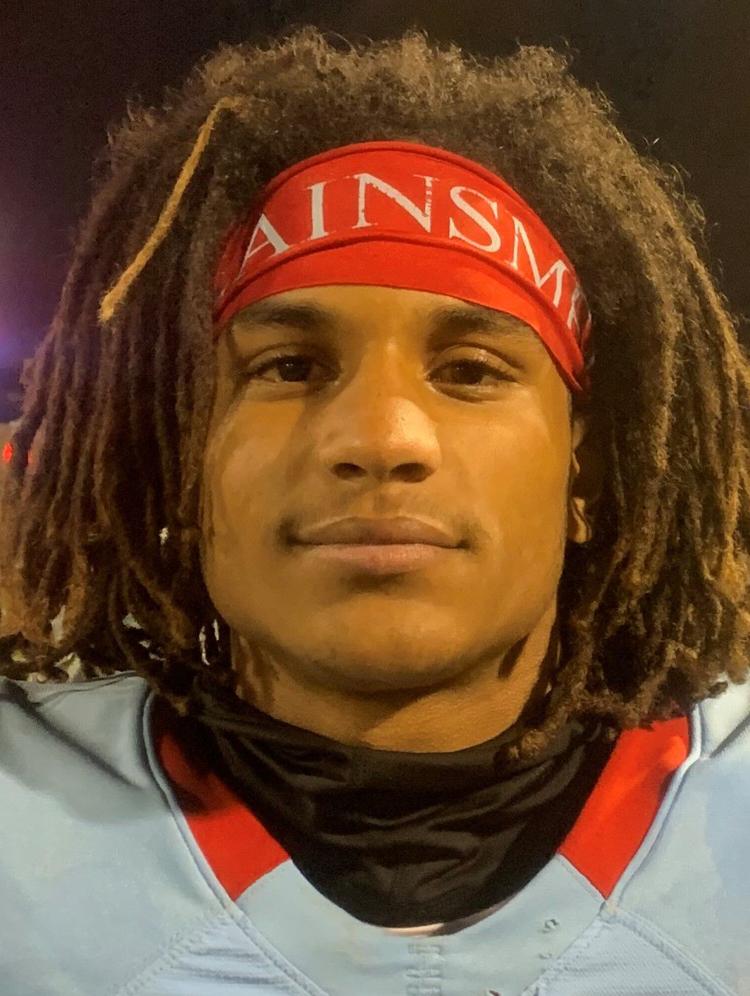 Defense more or less disappeared after the first quarter.
The Plainsmen and Westerners (1-9, 0-6) combined for 31 points in the second quarter, making the score 41-14 at halftime with both teams trying to figure out how to make defensive corrections.
Singleton continued to hurt the Lubbock High defense.
With Harris taking over at QB, Singleton grabbed 10-yard pass for his third touchdown of the night. Singleton used a simple yet powerful word to describe the team's offensive output.
"We just executed each play," Singleton said. "All my teammates, we were out there playing for each other. That was pretty much it. We just went out there and executed.
"There was really no thinking (in posting 69 points against Lubbock High). We just went out there and played. Execute each play and see what happens."
Hutchinson said momentum will be the big factor carrying the Plainsmen into the postseason.
"We're on a three-game winning streak and we're playing really football right now, and we're playing good football at the right time," he said.
Lubbock High won only one game for the second year in a row under Shane Stephen, but Friday was another example of the Westerners' grit even when they have been down.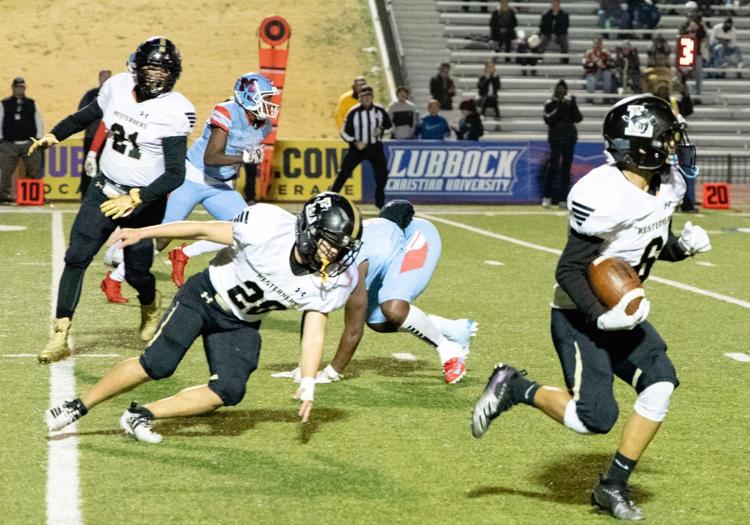 Junior quarterback Brandon Smith tossed a pair of touchdown passes in the second quarter -- 50 yards to Owen Fuambu and 13 to Maurice Ramirez.
The Westerners went onside with several kickoffs and while the outcome was never in doubt after Monterey's explosive start, Lubbock High never waved a white flag.
Smith flung the ball around 39 times and completed 20 for 226 yards with three scoring strikes. Junior receiver Noe Tijerina was back in action and hauled in 9 passes for 102 yards, while Fuambu wrapped up his career with three grabs for yards. Rodney Hunter, one of 15 Westerner seniors, ran the ball a season-high 17 times for 74 yards.
--------------------------------------------
MONTEREY 69, LUBBOCK HIGH 34
Lubbock High     0     14       7     13     --     34
Monterey          14     27     14     14     --     69
MON -- MJ Singleton 34 pass from Coreon Bailey (Rocky Ramos kick)
MON --  Bailey 18 run (Ramos kick)
MON -- Bailey 66 run (Ramos kick)
MON -- Ty Williams 11 run (Ramos kick)
MON -- Tyrie Tipton 46 pass from Ky'Shon Harris (Ramos kick)
LUB -- Owen Fuambu 50 pass from Brandon Smith (William McNamara kick)
LUB -- Maurice Ramirez 13 pass from Smith (McNamara kick)
MON -- Singleton 25 pass from Harris (kick failed)
MON -- Singleton 10 pass from Harris (Ramos kick)
LUB -- Smith 1 run (McNamara kick)
MON -- Tipton 67 pass from Harris (Ramos kick)
LUB -- Rodney Hunter 7 run (McNamara kick)
MON -- Singleton 34 pass from Harris (Ramos kick)
LUB -- Brandon Ortiz 8 pass from Smith (kick failed)
MON -- Christian Combs 57 run (Ramos kick)
                                LUB                MON
First downs             24                    18
Rushes-yards          37-106             21-174
Passing yards          226                  346
Total yards              332                  520
Passes                    20-39-0            13-16-1
Punts-Avg.              3-30.7              1-41.0
Fumbles-lost           3-2                   1-0
Penalties-Yards       11-85               14-114
Individual statistics
Rushing: Lubbock High -- Rodney Hunter 17-74, Keith Ramirez 10-18, Brandon Smith 6-15, Benny Soto 3-1; Monterey -- Coreon Bailey 6-102, Christian Combs 3-49, Ky'Shon Harris 4-45, Ty Williams 5-3.
Passing: Lubbock High -- Brandon Smith 20-39-0 226 yards; Monterey -- Harris 8-10-0 260 yards, Bailey 5-6-1 86 yards.
Receiving: Lubbock High, Noe Tijerina 9-102, Owen Fuambu 3-50, Harley Rojas 2-34, Maurice Ramirez 2-18, Rodney Hunter 4-13, Brandon Ortiz 1-9; Monterey -- MJ Singleton 5-131, Tyrie Tipton 4-127, Zyion Martin 2-46, Donavaughn Hill 2-42.
Records: Monterey 5-5, 3-3 District 2-5A Division I; Lubbock High 1-9, 0-6. 
Up next: Class 5A D1 bi-district playoffs -- Monterey at El Paso Eastlake, TBD.