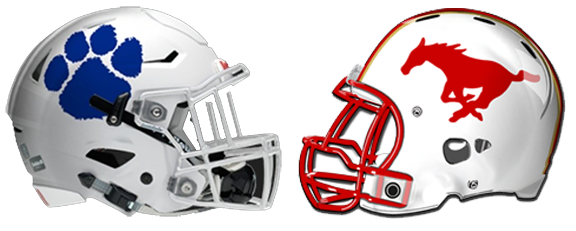 Frenship at Coronado
WHEN: 7 p.m.
WHERE: Lowrey Field at PlainsCapital Park
RADIO: 97.7-FM
TV: Fox News Now (tape-delayed until 8:30 p.m. Saturday & 8:30 p.m. Sunday)
LIVESTREAM: www.Frenship.TV (live)
2019 RECORDS: Frenship 7-4, Coronado 7-5
LAST MEETING: Frenship won 44-17 in 2015.
BREAKDOWN
The Battle for Frankford Avenue kicks back up after a five-year hiatus. Both teams come into the season with high aspirations but for different reasons. For the Tigers, there is hope that 2019 was a segue into regular playoff contention after some rebuilding pains. Coronado, meanwhile, take aim at getting back to the dominant level they reached in 2017-18. The Mustangs went through their own rebuild a year ago, but still managed to claim a postseason berth and claim a bi-district win. The key matchup pits Mustang senior QB Sawyer Robertson and his talented receivers against a Tiger defense that has a different, but not totally new look. Look for Frenship's offense to be more geared to the run with senior William Bayouth and first-year varsity quarterback Chad Pharies, who is a solid dual threat.

Caprock at Lubbock-Cooper
WHEN: 7 p.m.
WHERE: Pirate Stadium
RADIO: 100.7-FM
LIVESTREAM: www.LCPsports.com
2019 RECORDS: Caprock 2-8, LCP 13-2
LAST MEETING: LCP won 55-17 in 2015.
BREAKDOWN
The Pirates enter the new season ranked No. 3 in Class 5A Division II after a spectacular 2019 campaign when they came within a controversial no-call of advancing to the state championship game. Defense figures to be the strength for LCP, with Kobie McKinzie, Garison Smitherman, Kyler Jordan and Jordan Kirkpatrick all back. The offense will have to reload, but senior quarterback Cooper LaFebre returns and has tight ends Cameron Bednarz & Ben Marcinkowski at his offensive fingertips. Caprock doesn't figure to pose a major test, but the Longhorns will be athletic and should be a good first step as LCP embarks on what looms as a potentially historic season.

Estacado at Andrews
WHEN: 7 p.m.
WHERE: Mustang Bowl in Andrews
RADIO: 1340-AM
RECORDS: Estacado 1-3, Andrews 3-1
LAST WEEK: Estacado 41, Hereford 6; Andrews 54, Seminole 13
LAST MEETING: Andrews won 48-21 in a Class 4A bi-district playoff game.
BREAKDOWN
The Matadors found their groove last week against Hereford, riding a quick start – a first this season – to the lopsided victory. T.J. Steele scored four touchdowns on nine touches and will be the focal point of an Andrews defense that has been susceptible to big chunk plays this season. The Mustangs' offense has been tough to slow down: They are averaging 444.5 total yards a game, led by quarterback E.J. Lopez's 1,205 yards and 17 touchdowns. Estacado's defense has been has continually improved against a rigorous schedule, culminating with a smothering effort last week when the Mats limited Hereford to 114 yards and 7 first downs.
Other games 
Lubbock Christian at Fort Worth Temple Christian, 6 p.m.
Trinity Christian at Calvary Christian, 6 p.m.
All Saints at Midland Trinity, 7 p.m.
Kingdom Prep at Wichita Falls Notre Dame, 7 p.m.