Several months have passed since the 2019 season wound down, but the thrill and memories of a monumental season for Hub City teams linger.
Here is a look back at the Top 10 games of a 2019 campaign when eight city programs advanced to the playoffs, five won at least one postseason game, Estacado reached the regional quarterfinals, Cooper punched a ticket to the state semifinals and Lubbock Christian vied for a state championship.
Click on the hyperlink for each of the 10 games to read the recap and vote in the HubCityPreps.com poll for your favorite game.
10. WEEK 10 | Lubbock-Cooper 37, Randall 31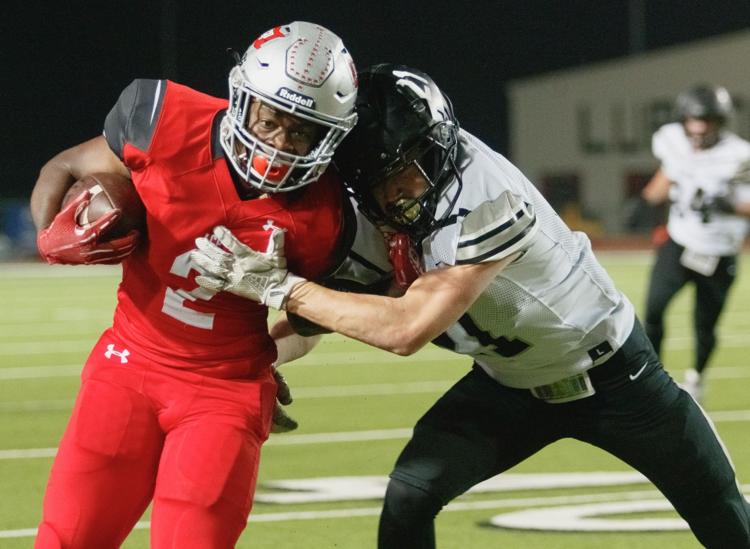 Randall made sure the final step in Cooper's road to repeating as the District 3-5A champion was a major chore. Pushed as hard as it had been in two seasons in the district, LCP relied on its unsung depth in the offensive backfield and a defensive stand in the closing minutes to prevail. Getting past Randall took every bit of execution Cooper could muster, along with contributions from two backs who operated outside the limelight much of this season. Backup tailback Tyler Hairston wiggled loose for a 41-yard TD camper just 31 seconds after Randall grabbed a 4th-quarter lead. Jacob Dennis plowed in for the two-point conversion to add to a night when he also scored a touchdown late in the third quarter. Hairston (6 carries for 62 yards) and Dennis (6-60) were stronger-than-usual complements in the Pirate rushing attack, which churned out 244 yards on 20 attempts. Nehemiah Martinez led the way with 78 yards on four totes and Isaiah Johnson ran for 53 yards on three attempts.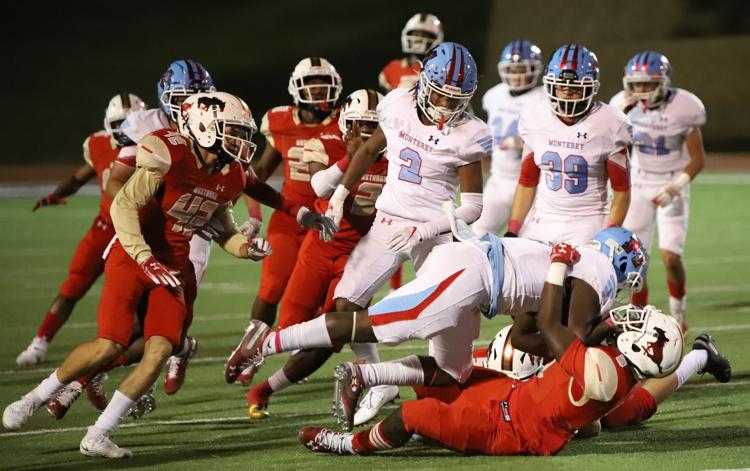 9. WEEK 8 | Coronado 58, Monterey 48
In a game dominated by two high-flying offenses, the Mustangs came up with a pair of huge defensive plays, then withstood  a last-gasp Plainsmen surge. Izaiah Kelley's fumble return for a touchdown and Charlie Robinson's 26-dash on a fumble return to set up a field goal gave Coronado some first-half breathing room. Coronado quarterback Sawyer Robertson passed for 509 yards and 5 touchdowns to offset a big night for the Monterey offense. With Robertson as the trigger man, four Mustang receivers topped the 100-yard plateau, led by Eli Martinez with 135. Martinez, Jon Hernandez and Will Boyles each caught 9 passes. Martinez and Hernandez snared a pair of touchdowns apiece. The Plainsmen outgained Coronado 562-552, with quarterbacks Coreon Bailey (325 passing yards, 82 rushing yards) and Ky'Shon Harris (35 passing, 89 rushing) providing the bulk of the damage. Monterey snapped the ball 99 times and churned out 35 first downs.
3. AREA-ROUND PLAYOFF | Estacado 40, Graham 21

When one of Estacado's primary pistons wasn't firing like it did most of the season, somebody had to step into the void Friday against a gritty Graham team. That turned out to be quarterback Jay'lon Dobbins, and with the other pillar of a special Matador season doing what it had all season, that was enough. Dobbins passed for a career-best 358 yards and 5 touchdowns and receiver TJ Steele was a spectacular wing man with five receptions for 256 yards, four that yielded big-play touchdowns on a night when the Steers bottled up tailback Jermiah Dobbins. Meanwhile, the Estacado defense choked off just about every uprising Graham produced, especially in the first half and with the help of four interceptions. Graham's defense locked Jermiah Dobbins down until his final carry, limiting the dazzling senior to 114 rushing yards on 21 carries. He didn't get loose for one of his patented explosive runs until he raced 44 yards for the Matadors' final touchdown with 3:52 left in the game. When the bread-and-butter wasn't on the menu, Estacado's offensive coaches turned the game over to Jay'lon Dobbins and the junior came up huge. He connected on 15-of-23 throws, buoyed by touchdowns to Steele for 59, 78, 77 and 31 yards.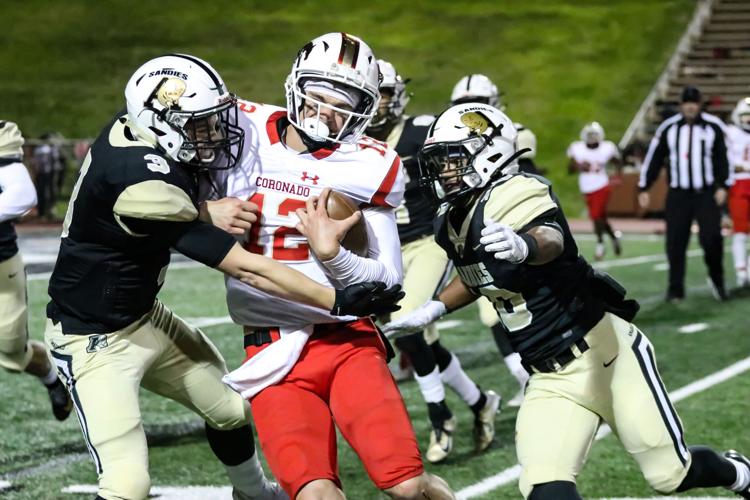 7. WEEK 7 | Amarillo 31, Coronado 28
Coronado occupied the driver's seat most of the night against Amarillo High, but it was an uneasy perch at best. A late turnover and the Sandies' flair for the dramatic showed exactly why the Mustangs' seat was uneasy. Amarillo kicker A.J. Villar connected on a 36-yard field goal as time expired to give the Sandies their only lead of the night. The ball wound up in Amarillo's hands when Cole Boxwell stripped the ball from sure-handed Coronado quarterback Sawyer Robertson, who lost a fumble on a scramble inside the final 2 minutes and Trey Thomas recovered. The Sandies moved from the 35-yard-line to the 19 and with 2.6 seconds on the clock, Villar trotted onto the field and snapped a 28-28 deadlock.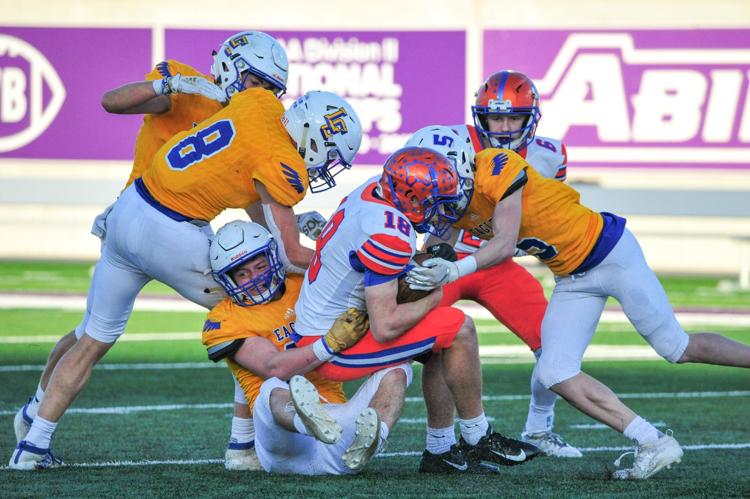 6. STATE SEMFINALS | Lubbock Christian 63, Covenant Christian 32
Coach-speak and catch phrases can become a mundane afterthought for football players, especially 13 weeks into the season. When the words are accurate and keep finding the target for an interested congregation, though, there's absolutely no reason to change the sermon. In a state semifinal showdown against Colleyville Covenant Christian, Lubbock Christian weathered the Cougars' early offensive onslaught with an in-game offensive tweak that fit with the game plan, mixed in a defense that took the ball away five times and never looked back once they took the lead. Eagles' quarterback Alex Timmons passed for 312 yards and 6 touchdowns and ran for 144 more and a score, Zeke Lott was a two-way nemesis with six catches for 72 yards, a fumble recovery and a key interception and Alex Lack shrugged off a tough day running the ball with two pick-6s in the fourth quarter that added the final nails to Covenant's coffin. Lubbock Christian wound up breathing fairly easily at the end despite falling behind 6-0 and 12-8 when the Cougars converted two short fields into 50-yard touchdown drives.
5. BI-DISTRICT PLAYOFF | El Paso Americas 36, Frenship 35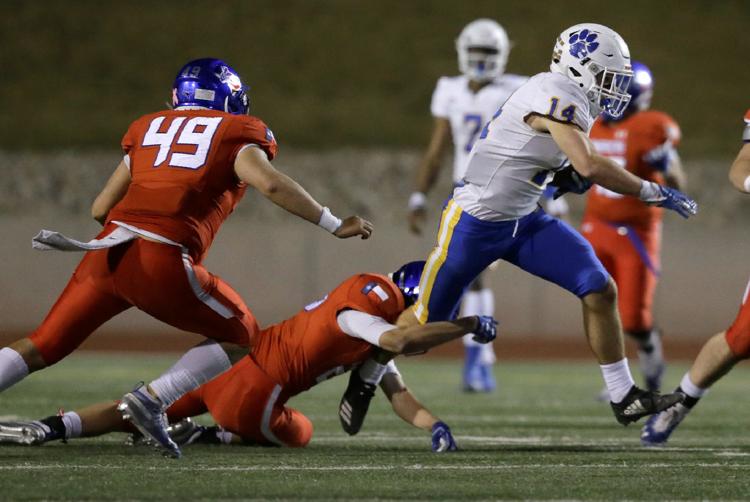 El Paso Americas running back Aaron Dumas was near impossible for defenses to stop the last two seasons, and Frenship's defense didn't have a whole lot more luck with the physical fireplug of a runner. As good as Dumas was though, it took a handful of timely contributions from unexpected sources and in all shapes and sizes for Americas to edge the Tigers. Dumas fought into the end zone for a two-point conversion with 1:51 to go to put Americas on top for the first time all night, and the Trailblazers sealed the win on a rare miscue by Frenship quarterback Donovan Smith when Nathan Alvarado picked off a pass with 1:12 on the clock. Americas dashed any Tiger hopes of a last-second comeback by running out the rest of the time, fittingly with Dumas whirling for a 13-yard pickup to convert a third down to put the cherry on a spectacular 49-carry, 340-yard performance. Alvarado's pick was the unfitting end to Smith's marvelous one-season whirlwind at Frenship after he transferred in from Las Vegas Bishop Gorman. His final game yielded 229 passing yards and 56 rushing yards with three scoring runs.
4. WEEK 11 | Lubbock Christian 32, Trinity Christian 27
One play is never going to win or lose a football game. That doesn't mean the last snap of a spirited back-and-forth contest doesn't take on some huge meaning, though. Lubbock Christian stopped Trinity Christian's final play a yard short of the end zone to preserve a wild back-and-forth 32-27 victory to close out the regular season for both teams. Despite trailing at several points, Lubbock Christian prevailed behind quarterback Alex Timmons' 222 yards on 11-of-22 passing. Justin Franco was a workhorse for the Lions on a chilly night with 142 yards on 29 carries. A Trinity punt gave Lubbock Christian the ball late in the final period and Timmons hooked up with Howard for a 21-yard TD with 4:40 on the clock. Those two connected for a two-point conversion of the game to put the Eagles up 32-27. The Lions were in position to score following a defensive pass interference called on LC on a second-and-16 play. From the 50-yard-line, Kayl Ratliff hit his first completion of the game for 34 yards to Jake Ortiz. Five straight rushing plays moved the Lions to the 3-yard-line with 10 seconds remaining. Ratliff threw the ball away to leave 6 seconds on the clock, then took the next snap and tried to bull into the end zone, but the Eagles defense swarmed the ball and took him down at the 1-yard-line to ice the victory.
3. WEEK 1 | Estacado 36, Coronado 30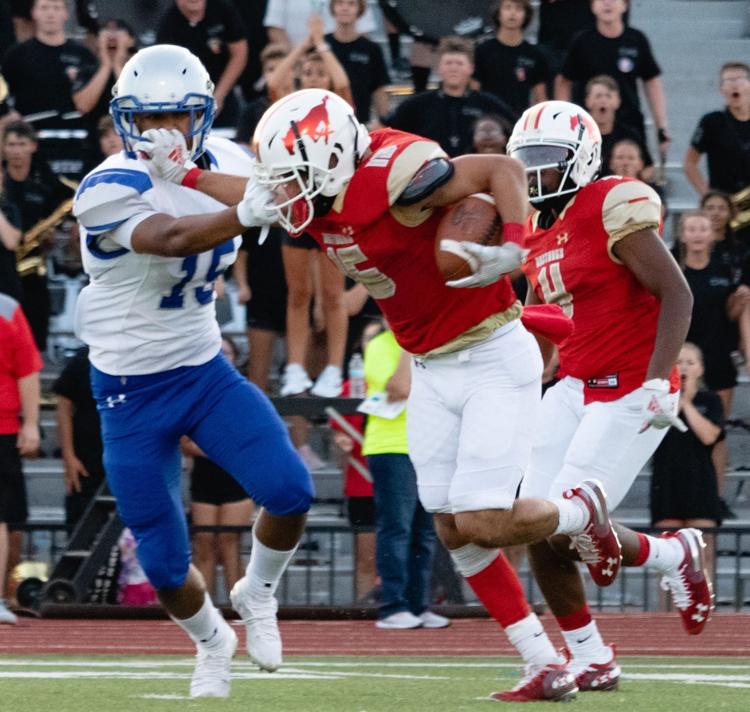 On a night when so many stars shined brightly on offense for both teams, it was predictable that one of those marquee names would strike the final big blow in a game that was destined to go down to the wire. Predictable, maybe. Correct? Not so much. Estacado notched a stirring victory with a backup quarterback's timely touchdown pass to one of the Matadors' best athletes and senior leaders as the game-winner. Cramps sent Estacado's starting quarterback Jay'Lon Dobbins to the sideline as his team was trying to regain the lead in the closing minutes, but sophomore quarterback Colby Sims came on and rifled a 35-yard pass to Keke Murray, a starting cornerback who inserted himself into the lineup seconds before the play. Murray high-stepped into the end zone with 1:29 to go and Johnny Gomez's extra point pushed the lead to 36-30. The final touchdown finished a stretch when the two city foes swapped the lead three times. Coronado took a 24-23 lead into the fourth quarter, the result of Cooper Hamilton's 35-yard field goal on the Mustangs' first series of the second half. In the loss, Coronado quarterback Sawyer Robertson passed for 266 yards with Jon Hernandez snaring six passes for 165 yards.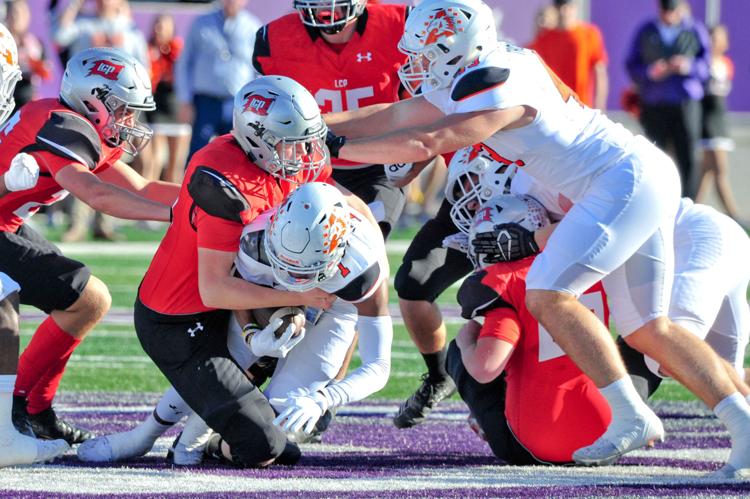 2. STATE SEMIFINALS | Aledo 28, Lubbock-Cooper 21

How much a loss stings has to do with a lot of factors. Point of the season. How close a game is 00 and whether it was expected to be as close as it turns out. Whether there was any controversy. All of those go into the mix. Lubbock-Cooper's season ended with all of those ingredients swirled together, and the sting will linger for a while. The Pirates' historical season ended with a to Aledo in the Class 5A Division II state semifinals on Saturday in a game when Cooper stuck closely to the script it had to follow to pull the upset against one of the state's most established powers. Everything seemed to click nicely into place for the Pirates to stage a major upset and push their magical season to the state championship game … only it didn't happen. Aledo running back Jase McClellan slashed into the end zone on a 2-yard run with 1:55 to go in the game – and one snap after he was ruled down on a play when he coughed up the ball and Cooper's Carter Bradley recovered. But the lead official ruled that the Bearcat back was down before the ball came out. Several videos circulated before the game had even ended that showed otherwise. The Pirates had the ball after the TD but couldn't carve out a first down after churning out two 75-yard drives earlier in the second half to stand toe-to-toe with Aledo. The Bearcats ran out the final 58 seconds to slam the door on LCP's season, a bad enough taste left saltier by the late-game no-call.
1. WEEK 3 | Frenship 61, Cooper 53 (4 OT)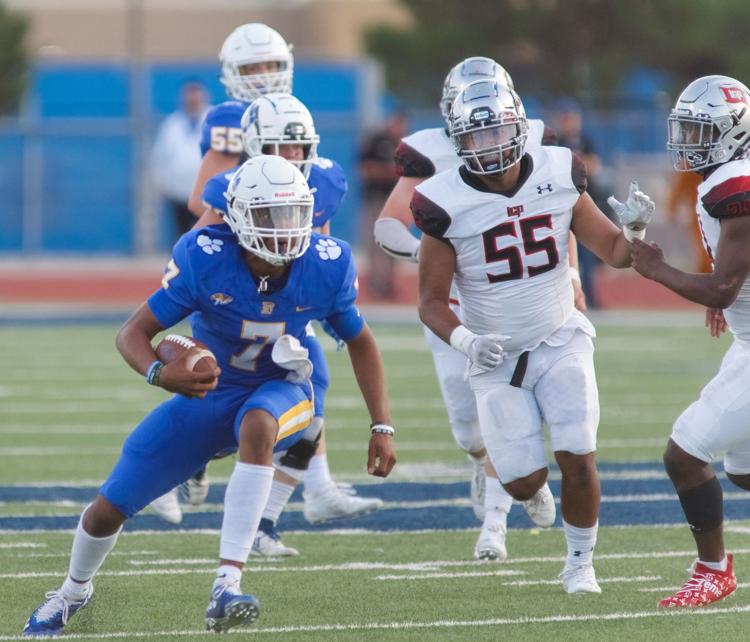 Somewhere down the road when the players and coaches from Lubbock-Cooper and Frenship recall the time they played four overtimes one night, there will be plenty to talk about. The memories are firmly planted in their minds for now but trying to remember every detail of a wild night won't be easy. Both teams had to execute, overcome mistakes, adjust and re-adjust as the game wore and dig down deep for the kind of energy and emotion that punctuate the kind of masterpiece performance that unfolded. After 48 minutes and four overtimes fueled by big offensive plays, it was Frenship's defense that finally slammed the door with four gritty stops that kept Cooper from scoring again. Colton Anderson hammered Pirate bulldozer running back Isaiah Johnson for a 2-yard loss on 4th-and-3 to nail down the scintillating triumph. The Tigers produced the winning points on their third touchdown drive in OT with William Bayouth capping the last one on a 4-yard run after he got Frenship revving with a 16-yard blast on the first play of the series. Typical of the night -- and especially the OTs -- the two-point conversion was spectacular. Tiger quarterback Donovan Smith rolled left, stopped dead in his tracks then heaved the ball back across the field into the end zone where Jordan Maden dashed along the back line, leapt and snared the ball over a defender. Smith threw for 267 yards and 4 touchdowns and ran for 107 yards and two other scores. Maden yanked down 7 passes for 114 yards and a pair of TDs and ran for a 7-yard score in overtime. Smith and Maden accounted for both of the Tigers' two-point conversions, swapping roles on the first on a reverse pass from the receiver to the quarterback.
-----------------------------------------------------------------
Randy Rosetta is the publisher of HubCityPreps.com
Contact him at HubCityPreps.com or (806) 407-0188.
Follow on Twitter | @HubCityPrepsLBK & @RandyRosetta