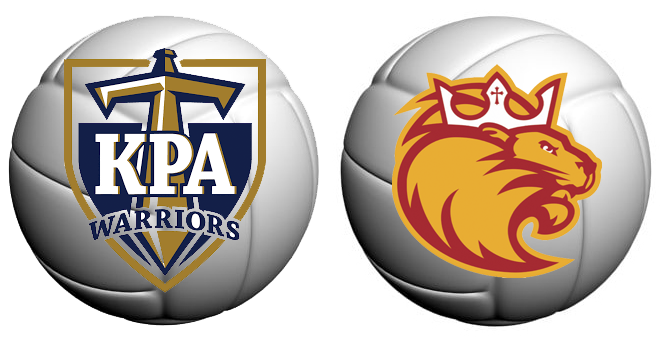 Kingdom Prep seniors Natalie Poe and Bella Rodgers know what is on the line in the program's fourth season begins to wind down -- a share of the team's first TAPPS District 1-2A championship.
The Warriors rallied to keep that dream alive by defeating Christ the King 21-25, 25-22, 25-19, 25-15 on Friday to set up a meaningful final week of the regular season
KPA (22-10, 8-0 district) plays at Southcrest Christian on Tuesday before hosting All Saints next Friday in what looms as a showdown for the district crown.
"Christ the King really showed up (Friday)," Warriors' coach Robert Flores said. "From the first set, they came out and hit us in the mouth. They took that first set off of us. I felt like there was nothing open."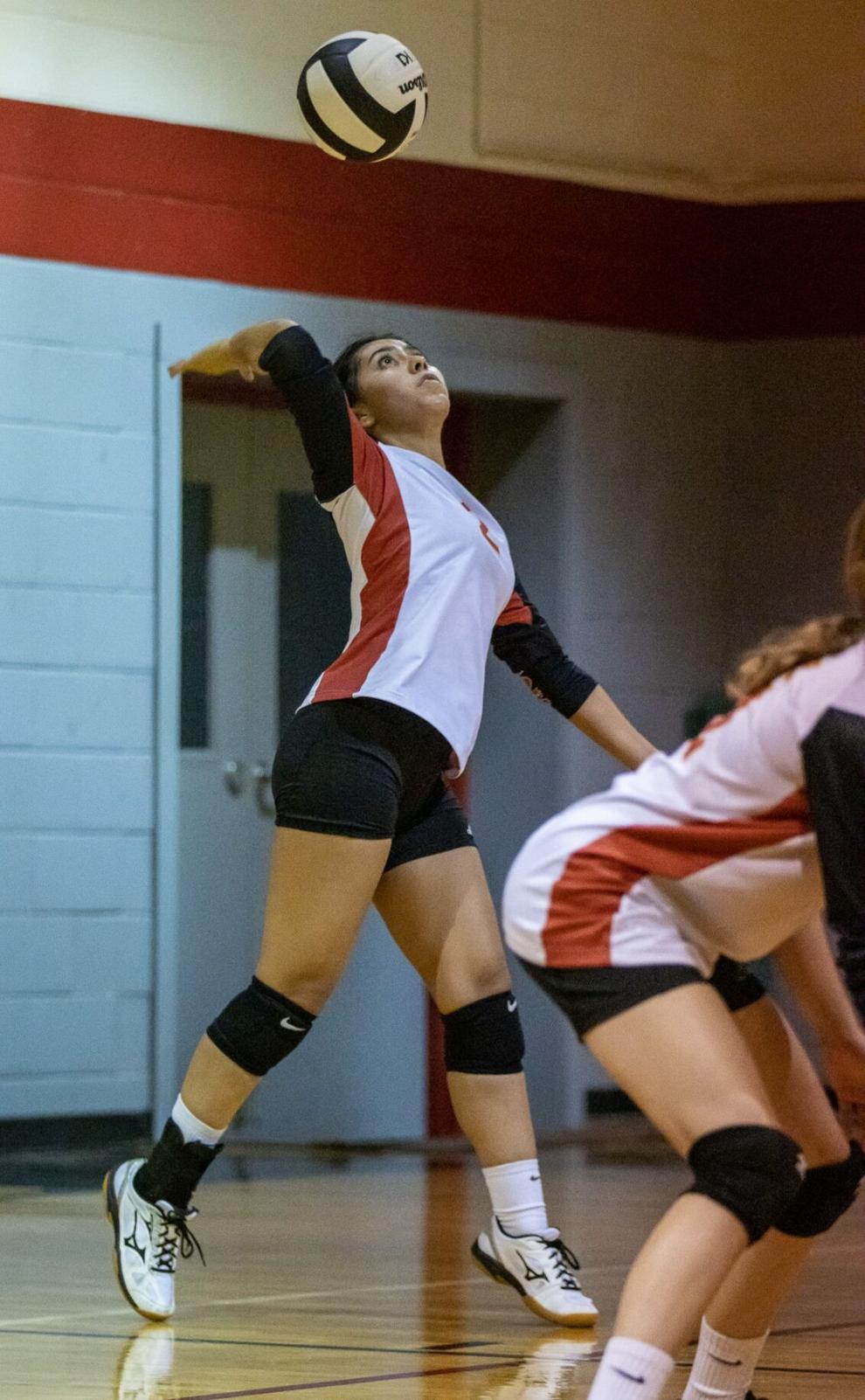 But KPA persevered, thanks to a group of veteran seniors and the help of freshman setter Karlee Flores, who stepped up after an injury benched the team's starter. She finished the night with 41 assists and an ace.
It was an adjustment for the team, but after Kingdom Prep fell into form, it was hard to stop the Warriors' attack.
"We were recovering from some crazy stuff this week," said Poe, who recorded 26 kills and 23 digs. "It was hard to stay focused in the game.
"Karlee did a good job keeping her cool and working hard. She almost built the rest of us up with how hard she was working."
As well as the freshman played on Friday night, the seniors have done an exceptional job of creating one of the top teams in a rugged district.
Poe and Rodgers are two of four seniors on KPA's roster looking to finish their high school career with accolades the team hasn't seen before.
"These seniors now, as freshmen, never played volleyball in their careers," Flores said. "They hadn't played club. They hadn't played recreational. To see from that first year, four years ago, when they were freshmen, winning one set the entire year as a (junior varsity) team to now being a varsity team at 8-0 in district with one win away to winning a district championship, is truly unreal. When I look at these seniors, I am just completely proud of everything they have done."
The Golden Lions didn't make it easy, though.
Christ the King (13-10, 4-6) came out swinging and stole the first set from their district rivals. The Golden Lions capitalized on a handful of Kingdom Prep errors, and senior Ana Redondo tipped the ball over the net to capture the lead for her team at 12-11 after a back-and-forth exchange.
It was CTK's set from there as it went on to win the opener.
"It was a really well-played game on both sides," Golden Lions' coach Mike Millner said. "We came out with a lot of energy and played at about the highest level we have played in the first half of it. They kind of wore us down with their swings. They are a great team. Maybe the top team in the state."
The Warriors didn't give up after suffering a tough blow in Game 1.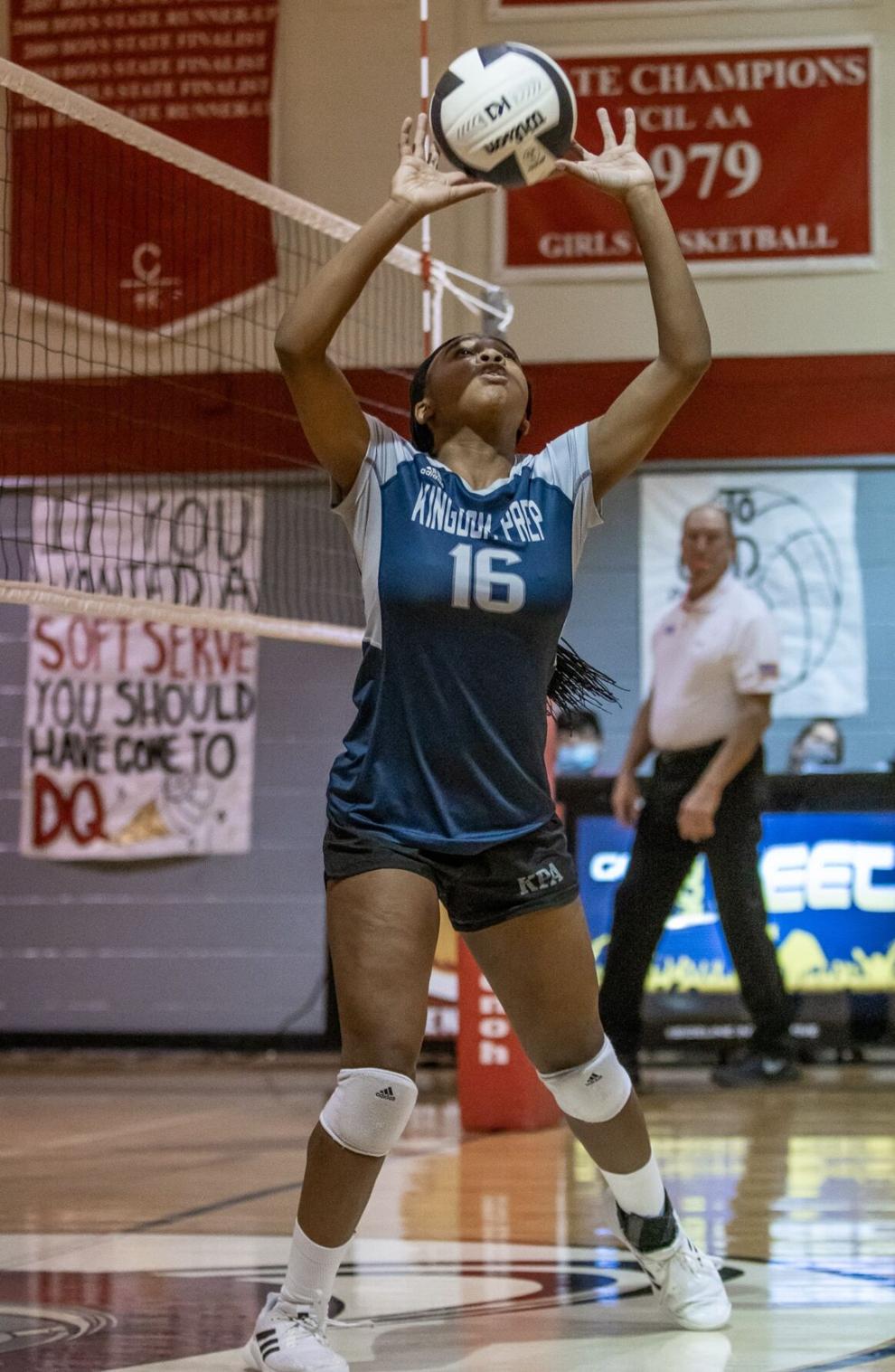 In the second set, Kingdom Prep recovered and went to work. In Game 2 the score was tied on nine occasions before the Warriors garnered the advantage. A Golden Lion error and a point from KPA junior Hope Scarborough from the service line put the team in the lead and on its way to shifting the momentum of the match.
With the match tied 1-1, the Golden Lions got back in the game but faced a different challenge altogether.
"It's tough," Poe said. "It has been a long time since we have played four sets, so it was tough for me to recover and, like I said, stay focused. But I started to feel more comfortable and focus on the rhythm of the game, and that calmed me down a little bit."
Poe and Co. turned the match around after a 25-19 win in Game 3 and turned up the attack in final set.
Poe, Rodgers and freshman Allie Klein were just a few players that contributed to a 25-15 victory to seal the win.
"We pulled it out, but we did a really good job in the 2nd-4th sets playing as a team and playing unified," said Rodgers, who recorded 4 aces, 5 kills and 16 digs. "We had to adjust in the first set to having a new setter, which is difficult at times. I think the first set was our practice set, and after that we were comfortable."
CTK was led by Ella Rivera with 10 kills, Mary Behnke with 18 digs, and Redondo with 11 assists. The Golden Lions are currently in fourth place in District 1-2A with one more win than Southcrest. If the Warriors lost to KPA on Tuesday, CTK would secure the No. 4 seed.