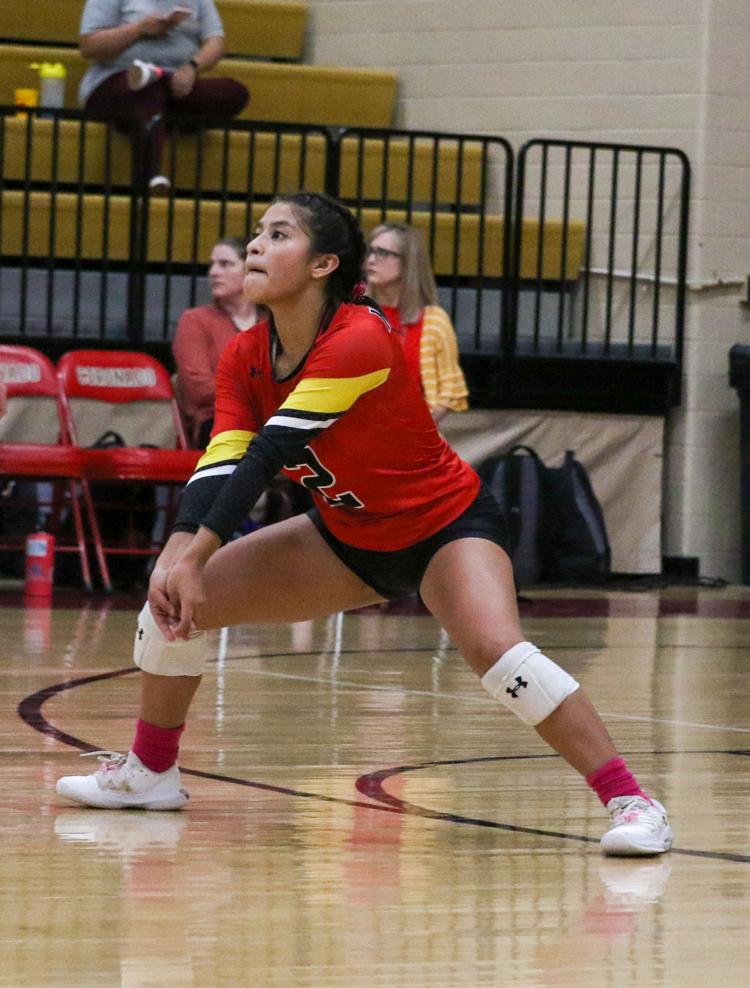 Motivation to play at the highest level can be a challenge as a long season plays out. Sometimes the fire can wane a little at the wrong time, which can be costly.
Monterey could be forgiven if it happened to slip into an occasional lull because of the success it has already achieved this season and the way the schedule sets up this season.
Fortunately for the Lady Plainsmen, though, there has been some built-in inspiration since a pair of losses left them reeling a bit at the end of the first round of the District 3-5A schedule.
Now, Monterey heads into the stretch with a renewed head of steam, and the latest step in that direction came Tuesday when the Lady Plainsmen used a balanced effort to vanquish Coronado 25-19, 23-25, 25-22, 25-17.
Since back-to-back losses to district frontrunners Amarillo High and Randall, Monterey (30-8, 9-2 district) has rolled up three wins in a row, all against in-town foes. Seeing a big rival across the net seems to have supplied whatever extra boost the Lady Plainsmen needed and Tuesday was no exception.
"Our energy was very high for the most part," Monterey sophomore Serena Garcia said. She was big in the fourth set with 5 of her 10 kills.
"When we messed up, we didn't get in our own heads like we used to. This game was really big for us and I knew I had to push through for my team."
While Garcia was the sparkplug in the final set, there was no shortage of contributions up-and-down the lineup for the Lady Plainsmen.
Nadia Morales and Maddi Stephens matched Garcia with 10 kills, while Taylor Salsky kept her teammates busy with 32 assists. Meagan Jimenez, the third member of the Lady Plainsmen senior trio that has led the way all season, notched 19 digs. Morales added 18 and Salsky had 16.
It was that combined effort that fueled surges in the three sets Monterey won: The Lady Plainsmen grabbed control of the first game by turning a 12-9 lead into 20-14, reeled off six points in a row in the third and topped that with a 7-0 burst in the last one -- Garcia with a pair of kills to help Monterey build a 13-3 cushion.
"We came in with a lot of confidence and really drilled into our serve-receive," Morales said. "We got control of attacks and used our middles a lot, which is a really big weapon for us."
Although the Lady Plainsmen had control for most of the match, Coronado was a pest -- which has to make the outcome both encouraging and frustrating.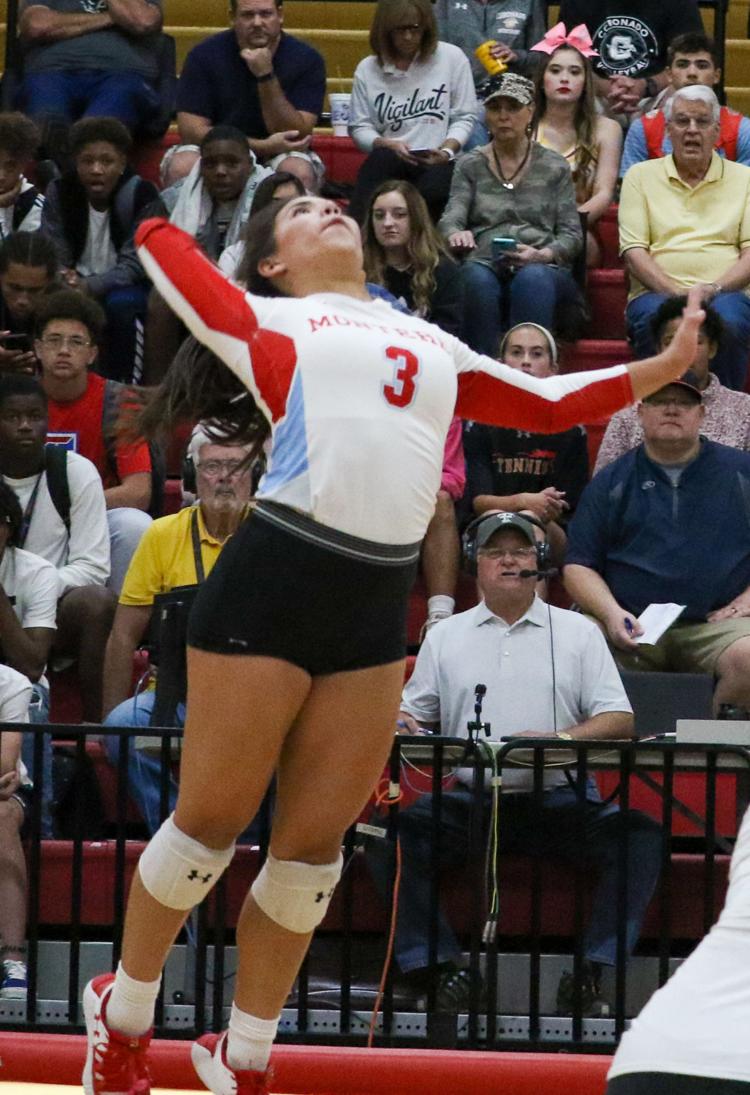 The Lady Mustangs (21-14, 5-6) didn't manage to push Monterey to a fifth set like the first district meeting between the two old rivals, but not for a lack of energy.
Thalia Sanchez led Coronado with 33 digs and her hustle set the tone for her team the entire night. Aaliyah Gray was a force on the outside with 13 kills and Caroline Willcoxon came up big with 9 kills and 2 blocks. Kirby Stanek led the Lady Mustangs with 22 assists.
Wilcoxon helped Coronado get off to a strong start in the second set with a pair of kills before the Lady Plainsmen twice bolted back into the lead. Gray and Stanek combined to help the Lady Mustangs start to inch away – combining for three kills to give them a lead bigger than two points for the first time of the match, 12-9.
The advantage grew to 17-11, but Monterey again stormed back and held a 21-19 lead after scoring five points in a row, one on a Salsky kill and another on an ace.
Coronado coach Casey Trout called a timeout and her team responded by scoring four of the ensuing six points to pull even 23-23. Stanek had a kill, Carson Edwards recorded an ace, Gray won a battle at the net for a point and Willcoxon added a kill during the run.
After the Lady Plainsmen forged a 23-23 deadlock, the Lady Mustangs prevailed when Willcoxon and Stanek delivered kills.
That second-set loss has been a fairly common theme for Monterey, but those have proven to not be the worse thing in the world.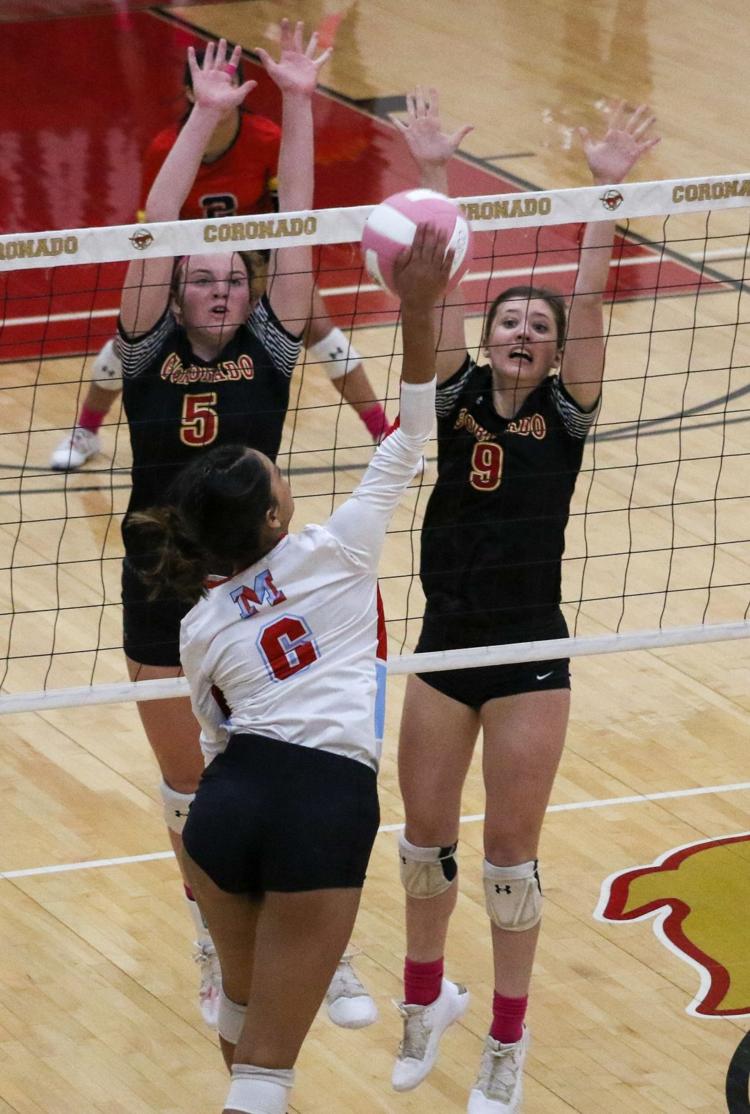 More often than not, the Lady Plainsmen have had a knack for honing back in.
"It was more like an eye-opener for us," Morales said. "It was more our mistakes and errors that hurt us, so we realized what we did wrong and corrected ourselves."
Added Monterey coach Kelly Lozada, who earned her 250th career win on Tuesday, "We've had a great season, but we can't overlook anybody. It's up to us as coaches to make sure we prepare for each team appropriately. We have a tendency to start letting up and lose focus after we come out strong, and that's even in practice. In practice we have consequences for when we fall off like that and I think the girls have done a great job of learning from that and applying it in games."
Monterey remains two games behind Randall and one behind Amarillo High in District 3-5A. Coronado is in a three-way logjam in fourth place with Lubbock-Cooper and Caprock.
Both teams are back in action this weekend. Monterey entertains Caprock at 5 p.m., while the Lady Mustangs travel to Amarillo to face Randall at 7 p.m.
Randy Rosetta is the publisher of HubCityPreps.com
Contact him at HubCityPreps.com or (806) 407-0188.
Follow on Twitter | @HubCityPrepsLBK & @RandyRosetta