There will be times later this season when All Saints and Trinity Christian will be tested by their opponents much like they were Saturday when they tangled.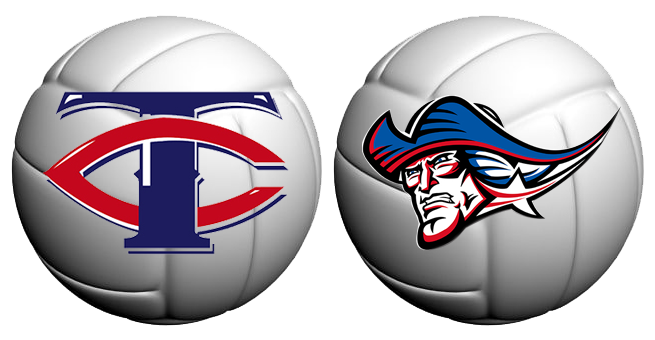 Two of the more tradition-rich private-school programs in the state squared off for five sets, with the Patriots finally surviving with a 15-12 triumph in the final set. The two teams split the first four sets – the Lions taking the first and third and All Saints clawing back each time.
The only blemish on the day was an injury suffered by Lion setter Lilli Underwood in the second set.
"More than being happy with how well the girls played, I was especially proud to see the All-Saints team rally behind Trinity when their setter went down early in the second set," said Patriots coach Levi Savage, w protégé of Trinity coach Tyler Neal.
All Saints (3-2-1) got a balanced performance, especially on defense. Haley Dickerson led the Patriots with 29 digs, with Paige Schlehuber logging 20 and Lauren Bayouth notched 14, along with 12 kills and 6 aces. Chloe Conover was also big with 12 digs and 11 kills 2, while newcomer Jayden Johnson turned in a strong passing night with 25 assists.
Trinity (3-3-1) also dropped a three-set match to Midland Christian on Friday (25-16, 25-10, 25-23).
Both teams are back in action Tuesday. All Saints gets District 1-2A play started at Kingdom Prep at 6 p.m., while the Lions host Midland Classical at 6 p.m.
In other TAPPS action this weekend:
Lubbock Christian fell to Midland Classical, 25-18, 25-21, 25-17. The Lady Eagles passed at a 2.7 clip. Winnie Kitten lead the team with a 3.0 rating and recorded 18 digs. Abbie Crow notched 14 digs and Mara Dendy chipped in with 13. LC plays host to Talkington at 6 p.m. Tuesday.

Southcrest Christian defeated Plainview Christian 25-11, 25-14, 25-22. Natalie Sadler and Mackenzie Garrison set the pace with 10 kills each. Shaeden Marr passed at a 2.5 rate. The Warriors host Amarillo Ascension in District 1-2A play at 5 p.m. Tuesday.

Kingdom Prep knocked off Talkington Academy 25-6, 25-17, 25-21.