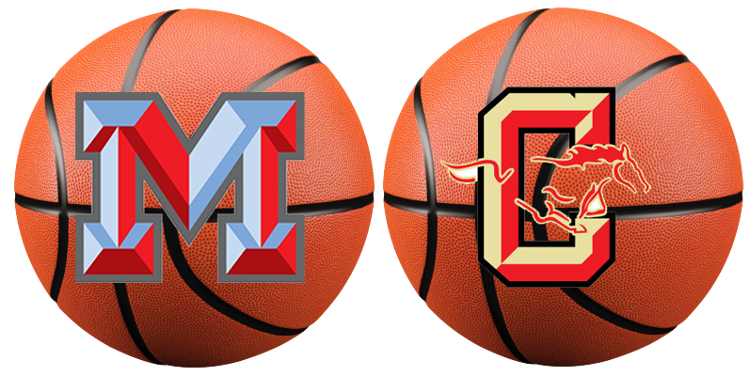 Basketball is a fluid sport with a myriad of moving parts and when they rattle and hum together, the result can be an impressive performance. One element of the game tends to have an impact no matter how well all the other parts click, though. And when one team is effective at it while the other scuffles badly, even a strong performance gets skewed.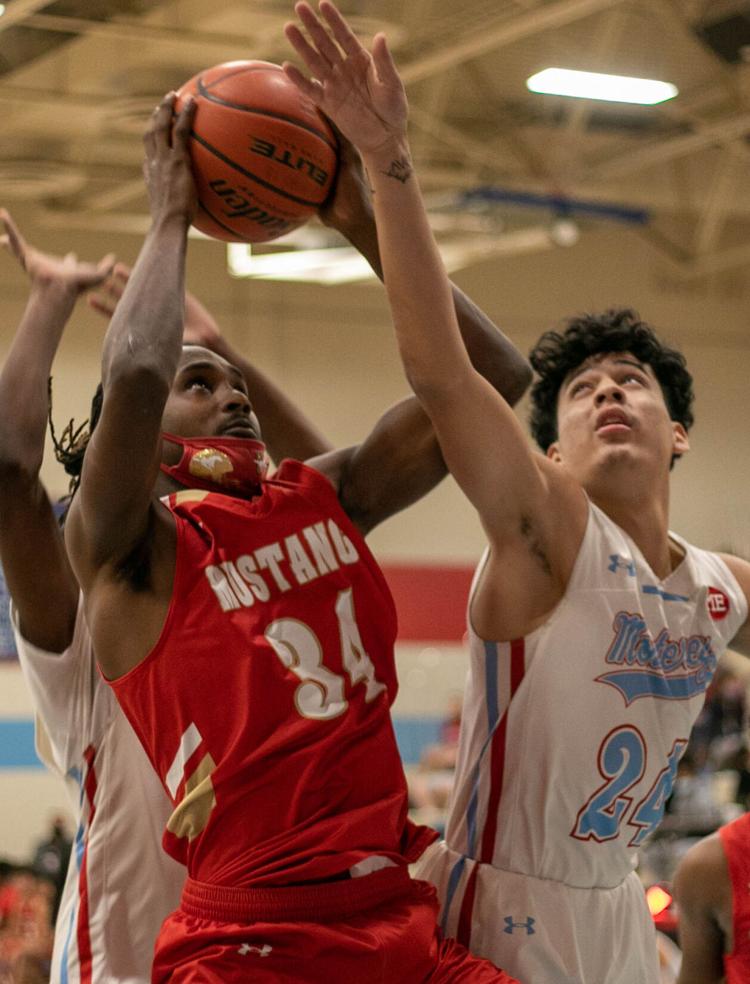 Monterey slugged past rival Coronado 73-51 on Tuesday to get the District 4-5A season up and running. The first glance might make it seem it was a breezy night for the Plainsmen and a struggle for the Mustangs.
Not the case -- except for one glaring difference between the two teams.
Jessie Martinez led Monterey with 13 points and 7 rebounds, Devin White scored 12 and dished out 5 assists and Vyson Miller chimed in with 11 points. Kevon Evans paced Coronado with 15 points.
Both teams did plenty well in a game that pendulated between spurts of high-octane offense and stingy defense. The difference: The Plainsmen shot 64.4% from the floor (29 of 45), while the Mustangs struggled to find the bottom of the net, hitting only 25.4% (17 of 67).
The difference was particularly magnified in the final 10 minutes when Monterey rarely missed while Coronado missed 20 of its final 22 attempts.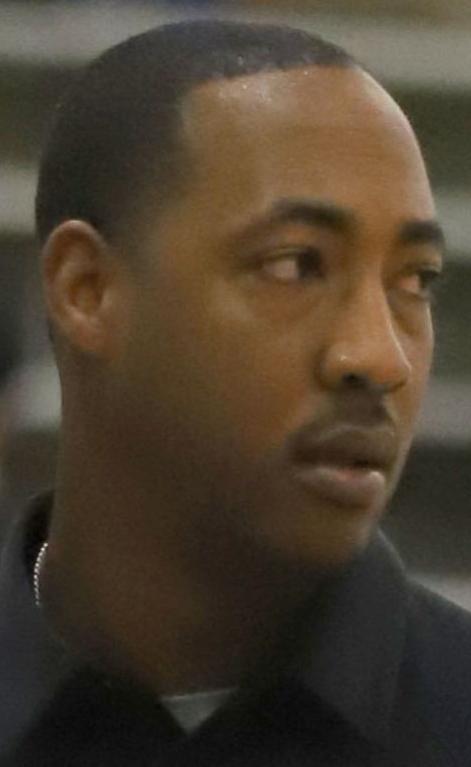 "I thought my guys played lights out and went toe-to-toe, blow-for-blow with a really good team for the most part," Coronado coach Ernie Mims said. "The key was us not making shots down the stretch where they were steadily making plays."
Added Monterey coach Jeremy McFerrin, "We did a good job of capitalizing on the first easy bucket we got on a lot of possessions. … Our offensive execution was good and we were able to get buckets when we needed to."
That was certainly the case down the stretch when the Plainsmen (10-8, 1-0 district) finally eased away, but a key span just past the midway point of the second quarter created enough breathing room for Monterey to stay in front.
After a 17-17 deadlock following the opening frame, Coronado (7-7, 0-1) wrestled the lead away in the opening stages of the second frame when Evans hit two free throws, Deshawn Hill converted a three-point play and Izaiah Kelley followed a missed 3-pointer. That flurry yielded a 24-21 lead, which coincided by the only notable scoring drought of the night for the Plainsmen – they scored on only one of seven offensive trips in a 3½-minute span.
It was right about then that Monterey's veteran presence kicked in. Vance Vasquez stepped up after a shot fake and pumped in a baseline jumper. White followed a miss with a weakside rebound then drove for another hoop on another second chance. Aidan Castillo cranked in a 3-pointer from the right corner. Neeko Young added a pair of inside buckets. And Martinez supplied a salt-in-the-wound 3-pointer on a last-gasp 40-foot bank shot as the half expired.
When the dust settled, the Plainsmen were up 37-29 at the break and the climb seemed much steeper than that for the Mustangs.
"When they hit that running Hail Mary prayer at the end of the half, that really took a lot of breath out of us coming out of the second quarter going into the third," Mims said.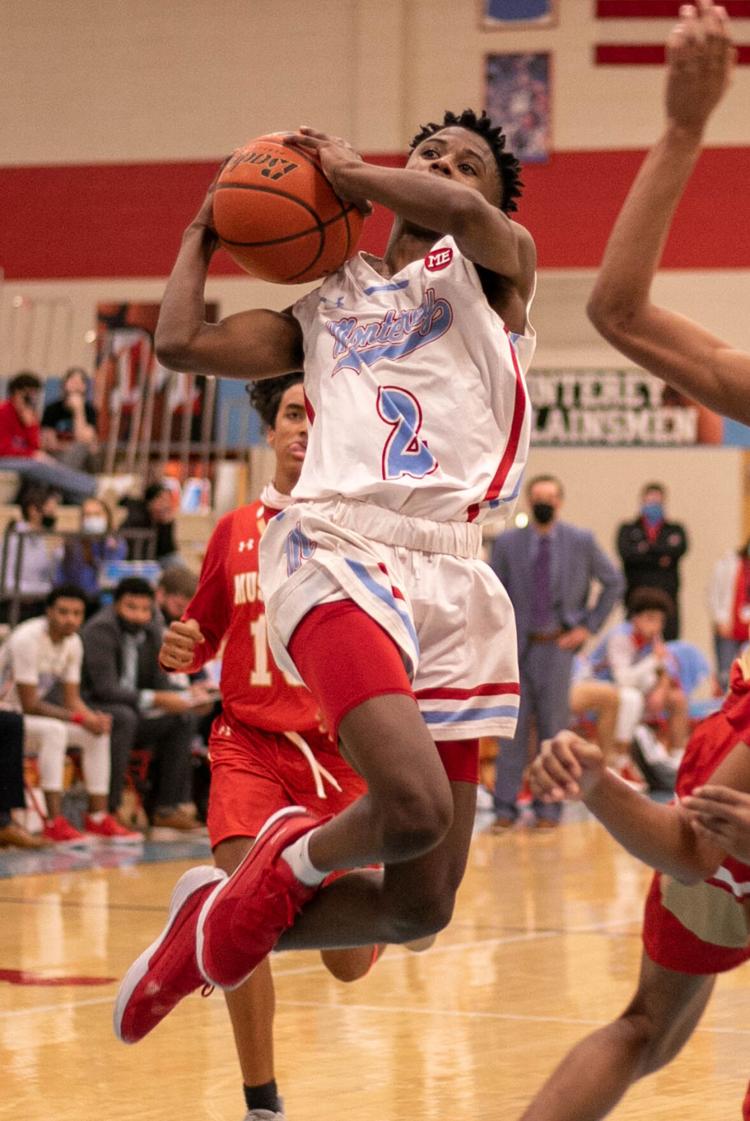 Even without that shot, Monterey's adjustments coming out of halftime changed the game.
Beaten and battered on the glass in the first half, the Plainsmen adjusted and limited Coronado's second-chance shots. Monterey corralled 21 defensive caroms in the final two quarters, which equated to only 5 second-chance points for the Mustangs -- none until the Plainsmen lead had ballooned to 59-46.
"We boxed out better and we had to because going into the second quarter, (Coronado was) killing us on the glass," White said. "We emphasized blocking out, scoring in transition and giving up the good shot for a great shot."
That focus on finding the best possible look paid off. Monterey knocked down 13-of-17 field goals (76.5%) after halftime, very few attempts from outside 5-7 feet. By contrast, Coronado got repeated layup opportunities and just couldn't get the ball to drop through the rim.
"This was a real physical battle and they were more physical than us at first," McFerrin said.
"We got more aggressive on defense and affected them more in the second half and that was a big difference."
Both teams are in action Friday: Coronado heads south to take on Abilene Cooper, while Monterey goes to Lubbock-Cooper in an early showdown of District 4-5A favorites.
------------------------------------------
MONTEREY 73, CORONADO 51
Coronado         17     12     15     7       --       51
Monterey         17     20     20     16     --       73
CORONADO (51) -- Nigel Brathwaite 2-8 0-0 5, Deshawn Hill 1-4 2-3 4, Bryce Wimbish 1-2 0-0 2, Cam'Ron Devroe 1-6 2-3 5, Hunter Stamps 2-11 1-2 6, Kevon Evans 4-16 7-8 15, Corey Rivers 0-3 0-3 0, T'Andre Scott 3-4 0-0 6, Tyler Williams 0-4 0-0 0, Kaleel Campbell 2-6 1-1 5. Totals 17-67 14-22 51.
MONTEREY (73) -- Devin White 5-8 2-3 12, Neeko Young 5-6 0-2 10, Vance Vasquez 2-5 0-0 4, Vyshon Miller 4-9 3-5 11, Aidan Castillo 1-1 2-2 5, Jessie Martinez 4-5 2-2 13, Zyrin Bratley 4-6 0-1 8, TK Young 2-2 0-0 4, Stephen Runels 2-3 0-0 4, Jacob Nino 0-0 0-0 0, Blake Porter 0-0 2-2 2. Totals 29-45 11-17 73.
3-point goals -- Coronado 3-18 (Brathwaite 1-3, Stamps 1-3, Devroe 1-5, Rivers 0-1, Williams 0-1, Campbell 0-2, Evans 0-3); Monterey 4-10 (Martinez 3-3, Castillo 1-1, Vasquez 0-3, Miller 0-3). Total fouls -- Coronado 19, Monterey 17. Technical foul -- Brantley. Records: Coronado 7-7, 0-1 District 4-5A; Monterey 10-8, 1-0. Up next: Coronado at Abilene Cooper, 7:30 p.m. Friday; Monterey at Lubbock-Cooper, 7:30 p.m. Friday.